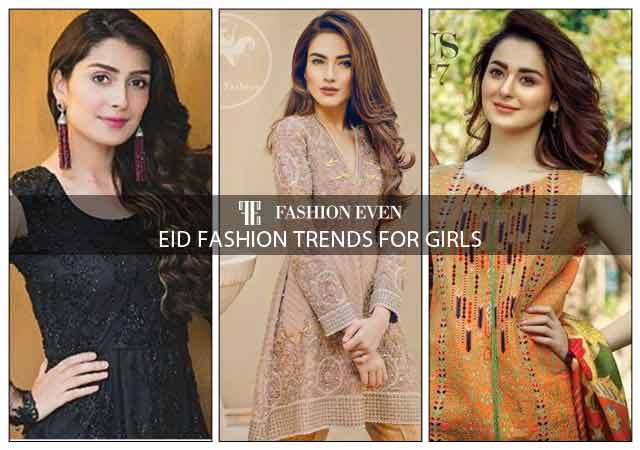 Do you know about the latest Eid fashion trends for girls in Pakistan? Perhaps you do, but do you acknowledge the must-follow vogues mentioned below? What are the latest Pakistani fashion trends? Pakistani Eid trends? Better style? Eid 2023 Style? Well, that's something we can all get onboard with.
Today, FashionEven is going to cover the refined yet graceful trends that are not just voguish but also great in comfort to carry the whole day. Read this article thoroughly and know about the latest stitching trend of shirt length, Bardot neckline, sleeves design, trouser style, and grab some fashion accessories to add glamour to your overall appearance.
Must-follow Eid fashion trends for girls
Today you will learn the latest Pakistani fashion trends for 2023-24 that are in vogue:
Knee length shirt/frock design
Embellished lawn dress
Bootcut trouser design
Bell sleeves style
Minimalist looks
Boat neck/Bardot neckline
Tassel earrings
Bangles
Lighter hues
Gol tikka mehndi designs
Eid Fashion Trends For Girls To Stay In Style
There are plenty of voguish trends to follow, but today I will consider the most important of all. If you really want to stay in style then make sure to follow at least few of them! As the hot new trends gear up in Pakistan, FashionEven brings you 10 ways that you can take your personal aesthetic up to a higher plateau or at least improve it a bit.
Look ravishing and appealing to everyone on this Eid, with just a dose of glamour and by following the celebrity fashion trends in Pakistan. Fashion is changing day by day, and when it comes to Pakistani fashion, then there is also a fashion trend of "rapid fashion change over".
Scroll down and go for the latest trends in Pakistan.
Latest Eid Fashion Trends For Girls With Images
After the Holy month of Ramadan, Eid-ul-Fitr is just approaching and everyone is super excited about shopping. This is not just about the special Eid day, shopping for Eid is also a point of fun and excitement itself. Shopping for a new outfit is gratifying, but do you consider what's trendy this year?
Grab the most voguish Eid dress, style it according to the latest Eid fashion trends for girls, add some fashion accessories and certainly, you will be able to earn a lot of compliments.
Let's have a look!
1. Knee length shirt/frock design
While 2017 was the year that fashion began to rebel against short frocks in lawn and party wear, with frills all over and peekaboo sleeves, plus finding a growing audience, this Eid is all about knee length shirt or frock style (approximately 32 inches).
Take a look at the following knee-length shirt and frock images to find your fit.
2. Embellished lawn dress
Eid 2023-24 reveals new fashion statement of embellished lawn dresses. You may use attractive net laces, feather lace styles, beads and pearls adorned laces, frill or embroidered net on front and back panel of lawn dress, sleeves, trousers or even on dupatta.
Check over the following embellished lawn dresses for girls and make your own style statement this Eid!
3. Bootcut trouser design
The days of shalwars, capri pants, and tights are over, now it's time to style yourself with something unique and classy with a new fashion statement of bootcut pants in Pakistan. Pair your bootcut pants with either short frock or knee-length kurta/kurti, it will assuredly help to grab the attention of everyone around.
Going with the general relaxation of tailoring, that is sweeping the runways in Pakistan, your new bootcut trouser design should be well structured but loose. Bootcut pants are a quite refined form of bell bottoms that can make you look even more stylish and heightened.
Pro Tip: Pants embellished with pearls, embroidery, net lace, and sequin work will add glamour to your outfit.
Have a look at these latest cuts and designs and get to know what's trendy this season!
Must check new Eid fashion trends for girls:
| | | | |
| --- | --- | --- | --- |
| 1 | | 2 | |
| 3 | | 4 | |
| 5 | | 6 | |
| 7 | | 8 | |
| 9 | | 10 | |
| 11 | | 12 | |
4. Bell sleeves style
If late 2017 was the season of peekaboo sleeve styles, Eid 2023-24 brings you the trumpet sleeves! The trumpet sleeve bells out around the elbow or wrist, thereby rendering a nice look at the waist by giving it volume, usually skinny through the bicep will look stunning.
By following the latest Eid fashion trends for girls, you may add a bow or any other embellishment to get defined sleeves look, but don't go over the board because simplicity speaks louder than ramification.
Pro Tips:
The key to wearing a bell sleeve shirt is to wear it with frock and bell bottom/bootcut pants.
If you are really not into covering your hands at all, just pick a bell sleeve dress that ends at the wrist.
Have a look at the following bell sleeve designs to choose your favourite one!
5. Minimalist looks
What's the hardest makeup look to achieve?
Perhaps you are thinking about the super glam model makeup look? Elaborated smokey eyes makeup? A winged out liner? Well, if yes, then you are wrong! In my opinion (in fact, most of the makeup artists agree), it's the minimal makeup look that's the trickiest of all to master!
Imagine, you want a perfect, even, blemish-free skin, long luscious lashes, soft glowing cheeks, and plump lips. All without looking like you're wearing any makeup. Yikes! But no worries, here I have mentioned how to get it RIGHT, must check out the simple natural makeup.
So, what's trendy than a natural makeup? On the whole day of Eid, you cannot carry super glamorous makeup especially when you are staying and be partying at home, thus: why not look elegant with soft and natural makeup?
Read More:
In order to follow the latest Eid fashion trends for girls, must go over the best makeup tips and tricks before you apply makeup next time and make sure to avoid makeup mistakes at the same time.
6. Off the shoulder
Off the shoulder, tops are going to be exclusively trendy this Eid. Although off shoulder tops fashion was at the peak in late 2017, just like short frocks, the Bardot neckline is about to slay the game this year as well!
Pro Tip:
Considering the Eid fashion trends for girls, Red lips, Jewelry or a Choker will round your look out with a Bardot neckline.
If you do not like to wear the off-shoulder dress, you may opt for a boat neck! A boat neck is also in style plus it will give you a sophisticated and sober look.
Read More:
If you are wondering to check out the casual dresses, then make sure go over the latest casual tops and shirt designs for girls which include off-shoulder tops, high low shirts, and knotted tops.
7. Tassel earrings
Without earrings, you can't complete the Eid look! Another great addition to your overall appearance would be none other than the tassel earrings! Colourful, delicate and shoulder-grazing, beautiful tassels will grab the attention of all.  Many of our Pakistani celebrities have been spotted in tassel earrings this year.
Pro tip: Try to pick contrasting hues for your earrings as it is said to be the latest Eid fashion trends for girls.
8. Bangles
Bangles have always been in vogue to reveal the conventional and cultural look. Make sure to wear lightweight and super attractive set of bangles to reflect the colours of your dress. A little touch of sparkle and glitter will also look nice if matched with the dress colors, just try it!
9. Lighter hues
Eid is just around the corner while Summer season is at its peak, wearing lighter hues from the palette will certainly make you feel refreshed and look sober this Eid.
Pick white, pink, peach or any other lighter color.
Pakistani long skirt or long frock also looks fashionable.
Go for off the shoulder or boat neckline.
Messy hair bun or long layered hairstyle is perfect for this look.
A lightweight or no embroidery will look decent but no loud, blingy or over-the-top!
According to the latest Eid fashion trends for girls, if you want something elaborate then add some fashion accessories such as choker, tassel earrings or wristwatch.
10. Gol tikka mehndi designs
Without the application of mehndi on hands, feet and arms, Eid festival is truly incomplete and boring. The most traditional Eid fashion trend for girls is none other than the henna application!
So, what's trendy in mehndi designs? Gol tikka or simple round mehndi designs are in vogue for the year 2023-24.
Are you worried about: how to apply gol tikka mehndi designs?
Don't fret at all! Fashion Even brings you the gol tikka mehndi designs that are easy and fun to apply. Check out here simple gol tikka mehndi designs.
Pro Tip:
Make sure to practice your favorite mehndi design (at least two to three times) before the Eid day.
Optional: Pathani dress with khussa
Do you want to stand out from the crowd?
Give yourself a traditional pathani look!
Choose brighter colors for a pathani dress such as bright yellow, royal blue, purple, orange, magenta and so forth.
Heavily embroidered Afghani or pathani frock with pyjama looks always trendy yet traditional.
Matha patti hairstyle, colorful set of bangles and fancy khussa will add compliment to your dress.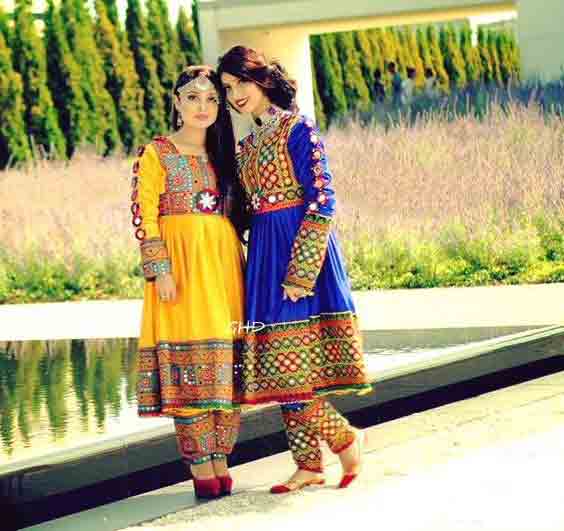 Read More:
Do you love to wear traditional pathani dresses? If yes, then do not forget to check out the latest Pakistani pathani frock designs. Choose your favorite style, grab it from your nearest outlet and influence everyone around you with your most conventional look.
Checklist for Eid fashion trends for girls in Pakistan:
Knee length shirt/frock design
Embellished lawn dresses
Bootcut trouser design
Bell sleeves style
Minimalist looks
Boat neck/Bardot neckline
Tassel earrings
Bangles
Lighter hues
Gol tikka mehndi designs
In all,
Above you have seen the latest Eid fashion trends for girls that are in vogue for the year 2023-24. If I had missed something then please let me know via comments below or use the contact form. I hope you liked the content, keep visiting FashionEven.com for more fashion stuff.