Fancy khussa shoes designs have become the style icon from orthodox to voguish! Women of all ages, love to wear beautiful Pakistani khussa on either formal or casual events. This article has been written specifically to introduce you with the latest designs of party wear and fancy khussa slippers collection that is suitable for party events.
From this article you will learn the following:
Khussa shoes brands in Pakistan
Online shopping for khussa shoes in Pakistan
Khussa with heels (upcoming trend in Pakistan)
Importants tips
If you love to wear party shoes, then you must know "how to perfectly match your shoes with dress color combinations". Soon I will write an ultimate guide to let you know the basic tips to perfectly match your shoes.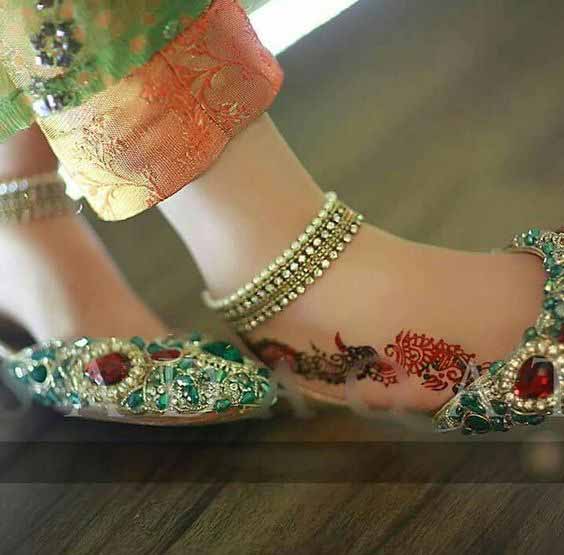 Fancy Khussa Shoes Designs For Girls
Have you ever reckoned that why do you love to wear khussa shoes? Ask yourself first. There must be lots of reasons, but I firmly believe that khussa shoes in Pakistan, are one of the most comfortable yet stylish footwear ever! On wedding events, especially mehndi function; ladies (either bridal, teenagers or baby girls) love to wear khussa wedding shoes utterly coped with their mehndi dresses.
A shoe is not merely a design but it's a part of your body language, the way you walk. The way you are going to move is quite dictated by your shoes. It adds beauty to your overall apparel and make you feel comfortable throughout the day. That is why, how beautifully "Fergie" has to say about women shoes as following:
[su_quote cite="Fergie"]"I have always loved fashion because it's a great way to express your mood. And I'm definitely a shoe lover. The right pair of shoes can change the feel of an outfit, and even change how a woman feels about herself. A woman can wear confidence on her feet with a high stiletto, or slip into weekend comfort with a soft ballet flat."[/su_quote]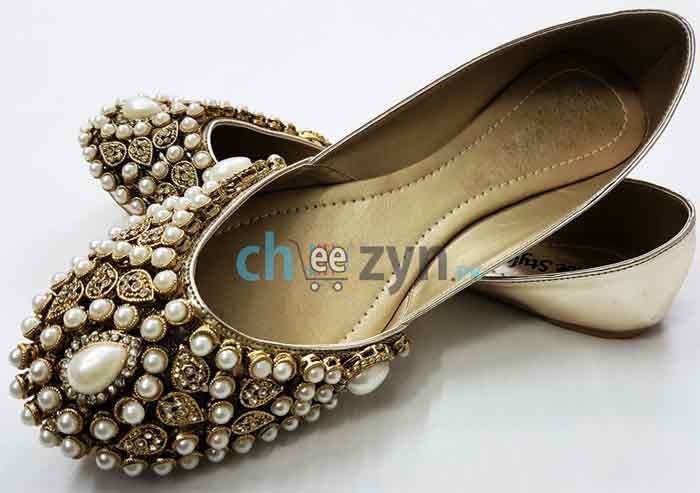 Fancy khussa shoes designs comes in different styles, embellishments, adornments, intricate embroidery and attractive hues from the pallette. That is how come I have classified this article on the basis of color combinations (golden khussa, red khussa, kundan khussa and black khussa designs). So that you can choose your favorite fancy khussa shoes according to your party dress colors.
Have a look on the most traditional yet stylish Pakistani khussa pictures shown below.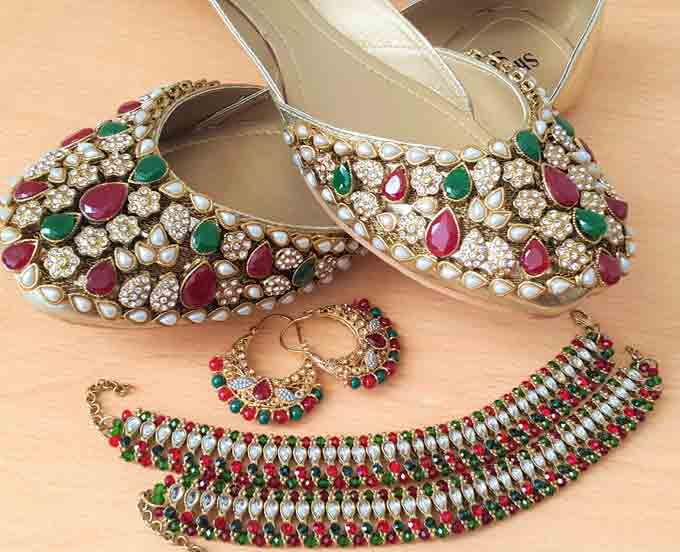 Golden fancy khussa shoes designs:
One of the most trendy and enormous new khussa shoes comes in golden color. It is because this color blends perfectly with every dress color. If you are going to attend any wedding event, then without further ambiguities, you may choose form two options with your eyes closed! Yes, here comes the "Golden" and "Kundan" khussa designs (I have shown latest kundan khussa designs below).
Most of these flat golden shoes are adorned with shimmery pearls, stones, beads and even intricate embroidery over all.
Have  a look at the Pakistani khussa pictures in golden color.
Red fancy khussa shoes designs:
Ginormous red khussa designs are super attractive and glamorous of all. Fancy red khussa embellished with stones will surely make you stand out from the crowd.
Specially for party events, whether you are going to wear lehenga choli, short frock with sharara, kurti with lehenga or any other mehendi dress, then you cannot brush aside the beauty of red khussa, heavily embroidered and rich with gemstones and beads throughout.
Kundan khussa sshoe designs:
Another option for wedding party ceremony is none other than the kundan khussa designs. Kundan flat shoes are most prominent for the collection of 2023-24. Whatsoever your shirt color is, you can wear embellished and pearls adorned khussa without any hesitation.
Are you getting curious to know about how to match kundan khussa shoes with your dress?
Important Tip: If you want to wear contrasting color shoes (khussa) then try to match at least one of your accessory with that. or example, you may wear a green dupatta, yellow frock with green churidar pajama with green gemstones adorned kundan khussa.
Check out the new kundan khussa styles for Pakistani girls.
Black fancy khussa shoes designs:
If you are going to wear a black party dress, then you cannot resist to wear super gorgeous black khussa pair. Try to match khussa with your dress color combinations. For example, if your party dress is a combination of a black and golden, then opt for the black khussa with golden embroidery and so forth.
Following I have shown the latest black khussa design images that are trendy in Pakistan.
Tip:
If you are going to wear a knee-length frock with churidar pajama, then Pakistani khussa for ladies will certainly help you to grab the attention of everyone around. Look more stylish and voguish by wearing South Asian traditional khussa styles in 2023-24.
Khussa Shoes Brands and Online Shopping In Pakistan
Pakistani khussa for ladies, online collection is truly the synergistic product of a team of designers of fashion brands. Without their tireless, wholehearted, and unique contributions, it never would have come about. There are several brands that are engaged in the production of khussa shoes and owns official websites as well.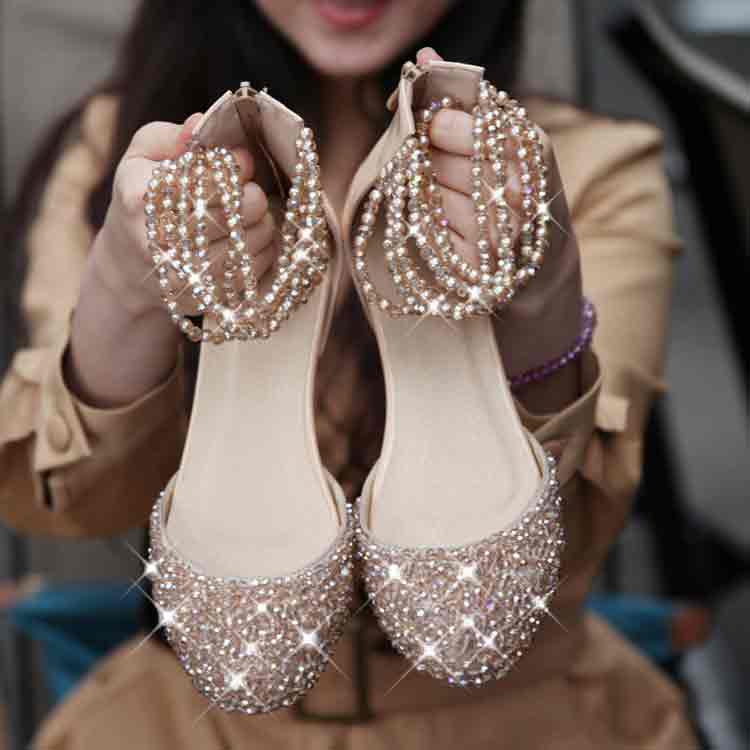 Are you wondering that which are the top khussa brands for girls in Pakistan?
Girls khussa shoes brands in Pakistan:
I have come up with the following list of khussa brands in Pakistan. All of these brands have worked hard to showcase the beauty of fancy khussa shoes designs, in a way that truly sings.
These fashion designer brands have the gifted ability to model and present the new collection of khussa shoes. I express my deep appreciation to them. Each of their names could easily be listed as followings:
Stylo shoes
Metro shoes
Mojari
Borjan
Almas
Online shopping for fancy khussa shoes:
Do you want to shop online? But do you not have any option to go out for shopping? No worries at all! Firstly, all of the above mentioned designer brands have their official websites available for online shopping. If you are a brand lover, then you can easily buy fancy khussa for you.
Visit the official brand website, and place your order.
Secondly, other online shopping websites are also available in Pakistan. You will recieve your order withing 4 to 7 working days (according to the rules and policies).
Are you thinking about the quality of the product?
On the cornerstone of my personal experience, I strongly recommend you to purchase only from Brand Official Websites. It is because brand know how to maintain quality and keep commitments to their customers or end users. Brands can never compromise on "customer satisfaction" and goodwill. So without any hesitation, you can get your favorite pair of fancy khussa shoes at your home within a few days.
Party wear khussa shoes with heels: (Upcoming fashion trend in Pakistan)
The year 2023, is meant to be something unique yet voguish. That is why, nowadays brands are working hard to showcase unique products in the market. So in the case of khussa shoes with heels!
Yes, as the kheri or peshawari chappal now have become a fashion trend among Pakistani girls, so as the khussa shoes designers are working day and night to introduce unique heel khussa shoes.
Tips:
If you are tall then you must try out fancy khussa shoes (at least once). You will feel like you are in love with yourself and become more voguish immediately! I promise.
If you are not tall enough or you are short, then you should not hesitate to try khussa shoes or flats either, you will still look more cute, yeah I forebode.
With all this material, you must have got some idea about your new party wear Pakistani khussa shoes!
I want, above all, to instill a sense of new ideas that can work for you. If you have got even better ideas about fancy khussa shoes designs, then let me know via comments or leave your feedback.
I respect and appreciate every opinion from your side. So, subscribe my blog to get more fashion updates.