Have you decided that you are going to wear the latest party wear short frock design, but are still confused? Are you going to attend any wedding or party event, but still have no idea about how to style your fancy short frock dress? If yes, then you have come to the right place. Here you will find the best party wear short frock designs and ideas that you can actually wear to any wedding party event.
After reading this article thoroughly, you will be able to finalize your party wear dress which has shown below with pictures.
Today, we will cover the following topics:
Sharara/gharara
Capri pants
Straight or cigarette pants
Tulip pants
New Short Frock Designs In Pakistan 2023-24
The latest party wear short frock designs, are full of vibrant yet elegant colors such as red, black, white, blue, and so on. Pair your party wears frocks with sharara, gharara, trousers, cigarette pants, capri etc. Fancy peplum now has become the rising fashion trend in Pakistan and that are the best choice for any party or wedding events.
You can wear short frocks either casually (lawn or winter stuff) or formally (on parties or wedding ceremonies). Grab your new party wear dress today and pair it with the best suitable options according to your taste.
Whenever you are about to wear a party wear dress, do remember the following words said by Paul Washer:
[su_quote cite="Paul Washer"]"The way a woman carries herself and the way she dresses ought to promote the following types of words: modesty, discretion, wisdom, beauty, elegance and refinement, but not sensuality, luxury, extravagance."[/su_quote]
Must Check Party Dresses For Girls
Pakistani Short Frock Designs With Images
It is never late to follow the latest fashion trends, especially in Pakistan where fashion changes so rapidly. In order to grab the attention of everyone around you, try to pair your fancy party-wear frock with something new and classy. For example, sharara and gharara pants is one of the best party wear dressing style that looks fancy if nicely paired with matching short frock designs.
Here is a well saying:
[su_quote]"WE BELIEVE IN DRESSING UP in gorgeously impractical things, like tulle, sequins, sparkles and lace"[/su_quote]
Following we have displayed the new style party wear knee-length frocks with sharara/gharara, capri, straight/cigarette pants, and tulip pants (each discussed separately). Have a look at the fresh arrival of designers' latest collection of party wear frock designs with several possibilities.
Now, let's have a look at the following Pakistani short frock design with images respectively:
Short frocks with sharara/gharara,
Short frocks with capri pants,
Short frocks with straight/cigarette pants, and
Short frocks with tulip pants.
1. Latest Short Frock Designs With Sharara/Gharara
If we talk about the Pakistani short frock designs with sharara and gharara, some of the most promising Pakistani designers click into our mind such as Zainab Chottani, Maria B, and so on. All of these beautiful party wear frocks paired with sharara pants are full of glamour and classy styles. Captivating color ranges (such as black, peach, yellow, pink, red, blue) influences everyone. Grab your favorite sharara with a short frock and get ready to become the party night super alluring queen this time.
Nowadays, either the bride herself, the bridesmaids or the attendants use to wear fully embroidered dresses embellished with pearls and stones. Top Pakistani designer Zainab Chottani has unveiled her brand new collection for parties and wedding events which includes a variety of pastel colors and heavy sequence work on peplum and sharara.
White and blue frock with white sharara
If you are looking for an elegant frock design with sharara, then this beautiful white and blue embroidered party wear is perfect for you. Pair you frock with white sharara or gharara pants for party events and turn an occasion into special party event.
TIP: This party-wear dress will look even more gorgeous with a pearls-adorned waist belt.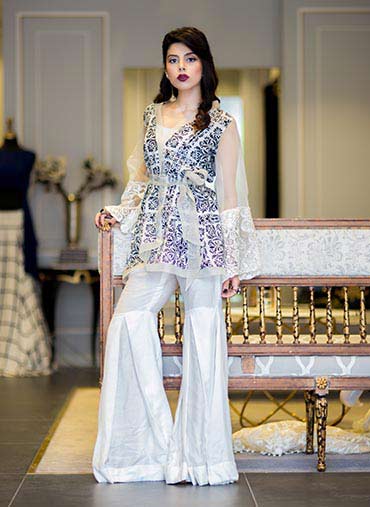 Peachy pink angrakha-style peplum
A short peach angarkha frock with heavily embellished work in kora dabka, pearls and sequins on the neckline makes this party wear even more gorgeous. Sequins pattern all over the front of short frock and daman is heavily embellished with motifs from the front to back.
This dress comes with embellished bustier and in-trend gharara pants. Angrakha frock is coordinated with an ice blue dupatta that is rich with dense sequin spray and is finished with pearls on all four sides.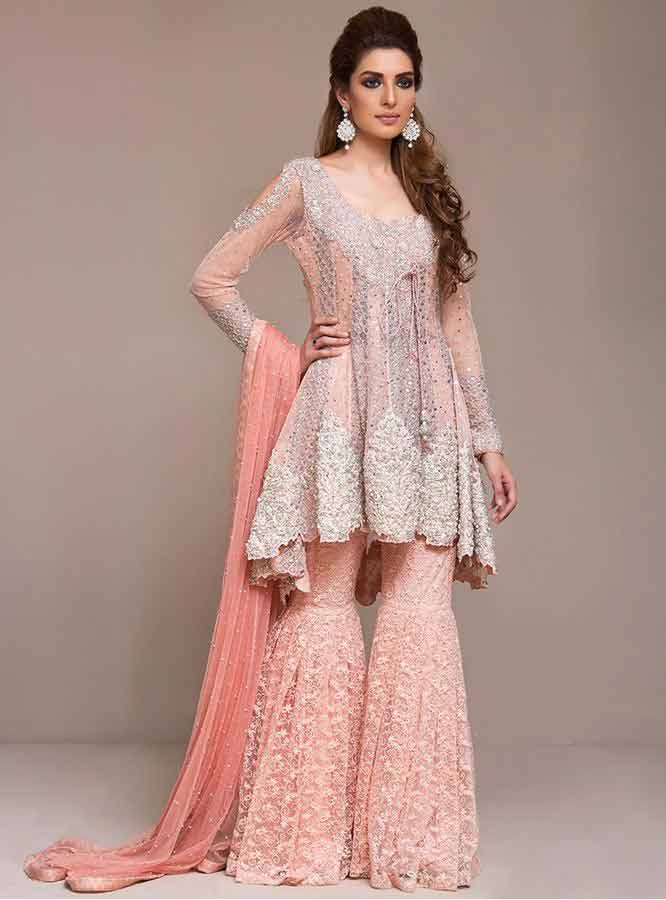 Sky blue frock with matching sharara pants
One of the dazzlingly beautiful sleeveless rocks with sharara in sky blue color is perfect for formal events. The waist belt and elegant hues are making this dress unique and captivating.
TIP: If you do not want to go sleeveless, then no worries at all! Try this graceful dress with matching bell sleeves in net or chiffon fabric. Intricate lacework on borders will make this party wear charismatic and decent.
Light blue embroidered frock with matching gharara
A light blue fully embroidered top will be the best choice for special party events. To further enhance the look, this shirt comes with gharara pants and a matching dupatta.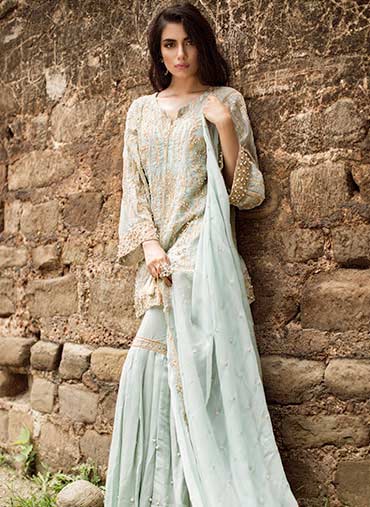 Black and golden short frocks with bell bottom
Here is what  Louise Nevelson has to say about the black color:
[su_quote cite=" Louise Nevelson"]"But when I fell in love with black, it contained all color. It wasn't a negation of color. It was an acceptance. Because black encompasses all colors. Black is the most aristocratic color of all. You can be quiet, and it contains the whole thing."[/su_quote]
When you are confused about what to wear, go black! And when you have the black and golden color combination option, then it adds feathers to one's cap! This beautiful party wear in black and golden is full of elegant embroidery style and paired with a bell bottom. It has a lilac appliqued embellished border on the front and back, along the daman.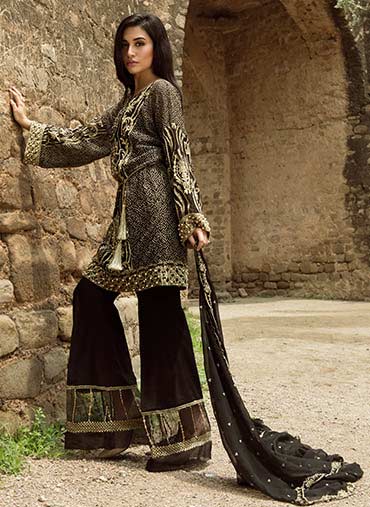 2. Party Wear Short Frock Designs With New Capri Style
Have a look at these party wear short frock designs with capri pants that are surprisingly amazing to grab the attention of all other people around you. The latest fashion trends of party wear capri pants are all about the way you carry it. Do not forget about the matching color combinations of your party wear a frock with capri pants. Always try to pair your fancy peplum with matching color of capri pants (as shown in the following images). It will make you look taller and even more stylish.
White frock with matching capri design in Pakistan
Gone the day that followed bright colors, now the days have been changed and fashion has turned into something very classy and unique with pastel color combinations. So nowadays, it has become trendy to use the lighter colors such as grey, ash white, white, light pink, mint, or peach and so on.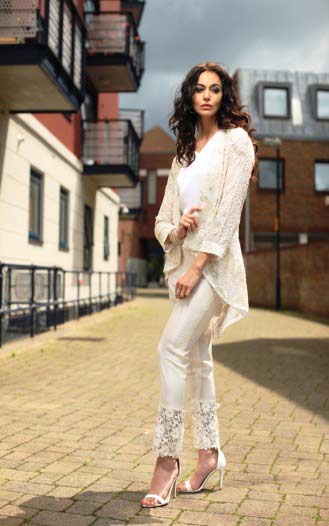 Light pink frock with matching capri
This beautiful party wear short frock design is an ethereal amalgamation of pastel hues form the palette. The mix of ivory with light pink and mint embroidery creates a perfect look for the formal events. The outfit is enhanced with embroidery in beautiful flowers and adorned with gemstones It comes with waist belt and capri pants that is makes this dress even more tremendous.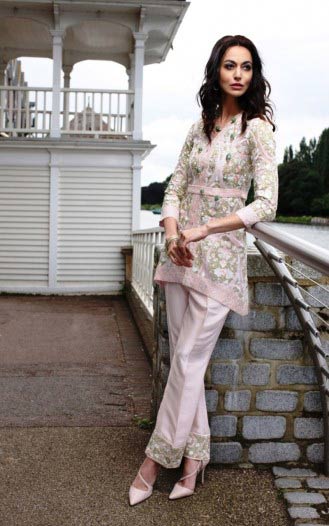 Ash grey and pink frock with grey capri pants
Ash grey and pink frock is full of intricate detailing and thread embroidery all over. This shirt is embellished with silver gold kora dabka, kundan and pearls that comes with matching capri pants.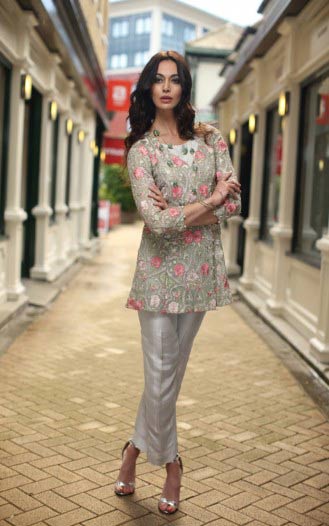 3. Short Frock Designs With Straight/Cigarette Pants
Best Pakistani designers, Saira Rizwan and threads n motifs have recently launched their lavish collection of fancy party wear dresses with straight or cigarette pants. All of these tremendous dresses are embellished with the sequence work, embroidery on front and back, beautiful golden tilla work all around and the use of hanging pearls on daaman and sleeves.
You will certainly stand out from the crowd if these dresses are nicely paired with straight pants or cigarette pants. Short frock designs are mostly sought after by almost every young girl in Pakistan. If you are in search of  best cigarette pants ideas with short frocks, then you will find everything here at one place.
The same case is here as mentioned above for capri pants, always try to match the color combinations of frocks with straight or cigarette pants.
Must check the Party Hairstyles With Short Frocks
Golden Angrakha frock with straight pants
If you want to have decent yet stylish angrakha frock, then this party wear is perfect for you. Fully embellished and pearls adorned golden shirt with straight pants is certainly gorgeous enough to make you stand out from the crowd.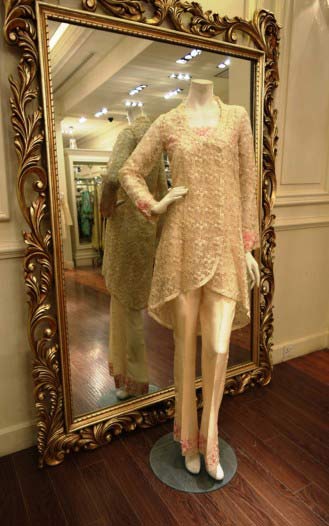 Beige net frock with matching cigarette pants
Beige net frock is another option to make your party event even more alluring. This shirt comes with inner lace shirt and net frock design with pearl spray all over. Pair this party wear top with cigarette pants and matching shoes.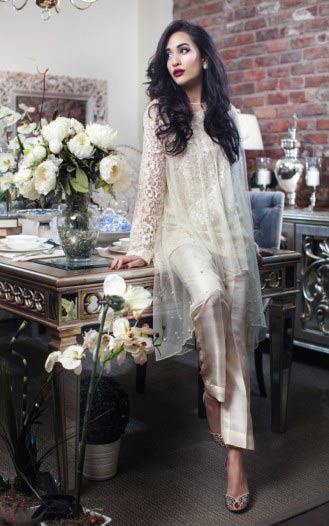 Light purple long tail frock with straight pants
It's time to wear your dream party wear this season. Grab this light purple long tail frock with asymmetrical pastel embroidery all over the shirt. Defined waist belt is sure enough to add beauty to this frock style. Pair this dress with cigarette pants and tempt everyone.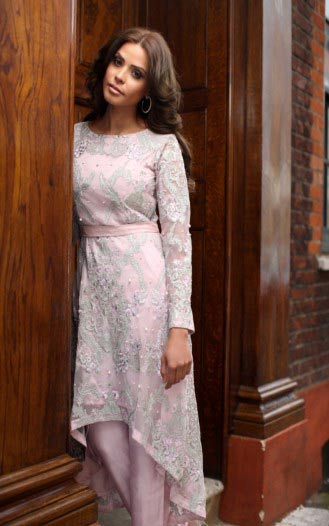 Ash white short frock with matching straight pants
Ash white frock with waist belt is full of silver kora dabka, pearls and sequins all over. Look alluring in this ash white modernized short frock design embellished with pearls, kora dabka and stones. Pair this heavily embroidered peplum with straight or cigarette pants that instantly draw attention of everyone around.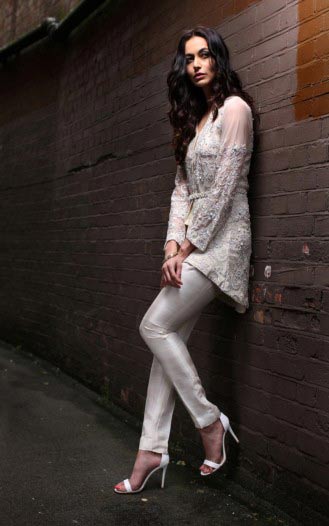 4. New Style Short Frock Designs With Tulip Pants
Designers' fancy party wear tops with tulip pants are most coveted by Pakistani young girls just because of their unique and classy styles. Tulip pants are also known as dhoti shalwar. This collection comes in different color range and these party wear frocks with tulip shalwar or pants are best to wear on on any homecoming event or holiday parties.
Here we have filtered the amazing designs of beautiful short frock designs with tulip pants that will look perfect especially on the reception or walima day because of their color scheme and significant work.
No one can resist from unique style of tulip shalwar presented by the most talented fashion designers in Pakistan for the wedding and party season. So choose your most favorite short frock design with tulip pants today that will surely make you stand out from the crowd.
Light blue frock with ash grey tulip pants
One of my most favorite party wear dress is this light blue peplum with tulip pants or shalwar. Elegant short frock with full of intricate embroidery and embellishments all over will certainly make you the centre of attention at wedding party night. This beautiful ice blue peplum comes with dupatta and tulip pants. Embroidery on ash grey tulip pants will add beauty to your overall apparel.
Skin short frock designs with blue tulip pants
Here comes another superlative option for short frock designs with tulip shalwar. This skin or beige color short frock will be more pleasing if nicely paired with contrasting blue color tulip pants. Delicate embroidery and cut-work on shirt, pants and dupatta, makes this party wear dress more tempting. It comes with blue tulip pants full of embellished pattern on the cuff.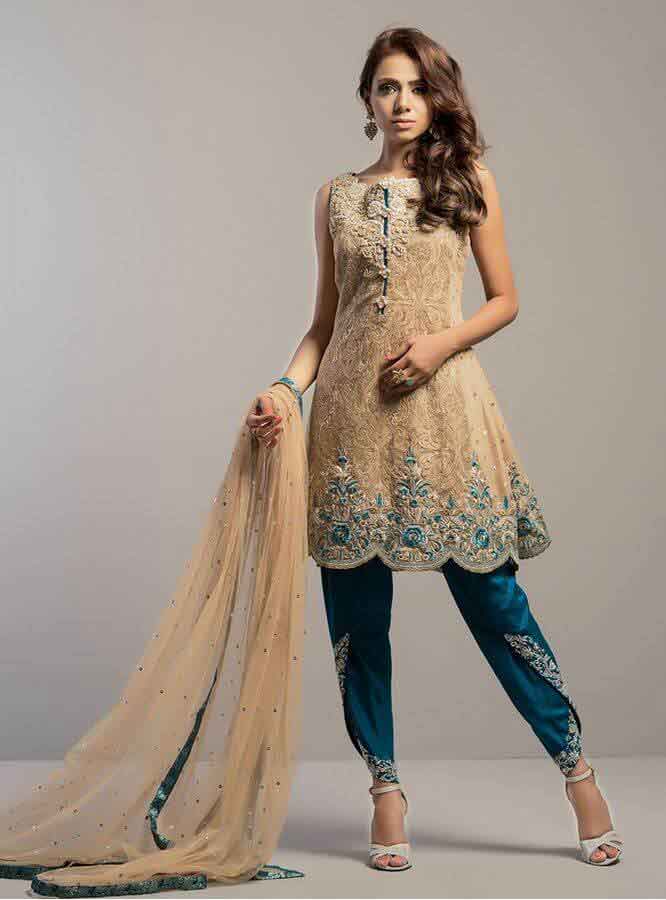 Above you have seen the best party wear short frock designs which are trendy in 2023. Grab your favorite party wear a dress today and rock the parties season with glamour. If you find any difficulty in placing an order for any of these short frocks or if you want more details about these dresses, then let us know via comment below or contact us.