Are you looking for the new styles of Indian bridal saree designs for a wedding event? Do you want to look ravishing on your big day? This article is certainly for you. Here you will find the best saree designs, color combinations with a blouse, saree draping styles, fabric types and know about the top Indian saree designers.
We have classified this Indian bridal dress collection into the following categories on the basis of colors:
Red
Blue
Pink
Orange
Golden
Afterwards, you will get to know about the following Indian bridal saree designs:
Best color combinations,
Saree stitching styles,
Fabric types plus quality, and
Top Indian designers
Best Indian Bridal Saree Designs For Weddings
Today, we have gathered the majestic Indian bridal saree designs by top Bollywood designers. Check out these full and half sari designs that will surely make your dream attire look richer to your persona. Designers make sure the use of enough good quality fabric such as net, brocade, chiffon, cotton, banaras and fancy silk fabric for each bridal wear. Traditional embroidery work enhances the grace and retains the high customer demand for an Indian wedding saree.
New Indian Bridal Saree Designs With Images
This time you can be your own style icon by wearing any of these new Indian bridal saree designs for a wedding reception. Turn your occasion into a special event and look ravishing clad in the traditional style. Grab your favourite dress today which will surely snaffle the attention of all people around you.
Bridal sarees mostly includes the conventional styles, that are heavily embroidered, hand-worked border and full of pearls, gemstones, emeralds and other decorations, in order to make the strong fashion statement. This collection exclusively includes the best sarees designs that are worn by new Indian models on the ramp. It comes in variant styles and vibrant hues from the palette that indulge everyone.
Latest Indian Wedding Fashion
Important Tip:
Are you confused either to wear a designer saree for the wedding or a party wear frock on your special wedding day? You can always have the multiple options for your big days. You need clarity, clear your mind from conflicting options and analyze deeply that what you want to wear on a specific day?
If you are still confused, then consider in detail, sarees and anarkali frock designs. If you want more details about it then feel free to leave us a message, and we will help you.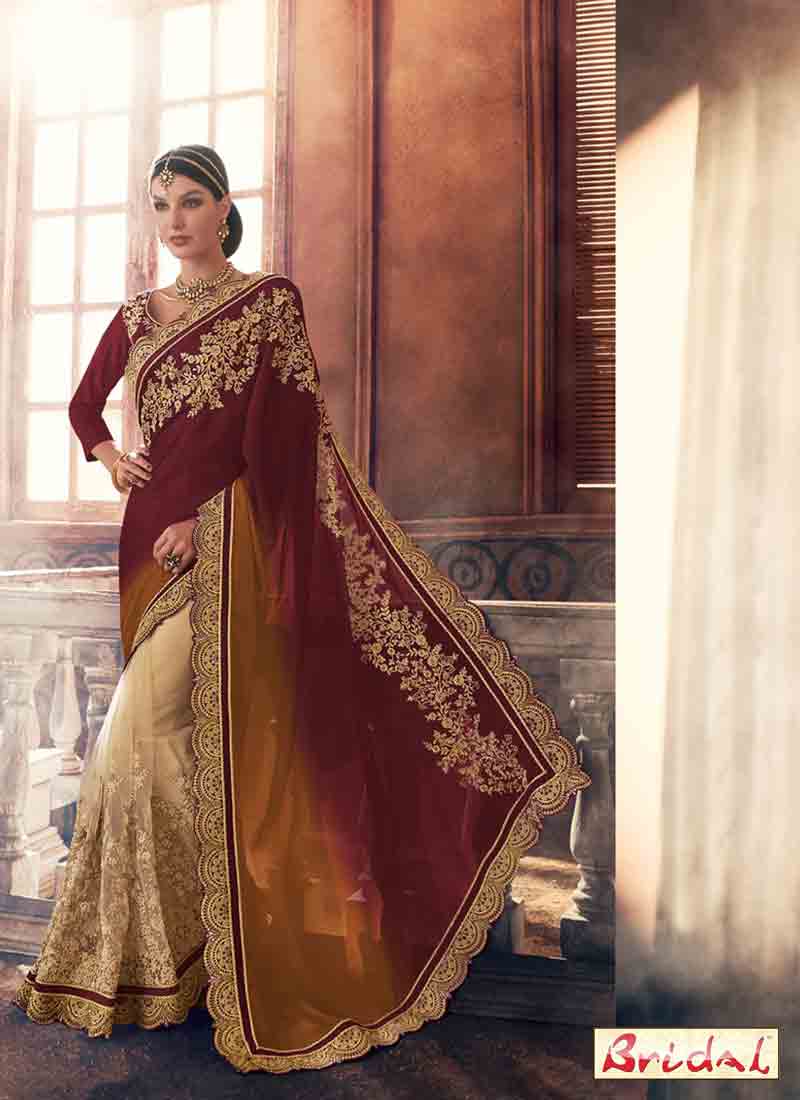 Dark brown and skin embroidered sari style
Now let's categorize these beautiful Indian bridal saree designs into the following colors:
Red
Blue
Pink
Orange
Golden
Check this statement below and you will find the answers to all questions regarding a saree dress value:
[su_note note_color="#e1f5f6″ text_color="#000000″]"When I drape a saree, I feel all womanly. The feel of the soft silk against my skin, the air caressing my midriff and my curves moulded into a beautiful form. Most of all the sparkle in your eyes at the sight of me, making me feel your strong arms wrapped around me instead of the saree. When I drape a saree, I feel more like draping you around me."[/su_note]
Following we have shown the new styles of wedding sarees with images and classified in terms of colors.
1. RED INDIAN BRIDAL SAREE DESIGNS
Red color has always been the primary focus of wedding brides. Traditional red color sarees not only look ravishing and classic but it also reflects the happiness and felicity at the same time. You can compare Indian bridal saree designs for wedding with Pakistani saree designs in terms of styles, fabric and the color scheme used by top designers all over the world.
A red saree is perfect for those brides who want to follow the conventional wedding style. You still have the option to wear it on the other festivals such as Diwali, Holi, Navratri and so on. Scroll down to see the Indian saree images in red color.
Do you want to apply bridal mehndi designs on your hands or feet that match your saree as well? Then you must not miss these latest bridal mehndi designs that have been always the central attention of traditional wedding brides.
2. BLUE INDIAN BRIDAL SAREE DESIGNS
As we have mentioned earlier that these fancy Indian bridal saree designs come along with matching blouse, different draping styles, quality fabric, elegant embroidery work and entails an attractive range of colours. But the blue color looks even more gorgeous that appears to be chic and glamorous in person.
Make sure that you give into the exotic confluence of today and tomorrow by wearing beautiful blue wedding saree on your special wedding/reception day (formally) or parties (semi-formally).
1. PINK BRIDAL SAREE DESIGNS
Get ready with your new pink saree and be the sunshine of everyone's eye by wearing one of your favorite Indian bridal saree designs. Some of these dresses come with a low price but most are overpriced and tends to be little more expensive because of the intricate embroidery, embellishments, and designers' goodwill as well. The pink color is meant to be the color of decency and soberness.
Hence, go classic yet stylish with any of these pink designer sarees to buy online (shown below with images).
4. ORANGE BRIDAL SAREE DESIGNS
Have a look at the beauty of these orange sarees that includes the new styles of Indian bridal saree designs. Wear your favorite wedding dress in orange color and be the queen of party night by creating the smashing effect on everyone around you. Either you are the bridal or going to attend the upcoming wedding party, choose your new saree design with a gorgeous blouse that comes along with the different draping style ideas and attractive color combinations.
1. GOLDEN BRIDAL SAREE DESIGNS
Here comes the tremendous collection of golden Indian bridal saree designs with images. The ethnic borders and embroidery work all over the pallus, blouse and handworked borders, will surely add the sign of magnificence and decent statement for your wedding look. Following we have showcased the best sarees in golden color, choose your favorite and stand out from the crowd.
The primary focus of this article is stick to the designer saree styles for wedding ceremonies. Remarkable and artistic skills used for this bridal wear will surely allow you to stand out from the crowd. You are going to be the centre of everyone's attention on your big day, so do not miss the chance to follow latest trends of designer sarees for the wedding party (which includes: full and half saree designs).
VIDEO TUTORIAL ABOUT "HOW TO DRAPE A SAREE"
Are you wondering for "how to wear a bridal saree?" Do not fret at all! Here we will see a step by step video in which Arti (Fashion and Style expert) shows: how to beautifully set your bridal saree with a perfect draping style with further embellishments.
Let's see a video first!

Check out more beautiful saree designs:

Now let's have a look at the following Indian bridal saree designs one by one:
Best color combinations,
Saree stitching styles,
Captivating fabric types and quality, and
Top Indian designers.
Color combinations for wedding sarees
The color combination and range of these beautiful bridal wear includes mostly red, pink, beige, green, blue, shimmery golden, white, cream, yellow, peach, orange and black sarees, that appeals to everyone.
Different Indian Saree Stitching Styles
Latest saree designs for brides are crafted mostly with elegant embroidery handwork, intricate stonework and patch borders. While the rest of the dresses are super decent that come with graceful embroidery on borders and sophisticated color combinations. Each of the bridal wear has been displayed with different saree draping style ideas for you, that will help you to choose the best draping style for your wedding reception.
Here are the new Indian lehenga choli designs to try in 2019.
Following we have mentioned the different stitching styles of Indian bridal saree designs that are most sought after by the ladies.
Indian full and half saree designs
Long front slit blouse
Traditional style
Saree without pleats
Sarees with different color pleats
Classic designs
Wedding pattu sarees
Long sleeved saree blouse style
Lehenga saree
Saree with fringe, tassels, statement and subtle borders
Different saree draping styles
Geometric and printed blouse style
Would you love to wear stylish saree blouse designs? Go for the best Indian saree blouse designs and grab your desired one to win the hearts of everyone.
The fabric used for Indian bridal saree designs
High-quality fabric has always been the central focus of Bollywood designers. Thus, they focus on how to beautify the elegance of femininity at a crown, it includes:
Banarasi sarees
Bridal net Saree
Faux Crepe
Georgette
Wedding silk sarees
Brocade
Cotton
Chiffon
Crepe Jacquard
Fancy fabric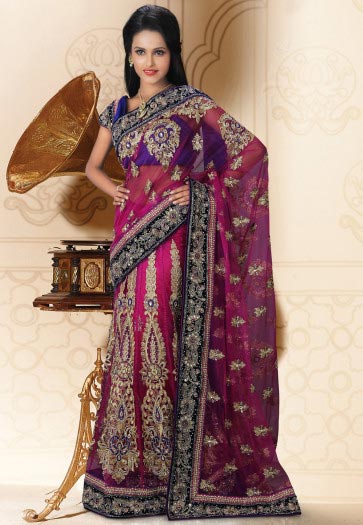 Magenta and blue net saree design with the royal blue blouse
Top Indian designers for wedding sarees
There are following top saree designers for the year 2019, who have got much popularity for introducing distinctive saree designs not only in India but also in Pakistan and other Asian countries as well. South Indian sarees have been designed with simplicity and a touch of soberness that makes each product of this bridal wear a masterpiece for wedding party dress collection.
Here is the top list of designers in Bollywood then afterwards, we have shown the latest Indian bridal saree designs with images in respect of color combinations.
Satya Paul
Manish Malhotra
Sabyasachi Mukherjee
Tarun Tahiliani
Gaurang Shah
Rohit Bal
Ritu Kumar
J.J Valaya
Neeta Lulla
Payal Singhal
Nakul Sen
Anita Dongre
Manish Arora
Arpita Mehta
Anju Modi
Bollywood designers always follow the latest fashion trends by introducing unique styles, intricate embellishments, color schemes, delicate handmade embroidery on pallu, blouse neck designs, motifs on back of blouse and intricate embellishments on borders.
Sarees are the most wonderful wedding party wear (especially in Asian countries), every single girl must learn how to drape it in a perfect way. It is a dress that suits everybody, here is what Vidya Balan has to say about it:
[su_quote cite="Vidya Balan"]"I enjoy the sari. I think it's the sexiest garment ever. It shows you the right amount, it covers the right amount, it's extremely versatile, it suits every body type, it suits every face."[/su_quote]

Above you have seen the new styles of bridal sarees for the year 2019. All of these Indian wedding dresses are available in stores and you can buy sarees online. Choose your favorite one and grab it today to influence everyone around you during this party season. Get dressed in any of these most beautiful designer sarees to stand out from the crowd.
Are you interested to purchase any of these latest Indian bridal saree designs? then feel free to contact us or comment below. We read and reply every feedback because we are happy to help you always.