Here comes the most glamorous Pakistani saree designs for your special wedding day! If you haven't decided the color combinations with blouse yet, stay here! Either formal or semi formal, this traditional wear is the ideal choice to carry on any occasion. Wedding brides prefer the Pakistani designer sarees that come in bright colors, heavy embellishments and fully loaded with stone work.

Grab your favorite outfit and influence everyone around you during this wedding season. This latest collection includes quality fabric like: net, banarasi silk, chiffon, bareeze, cotton and georgette saree designs. If you are wondering about "how to wear it" or curious to know the different draping ideas, then you must watch a video tutorial (shown below).
In this article, we have put together top Pakistani fashion designers such as Zainab Chottani, Tena Durrani, HSY, Deepak Perwani, Maria B, Suffuse and Threads and motifs, to showcase the latest collection.
Pakistani Saree Designs By Top Designers
A saree captures the exuberance of womanhood in its full glory that will bring out your fragility and femininity. As compared to the Indian saree designs for wedding, these are mostly the combination of a variety of attractive hues from the palette.
Choose your favorite style from the following collection displayed by Zainab Chottani, Tena Durrani, HSY Studio, Deepak Perwani, Suffuse and Threads and Motifs.
True splendor can come out of your dressing trend with these classic wear. Outstanding craftsmanship of embellishments exposed in this collection, that will make you look stunning and glamorous.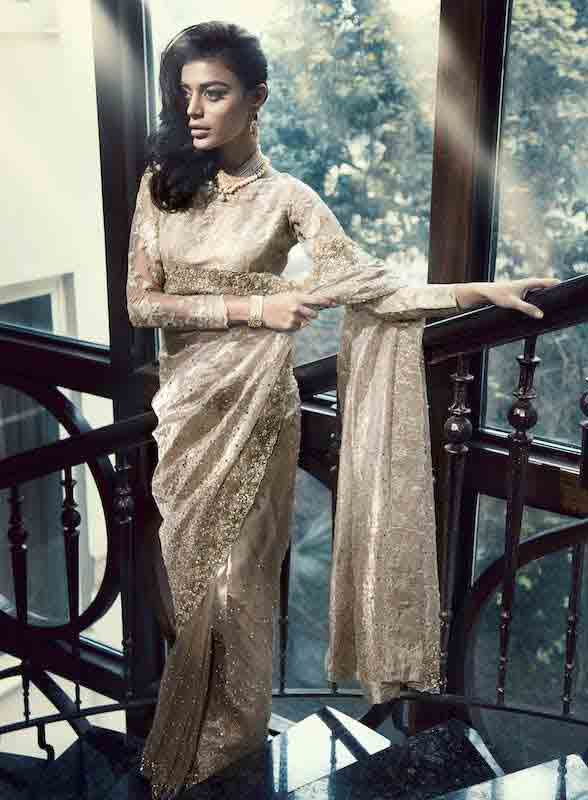 This collection represents the tremendous work of designers for wedding brides.
Zainab Chottani
Tena Durrani
Hassan Sheheryar Yasin (HSY Studio)
Deepak Perwani
Maria B
Suffuse
Threads and Motifs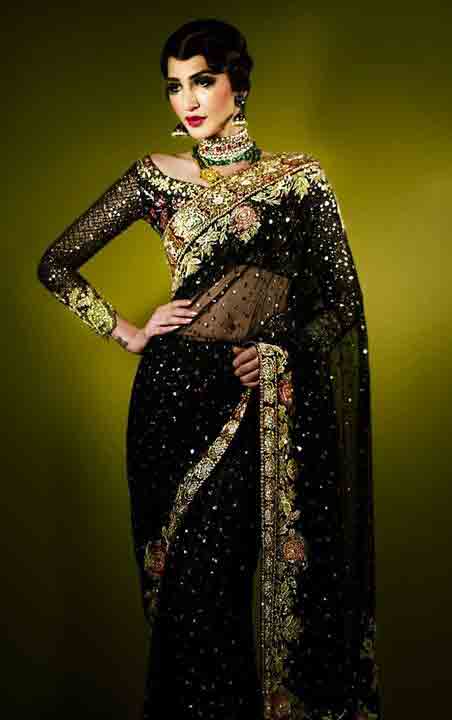 Pakistani Wedding Sarees Online
There is plenty of options available online to choose from and that can be confusing for you. So, we have spent hours to crack the tough nut for you. Here you will find the best saree designs from the latest collection of different designers.
If you want to purchase online, you can also visit official websites of the respective brands. There you will find multiple images of Pakistani models in sarees along with price and size details.
There is a rising fashion trend of fashion shows including:
Fashion Pakistan Week.
Islamabad Fashion Week.
Karachi Fashion Week.
Lahore Fashion Week.
Peshawar Fashion Week.
PFDC Sunsilk Fashion Week
These shows mainly focuses to exhibit the full front and back saree designs, blouse designs, draping styles, plates and of course the cameraman tries best to capture the intricate embroidery patterns and stuff.
If you are wondering about how to style your dupatta with lehenga, then check out the new styles of bridal dupatta setting.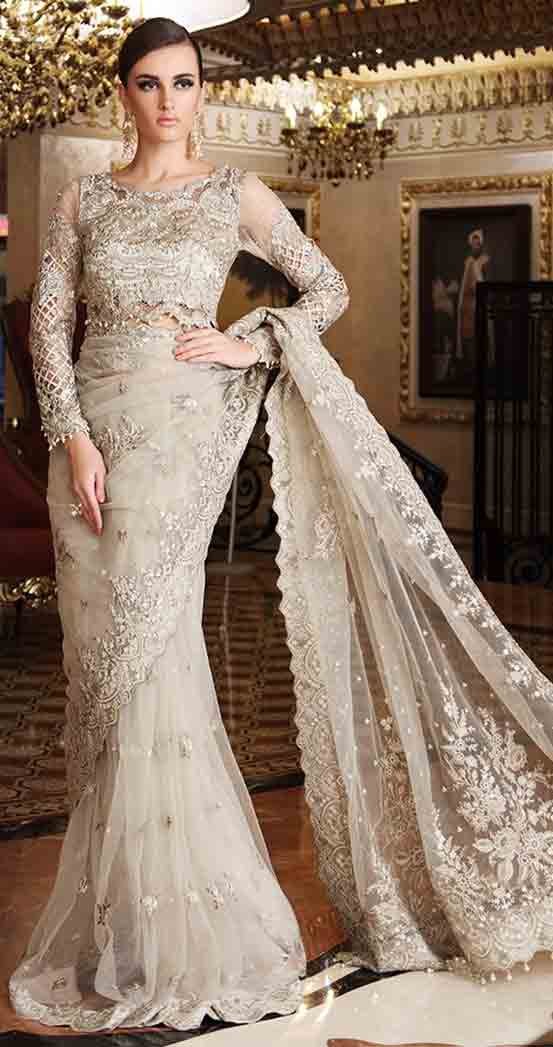 Be the sunshine with your favorite design and influence everyone around you. Lots of Pakistani actresses in TV dramas and movies wear sarees just because it enhances the overall beauty of a young lady. The artistic embroidery work and high quality fabric of banarasi silk, chiffon, bareeze, cotton and georgette, makes this collection even more charismatic and unique.
Different Saree Styles In Pakistan:
Full and half style
Long front slit blouse
Classic Style
Pakistani lehnga saree
Without pleats
With different color pleats
Long sleeved blouse
Simple or plain
Silk
With fringe, tassels, statement and subtle borders
Geometric and printed blouse
[su_note note_color="#e1f5f6″ text_color="#000000″]IMPORTANT TIP: In order to avoid chaos of loosening and tripping your saree, you must have to use safety pins! Pin it right, especially on the pleats and the pallu: because these are the two peaks that you cannot skip at all.[/su_note]

Different Work Styles:
Katan
Lace designs
Mukesh
Net designs
Chikankari and Kamdani work
Pakistani sarees designs are full of vibrant colors and heavily embroidered. Brides are encouraged to try any of these designs on their barat, or walima day. Let your style speak the beauty itself and it will definitely make you stand out from the crowd.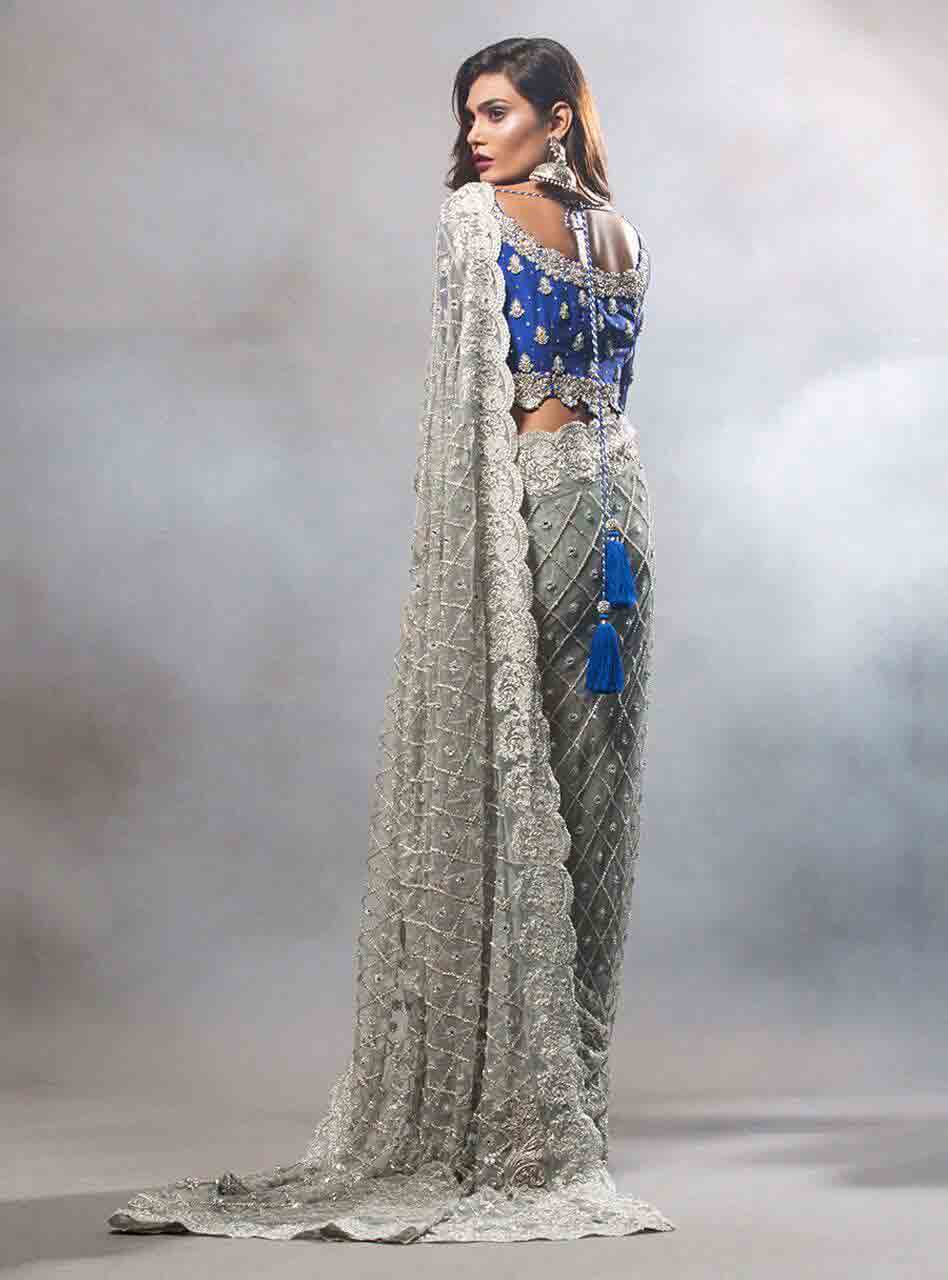 Bridal Sarees In Pakistan (With Images)
The interesting weaving work in the course of these wedding outfits is awe-inspiring. This collection includes the handmade embroidery all over and heavy embellishments of pearls and gemstones that indulge every soul.
The year 2023-24 brings all new and colorful dress styles for bridals. Fashion trends have changed from traditional to modernistic ways. The best color combination ranges from beige, red, blue, golden to black saree designs.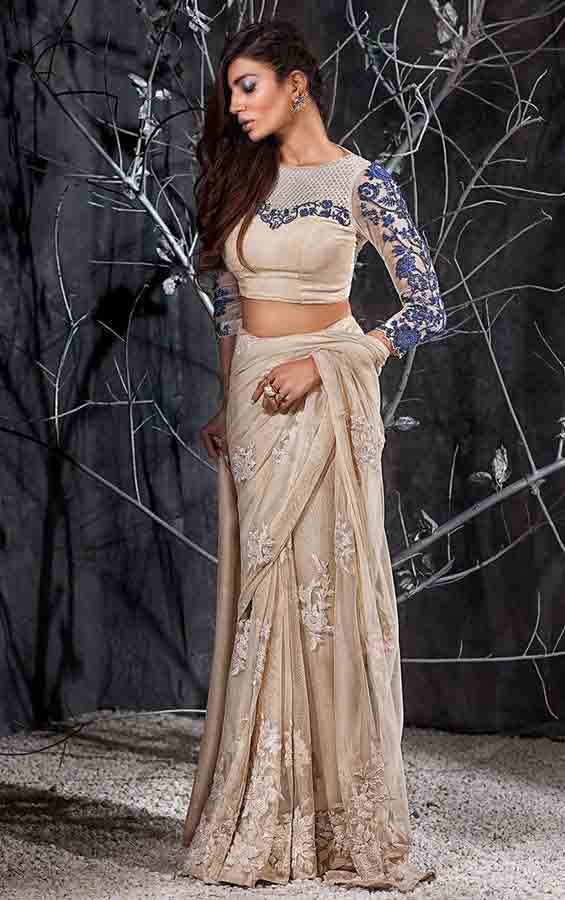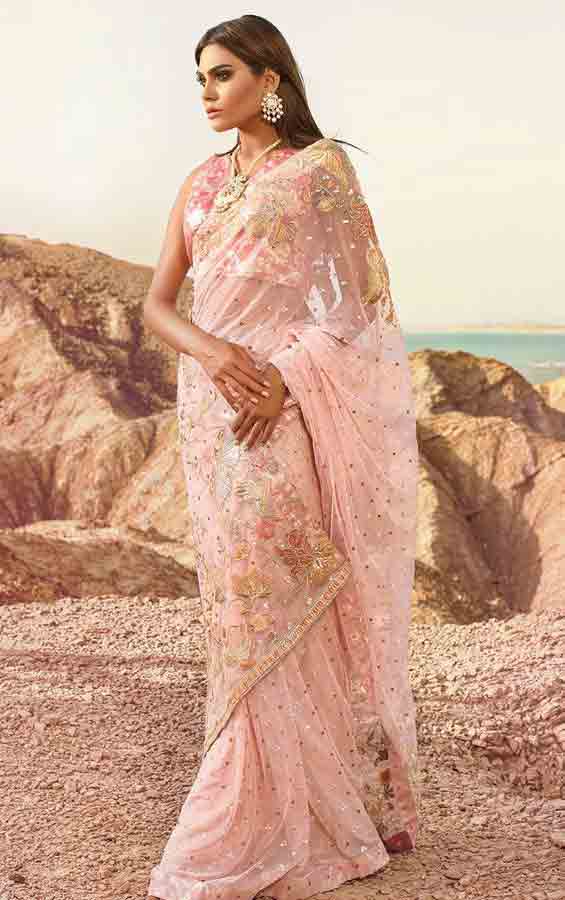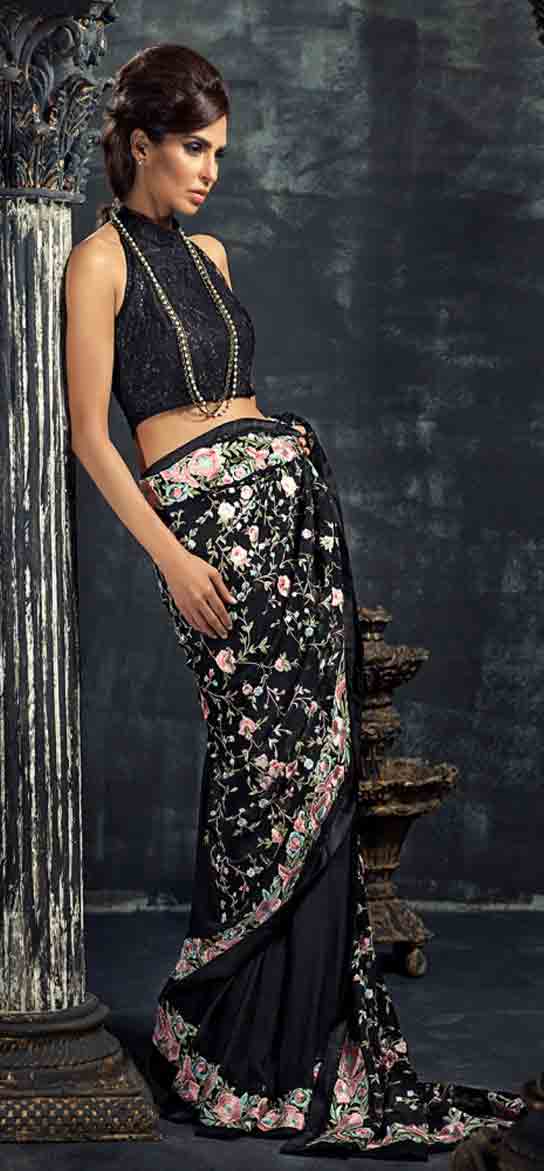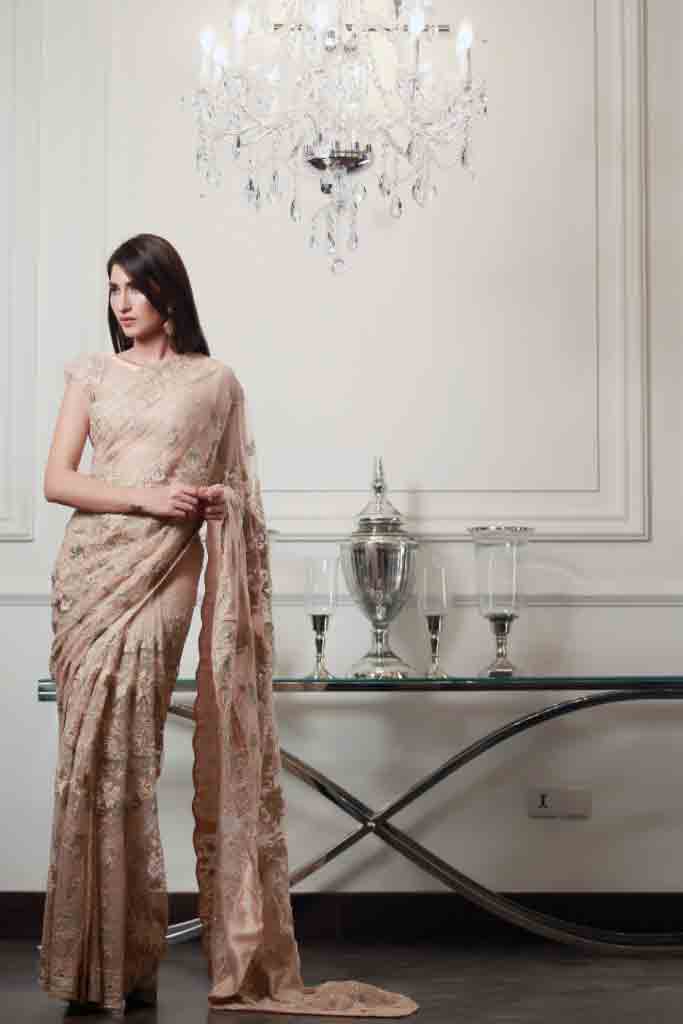 Here is what Vidya Balan has to say about this traditional wear.
[su_quote cite="Vidya Balan"]"It's a most natural way for me. I can tell people I can run in a saree and I can do five sequences in it. I can romance in a saree and I can do everything in a saree. For me, it's a most versatile garment…it's extremely sensuous and at the same time it is strong, there is an elegance and at the same time it teases your imagination…It's very powerful."[/su_quote]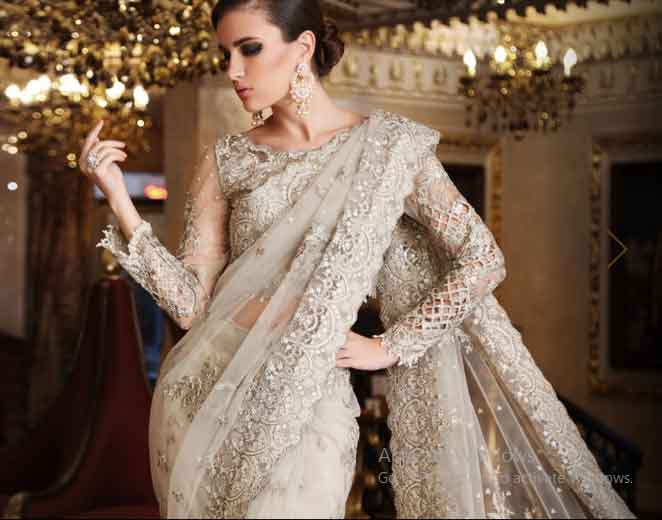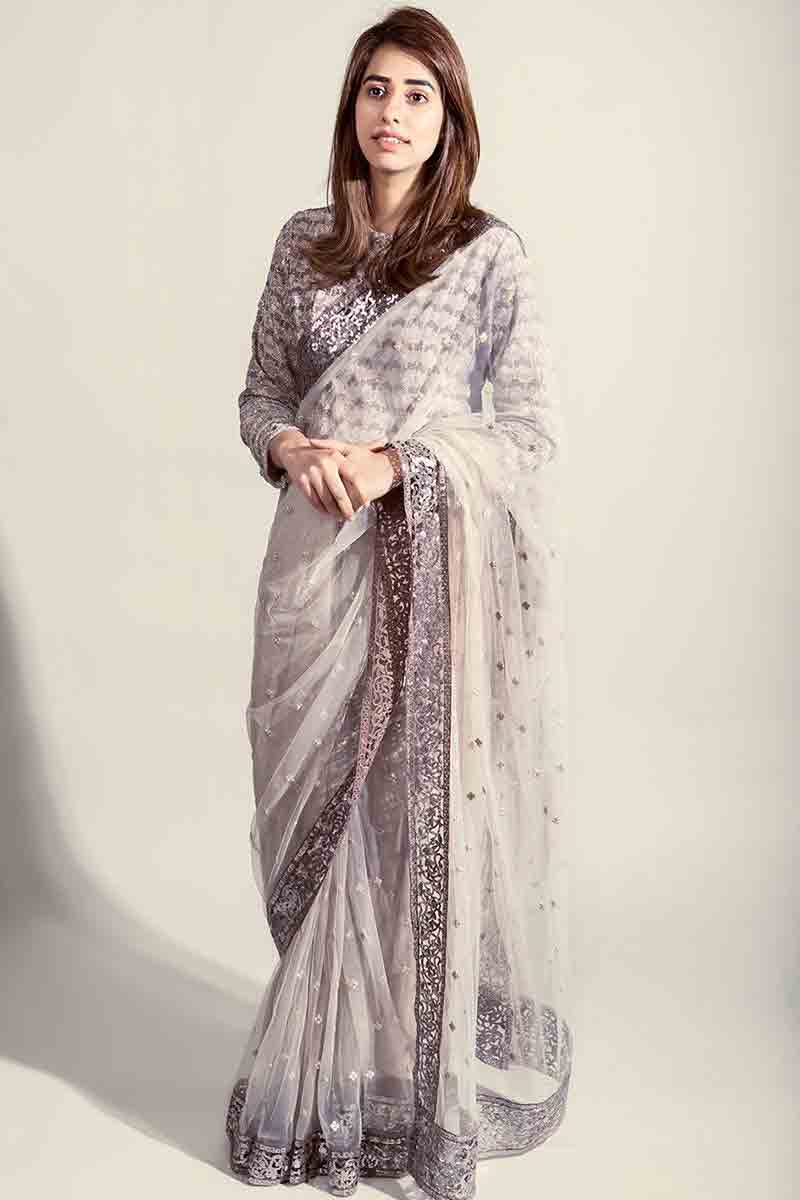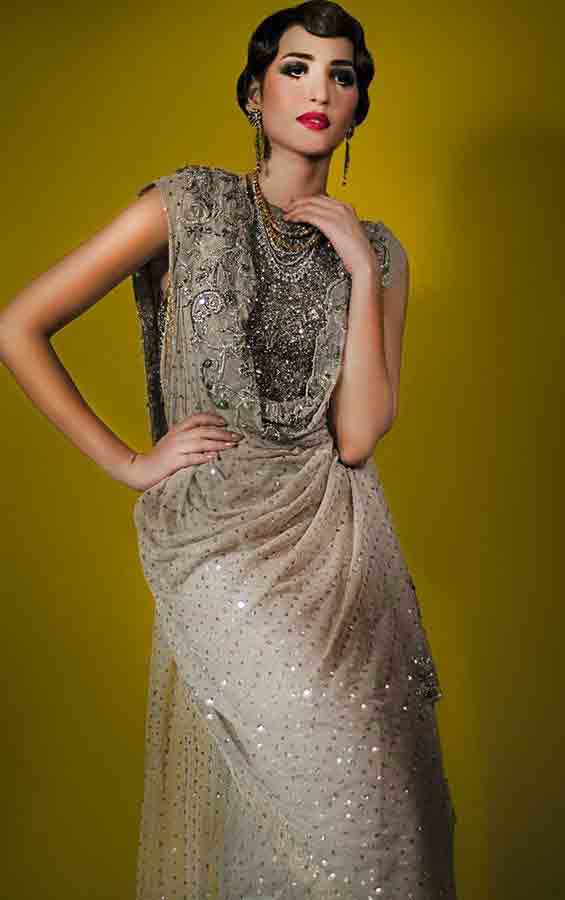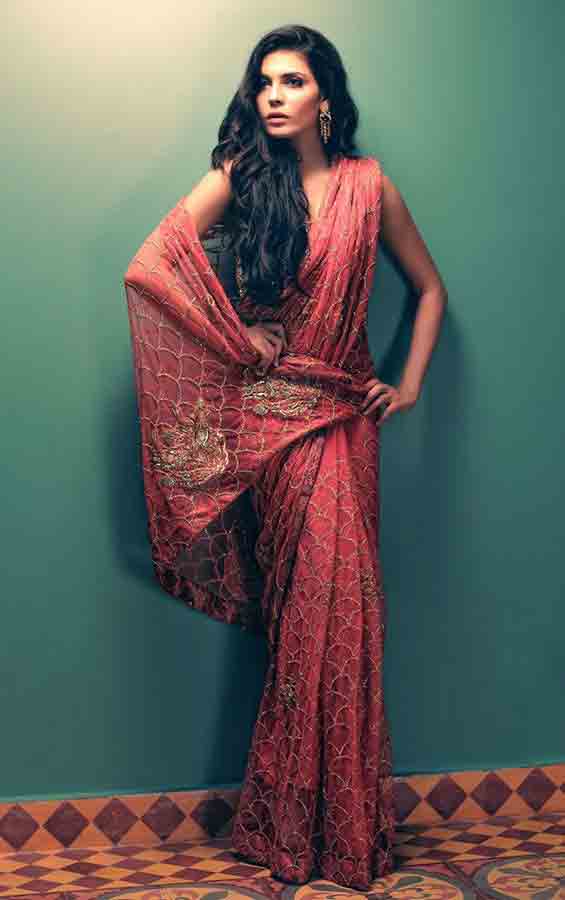 [su_note note_color="#e1f5f6″ text_color="#000000″]Note: Make sure to wear a comfortable footwear with saree. It's best to opt for fancy flat shoes or sandals with minimum or no heels at all. If you cannot resist wearing heels, then you can choose to have wedges! Wedges are super comfortable, it will not only make you look taller, but it will also help to walk smoothly on rough surfaces.[/su_note]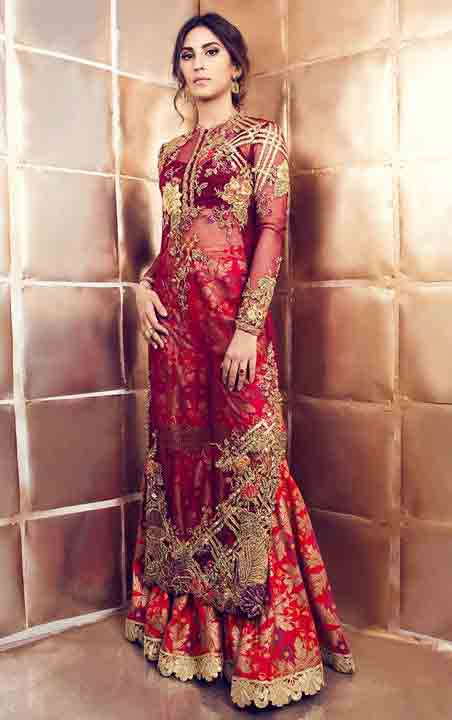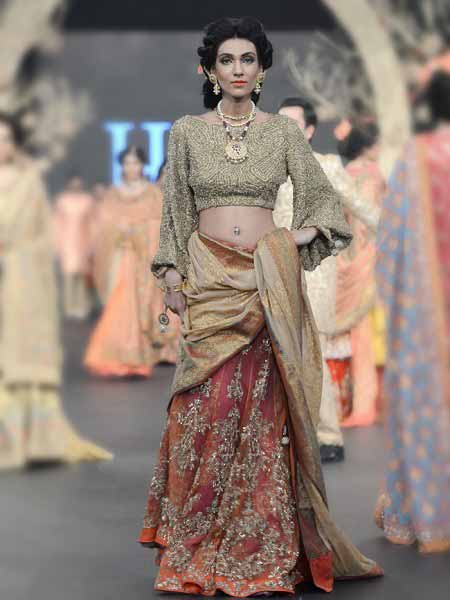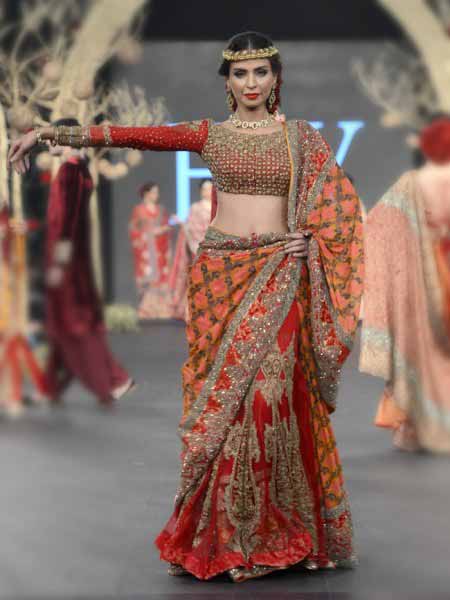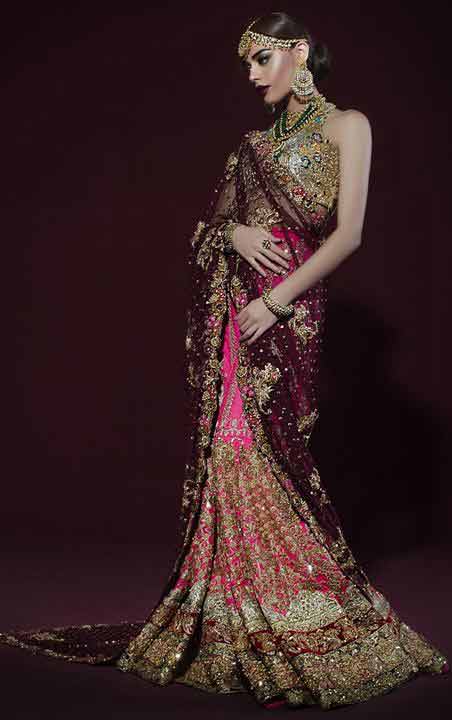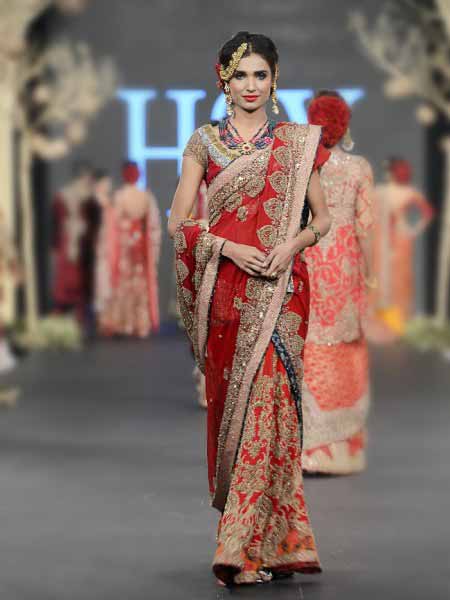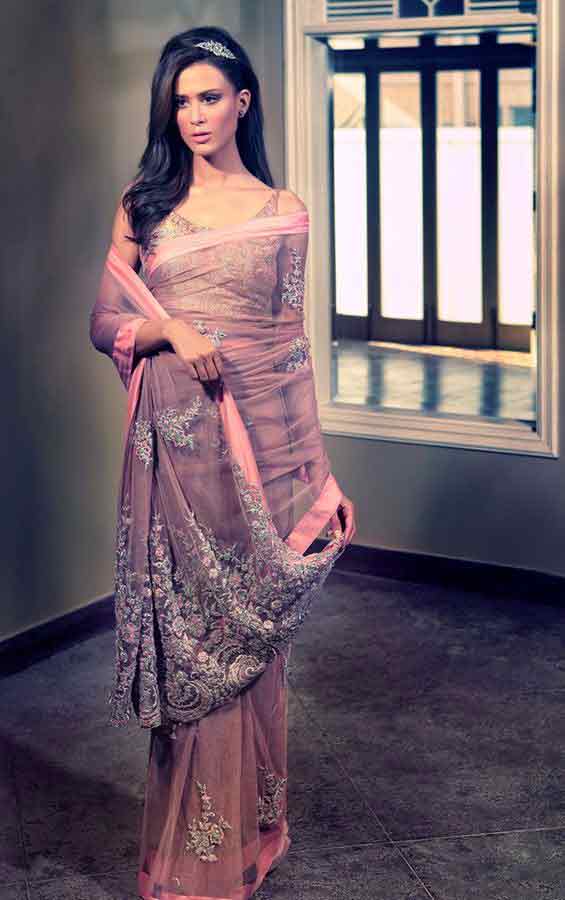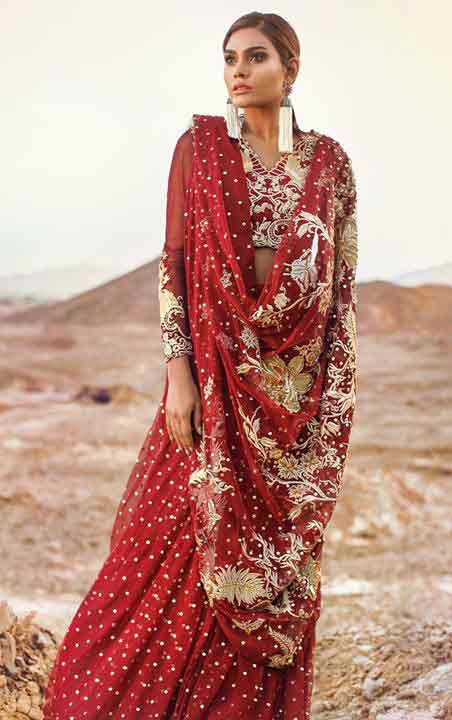 4 Different Styles To Wear A Saree
Tired of wearing saree in the same style every time? Why not try different draping styles?
After you have seen all the designs with images and models photoshoot, now this is the right time to teach you four different styles to wear it.
Let's watch a video tutorial with step by step complete guide to drape your saree in conventional yet stylish ways. Here you will also learn the tips and tricks to look slim and tall.
Above you have seen the latest Pakistani saree designs showcased by top fashion designers. Choose your favorite one and grab it from the nearest outlet or you may go for the online shopping.
All the ladies in Pakistan or living abroad as well as the Indian beauties in style, can also purchase any of these designs by simply contacting the designers.
If you find any difficulty in online shopping, then feel free to contact us via contact form or comment below to know the prices.
Do you have any questions in your mind? Do not keep them with you! Let us know what you think about Pakistani traditional saree styles. We read and reply every feedback.
If you want to wear red color bridal dress on your special wedding day, then do not forget to check out these latest bridal dresses in red and gold color combinations.