The most beautiful and conventional style of Pakistani bridal dress combinations perpetually comes in none other than the mesmerizing red and gold colors. If you are in search of stylish yet traditional Pakistani bridal dresses in red and golden color combinations 2023-24, then you are at the right place.
You can even up any of these Pakistani wedding dresses (shown in red color with images) according to your convenience. Have a look at the new styles of red dresses for Pakistani bridals and cherish your special wedding day in an elegant and stylish way.
Fashion Even provides you with plenty of options to style and plan your wedding days, according to the latest fashion trends.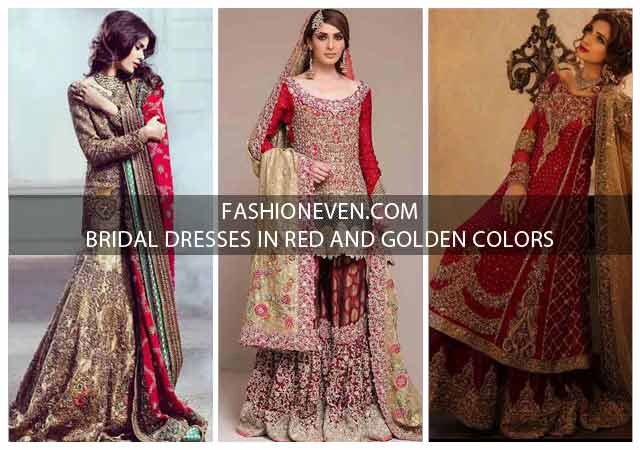 Bridal Dress Designs In Red And Golden Combinations
As a bridal, you know that you will be going to the center of everyone's attention on your special wedding day. Therefore, you must try to choose your bridal dress which is full of elegance, decency and displaying the quality of morality as well as conventional enough to keep alive the Pakistani traditions.
You may opt for such Pakistani bridal dresses in red color that lets in the floral patterns, intricate aesthetics and glittering embellishments which will celebrate femininity.
Following we have showcased the new styles of golden and red bridal dresses color combinations that will not only make you look glamorous but also super stylish and adhering to orthodox.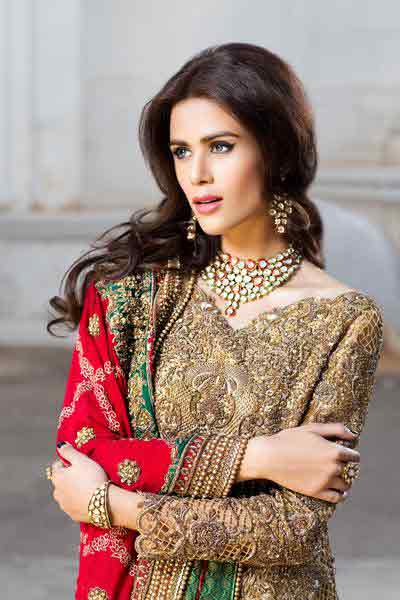 All of these red and golden bridal dresses color combinations includes many different styles of bridal lehenga choli, bridal jacket with lehenga, bridal short frock peplum with lehenga, bridal long or short shirt with sharara, bridal long tail maxi gowns, bridal long shirt with lehenga designs and so on.
Although, the main idea of this article will stick with the latest Pakistani bridal dresses in red and gold color combinations that are trendy in 2023-24.
A red bridal dress in Pakistani style will certainly make you leap out from the rest of the crowd because of its voguish cut and endearing delicate designs that will grab the attention of everyone around you.
If you haven't picked out your bridal mehndi day dress yet, then choose your bridal mehndi dresses with price from here.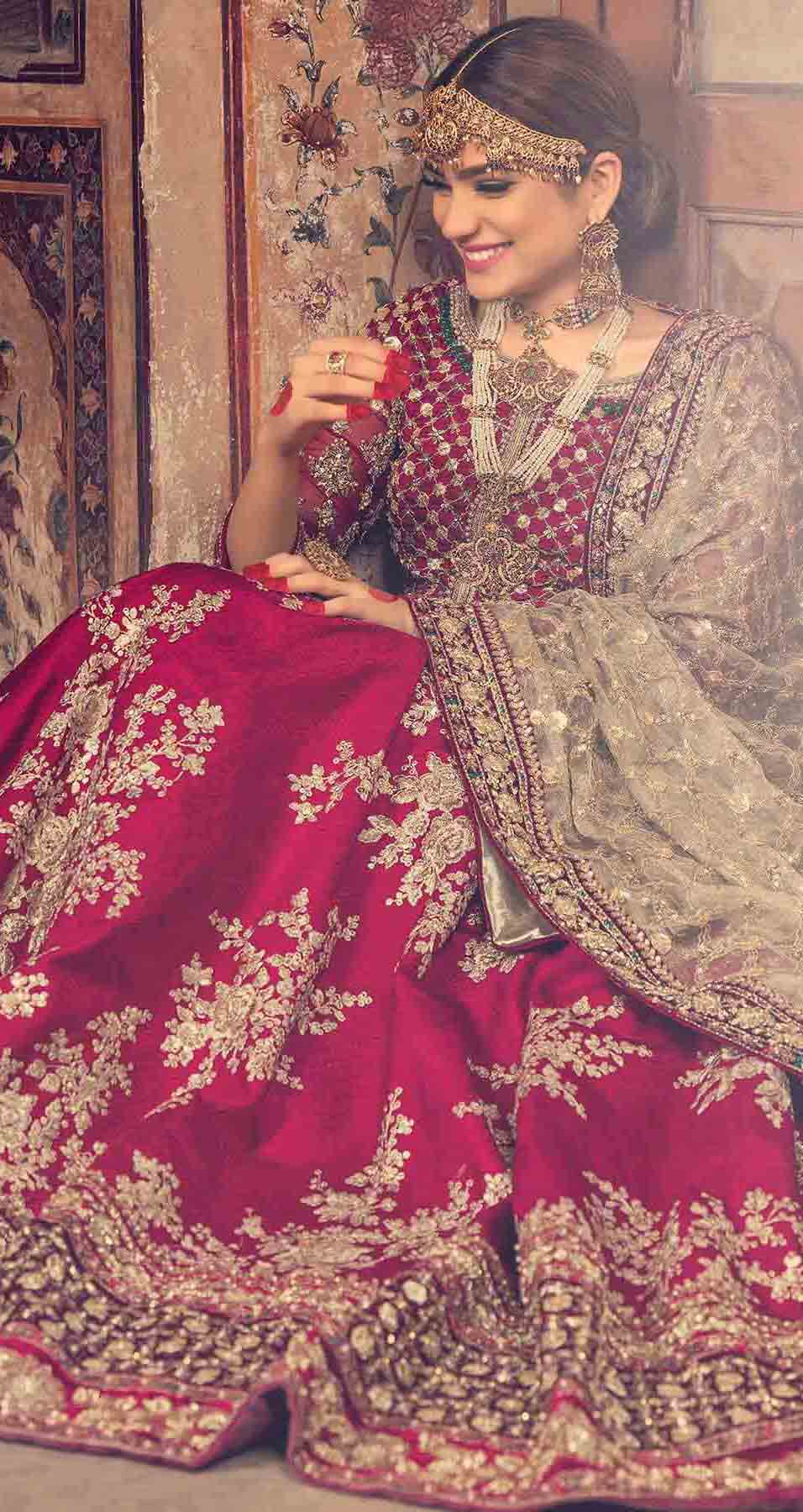 All of these bridal dresses comes from the latest bridal collection revealed by top Pakistan fashion brands such as Zainab Chottani, Deepak Perwani, Maria B, Suffuse By Sana Yasir, HSY (Hassan Sheheryar Yasin), and so on.
Although, this entire bridal collection shown here with images, is overpriced for middle or lower-class families. It is because, these fashion designers make sure the use of precious stones in all of the bridal dresses such as rubies, gemstone, crystalline rock, pearls, beads and stones that are costly and valued enough.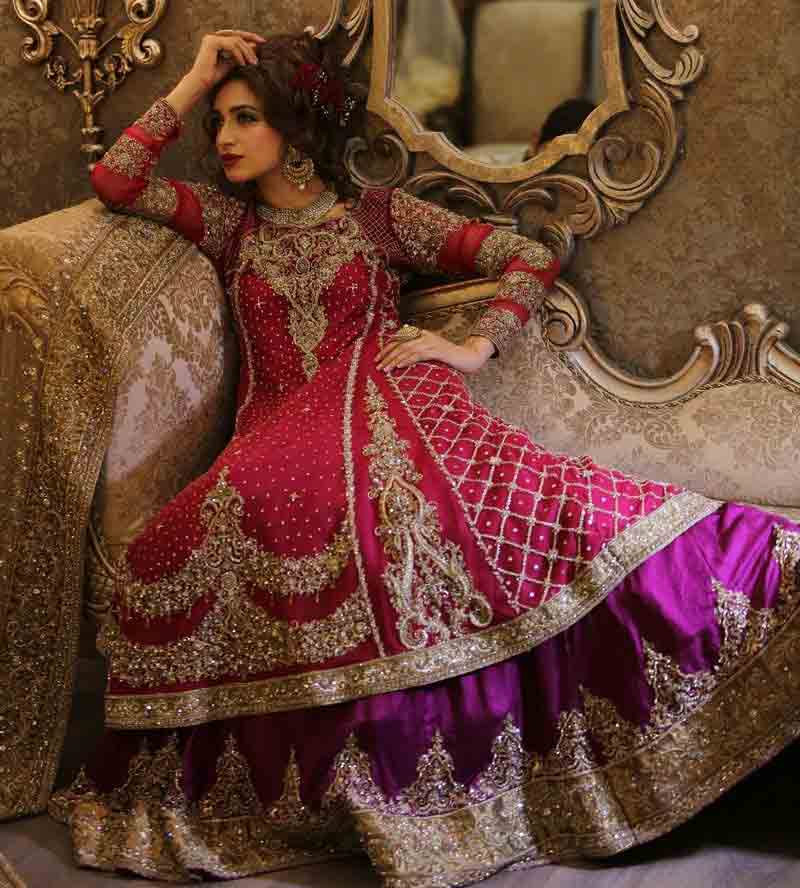 What if you cannot afford the prices of Pakistani designer bridal dresses?
If anyone of you cannot afford the prices of these Pakistani bridal dresses in red and gold colors, then don't fret at all. There are tons of ideas you can still hold to get your best bridal dress for your wedding. For example:
You can show these bridal dress images to your wedding dress designer and place an order for a replica of any of these designer bridal dresses that comes in red and gold color combinations.
You can even modify the red and golden color combinations if you prefer red color with any other colors from the palette (such as, red bridal dresses with gray color combinations, bridal outfit in magenta with gold color combination, Pakistani wedding bridal dresses in red and off white colors and so on). Though, the red color scheme is preferred to get a super traditional look.
Ask your wedding dress designer to use the high quality fabric, gemstones and pearls etc. Keep in mind the followings:

Hand embroidered
Dabka work (best results: if dabka work is on cotton net)
Cut work and glass beads either on border of lehnga, front of bridal kurti, back motif of shirt or on sleeves
You may use organza flowers on tissue lehenga
Give your latest bridal dress a new touch with digital printed dupatta,  having delicate embroidery on borders and pearls spray all over the bridal dupatta. (You may have net dupatta instead of digital printed one)

You can even get several ideas about lehenga kurti length, different design and styles of bridal dresses in red color combinations, bridal dupatta settings and so on.
In case if replica, you will get your best bridal dress in red color and will be able to manage it somehow, to achieve the desired results in accordance with the designer bridal dresses in red and gold colors.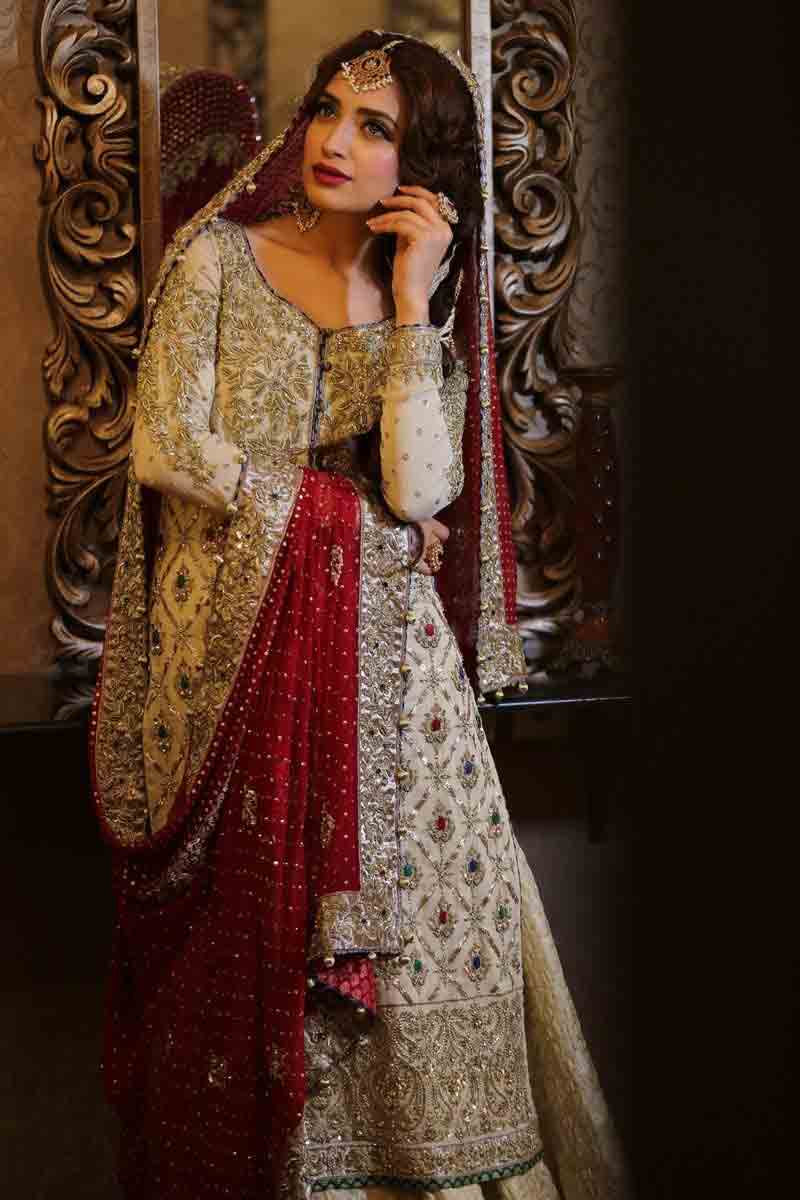 If you want to match your wedding dress with groom then don't miss to check out the matching wedding dresses for bride and groom.
Have a look on these latest bridal dresses colour combinations, which are trendy yet traditional in Pakistan. Scroll down the images about pakistani bridal dresses in red and gold colors and get new thoughts for your bridal dress theme out of the box.
Above you have seen the new styles of Pakistani bridal dresses in red and golden color combinations.If you have any questions or want to share your thoughts about any of these latest bridal dresses then feel free to comment below, because we read and reply to every comment by heart. We hope that you must have got more or less ideas about how to plan or design your wedding dress by seeing these Pakistani wedding dresses images in red and gold color combinations 2023-24.