Today we are here with the best bridal dupatta styles in 2023-24 that are most coveted by Pakistani and Indian brides. The latest wedding fashion trends now have become more interesting that arouse curiosity among people not only in Asian countries but also in most of the parts of the world. Nevertheless, there are plenty of options available on how to set bridal dupatta for wedding or barat day.
Thus we have cracked the tough nut for you and tried our best to gather all the new dupatta styles at one place. The bridal dupata setting style images shown below, includes the bridal dupatta setting on head for wedding, best bridal dupatta setting styles and how to set bridal dupatta in different style?

Rather than focusing on to wearing a most expensive wedding bridal dress on your wedding day, try to carry the dupatta in a most impressive and stylish way that everyone get inspired by you. There is a tradition for the wedding brides to carry dupatta on her wedding or barat day.
Not only in Muslim countries like Pakistan, Turkey, Malaysia United Arab Emirates, but also in other Asian countries such as India, Bangladesh, Sri Lanka and others countries. So here we have brought you the best bridal dupatta styles or draping styles and new ways to style bridal dupatta that are sought after by Asian brides. Check out best Pakistani bridal lehenga designs.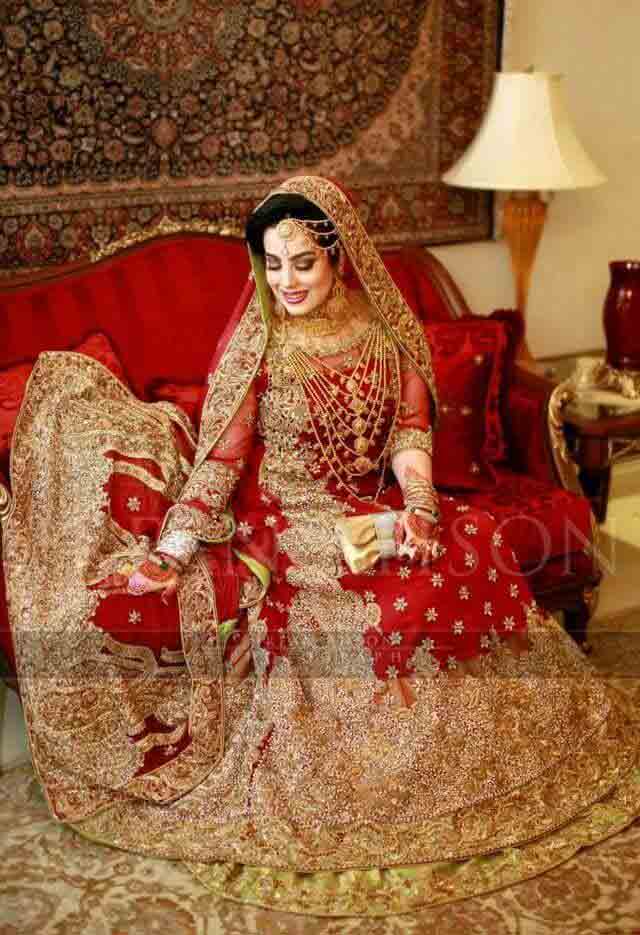 Bridal Dupatta Styles For Wedding
Here are the best bridal dupatta styles for the wedding brides who are into fashion. Follow the latest fashion trends with dulhan dupatta designs specifically in Asian countries. You must carry your dupatta on your special day with unique and stylish style because you are going to be the queen of wedding ceremony.
Here we have gathered the various wedding dupatta styles for Asian brides and a guide on how to wear a dupatta on head in different styles. See here latest bridal mehndi designs.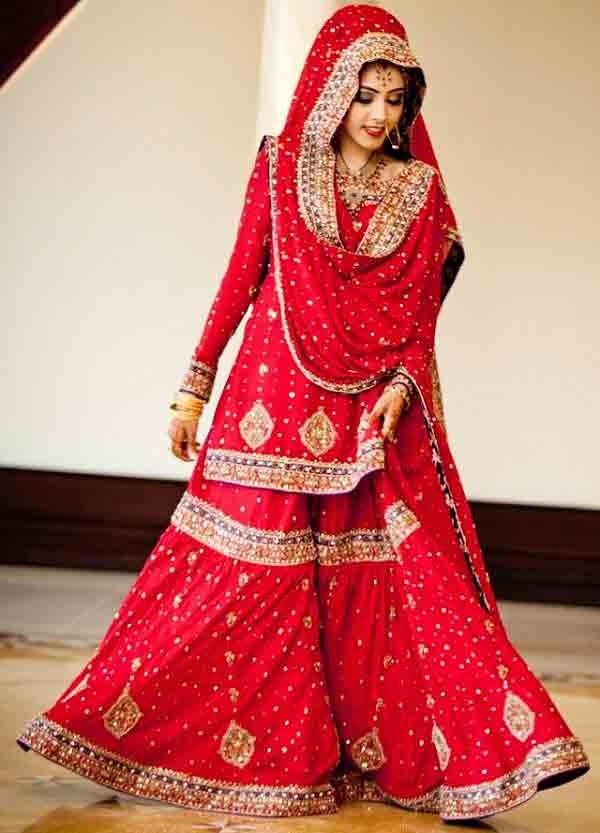 Basically, there are plenty of different ways of draping bridal dupatta styles such as:
Traditional way to cover the bridal head with dupatta while hanging the both sides of dupatta loosely in front or behind (as you like).
Setting one end of dupatta in front of the bridal and the other end is set behind.
Anarkali dupatta style.
Traditional way of covering the head and chest of the bridal.
Deep V shape dupatta setting styles, which is also called U shape draping style of dupatta.
Covering the head with bridal dupatta and hanging the rest dupatta just like loose drape of dupatta across the wrists, one end of dupatta from front and the other end from behind.
Covering the bridal dupatta with loose ends.
Wearing bridal dupatta on head with front V shape or U shape dupatta style.
Pakistani model bridal dupatta  style.
Indian bridal dupatta setting style.
Gujrati dupatta style for bridals.
Setting both ends of dupatta in front from behind while the dupatta is on head.
Spread one side of dupatta in front while covering the head and the other end of dupatta sent back loosely.
Follow the number 12 dupatta style, instead of spreading dupatta in front, carry that in opposite hand.
Cover the bridal head without showing any hair, and cover the front of bridal with U shape style.
Double dupatta style for bridals, cover the head with one dupatta and send it back, while use another dupatta to simply cover the chest of bridal to give a sober yet attractive style.
Dupatta style with lehnga choli or saree drapping style.
Different Styles Of Bridal Dupatta Setting In Pakistan And India
Different styles of bridal dupata setting, is one of the most popular exploring ideas of Asian countries. Every bridal has to decide for her big day that how to wear bridal dupatta in most attractive and stylish way? Thus FashionEven.com is a place where you will find all fashion including Punjabi dupata styles setting for bridals and Desi dupatta style setting in India and Pakistan.
Best Pakistani Wedding Bridal Dupatta Setting Styles
Pakistani fashion for men, women and kids is one of the most coveted and sought after by young generation in all around the world. There is no doubt that the Pakistan's fashion industry is at number one in providing better quality fabric, heavily embroidered work and classic styles of dresses and accessories.
Have a look on the bridal dupatta styles Pakistani and Punjabi style dupatta setting trend in 2023-24. See here latest Pakistani bridal mehndi hairstyles.
Latest Indian Bridal Dupatta Styles
Indian fashion is at its peak with the Indian bridal dupatta setting. Bollywood wedding fashion trend is getting more classy and stylish day by day. Just in few year, best Indian fashion designers have got much popularity not just in India but also all around the fashion world. Here are the our filtered collection of best dupatta setting style for Indian brides. See more latest Indian bridal wedding sarees.
We hope that now you must have got the tremendous ideas about how to style bridal dupata in different ways and the best bridal dupata styles in India and Pakistan. If you are wondering to get more details and latest ideas about wedding brides dupatta styles, then feel free to contact us via comments below.
Soon we will bring you more interesting and tempting ideas about the latest dupatta setting style for party, dupatta setting with hijab, dupatta setting for engagement, dupatta setting for mehndi and much more, so keep visiting our website or subscribe to our newsletter for the latest fashion updates.