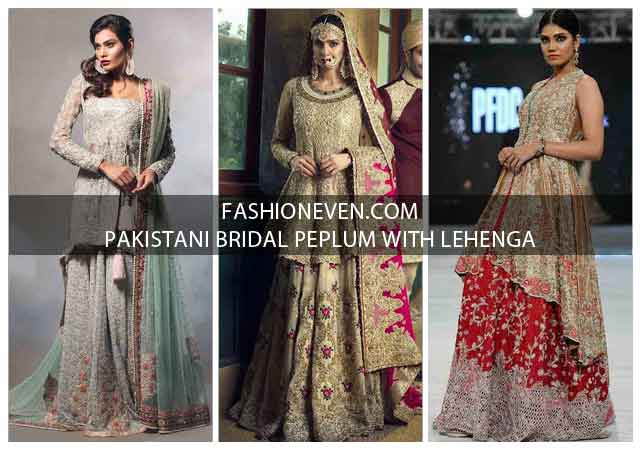 Don't want to wear an old fashioned lehenga choli? Why not try a wedding peplum dress or a short frock this time?
If you are looking for the fresh peplum dress for your wedding, then this is the right place for you. The fully embellished short frock designs are appealing and enhance the overall appearance if nicely paired with lehnga.
Peplum tops now have become the integral part of the bridal wear for most of the Pakistani designers. As the wedding days are so special, therefore every other bride wants to look the best on her big day.
So today, we have gathered the best combinations of bridal lehenga with peplum top for your ease.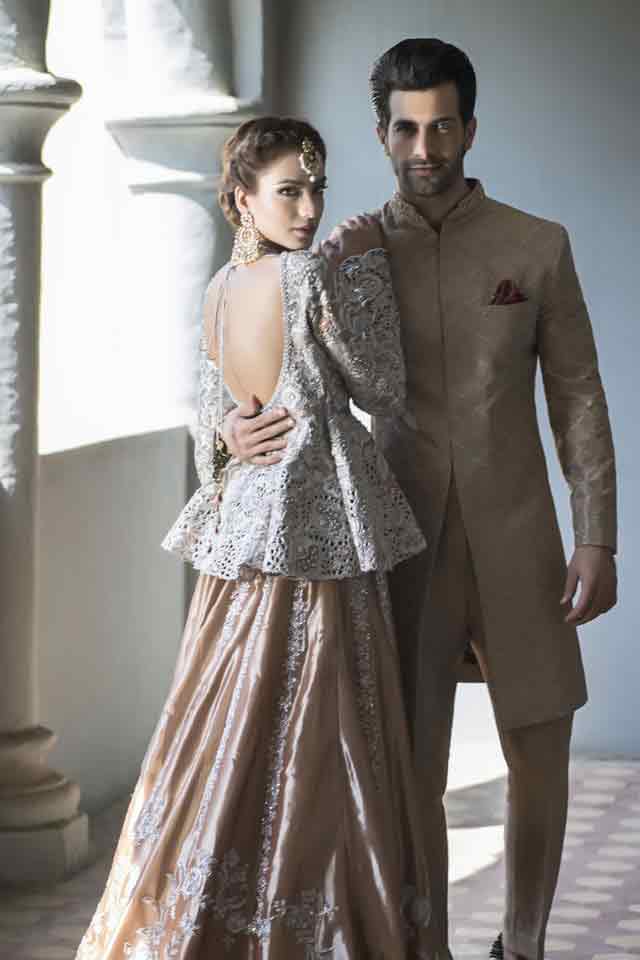 Best Pakistani Peplum Dress Designs
These beautiful bridal wear collection is from the most renowned Pakistani fashion designers including, Tena Durrani, Zainab Chottani, HSY studio, Zara Shahjahan, Fahad, Hussayn Couture and Maria B. You might find it quite expensive or unreachable for middle or lower class.
Wedding days ahead? Did you plan your bridal shower? Check out here the latest bridal shower dresses in Pakistan!
The reason is the use of most costly stones, heavy embroidery work all over, luxury embellishments and ornaments, Swarovski jewels encrusted in rose-tinted rubies and sumptuous bright florals in a multi-colored thread on the embroidered net, makes these bridal dresses much more expensive and out of the range of an average person.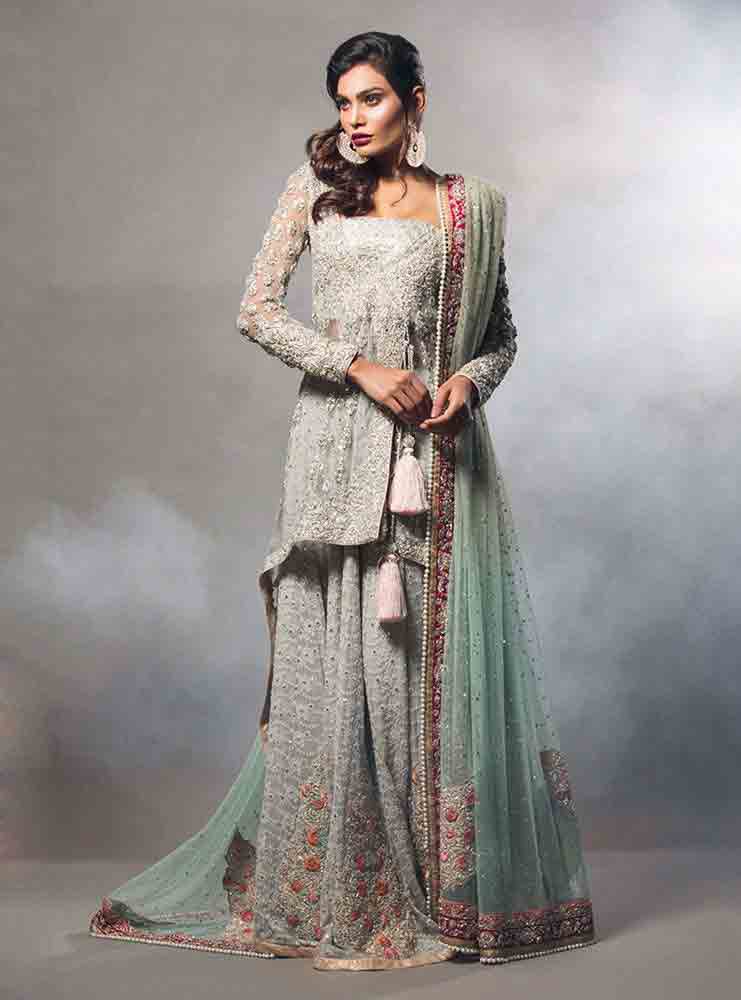 The use of pricey pearls, beads, and fabric make all of these wedding peplum dresses stand out from the crowd. These mesmerizing dresses are suitable for all body types. Pick your most favorite one and place an order right now. Also try out these beautiful bridal lehenga designs for wedding.
If you cannot afford the prices of bridal short frocks, then still there are many options available:
Know your preferred color scheme.
Choose the design you want to copy/replicate.
Visit your nearest local bridal wear market and ask them to recreate the exact dress design.
It is better to revamp, and invest your precious money on travelling or vacations instead.
The year 2023-24 is all about short frocks either with lehnga, sharara, tulip pants, cigarette pants, skirts, peplum pants, bell bottoms, trousers or even with jeans as casually.
Fashion Even is a perfect style loft that provides you with plenty of useful information about the latest wedding fashion trends in Asian countries such as Pakistan and India.
Fancy Peplum Cutwork For Bridal Wear
Most of these dresses are full of delicate handmade embroidery work which includes, gota and kamdani work, handworked borders with embellished motifs, gemstones, Swarovski jewels, crystals, rubies and emerald.
While others are heavily embellished around the neckline with silver and antique gold work in kundan, kora and dabka which makes this bridal collection much more beautiful yet over-priced.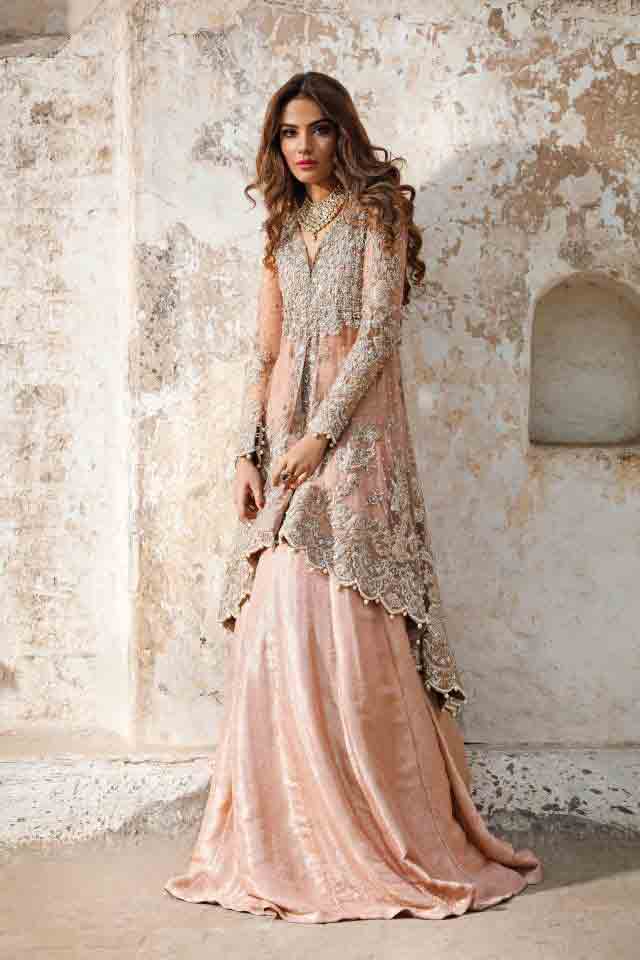 Mughal Glory Peplum With Lehnga
This dazzlingly beautiful, the gold color palette is adorned with Swarovski jeweled neckline in amber colored crystals, alluring rubies and dusky emeralds, with a nod of the contemporary era exuding a feminine touch in celestial bright floral embroidery.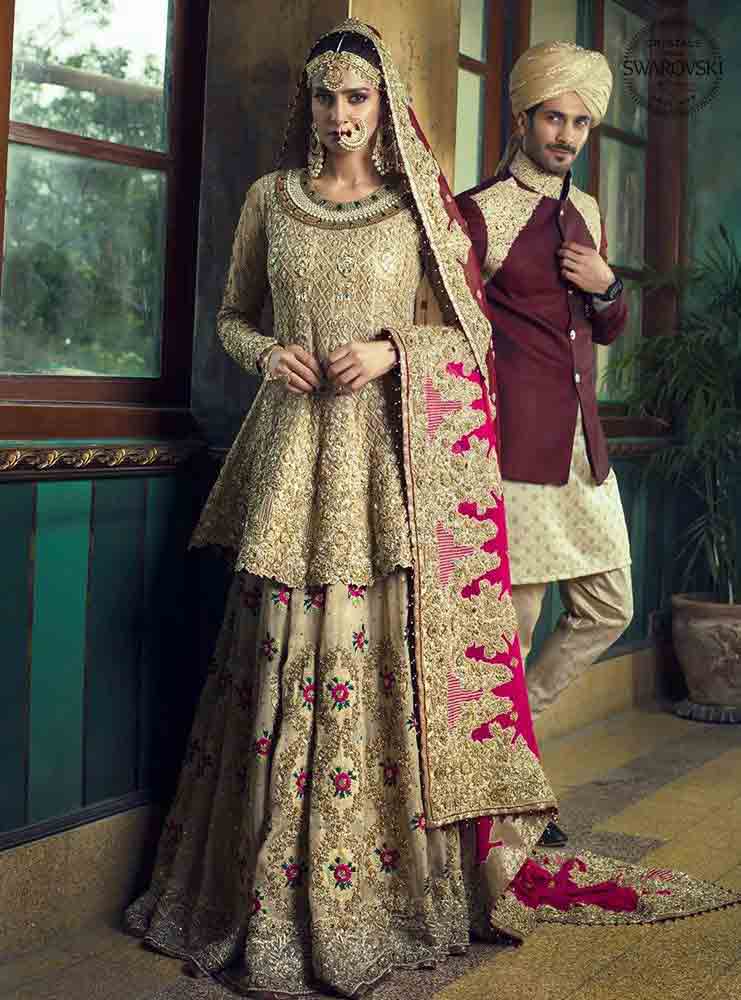 There is much more to show you, scroll down to check out more peplum bridal lehenga designs that comes with dupatta. This article will also help you to know about the different bridal dupatta draping/setting styles.
All of these bridal dresses are full of attractive color combinations such as  – peach, golden, red, beige, light blue, off white, gray and so on. Let's have an insight to the most beautiful wedding peplum dresses with lehnga designs.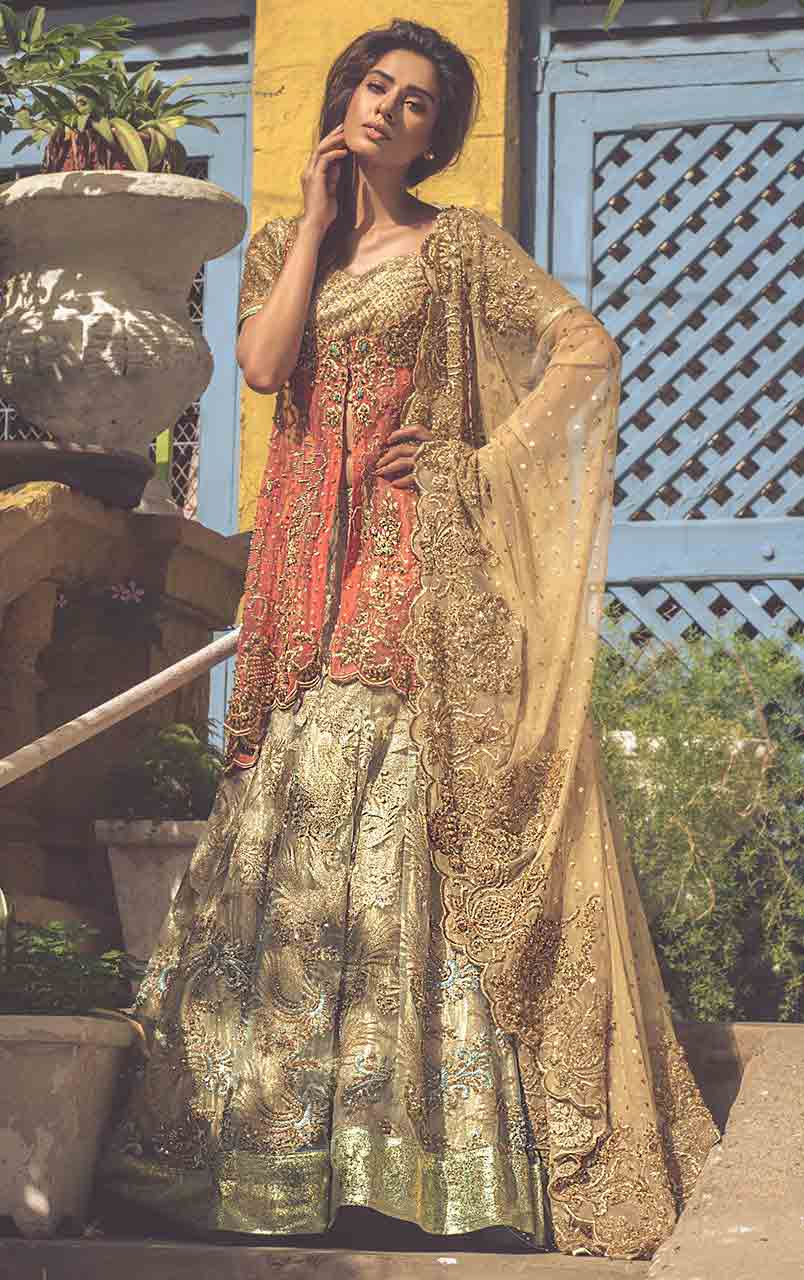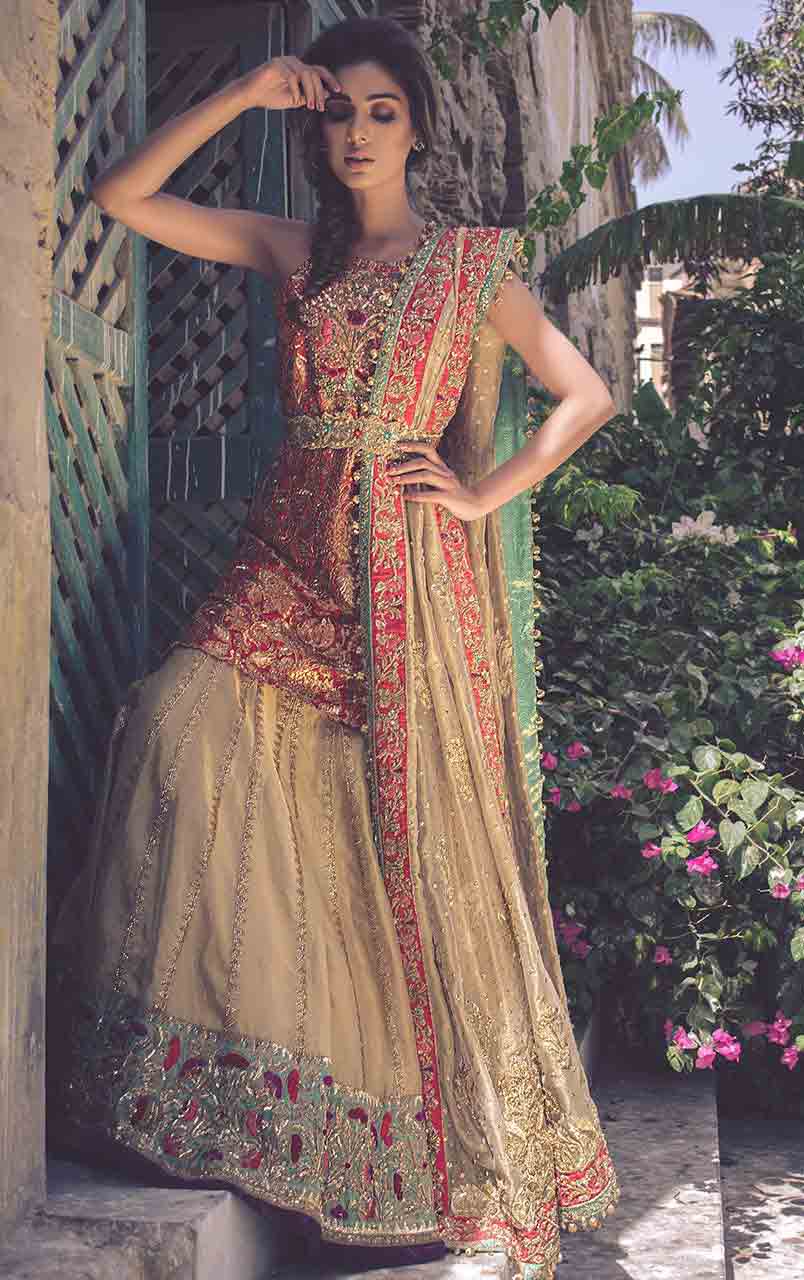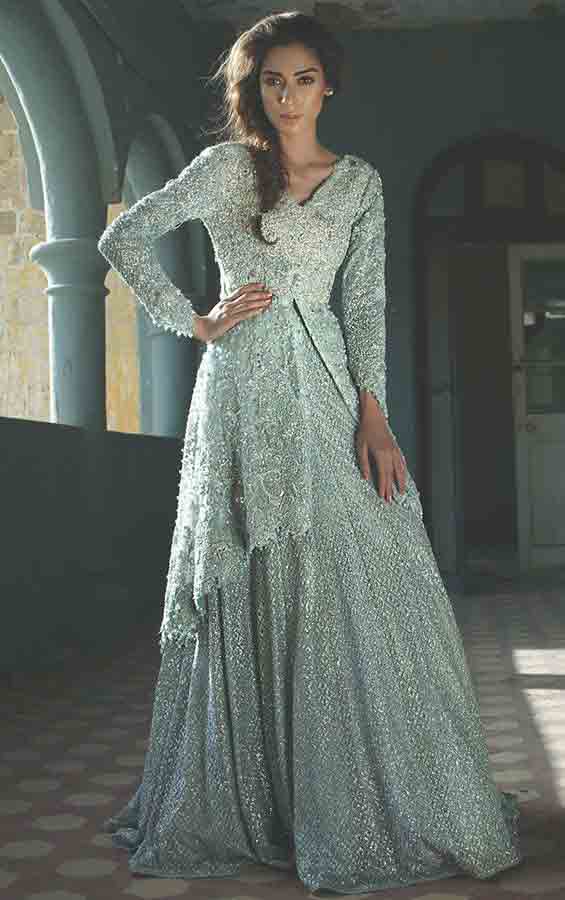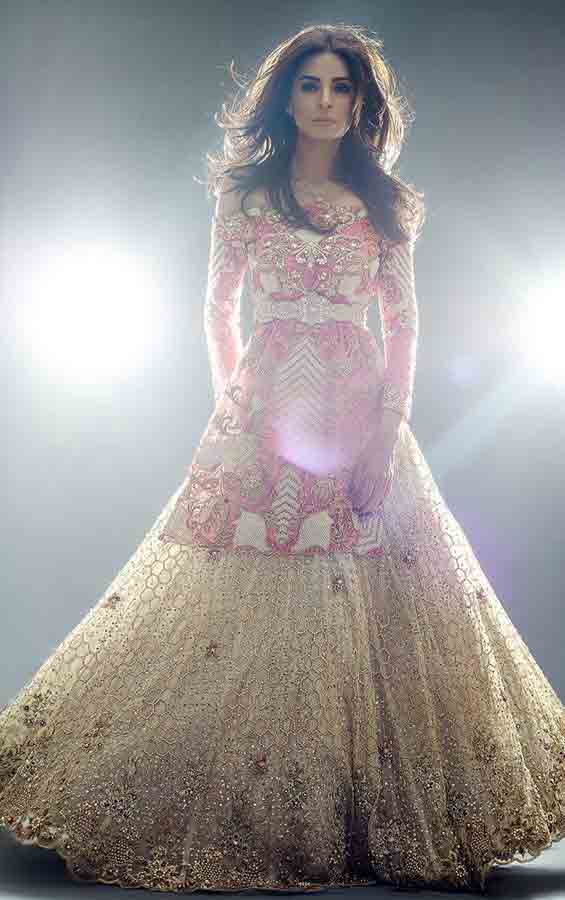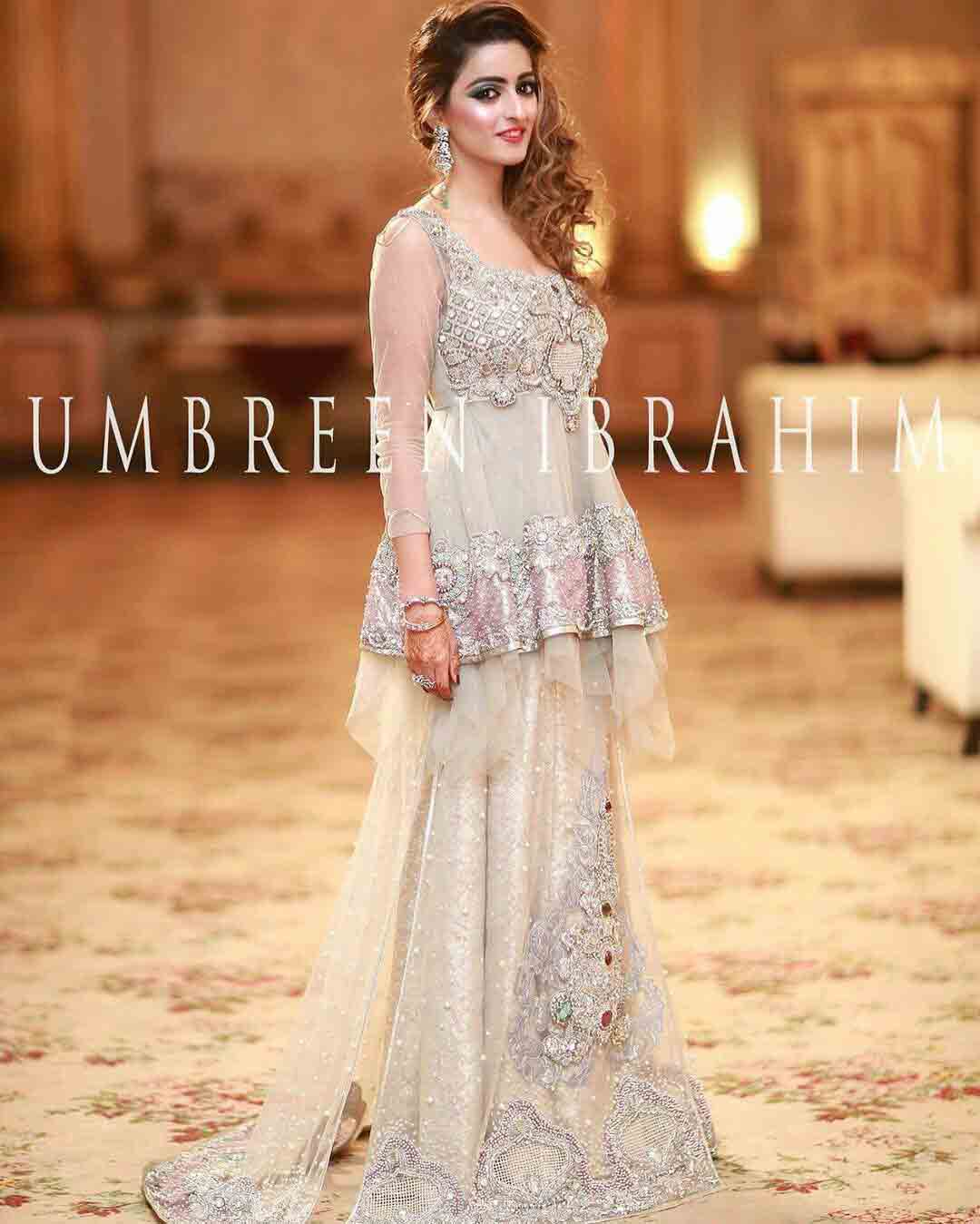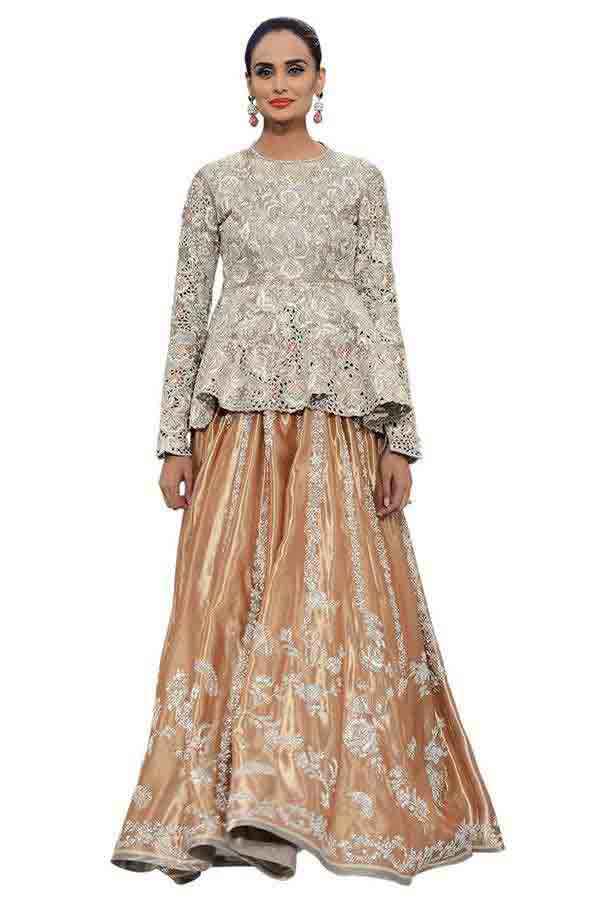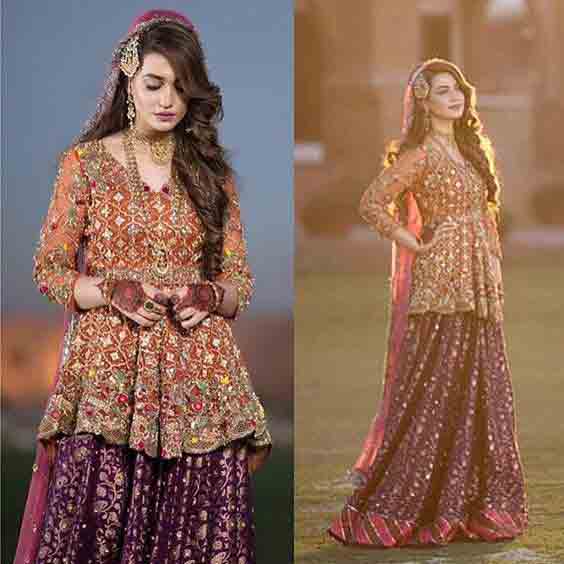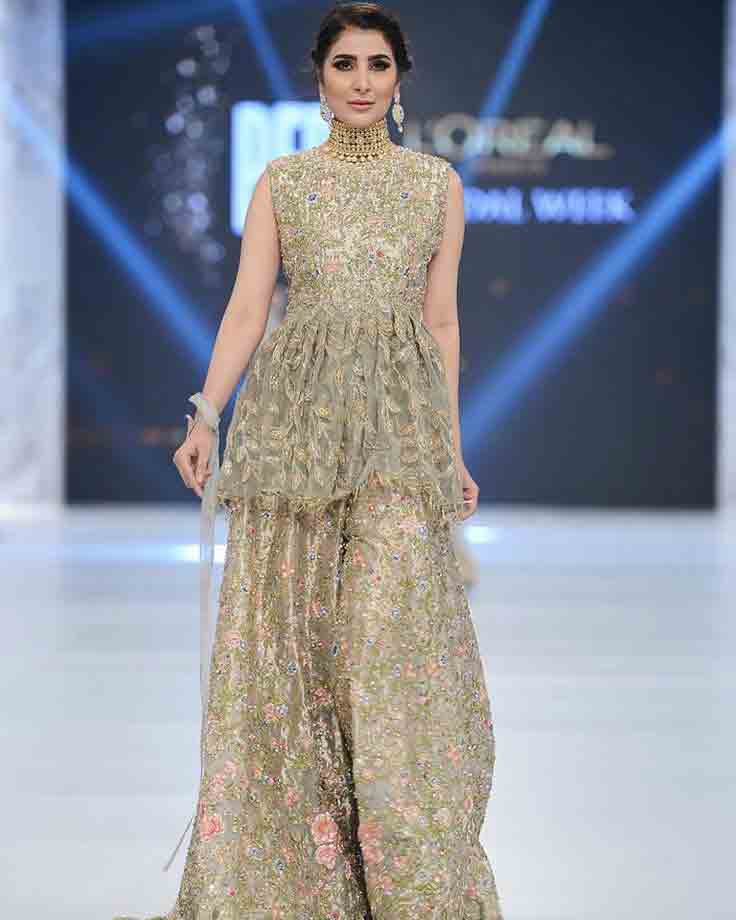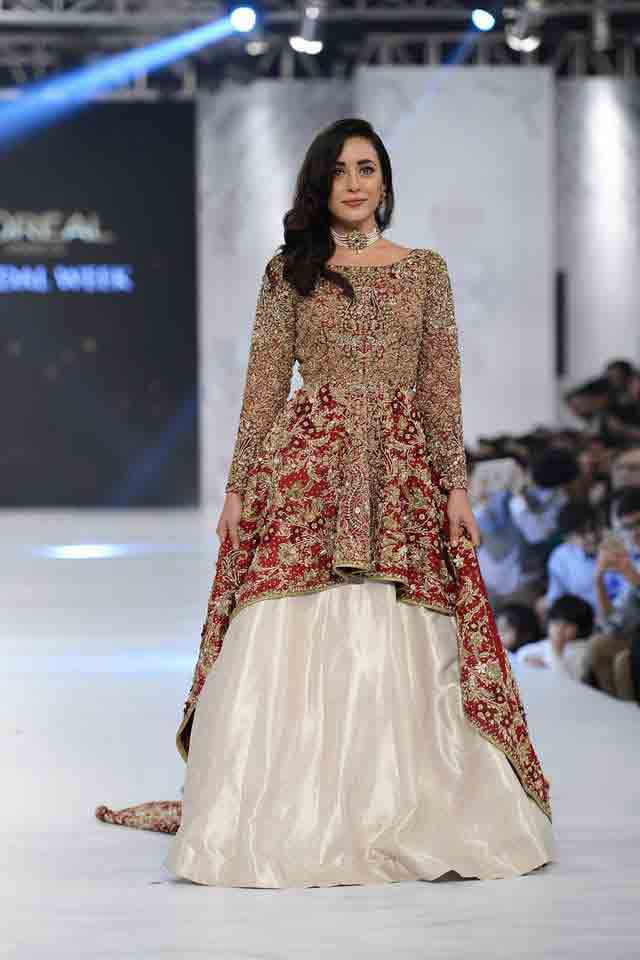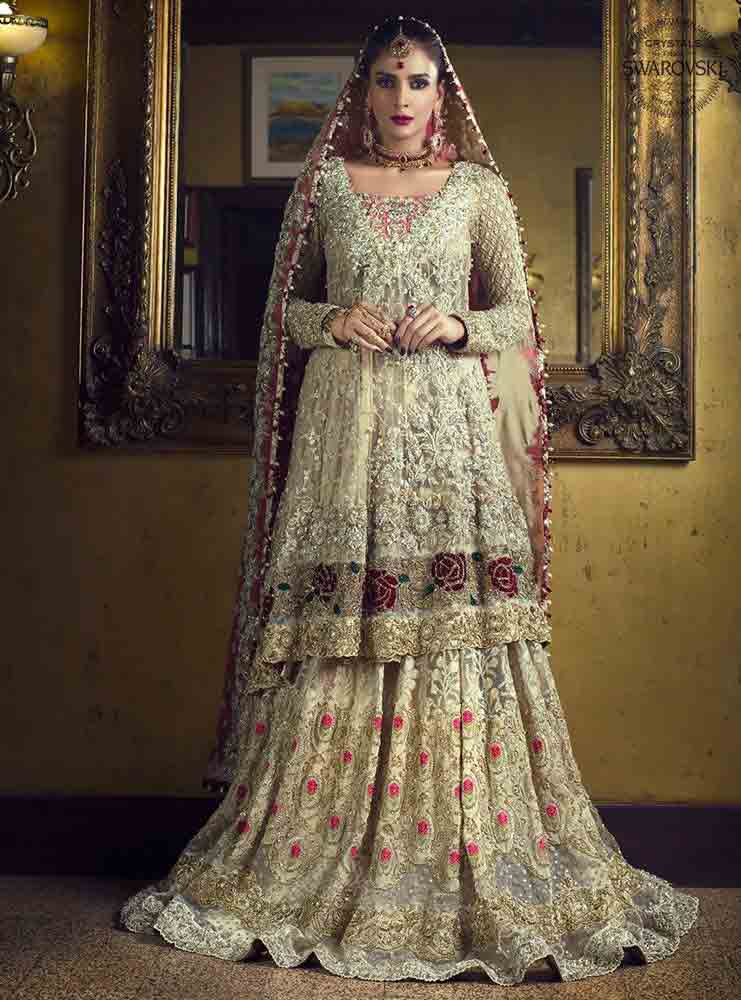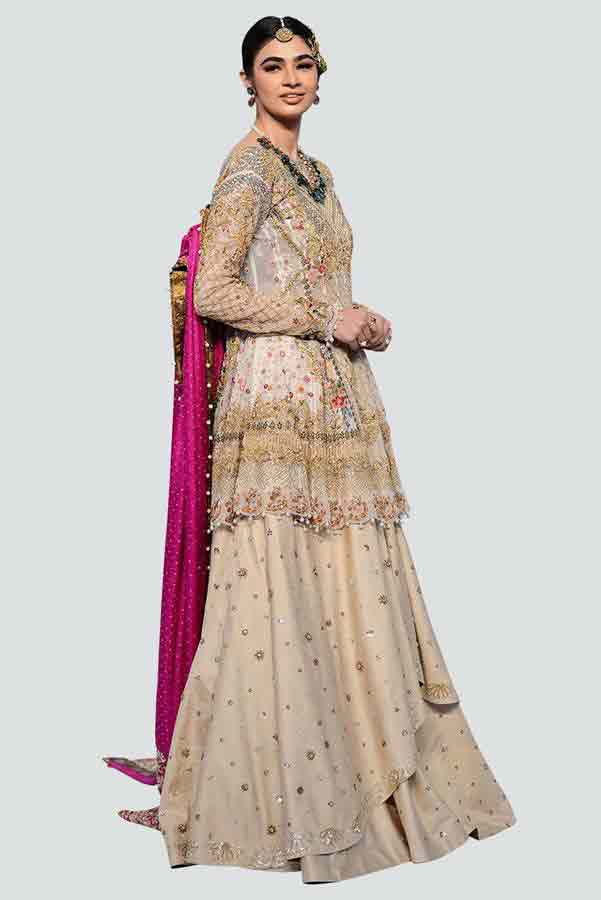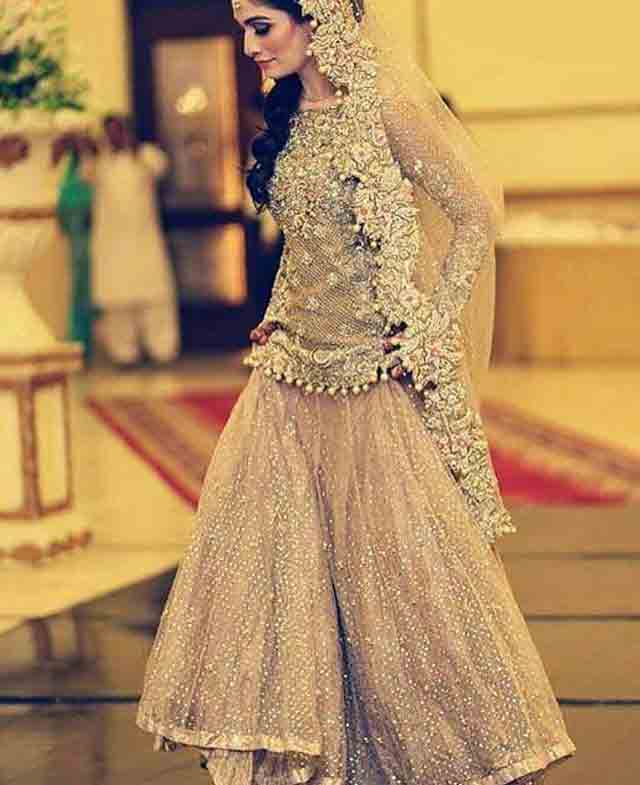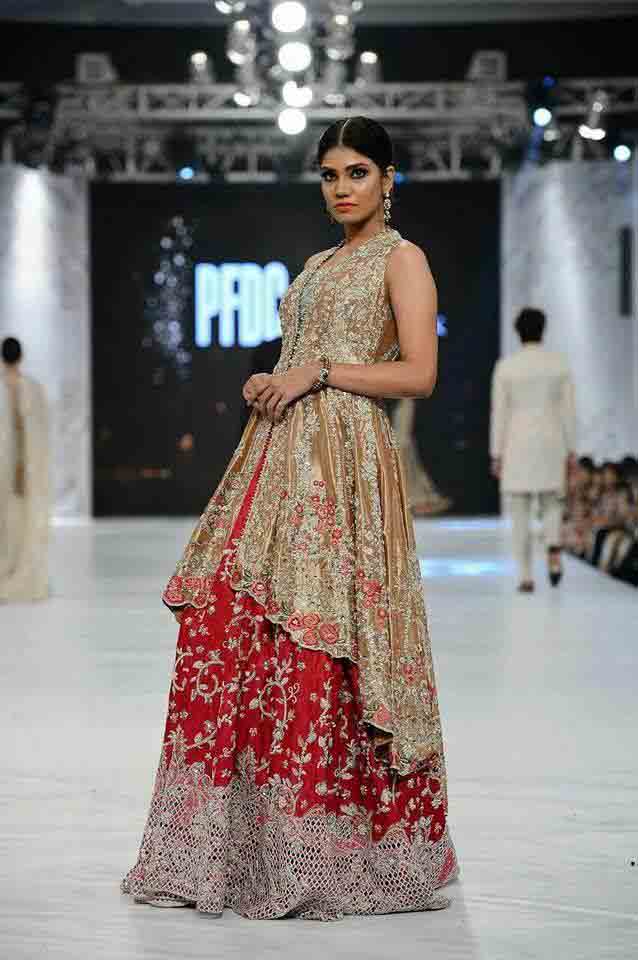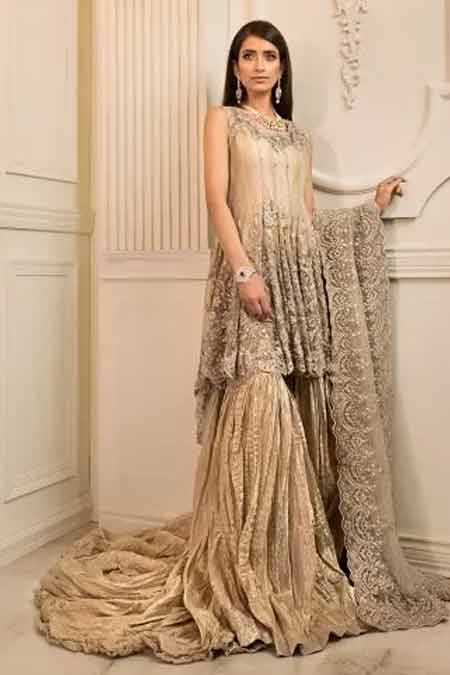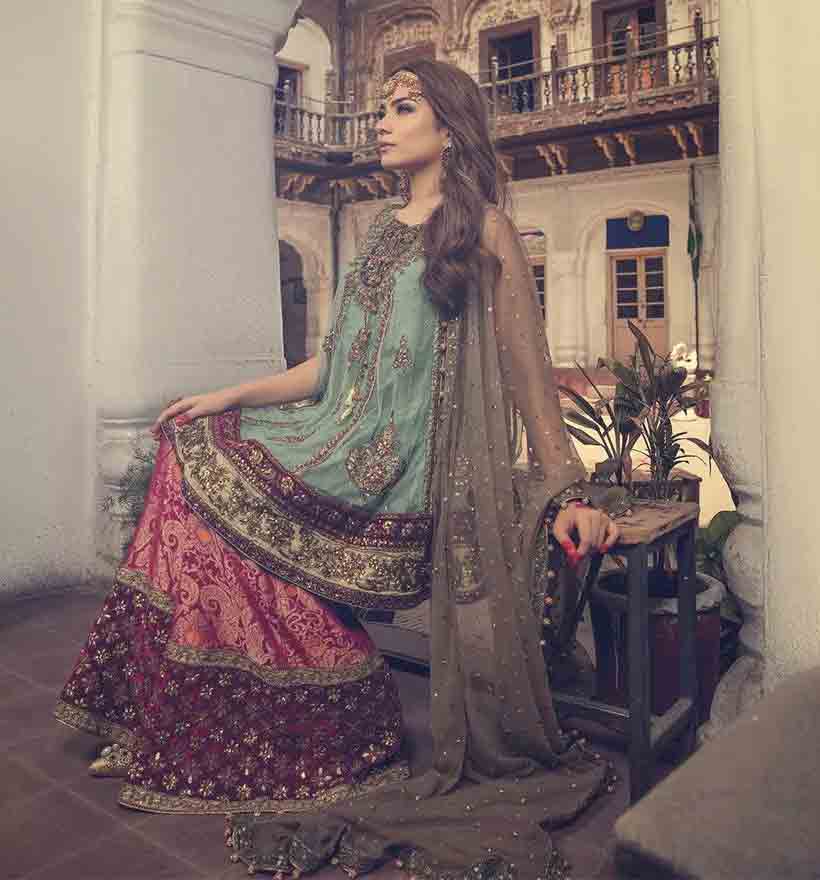 Above you have seen the glorious collection of wedding peplum dresses with lehnga. These are available online and if you are interested to place an order, then please visit the official websites (you may contact us and ask via comments). Grab your beautiful peplum wedding dress now and be the sunshine of everyone's eyes on your special day.