Are you looking for the new designs of Pakistani long skirts 2024-2025? Do you have to attend a party event or want to wear long skirt casually as you go for shopping or picnic? If yes, then this article is totally for you.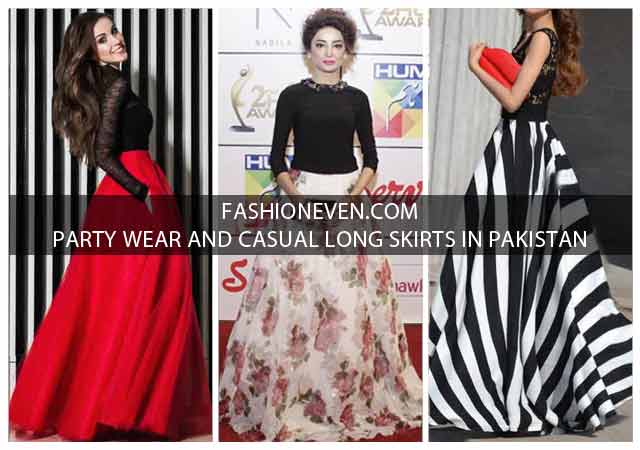 This post features the different styles of Pakistani long skirts with top (presented below with images) and a video tutorial about "how to style your skirt in different ways". Furthermore, you will find important tips and notes that will provide you additional information about long skirt designs.
One of the personal dilemmas I have in writing the post, is just how much to share. Because there are lots of things that you must know about rising fashion trends of long skirts in Pakistan. You will sense this when you read the marvelous ideas in this article. It will entirely help you to choose one of the best long skirt design for you, from the collection of trendy and suitable skirts for all events.
Check out the following designs and choose your favorite one!
I will also provide you answers of the following questions about "Pakistani Skirts".
What are the different styles of long skirts?
What are the different patterns of long skirts?
Which fabric is best for long skirts?
Where to buy online long skirts in Pakistan?
Which are the most popular brands in Pakistan for long skirts?
Which is best: Unstitched or Stitched (ready-to-wear) long skirts in Pakistan?
After you understand all the above asked questions, then this post has been divided into two major categories of long skirts (shown with images):
1) Party wear Pakistani long skirts, and
2) Casual long skirts that are trendy in Pakistan.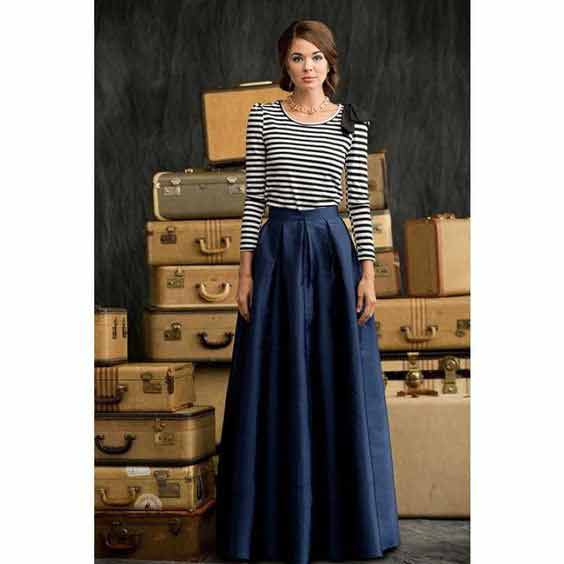 Latest Pakistani Long Skirts For Girls
Pakistani long skirts collection is truly the synergistic product of a team of designers. Without their tireless wholehearted, unique contributions, it never would have come about. Have a look on the chiffon, net, lace, embroidered, flare, bow style, ruffle and floral skirts in Pakistan.
Typically, most of the teenage girls and young women usually prefer to wear long maxi skirts in Pakistan. They may choose to wear them with blouse, short shirts, cropped tops, kurtis and even short frocks or peplum.
If we talk about short skirts, then it would not be wrong to say that short skirts are not that much favored in Pakistan. There must be lots of reasons! But one of them is that, it has been prohibited from the Islamic point of view because women are strictly said to cover themselves properly. Although, those girls who are keen to wear short skirts, may go for it when overlaid themselves in the right way.
Now let's back to the Pakistani skirts. You can carry long skirts with long or cropped tops. Although as a Pakistani or Muslim women, you may carry some sort of dupatta or scarf. Even though hijab looks so cute with skirt blouse dresses. See these images about long skirts and tops.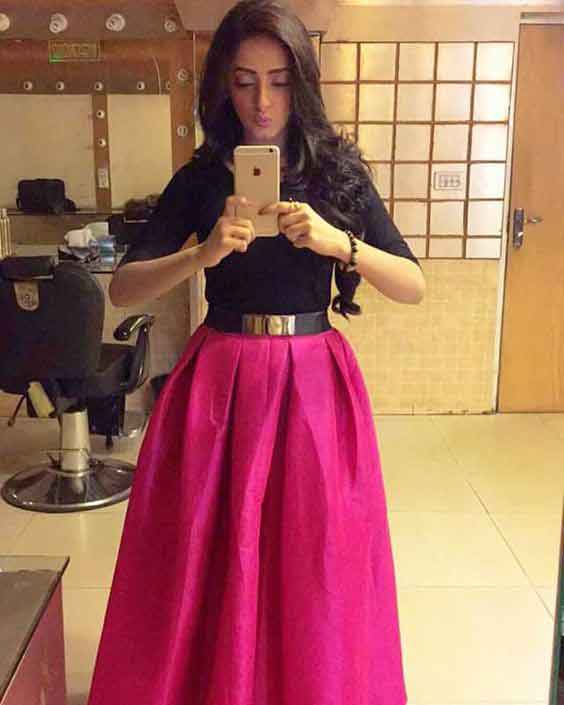 You can compare skirt blouse with a traditional lehenga choli that comes with dupatta. But if we talk about the skirts; then this casual or party wear is more like a Western wear.
Pakistani long skirts with crop tops are also becoming the centre of attention. It is because it gives you a complete maxi dress look that mesmerizes everyone around.
Skirt outfit for performance, not only must be voguish or fashionable; but it also has to make you a dream girl. That's why how beautifully "Ariana Grande" has to say about skirts as following:
[su_quote cite="Ariana Grande"]"My performance outfits are very Marie Antoinette, sparkly corsets… and full skirts. And then we do another look that's '50s-inspired. Poofy skirts, big bows. Very fun, girly and young, but otherwise, when I'm not in costume, I dress really normal."[/su_quote]
1) What are the different styles of long skirts?
When writing about this article, the first thought that flashed into my mind was to know about, what are the different styles of Pakistani long skirts that you can actually wear as casually or party wear? Thus, I came to know that there is a wide range available for long skirts in Pakistan. Different styles of long skirts includes: (shown below different long skirt styles with respective images).
1) Maxi skirt style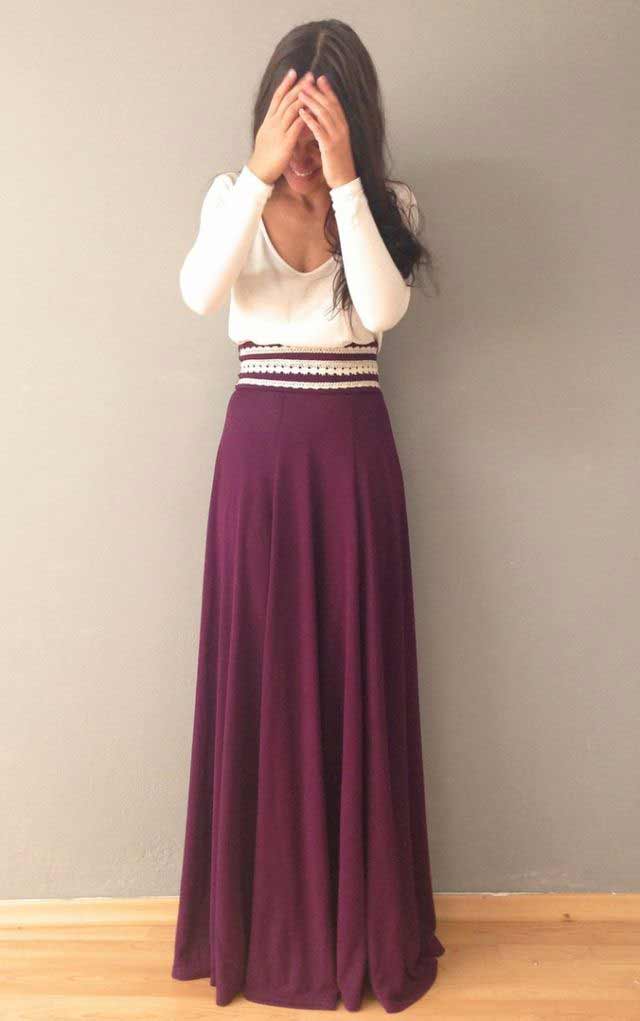 2) Ruffle style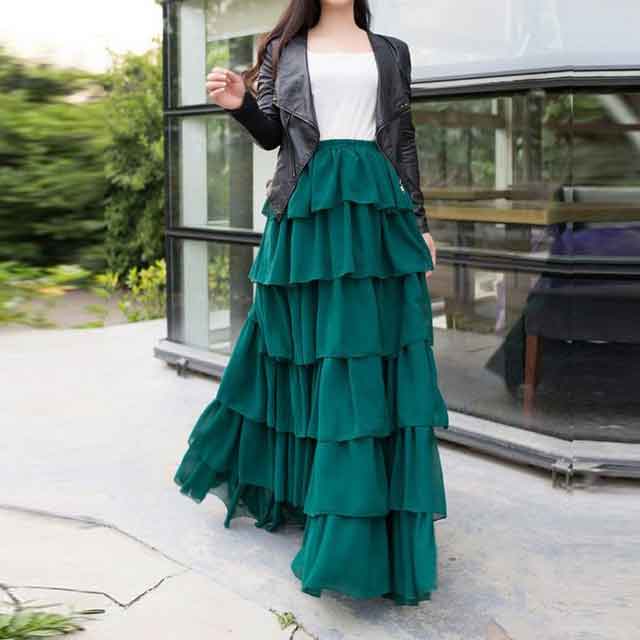 3) Pleated style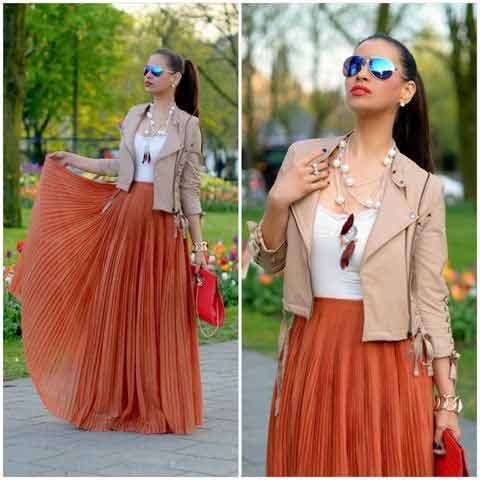 4) Bow style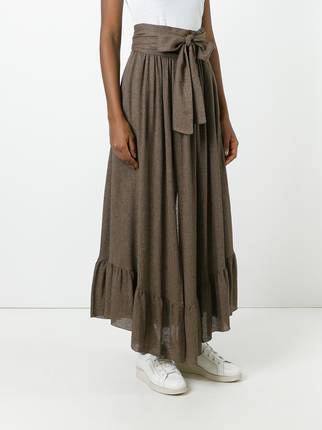 5) Extra flare style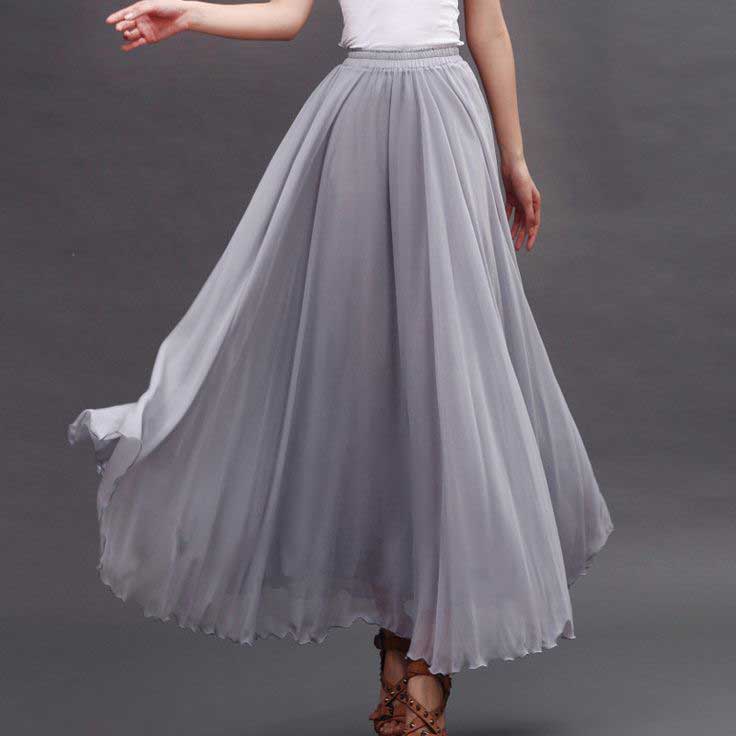 6) High waist full length skirt style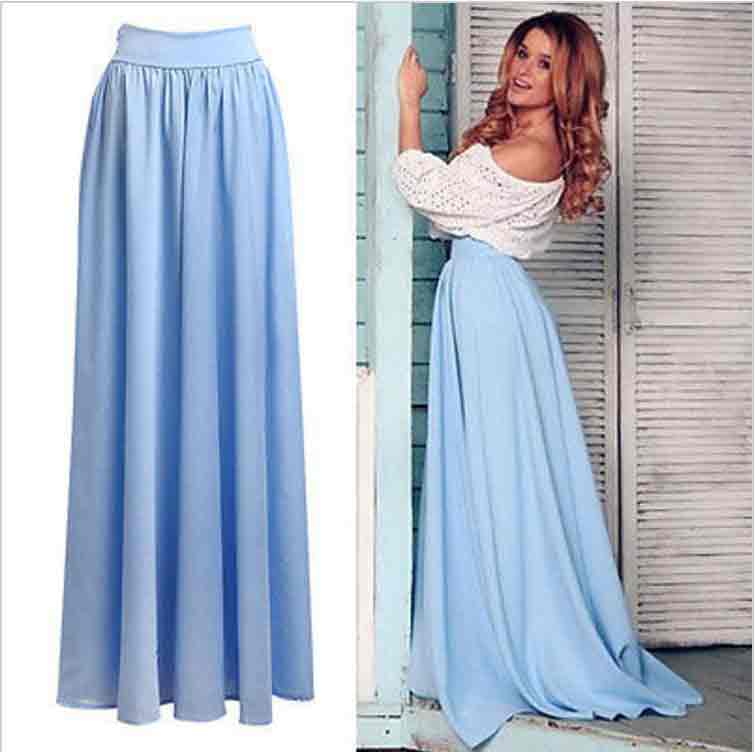 7) Double layer style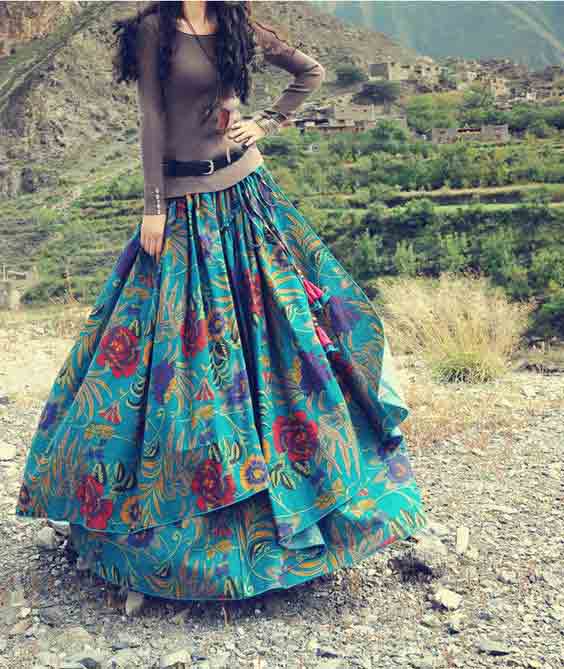 8) Lace skirts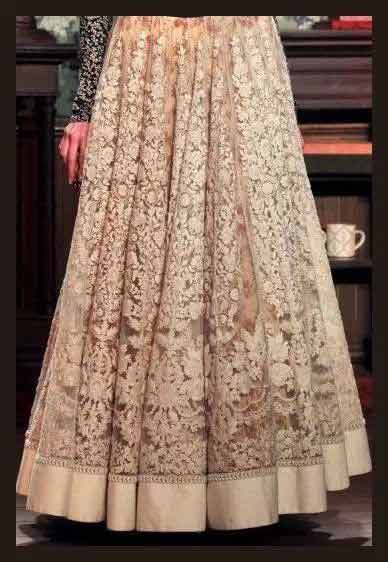 9) Puffy long skirts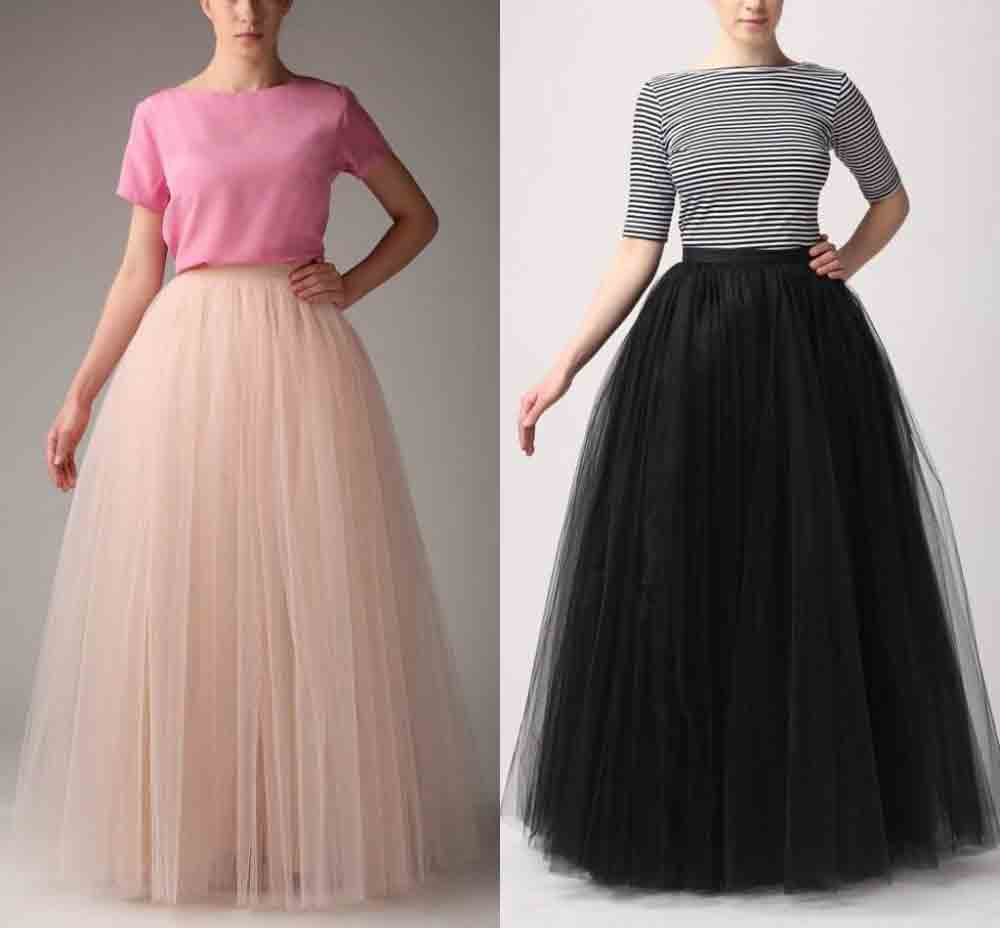 10) Embroidered skirts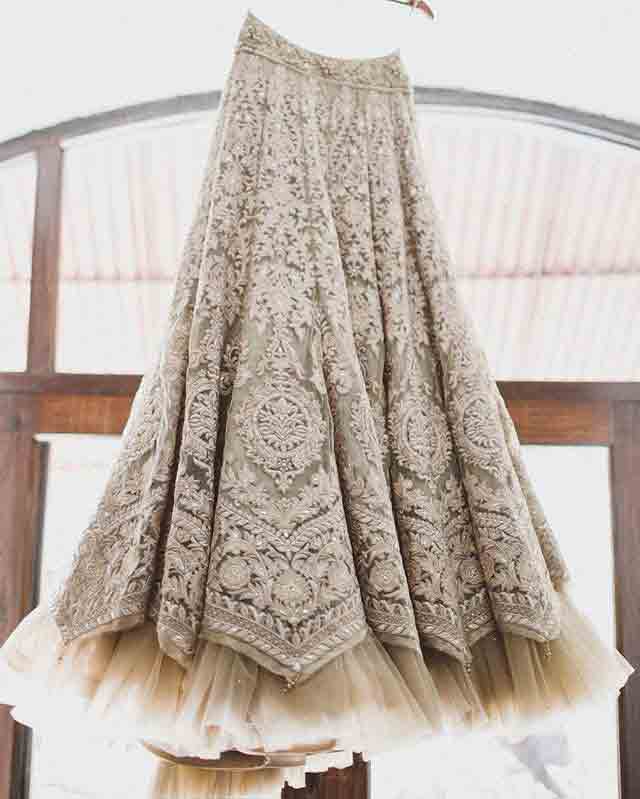 11) Digital printed skirts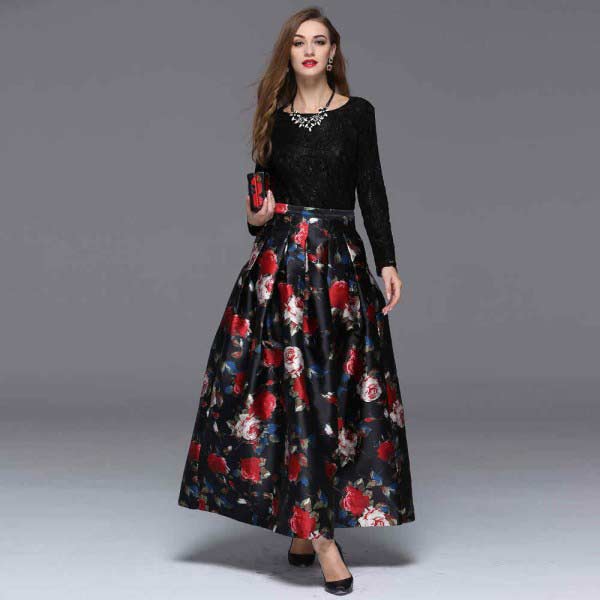 12) Net skirts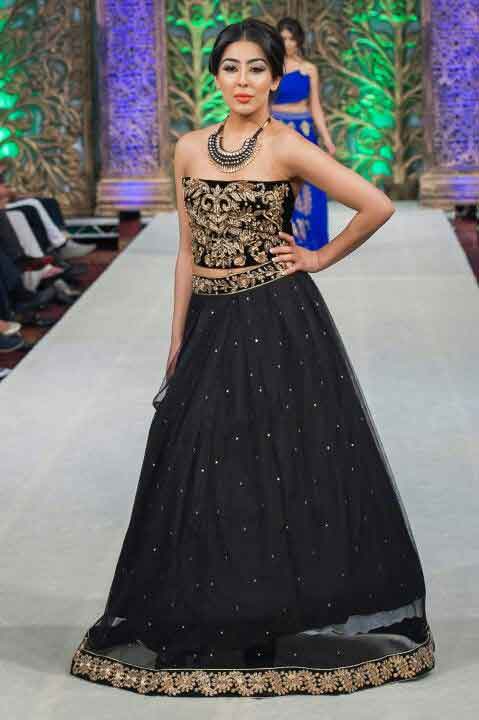 2) What are the different patterns of long skirts?
Floral
Plain
Check
Embroidered
Classic
Striped
3) Which fabric is best for long skirts?
Have you decided that which long skirt design/style you loved the most? Have you any idea about which fabric is best for long skirts? There are the certain types of fabrics used for these ethnic dresses which includes:
Chiffon
Silk
Tissue
Denim
Jamawar
Linen
Cotton
Net/Lace
Digital printed
Cambric and so on.
If you are about to attend any party event, then you must go for the shimmery, embroidered, jamawar, tissue and net or lace fabric. Rest clothing material types are appropriate for ordinary or routine occasions.
4) Where to buy traditional long skirts online in Pakistan?
You can buy ethnic long skirts online whether you live in minor or major cities of Pakistan. Such as Lahore, Karachi, Islamabad, Sargodha, Faisalabad, Multan, Quetta and so forth.
So, how can you buy Pakistani long skirts online?
You just have to visit any of the following online shopping website and search for the beautiful long skirt (casual or party wear), place an order either with or without top and there you go.
Shop.mango.com/pk
Kaymu.pk
Daraz.pk
5) Which are the most popular brands in Pakistan for long skirts?
Other than that, you can also buy long skirts from most popular designer fashion brands outlets available in Pakistan. Most prominently, Threads and motifs, Sana Safinaz and Maria B long skirts are mostly sought after by almost every teenage or young girl.
It is because the quality fabric used, intricate embroidery all over and sophisticated designs influence everyone around.
Maria B
Sana Safinaz
Threads and motifs
IVY Prints
Limelight
Here arises the following question:
6) Which is best: Unstitched or Stitched (ready-to-wear)?
Unstitched long skirts:
As a formal or semi formal wear, unstitched long skirts are prefered when you are about to go for any party or wedding event. What you need to do is just to purchase enough fabric for long skirt and get it stitched (from whom you prefered; its upto you).
You may use fabric with full of embellishments, intricate embroidery all over (just in case to give your long skirt a more party look that you can also wear on wedding ceremonies).
Do not forget to compare the stitching style of long skirt and lehenga! It is must for you to first understand the difference between these two. In short, long skirt is more like a western wear and lehenga is typically traditional wear of South Asian countries.
Stitched or Ready to wear long skirts:
As far as the ready to wear long skirts are concerned; these are best suitable for casual wear. You just need to choose your favourite style, lightweight fabric and you are good to go.
[su_note note_color="#e1f5f6″ text_color="#000000″]Note: Amitabh Bachchan has pointed out something about skirts and character philosophy! "Don't let anyone make you believe the length of your skirt is a measure of your character."[/su_note]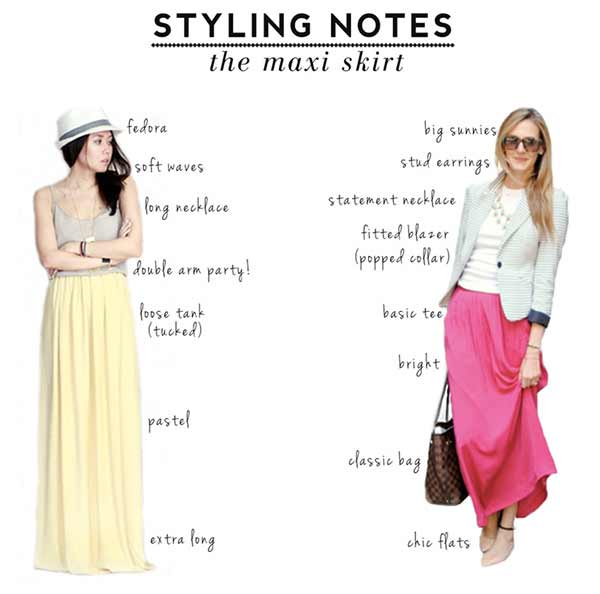 Party Wear And Casual Long Skirts In Pakistan
If you are going to attend a party event, then you must choose those skirts that comes as a formal wear (shimmery, shiny, stones embellished and adorned with pearls or beads). And if you want to wear long skirts casually then choose something lightweight, more informal, full of decent color combinations and above all; it must be easy to carry for you.
Here we have gathered the new designs of long skirts for your inspiration.
Must check out similar party dresses for Pakistani girls:
Party wear long skirts in Pakistan: (Formal)
Casual long skirts in Pakistan: (Informal)
Important Tips To Style A Long Skirts:
When you are about to wear western style long skirt dress in Pakistan, there are certain tips on "how to style a maxi skirt?"
Wear your maxi skirt with a crop top. It will look nicer if you go half-sleeves and a pair of flat shoes.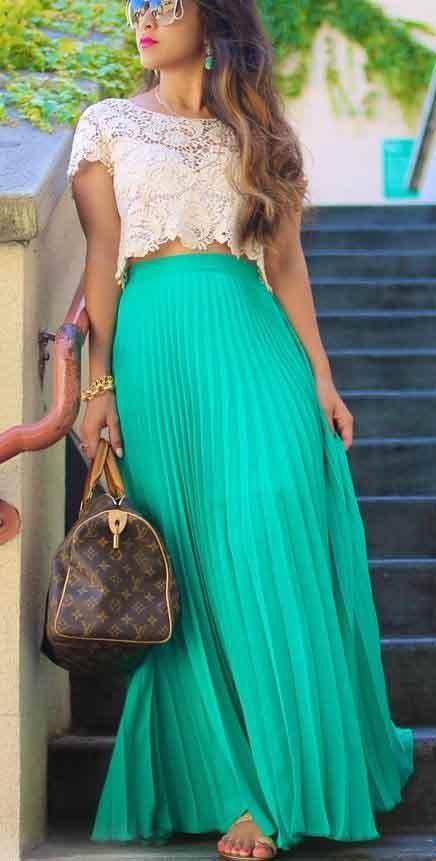 If you love to wear check long skirt then try pair it up with a collar shirt or blouse. It will definitely give you a nice and an adorable chic look. Have look on the image shown below: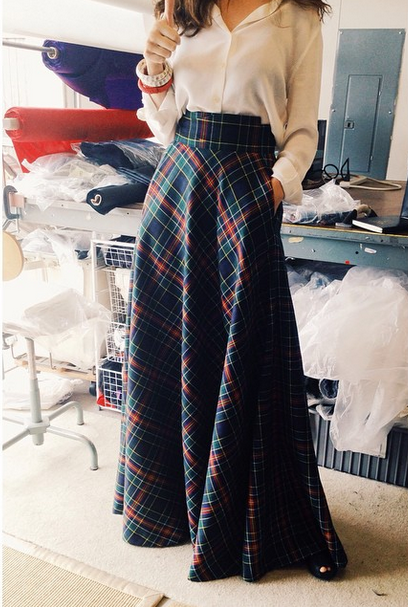 Video Tutorial For Styling Your Maxi Skirt:
Are you wondering that how to style your long skirt in different ways? Which style is more suitable with long skirt? What should you wear; a blouse, sweater, blazer, high neck or dupatta? Don't fret at all!
Here I have shown a video tutorial which will provide you answers of all these questions.
Check it out and choose your fave style!
I hope that all of these images trigger new ideas that work in your situation. Choose your most favorite skirt style and design that goes well either formally or casually.
Never feel hesitation if you want further details about skirt prices or styles. Feel free to contact us or comment below. I read and reply every feedback by heart.
If you have more information about Pakistani long skirts 2024-2025, that must be included in this article, then please let me know. Sharing is caring! If you find something helpful or interesting here then make sure to subscribe my blog and share substantial piece of information on your social media as well.