Are you ready to stand out with the new styles of beautiful trousers designs in Pakistan? Most of the fashion houses are perpetually thronged by the crowds just in order to reveal the latest fashion trends that are flooding the voguish world of Pakistan.
This article will stick to the three most favoured trendsetter trousers styles that are mentioned below. You can choose to wear these beautiful trousers with tops, long or short shirts, kurtis or frocks.
Bootcut pants,
Tulip pants, and
Cigarette or straight pants.
Pakistani trousers designs are rich with unique and elegant stitching styles that you can choose your desired stitching style either for the lawn dresses or fancy party wear outfits (according to the occasion and preferred fabric stuff).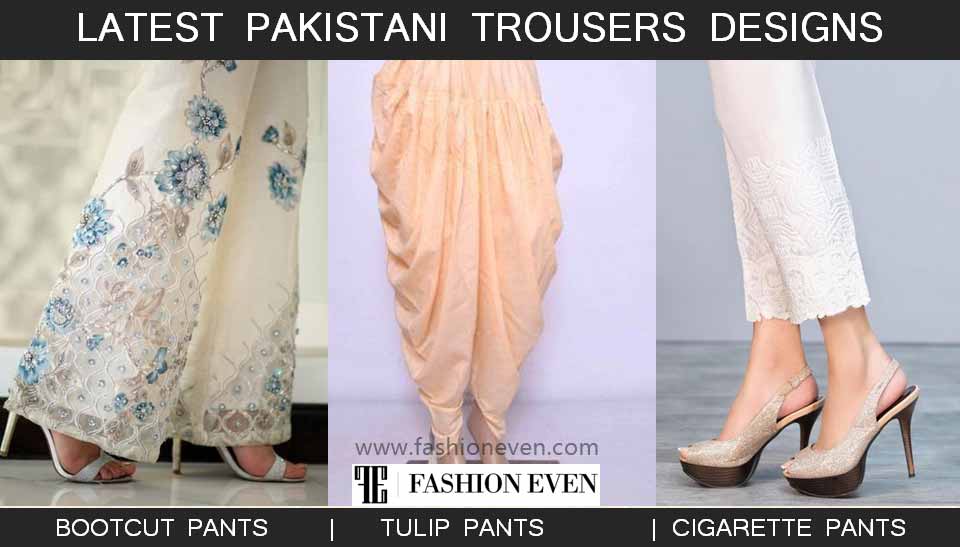 New Trousers Designs In Pakistan With Images
Do you want to know which trousers designs in Pakistan are trendy nowadays? Which style is most appreciated of all in 2023? Which design is prefered by the renowned Pakistani celebrities and fashionistas; cigarette pants, tulip shalwar or bootcut trouser style? You will get the answers to these questions at the end of this article, thus keep reading till the end.
In this article along with the three types of trousers designs, you will find the following Pakistani trousers styles including:
Simple pants
Embroidered trousers
Lawn trouser designs
Printed pants
Trouser designs with buttons
Silk trousers
Trousers with pleats
Capri and pencil pants
Trousers with pearls and lace
Cigarette pants with tassels
Straight pants with slit
Now let's check out the most beautiful and unique trouser designs for ladies, one by one with images.
Bootcut, Tulip and Straight Trousers Designs In Pakistan
When it comes to the latest trousers designs in Pakistan, don't you think that there are plenty of options available all around that could result in exhaustion? Be specific about what are you looking for! Such as, this article has been categorized into three major trouser styles that are going to hit the fashion market in 2023-24.
From the smart fits of bootcut trousers to the alluring straight pants, these bottoms will look stunningly beautiful either with trendy chic tops or desi kameez/kurtis.
Let's move ahead and explore the beautiful styles of bootcut pants, tulip shalwar and straight trousers designs in Pakistan!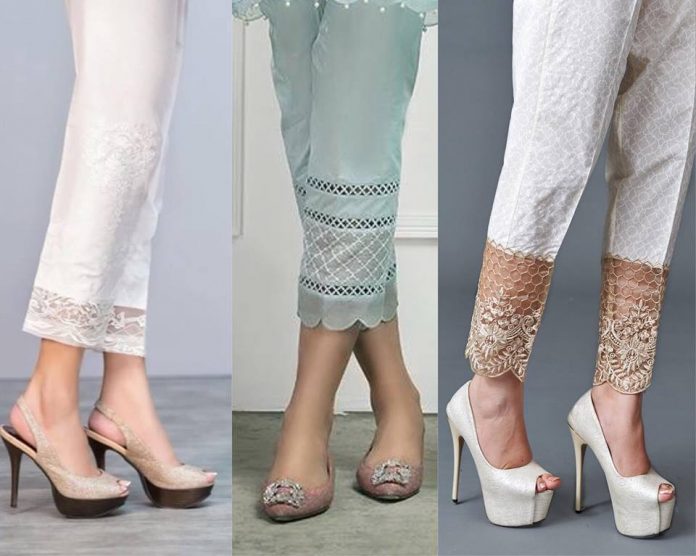 1) Bootcut Trousers Design
According to the latest global fashion statement, the days of tights, simple shalwar, patiyala shalwar and skinny jeans are over. Follow the ever-increasing and rising fashion trend of bootcut trousers designs and be the sunshine of everyone's eyes.
You can wear bootcut pants either with lawn shirts as casually or with partywear tops as formally. Bootcut pants are just like bell bottom trousers that are almost floor-length. Bootcut trouser cutting style is the smartest fit among all other styles because it gives you a heightened and smart look.
Style Tip:
If you are short, choose to wear bootcut pants as it will make you look taller and slimmer.
You will look dapper if you wear these pants with short peplum frock (either lawn short frock or party wear short frock), knee-length kurti or kameez.
Have a look at the latest bootcut trouser designs (as shown below with images) which includes beautiful styles such as pearls adorned, artistic embroidery, printed and tassels embellishments.
2) Tulip Shalwar Designs
Do you love to wear desi style? Go for the tulip shalwar designs in Pakistan. One of the most conventional bottom styles is none other than the tulip pants (also known as samosa shalwar or dhoti shalwar in local languages).
Numerous designs of tulip pants are available that comes in different styles such as simple, pearls adorned, net and lace, printed and embroidered shalwar designs. Choose your most favourite tulip pants online and grab it from your nearest outlet. You always have the option to copy the exact design (as shown in the images) and alter it according to your dress.
Style Tip:
In 2023-24, tulip pants have become the second most coveted trousers designs in Pakistan. Why? Because the traditional shalwar style looks absolutely ravishing when paired with fancy khussa shoes and short frock or you may wear tulip pants with kurti.
Excite your wardrobe to a whole new level with any of these beautiful tulip pants. All of these shalwar designs are beautifully crafted using fine embroideries, artistic pearls embellishments and ornaments to enhance the overall beauty of an apparel. Do you love tulip pants with pleats? You will find that below!
Check out the following cutting and stitching styles of tulip shalwar that will certainly leave you awe-inspiring.
3) Cigarette Pants Designs
Cigarette trouser designs (also known as capri or straight pants) are getting extremely voguish in 2023-24. As this trousers style always looks sober and sophisticated, so that it will assuredly grab the attention of everyone around you. Following I have gathered the most beautiful cigarette pants designs in Pakistan, including, embroidered embellishments, pearls ornaments, net and lace combination and tassels decorations that have been used to beautify the whole trousers design.
Style Tip:
What about the dressing style of Pakistani cigarette trousers? Certainly, you can wear the knee-length or short kurtis with cigarette pants.
Grab your favourite one from the variety of formal and casual straight pants designs and pair these up with your stylish or casual tops and shirts designs in order to stand out from the crowd.
Beautiful Trousers Designs In Pakistan
Are you tired of scrolling? Find your most favourite trousers design in one video!
Watch a short video in which all of the above-shown images have been compiled beautifully. Follow the video to get inspired by the new styles of trousers designs in Pakistan. Be the sunshine of your formal, semi-formal or casual occasions by wearing the trendsetter bottom styles and influence everyone around you.
In a nutshell.
You may get confused regarding your shirt and bottom selection, colour combinations to be considered and cuts or styles to carry, but you always have the option to choose your favourite design and alter it according to your preferences.
Everyone is an artist. I repeat, everyone is an Artist! I know that you have got certain skills regarding fashion designing. There is no rocket science when you see an outfit and choose to alter that style according to your choice.
Above you have seen the most beautiful and latest trousers designs in Pakistan. If you have any query regarding these bottom styles then feel free to contact us at info@fashioneven.com or use the contact form to know about the price details.
So, which bottom style is most appreciated from cigarette pants, tulip shalwar or bootcut trouser style?
The answer is, BOOTCUT trousers designs! The rising fashion trend of bootcut pants tends to influence everyone in Pakistan.
Follow us at Facebook, Twitter, Instagram and Pinterest for daily fashion updates by using @fashioneven
I hope that you must have got some inspirations from these new trousers designs in Pakistan. Please submit your valuable comments to help others as well.