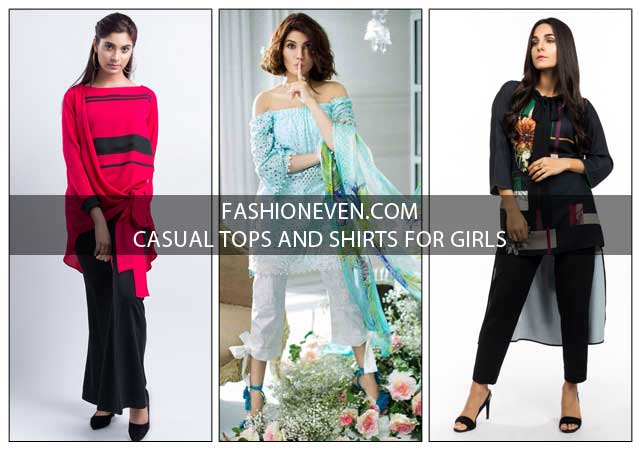 Are you wondering to add some glamor and style to your wardrobe with some of the most stylish yet casual tops and shirt designs? Why not try out upcoming fashion trends for off shoulder shirts, high low shirt designs (also known as hi-lo or short front with long back kurta style tunics) and knotted tops? In this article, you will find all the new and latest shirts designs for women in Pakistan.
The year 2024 is all about adapting rising fashion trends for female shirt designs that are most sought after among young and teenage generation such as school, college or university going girls.
For that reason, I have classified the stylish top designs into the following major categories based on the different casual tops and shirt designs for girls in Pakistan.
Off shoulder tops
Knotted tops
High low stylish shirts for women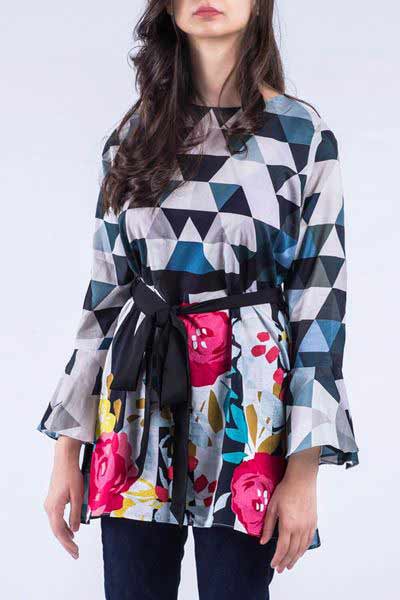 Latest Casual Top And Shirt Designs In 2024-2025
Today, I have gathered all the new styles of casual tops and shirt designs including long tops for jeans, designer tops for women, stylish knotted tops, off the shoulder shirts and high low shirts for girls. Attractive color combinations, prime quality fabric, well-cut silhouette and super stitching style of these fashion shirts for women, will certainly make you look classy enough to influence everyone around.
Do you know what's in vogue and what's out of fashion for casual wear?
I have listed down the Pakistani ladies shirts, tops and lower garments as followings.
Ensembles that are in fashion for the year 2024-2025:
1. Off shoulder shirts
2. Knotted tops for jeans
3. High Low (Hi-Lo) kurta style tunic
4. Pakistani long skirts
5. Boat neck
6. Denim/jeans jumpsuits
7. Angrakha style frock
8. Color blocking dress designs
9. Three quarter sleeves
10. Short frocks designs or peplum
11. Flared, peekaboo and bell sleeves
Ensembles that are out of fashion:
1. Long shirts
2. Fitted kameez shalwar
3. Full sleeves
Lower garments that are in vogue:
Loose trousers, culottes with belt, flared pants, ripped jeans and knotted trousers.
Lower garments that are out of vogue:
Jeans, capris, tulip pants, patiala shalwar, belted shalwar, and churidar pajama.
Best Casual Tops And Shirt Designs With Images
When I was writing this article about casual tops and shirt designs, I was super excited to share new fashion trends for teenage girls and young ladies. Here I have gathered all the three major categories of stylish outfits that will lead you from most unconventional to super classy!
What do you think about knotted tops, off shoulder shirts and high low shirt styles? Wouldn't it be better to stand out from the crowd rather than be forgettable? Interesting, but how? Check out the following Pakistani casual dresses pictures and you will get your answer!
Let's dive into the most trendy casual tops and shirts for girls!
1. Off shoulder tops and shirts
Off shoulder, casual tops and shirt designs have been one of the most sought-after casual wear. Off shoulder are still in vogue and most demanding in major cities of Pakistan including, Lahore, Islamabad, Karachi, Multan, Quetta and so forth.
Here arises a question:
What's the reason behind so much popularity of casual off shoulder tops?
There are several more underlying factors, but I am going to mention few of them as followings:
Most fashionable
Looks classy
Reasonable price
Check out the following most trendy and latest shirt design images and get inspired!
IMPORTANT TIP:
If you are going to wear off shoulder casual tops and shirt designs, then you must not forget to wear choker necklace with it. It will add beauty to your overall apparel and looks stunning when you have long neck.
2. Knotted tops and shirts
Another casual wear tops and shirts are knotted style tunic. Knotted casual tops and shirt designs are best to grab the attention of everyone around. This casual wear will make you super stylish within no time. Rest assured!
Nowadays, different styles are available for knotted tops. These styles include front knot, side knot and knotted sleeves style as well.
Let's check out the tremendous collection!
3. High low tops and shirts
Last but not least!
Upcoming fashion trend for high low shirts or short front and long back kurta style that is all set to rule the fashion industries. Previously in 2016, floor length long shirts remain in vogue for so long, but now the fashion industry has introduced something extremely attractive yet stylish.
Designers kept the front panel of kurta short and back panel is as long as possible. Back length could even kiss the floor or comes out as long tailed kurta style. Everyone is super excited to follow the latest fashion trends of these high low casual tops and shirt designs.
Now let's dive into the beautiful Hi-Lo shirt designs with images.
What is fashion?
Fashion is a popular style or practice, especially in clothing, footwear, accessories, makeup, hairstyle and body. Fashion is a distinctive and often constant trend in the style in which a person dresses.
See how beautifully "Anne Hathaway" has said about clothing fashion in the following quote.
[su_quote cite="Anne Hathaway"]"I think fashion is a lot of fun. I love clothes. More than fashion or brand labels, I love design. I love the thought that people put into clothes. I love when clothes make cultural statements and I think personal style is really cool. I also freely recognize that fashion should be a hobby."[/su_quote]
READ MORE:
Do you love to wear long skirts? If yes, then make sure to check out the latest designs of Pakistani long skirts for girls.
Additional tips according to body types:
Here are some additional tips to wear tops according to body type that every women must remember!
1. Tall women: Top must be long enough to cover the hips.
2. Short women: Top that ends at the hip bone.
3. Diamond shaped body: To widen the look of upper torso, you may opt for broad necklines such as boat, collar, and cowls.
4. For round body: Go for straight cut casual tops and shirt designs, set in sleeves with comfortable armholes. Avoid shoulder pads, short length sleeves (as they widen the area where they end), large collars, closed necklines, and horizontal detailing.
Pakistani Fashion Designers
When it comes to the latest designer tops collection, then renowned Pakistani fashion designers comes to our mind. In reality, there are many more couturier who are super talented for creating distinctive designs that will be unique in its kind. It's all right to use embellishments on casual tops and shirts, but what needs to be remember, casual outfits must be wearable and comfy but individualistic at the same time.
I express my deep appreciation to all of these fashion designers of casual tops and shirt designs who are also engaged in facilitating public with the  best designer tops online shopping. Just because of their creative thoughts, vision and expertise, we are able to stand apart from the crowd with unique shirt design ideas.
READ MORE:
Do you wear tops, kurtis and jeans? If yes, then do not miss to check out the super stylish tops and jeans for girls.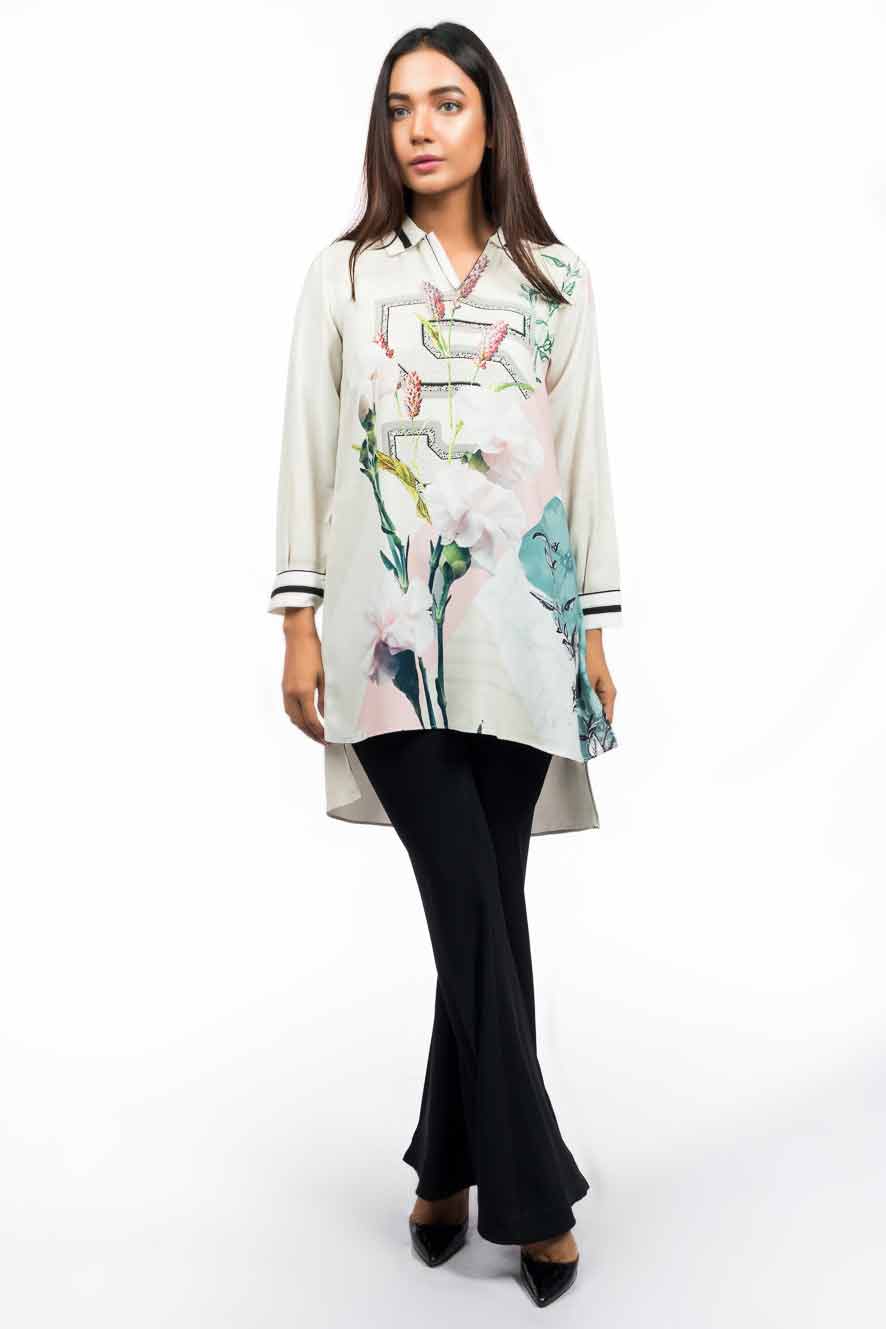 In a nutshell
Above you have seen the most trendy and fashionable collection of Pakistani casual dresses including off the shoulder tops, knotted shirts and high low kurta style tunics with images. I hope that this article had helped you to choose your favorite casual top and shirt design thus you can grab it from your nearest outlet.
If you are wondering to know about the prices of these casual tops and shirt designs, then feel free to contact me via contact form.
Are you thinking about to get fashion related advice or further tips about casual shirts for women in Pakistan, then make sure to leave a comment below or Email me at info@fashioneven.com, I'll be pleased to help you by all means!