Simple mehndi designs for Eid 2023, are one of the enormously artistic ways to enhance the resplendency of the Pakistani girls either young women or a teenager. Easy mehndi designs for hands and feet are rudimentarily the tradition of Asian countries but it has gained much popularity in Saudi Arabia and Europe as well.
In this article you will learn:
Pakistani mehndi designs for Eid (with images)
List of different mehndi styles.
Pakistani beauty salons for mehndi application.
Simple mehndi tradition in different regions.
Mehndi patterns for several occasions.
Have a look at the beautiful mehndi designs for Eid
Best Pakistani Mehndi Designs For Eid
Simple mehndi designs for Eid can be applied on hands, feet, arms, and shoulders. Here are the new designs and patterns with a variety of different styles including peacock mehndi designs, linear mehndi styles, and floral patterns that attract the personal magnetism and are appealing for everyone.
All events such as Eid-ul-Fitr and Eid-ul-Adha, weddings, or parties are just incomplete without henna.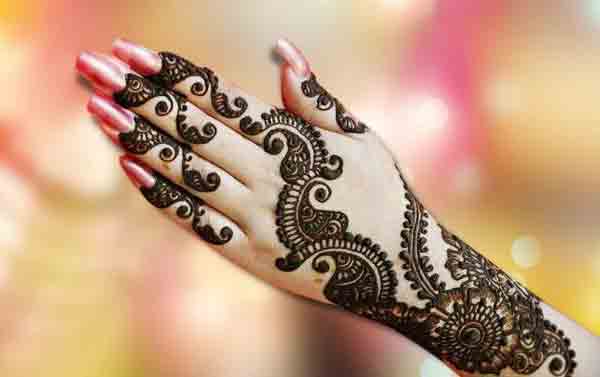 Must check out the latest mehndi designs:
Pakistani Mehndi Designs For Eid With Images
Nowadays, Pakistani girls are profoundly involved in expressing their aesthetic capabilities with regard to the utilization of henna for mehndi designs because these styles draw attention towards itself.
Young girls seem to have a keen interest in pulling ahead of their artistic skills for simple mehndi designs, that are acquired by some training or practicing it at home, especially for those girls who mainly opt for charisma that enables them to influence others in the first place.
1. Pakistani beauty salons for mehndi application
In this era, there are numerous artists and beauticians who have gained experience in makeup and henna application which you can wear with confidence. And first option for it is always a salon in everybody's head.
Best beauty parlors and makeup salons for mehndi application in Pakistan are as following:
Kashee's beauty salon
Akif Ilyas beautician
Alle'nora Makeup Salon
Ather Shehzad makeup artist
Beenish Pervaiz
Depilex
Jamal Hamadi
Khawar Riaz
Face Logic beauty parlor, and other salons are available all around the modernistic Pakistan fashion world that provides highly professional services regarding the application of simple Pakistani mehndi designs for Eid.
2. List of different mehndi styles
Choose your favorite mehndi pattern and practice it two to three times, so that you don't go wrong on particular day with beautiful mehndi designs. Simple patterns are easy to apply because these designs involve less artistic work and it makes a vivid impression on others that gratify everybody.
Moroccan mehndi designs for hands and feet
Bangle or bracelet mehndi designs for wrists or front or back of the hands
The lace gloves mehndi designs, which is most coveted by European countries, and white henna is preferred to apply than the usual black or dark green henna. Here you will find the most decent and super trendy white henna mehndi designs which involve lace gloves mehndi styles.
Minimalistic mehndi patterns that are simple and easy to apply that demands no time.
Glitter and pearls mehndi designs in Pakistan
3. Simple mehndi designs in different regions
The following are the different types of simple mehndi designs from different regions all over the world.
Latest Indian Mehendi designs for girls
New asymmetrical mehndi styles for hands and feet
Best Arabic mehndi designs for eid and other occasions
Pakistani mehndi designs for Eid
Indo Arabic mehndi designs
Mughlai mehndi styles
Multi-Color Pakistani, Arabic, Turkish and Indian henna styles
4. Pakistani mehndi designs for several occasions
Ocassions that are most ample for mehndi are
Wedding ceremonies that include, mehndi designs for mehndi function, Bridal Barat day mehndi styles, walima day mehndi designs
Dinner parties
Informal homecoming events
Islamic festivals and
Non-Muslim events such as Christmas, Holi, Diwali, etc.
Here we have come up with the best Pakistani mehndi designs for hands and feet that are full of versatile patterns. All of these designs for Eid is the mixture of Arabic and Dubai henna styles that are sought after by everyone nowadays. You may select a style from these eye-catching mehndi designs images according to your choice to apply  at any upcoming/homecoming event.
Some of the mehndi artists and salons make use of attractive colors, sparkle, and pearls or stones as well to make the designs look more adorable with some endearing enhancements.
The glory of simple Pakistani mehndi designs for Eid is that it induces the combination of most of the whole global lines and curves.
If anyone is interested to share their own simple mehndi designs pictures on fashioneven.com, then let our team know via comments or contact us via the contact form. Apply your favorite mehndi designs from the collection of different types of Pakistani mehndi designs for Eid that will surely influence everyone on the upcoming Eid 2023.