Here are the latest finger mehndi designs with new ideas that will make you stand out from the crowd. This article will help you to applying mehndi on hand fingers as well as you will get the plenty of ideas about various techniques to apply mehndi designs in super easy ways. When you will see these finger mehendi designs with images, you will find that applying mehndi design is easy and fun to do.

Nowadays there is a rising trend for mehndi designs in Pakistan, Turkey, India, Bangladesh and Dubai. Front and back hand mehndi designs for fingers, are simple to apply by following the easy methods of different styles like peacocks, floral along with other curls, circles, dots, leaves and curves. Must check all of these simple and traditional application of finger mehndi designs in 2020.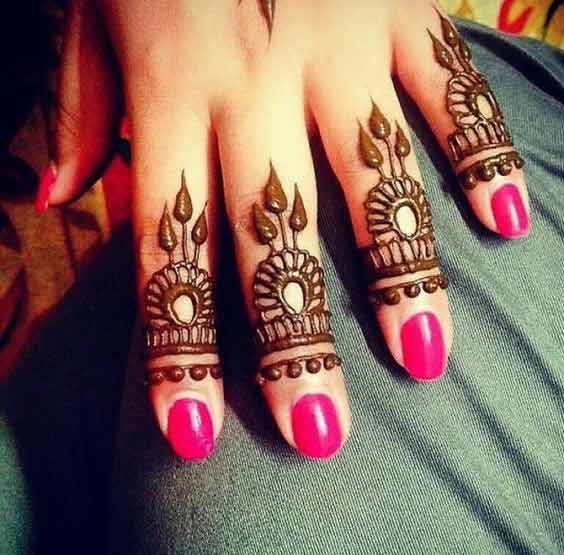 Finger mehndi patterns seems to be more attractive only if you will not make it messy and complex. To get the best results, you need to apply mehendi with patience. After practicing some of the identical mehndi patterns, you will surely be able to draw a variety of mehndi styles within no time!
First of all, give a try to floral, leaves or creeper, dots and circles style but you have to leave the sufficient space in between. If you are a beginner, try to draw different styles on mirror, yes! this tricks of mehndi design is one of the oldest learning method that will make it much easier and give it a delicate look.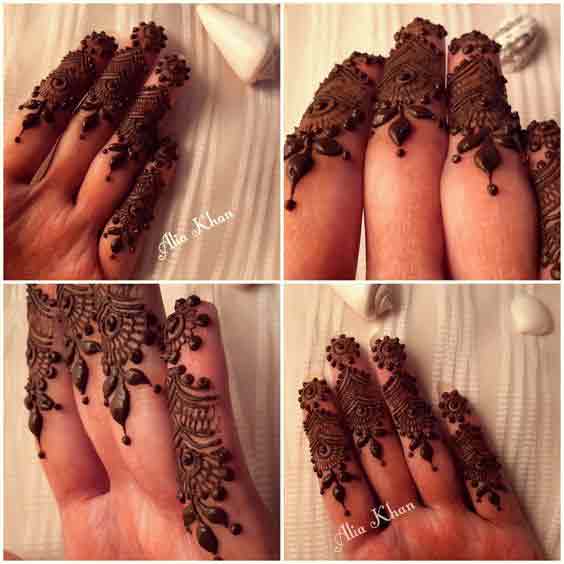 New Style Mehndi Designs For Hand Fingers
Have a look on the finger mehndi designs with the unique and new mehndi styles. With the bold fragrance and deep mehndi color, nowadays there is a rising mehndi trend for applying henna only on fingers, in most of the Asian countries like India, Pakistan, Bangladesh, and so on.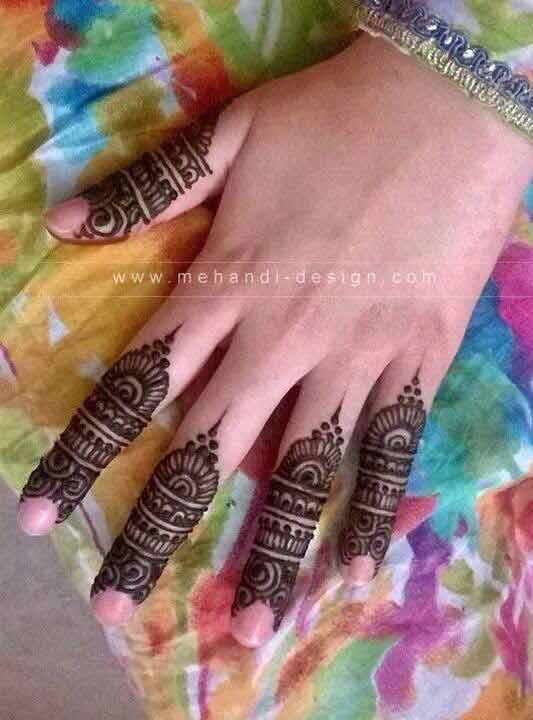 Now the tradition of applying henna is not limited to Asia, in fact it is extremely coveted by the European women as much as for the white henna application. Even when you know that what designs to make on hands or feet, sometimes you can't draw different styles on fingers. That's why today we have gathered the simple hand finger mehndi designs images 2020.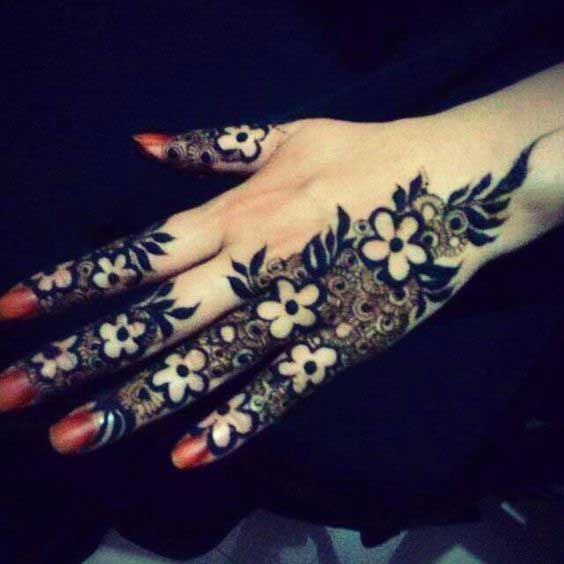 Must Check Out Latest Mehndi Designs
New styles to apply henna on fingers that you can make with any other palm mehndi designs either for wedding bridal or party.
Best full, half or quarter finger mehandi designs with a beautiful finishing and there will be no need for palm or back hand mehndi designs with it.
Various occasions, ceremonies and celebrations in India, Pakistan, Turkey and Saudi Arabia where you can apply new stylish mehandi designs for fingers:
Weddings (Mehndi function, wedding/barat day and reception or walima day)
Teej
Diwali
Karwa chaut
Eid Ul Fitr
Eid Ul Adha
Independence day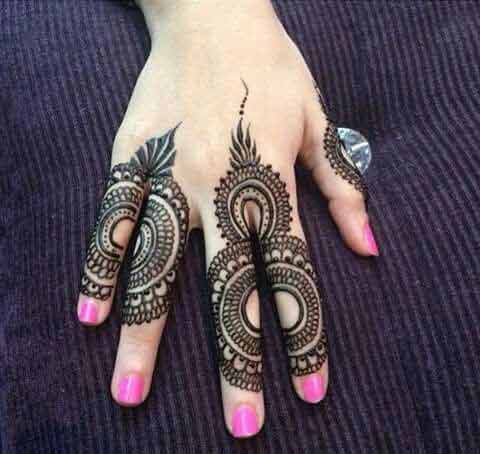 Different and latest finger mehndi designs with new styles, patterns and shapes that are mostly used:
Peacock mehendi style
flowers or floral designs
Curls and curves
Leaves and vines mehndi style
Batik mehndi style
Motif mehndi designs
Glitter or sparkle mehendi style
Highly dense mehndi design
Filled patterns of mehndi designs
Thick or complex mehndi
Geometric style
Multicoored mehndi accented with crystals
Paisley elements in mehndi styles
Mughlai mehendi which is neat and more detailed traditional mehndi design
Moroccan henna designs which are more geometric in nature
See more latest Christmas white henna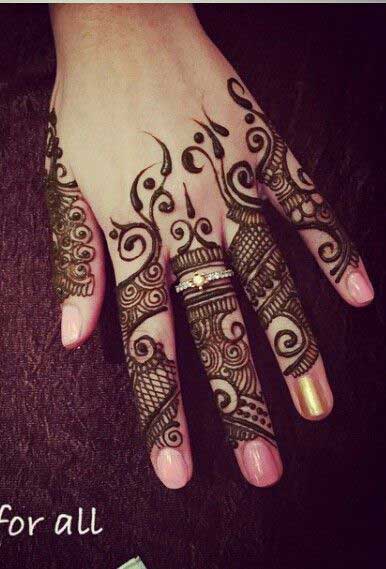 Pakistani Mehndi Designs For Fingers 2020
Pakistani mehandi designs for fingers, are basically the combination of Indian and Arabic finger mehndi styles. These designs are simple yet elegant and will help to influence everyone around you with this super beautiful mehndi finger tattoos and fingertips mehndi design for hands and feet. Pakistani finger mehndi designs are mostly the peacock, floral, geometric and vines.
Indian Mehndi Designs For Fingers
Indian finger mehndi designs are more complex pattern and shapes of mehendi designs without leaving much space in between. These designs are more neat and delicate, using the thin lines and curves and filled with detailed variety of connected parts.
Arabic Mehndi Designs For Fingers
Finger mehndi designs Arabic style is simple and easy than the Indian and Turkish mehndi styles. In Arabic mehendi design, the main focus is on thick outlines rather than the complex filling, peacocks, floral, curls, leaves and vines style is used for different designs.
Turkish Mehndi Designs For Fingers
Turkish finger mehndi designs is getting most popular after the Arabic mehndi designs. These mehndi styles are complex more than the other mehndi styles. A more detailed mehndi design makes it unique and delicate that represents Turkish people creativity and style.
Have a look at the most trendy latest finger mehndi designs for hands.
Above you have seen the latest finger mehndi designs with new style with pictures. These traditional mehendi designs are trendy in various cultures such as India, Pakistan, Bangladesh, Arab and Turkey. All of these mehndi designs are beautiful and easy to apply that will add beauty to your overall apparel.
If you find any difficulty in applying the fingers mehndi designs, then feel free to Comment below or contact us and we will try our best to help you in achieving the specific mehandi style with video tutorials as well.