Are you excited to check out the new trends of Pakistani lawn dresses stitching designs in 2023-24? Your wait will come to an end when you will get the best summer lawn dress design ideas for your casual wear. In this article you will come to know the four major stitching styles of Pakistani dresses for girls:
Kurti
Kameez Shalwar
Short frocks
Angrakha frocks
Lawn Dresses Stitching Designs In Pakistan
What flashes in your mind when you shop for the three-piece or two-piece, unstitched lawn suit? Isn't it, which lawn dresses stitching designs are in vogue and which and which lawn stitching style would you prefer the most? Do you love to wear a simple shalwar kameez designs or go for the kurtis with cigarette pants? Are you in love with short frocks in lawn or do you want an angrakha style frock this summer season?
Check out the recently revealed Kayseria Summer collection for women and little girls and get your favorite one.
So what have you plump for this lawn season? We have some super stylish ideas for getting your dresses to life this season, add some sass to your daily apparels so you cherish this the best.
Summer Lawn Dress Design Ideas For Girls In 2023-24
When it comes to the stitching styles of Pakistani dresses, we have plenty of options to choose from. All we need to do is some research regarding which shirt length is most appropriate according to the current fashion trends, which are the latest sleeves designs, which bottom or trousers styles are voguish as well as that provide comfort during the hot summer days.
Lawn dresses stitching designs always holds the heaviest importance because it elaborates the look of an outfit. Yes, it's an art! The rapid growth of tailoring has drawn many options, but have also born many complexities. Here we have four leading styles which you can pair up with any bottom you want.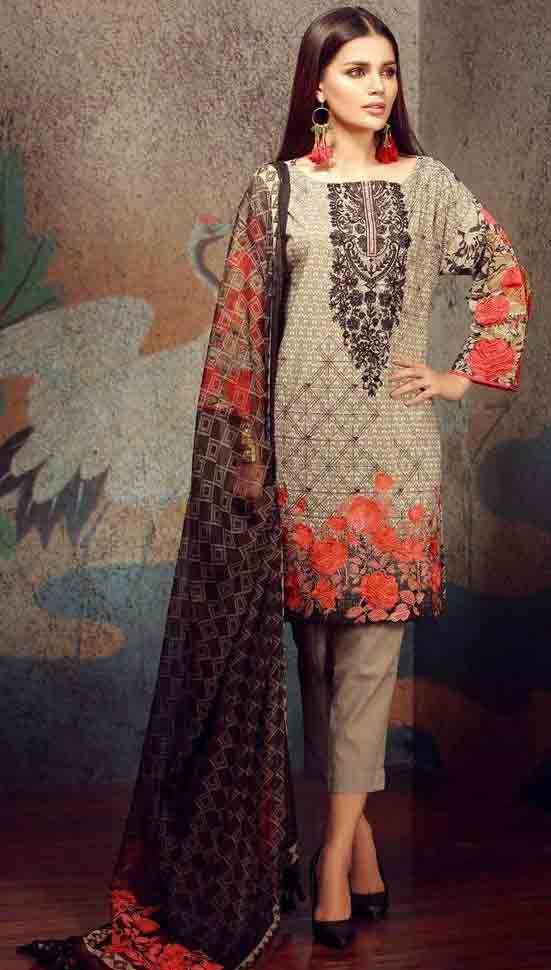 Followings are the casual dress styles but you can also grab the latest ideas for formal shirt stitching designs. Let's start with how many styles are in and then we'll hop to the hot picks we've opted out for you.
1. Lawn Kurti Stitching Designs
Kurti with straight trousers, culottes, cigarette pants, tights, skinnies, bell bottoms and even with gharara are always in the go. A shirt and kurta lawn dresses stitching designs are never out and are probably the best to wear in hot summer season. Everyone fair lad when it comes to designer lawn kurti collection, this is why there exists a huge array of kurti styles. Grab your unstitched lawn shirt and get it stitched according to the latest fashion trends because a kurti with Capri or straight trouser is a perfect pair for casual days, for sure.
See also the latest Warda Summer collection.
2. Pakistani Shalwar Kameez Designs Images
There is a fashion maniac that lurks in everyone who loves to create something different and stylish by wearing new shalwar kameez designs. And what possibly could they be? Here's the answer. You can go with a straight shirt long or short with a ban or collar. You may opt for an open or buttoned shirt too. You can add drama to the sleeves too, like adding frills, cut, buttons, beads or tie up edges. Belts and cuffs can also be good style contributors.
Also check out the Junaid Jamshed Summer collection.
Now come to the A-lines lawn dresses stitching designs! Well, they aren't so much experimental but of course embroidery and cut works can do them nice favours for dazzling the game. An A-line, straight or slant kameez fused with regular shalwar, Patiala or tulip shalwar are good combos and the vastest one to play and experiment, also the most comfortable and go to style.
Have a look at the following shalwar kameez designs and Pakistani summer dresses for girls and get inspired from!
3. Lawn Short Frocks Stitching Designs
Next up is the trendiest, peplum or short frocks in lawn! The beloved apple of the majority percentage of designers and people. Pakistani short frocks have the vastest grounds for playing with styles, cuts and embroidery. Even if you don't want to work a lot with them, simply go for a chick, quirky print and you're in! All the deets and points stated above can smoothly go with these short frock lawn dresses stitching designs. Pick a charismatic touch to enhance the beauty of a peplum or short frock stitching designs with little alterations and motifs.
Lawn frocks are kind of escape and lifesavers for many people around especially in the hot summer season. Too skinny people can look little healthier in them and people with a little bulky physic or irregularity in figures can be perfectly coped with frocks. They'll help you for clawing out of you dress unsatisfactory issues and troubles.
Certainly, you can pair up your casual lawn short frock with capri, straight or cigarette pants, culottes, tulip pants, pencil pants or short frocks with bell bottom to look ravishing.
Take a look at how many options of short frocks design in Pakistan, do we have!
4. Angrakha Style Frocks In Lawn
So the glamorous of them all lawn dresses stitching designs is angrakha style short frock stitching designs. Short flared umbrella cut frocks look super chick when paired with either straight pants or sharara. Anarkali themed angrakha style frock in lawn is also trendy for this hot summer season.
That old Kali frocks of all long, medium and long length are back in the game for the year 2023-24. Long angrakha style kameez, kurti or frocks are again back to the runway with a stronger game this time. As mentioned earlier, you can pair up angrakha short frock with any bottom you want. Mix prints with embroidery and cuts to make it even more classy.
Go for the following angrakha style short frock cutting styles and choose your favorite one!
[su_box title="STYLE TIP"]Another mind wrenching activity is selecting dupatta to incorporate properly with summer lawn dresses stitching designs. A wrong dupatta selection turns all things down. A moment for this one is definitely worth giving. If you are opting out shalwar kameez (a printed one), then it would be more appealing to match a plain dupatta, of any fabric you like. Because, print on print looks clumpy and odd, plus it is also an outdated thing. Going with plain dupatta with some light sprinkle of print or motif will also be fine. Contrary to this a heavy printed or embroidered dupatta with a plain or light embroidered dress looks splendid.[/su_box]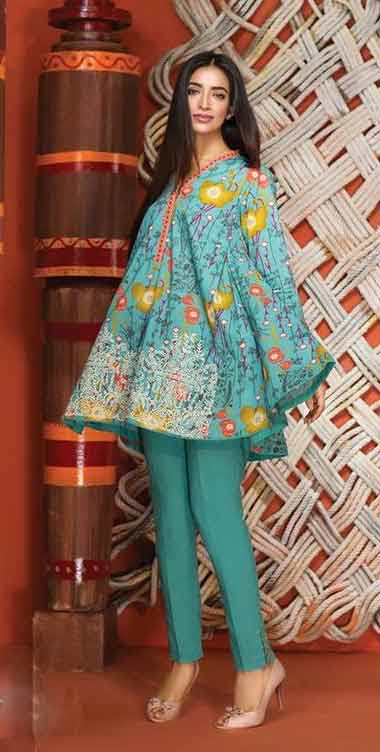 Have you ever heard about "You can get anything if you dress for it"? We believe it's true and what is the most mundane attraction of ladies in daily dress up? Lawn dresses stitching designs! Yes, you got it right. Every woman whether she's a mother a wife or daughter and surprisingly old age women also hysterically await summers for shopping lawn dresses and crazy enough to show off their lawn stitching styles.
Women fashion assiduity has a never-ending heterogeneity in stitching styles of shirts including pret, ready to wear, digital printed lawn, embroidered and unstitched fabrics as well. Sewing lawn in stereotype shalwar kameez style is so outdated now. This era is totally a fashion regime where you can play with lawn too as much as you do with formal wear. Pretty cool it is!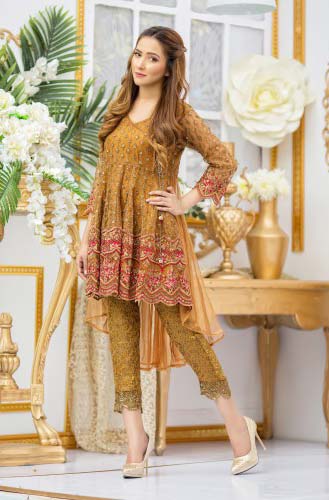 Let's decide what you choose this season from the above-shown lawn dresses stitching designs to lead the fashion race. Stitching is something which plays the role of oxygen in the life of an outfit. This should be done very carefully according to the fabric and physic. We hope this article proved as a helping hand in your decision making for wardrobe arrangements.
If you want more details regarding stitching and cutting styles, leave your valuable comments below or contact us at info@fashioneven.com, and subscribe to our newsletter for more fashion stuff.