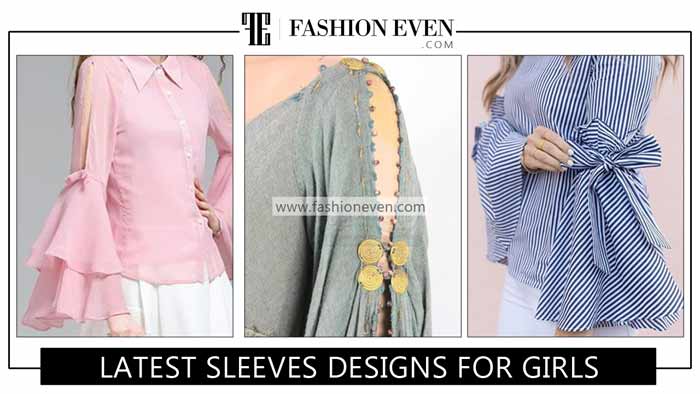 Do you really want to follow the latest sleeves designs 2024-2025 in Pakistan? Which sleeves length would you prefer to wear as a Pakistani lady? Is it long or full sleeves? Three quarter (3/4) sleeves? Or merely half sleeves? Do you know which one of above-mentioned sleeves length is going to be trendy this year? Well, read on and the answers shall be revealed shortly.
When it comes to the length of sleeves designs for kameez, it may be classified into the following categories:
Long or full sleeves
Three-quarter or 3/4 sleeves
Half sleeves
Thus, this article will cover the statement sleeves collection in terms of length. If you want to get inspired by the best sleeves designs for kurti, suits, tops, shirts or dresses, then check out all the images shown below. Here you will find the plenty of formal, semi-formal, casual or lawn sleeves designs for your dresses.
New Sleeves Designs 2024-2025 In Pakistan
Before we get started, ask yourself first; for how long statement sleeves are here to stay in Pakistan? Whether you should adopt the international runway trends for sleeves designs or just consider it as too frivolous to discuss in details?
While I have shared the latest trousers designs in Pakistan earlier, now here is the complete guide about the most beautiful sleeve designs for dresses in Pakistan that you should be wearing this season.
By and large, you will come upon the variety of beautiful sleeves designs 2024-2025 that are full of attractive and mesmerizing colour combinations. Some of these styles are rich with delicate embroidery while others will win the heart by the alluring pearls and stone embellishments.
Beautiful Sleeves Designs For Dresses
Wouldn't you love an outfit with a dabble difference? And surely it could be the statement sleeves to grab the attention of everyone around. Check out the puff sleeve designs that have been trendy these days.
Today, I will be uncovering not only sleeves designs, but you will also be able to pick out your best-loved style along with the most suitable sleeves length (full, three quarter or half) for your kameez or kurti.
Latest sleeves styles in Pakistan:
Formal net sleeves designs
Cuff sleeves with bow
Patel sleeves
Bell sleeves
Sleeves with pearls
Bell sleeves with bowtie
Pleated sleeves
Slit sleeves
Peekaboo sleeves
Sleeves with buttons
Puffed sleeves
1. Full Sleeves Designs For Girls
First comes first! Do you love long sleeves? Yes, they are beautiful! But, what about the style? I reckon that you must have some ideas (regarding sleeves styles) going through your mind. Some of these designs are vintage-inspired that has emerged as a durable trend in recent months, while the rest of the designs are from the upcoming international fashion runways making their way to Pakistan.
Full sleeves (bazu or baju designs; in local languages) are considered as one of the most sophisticated sleeve lengths that could be attached to any casual top and shirt design and it is most appropriate either for long or short dresses.
Let's go for the following images and choose your full sleeves designs for shalwar kameez, suit or kurti.
2. Three Quarter Sleeves Designs
One of the wearable and comfortable sleeves designs would be none other than these beautiful 3/4 sleeve styles. If you are confused about the length of your kurti or kameez, go for the three-quarter sleeves! To make it little more interesting, give some style to it (as shown in the following images).
3. Half Sleeves Designs In Pakistan
Are you looking for the latest half sleeves design for kurti or suits? Perfect! Here I have gathered some of the most beautiful styles that will certainly make you stand apart from the crowd. The best part about statement sleeves is that you can replicate all of them regardless of your dress format, pattern or design.
While we cannot deny the fact that some of the sleeve styles look better with western tops style. Half sleeves design cutting and stitching is comparatively easy than the rest of the two (mentioned earlier). You can find here the best sleeve designs for ladies suit, replicate it and be the sunshine of everyone's eyes.
Let's have a look at these beautiful half sleeves designs in Pakistan and get inspired!
Styling Tips:
To make things a little more interesting, create some balance by wearing dramatic sleeves with skinny jeans.

As the weather warms up, choose long sleeves instead of short.

Don't just focus on the sleeves – pick a shirt that is dramatic all over.

Frocks (short or long): You may opt for the full bell sleeves style.

Kameez (or kurti): 3/4 sleeves are preferred.

Saree blouse or choli: Go for the half sleeves designs.
Pakistani Sleeve Designs Video 2024-2025
Are you fagged out by scrolling the images? Why not just play a video of these beautiful sleeves styles? Get your hands on any of these styles and jump onto this bandwagon!
On the whole, you must go for those sleeves designs 2024-2025 that are best suitable and compatible with your dress design. Ultimately, your focus must be the overall look of your apparel because it's not merely about the shirt, trousers, or sleeves.
I hope that you must have got some inspirations from the above shown sleeve designs that are on-trend in Pakistan. You always have the option to play around and go for the most appropriate statement sleeves style.
If you have any query regarding this, or if I have missed any important point to be discussed here, feel free to contact me at info@fashioneven.com or share your valuable thoughts in the comment box below.