Are you looking for the most recent styles of kids lehenga choli designs? If yes, then you have come to the right place! The conscious aim of this article is to show you the latest baby lehenga dress designs for your little girls that will certainly make them stand out from the crowd.
Wedding season is best to show off some style and vogue. Thus, we are here to show you some of the most beautiful lehenga choli designs with images. Get inspired by the following styles, grab your favorite one and let your princes spread charm in attractive hues from the palette.
This article is categorized according to the age group as follows:
One to seven years old, and
Eight to thirteen years old.
What else will you learn?
Important tips to be considered before purchasing lehnga choli for you little one.
Lehnga choli color combination suggestions.
Types of fabric that have been used.
Step-by-step video tutorial guide about "how to stitch lehnga choli at home?"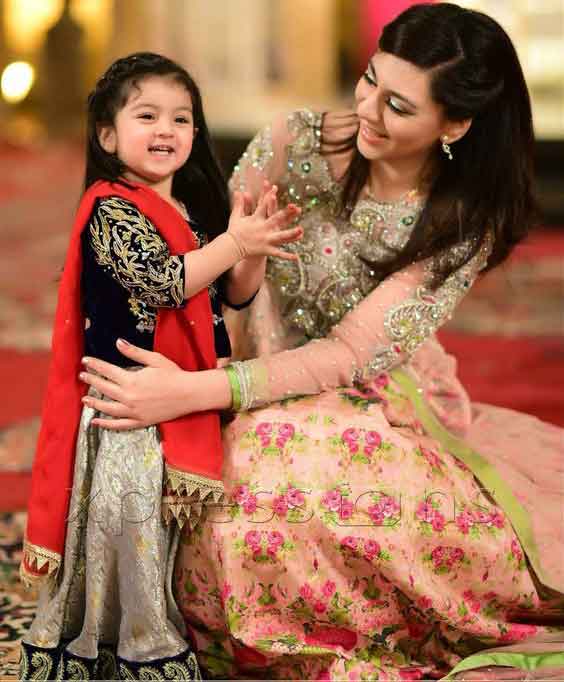 Kids Lehenga Choli Designs For 2023-24
Today, you will be able to feel out the latest styles of kids lehenga choli designs that are full of intricate embroidery, charismatic embellishments, attractive color combinations and above all, super stitching style that will grab the attention of everyone around. You will sense this when you'll see that how beautifully baby lehenga designs have been coped with choli and dupatta.
Following I have discoursed about the best color combination ideas for lehnga and choli. Color hues are captivating and mesmerising enough to draw the attention during wedding season. It includes blood red with green, deep blue with red, shocking pink with white and so forth. (Check out below)
NOTE: Do not forget to consider the hairstyles, makeup look and dupatta draping styles with respective lehnga choli pictures.
Scroll down to see the latest dress designs of baby lehenga choli photo as shown below.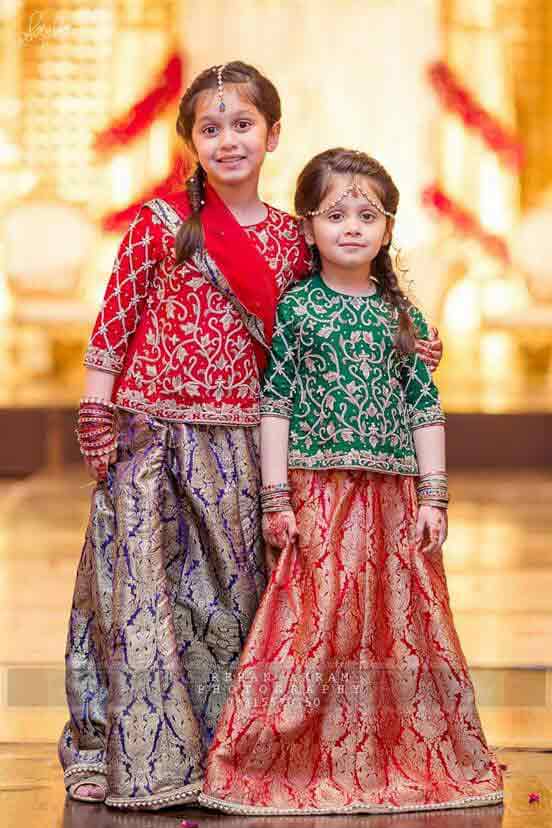 Must Read:
Are you wondering to feel out some more traditional yet stylish dresses for little girls? Then do not forget to go over the new styles of kids dresses for little girls.
Latest Kids Lehenga Designs For Weddings
In this collection, designs and hues are blended together in such a balance that you won't be able to shake it off your mind. Feel out the royal and fancy taste of lehnga choli designs for baby girls and let your little princes grab the attention of everyone around.
Most of the outfits are heavily embellished with ornaments and intricate embroidery that will certainly leave us all awe inspiring. While others are so elegant and sophisticated that you can easily stitch by your own!
Are you excited about to see the latest collection of kids lehenga choli designs for baby girls? So without further delay, there we go!
Let's run down  the images of respective category and get inspired by the multiple options.
1) One to seven years old kids:
Here I have shown most recent styles of ghagra choli for 1 year old to seven years old baby girls. If you are a mom of little princes, then you must consider the latest fashion trends for your baby girls. You may choose lace, beads, pearls and other embellishments all over lehnga or choli.
TIP:
You always hold the option to pick different color combinations of another lehenga choli style.
Consider the hairstyles, accessories, shoes and cute no-makeup looks as well.
Go over the best baby lehenga images (shown below) and choose your most favorite one!
READ MORE:
Do you want to make your girl look like a princes? What about if your girl's outfit is tremendously awesome but no hairstyle? Like seriously? Are you about to waste all the efforts you made for wedding dress? No, certainly you should not!
Don't worry!
There we go with the most trendy haircuts and hairstyles for little girls. Feel out the super cute little girls hairstyles that will go perfect with any of these lehenga choli dresses!
2) Eight to thirteen years old kids:
Super trendy and best ever lehnga choli comes in heavily embroidered patterns for eight to thirteen years old baby girls. When there is a wedding event and you are unable to decide about your baby girl's outfit, then without any ambiguities you may opt for captivating red, blue, green, pink, peach and other color combinations.
This wedding season, you wouldn't want to miss the following style!
Your little girl is definitely going to look like a doll and super adorable if wears any of these styles. Beautiful lehnga choli designs has sparked up the whole assortment.
So what matters then?
Of course, parents' choice, taste, knowledge about fashion, budget and so forth.
Now let's dive into the most recent baby girls lehnga choli designs.
There are certain fashion tips and hacks that every mom must know before purchasing lehnga choli for little girls. For that reason, I have discussed few of the most important buying tips in this article that you will come to know just in a minute.
Important Tips:
Although, there are hundreds of millions of tips that you must know, but in this article I will be focussing mainly on the buying tips for lehnga choli. Following are the most important tips that must be considered when you are about to purchase a lehnga choli.
1) First of all, figure out that how much budget will you allocate to lehnga choli wedding dress?
2) Make appropriate choices for color combinations.
3) Do not forget to suss out the quality of fabric.
4) Consider the alterations.
5) Bright hues from the palette are more suitable for little girls.
As a parent, it is your responsibility to look after your kids with great attention and fill their emotional love tank by paying some extra attention. It's not just limited to their feelings and emotions, you must take care of their personality growth as well.
Color combinations for kids lehenga choli:
When it comes to the wedding season, dress color combination selection plays a vital role, but how will you choose the perfect lehnga choli color combinations without spending a lot of time? Don't fret! It's simple and easy. Following I have hashed out the most common and super cute color combination ideas for baby girls:
Pink and white
Red and green
Navy blue and green
Purple and golden
Blue and pink
Red and off white
Orange and off white
Peach and golden
Pink and silver
Magenta and green
Blue and pink
Fabric used for lehnga and choli:
Wedding fashion is not constricted to adults, parents must have to think earnestly about their little babies. Because, kids under thirteen are more often than not aware of latest fashion trends. Try to focus on the kids fashion trends as well. For that reason, a mom must know about the fabric type and quality.
There are certain fabric types of wedding lehnga and choli which is preferred by the fashion designers. It includes the following:
Net
Jamawar
Crepe
Printed fabric
Embroidered fabric
Georgette
Viscose
Silk
Pakistani Fashion Designers
There are numerous Pakistani fashion designers who are engaged in the production of lehnga choli dresses. These are the designer who have influenced my choice and taste regarding wedding fashion trends.
I express my deep appreciation to these designers whose contribution and artistic skills helps to draw allure with great attention of everyone around. On official websites you will also be able to see lehenga design with price. Not surprisingly, most of the designers dresses are overpriced, but they definitely worth it!
Here arises a question: What makes branded dresses overpriced?
Certainly, use of prime quality fabric, fully adorned with stones and pearls, fascinating color combinations and last but most important extraordinary stitching style!
Do not have enough money to get a baby designer lehenga choli for your little girl? If you are good at stitching then try to stitch up this cute wedding outfit at your home!
How To Stitch Kids Lehenga Choli At Home?
Below, I am going to show you a video tutorial that will guide you about `how to stitch lehnga choli for baby girls?`
Note: Consider the following before you start stitching procedure:
Carefully indicate in writing all the significant measurements on a paper before you start your sewing process.
Get yourself ready with all the necessary things such as thread, needle, scissors, fabric, sewing machine and so on.
To get the most from your efforts, you must consider the quality of fabric as well as color combinations.
Yes, if you have got enough skills then just remember that nothing can stop you. Above you have seen ghagra designs for babies, choose your favorite one and give it a try to stitch like that at home! Follow the step by step video tutorial for perfect baby lehenga blouse pattern cutting and stitching style and let me know if you couldn't get anything.
Above you have seen the latest collection of kids lehenga choli designs. I hope you loved these multiple options to choose from. Make your little girl just look like a doll and let her be the queen of wedding party night. If you want to know the prices of these lehnga choli outfits, then feel free to contact us via contact form or comment below.
If you are interested in similar content, then make sure to subscribe to my blog to get latest fashion updates!