Are you looking for the baby girls wedding frocks in Pakistan? Have you bought something for your tippy toed princess yet? If not, we have an awesome collection of baby girl wedding frock designs for you to choose for your little angel. In this article you will come to know about the different styles and designs of baby girls wedding frocks in Pakistan, such as:
Baby wedding gowns
Plain parachute frocks
Layered or frilled frocks
Long length princess frocks
Anarkali frock suits
Angrakha frock designs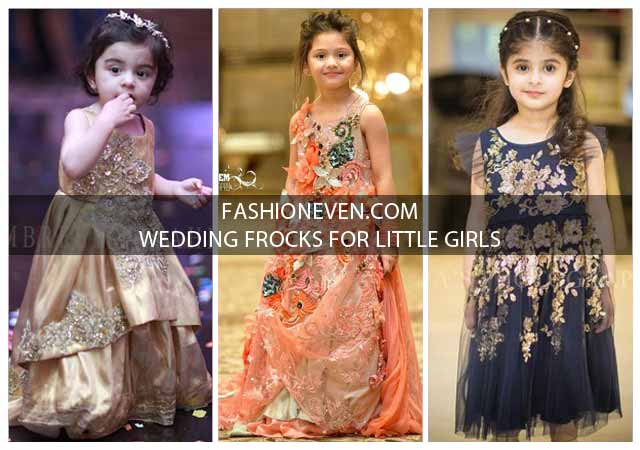 Wedding shopping for kids must be a nerve-killing activity. There are so many of baby girl wedding frocks are available which includes embellished with lots of styles and bows, flowers and laces to influence everyone around. This collection includes the designer dresses for girls such as, baby girl mehndi dresses, wedding day frocks and walima dress images.
There are plenty of options to choose from! Let's check out the Pakistani baby wedding dresses for little girls! Have a look at the following most glamorous and beautiful baby wedding dress photos in Pakistan!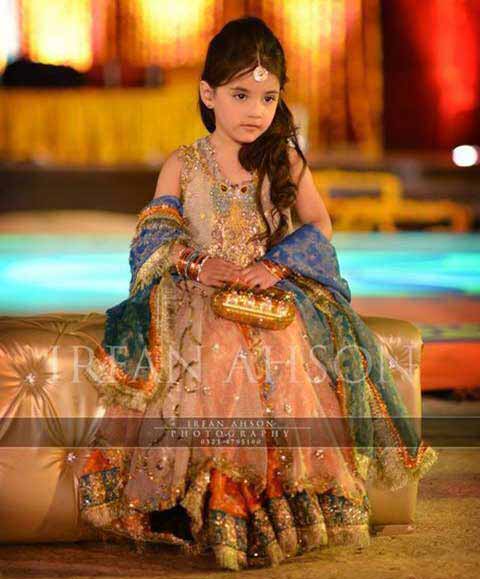 Pakistani Baby Girls Wedding Frocks 2023-24
What about those cute Pakistani baby girls wedding frocks in the market? Little girl's shopping is always very fun filled thing, most of the wedding dresses are so pretty that one can never decide what to wear and always want to buy everything.
If baby is a toddler, a tippy toes, then you have more choice, make it something comfortable to carry, formed and layered. Stick to to pastel or soft color while thye frock length can b changed according to choice. You can make it sleeveless dress. If you want it with sleeves then keep it in mind that it should be still soft and comfortable with a color that pop their features up.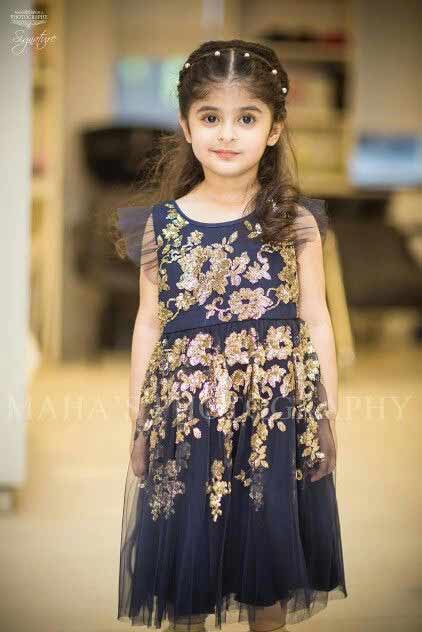 READ MORE:
Must check out the Pakistani child dress designs to get some more ideas about Maria B kids party dresses.
Baby Girls Wedding Frocks With Images
All of these wedding dress for kids are heavily embroidered, full of embellishments yet comfortable to carry that are rich with attractive color combinations and comes in different styles. Choose your favorite baby girls wedding frocks designs (shown below with images) and make your little girl be the queen of wedding event.
If your daughter is under 1 year or a toddler, go for the less frilled little girl wedding dresses in Pakistan and make sure the fabric is smooth and soft. Because kids of this age can't stand too much things on them so they may find it uncomfortable. Bad idea, your little girl will get irritated throughout the day.
Also, if they fall asleep and it can be very hard to carry them along with heavy cloth loaded on them. But still if you have made your child use to of wearing stuff like this, then you can go for it.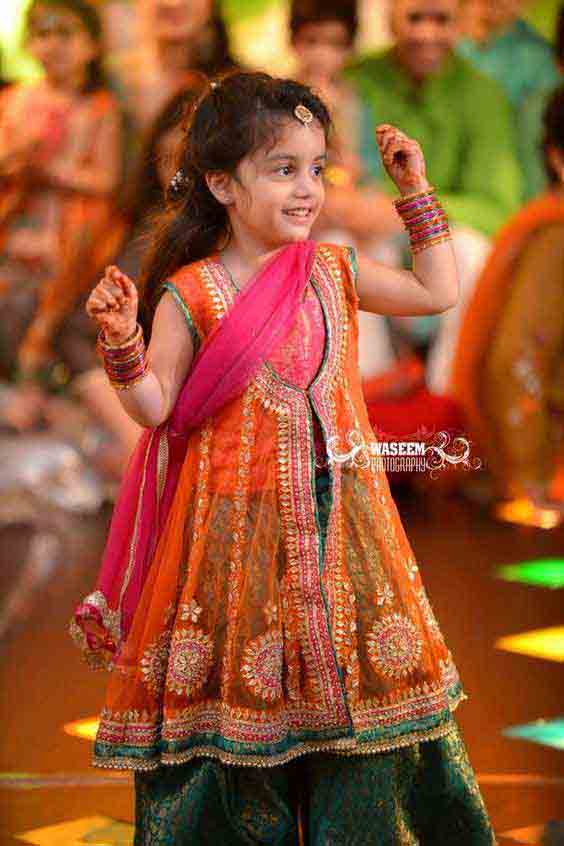 READ MORE:
Are you wondering to get a kids wedding dresses for girls in lehnga choli style instead? If yes, then do not forget to check out the new styles of kids lehenga choli designs for weddings.
Little Girls Wedding Frocks Designs And Styles:
So have you decided your baby girls wedding frocks style? We have got you some help in this, what style, which color, we've compiled the best for you, and we're pretty sure this is almost perfectly on point.
You may choose silk, velvet or any soft fabric for wedding dress for kids. Add flowers like 3d work, or embroidery all over, but make sure this doesn't scratch or irritate the baby. Their skin is very soft and sensitive, a hard or grubby stuff can cause rashes on their skin. Keep it sleeveless, because sleeves may hurt their underarm skin.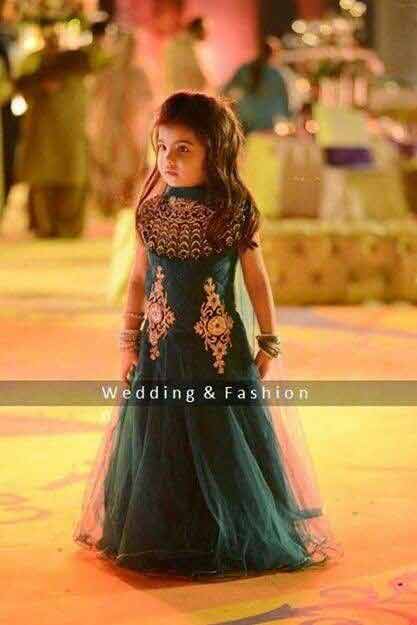 [su_note note_color="#e1f5f6″ text_color="#000000″]One more note is, what bottom you choose to complete the baby girl wedding frock style? Leggings and jeggings are a good option as they're flexible plus easy and kids would not feel stuck in. You may need to avoid skin-fit or tight pyjamas, because that may make the baby girl feel uncomfortable throughout the day.[/su_note]
READ MORE:
Here are the beautiful baby sharara dresses in Pakistan. Check out those styles and choose your desired one!
Babies are not so tolerant against weather, so if its summer, keep the outfit light, and if weather is cold, keep the baby girl dresses cozy and warm to make them feel comfortable. You never want to risk their health. for sure! Check out the Pakistani little girls party dresses according to the age of your little girl.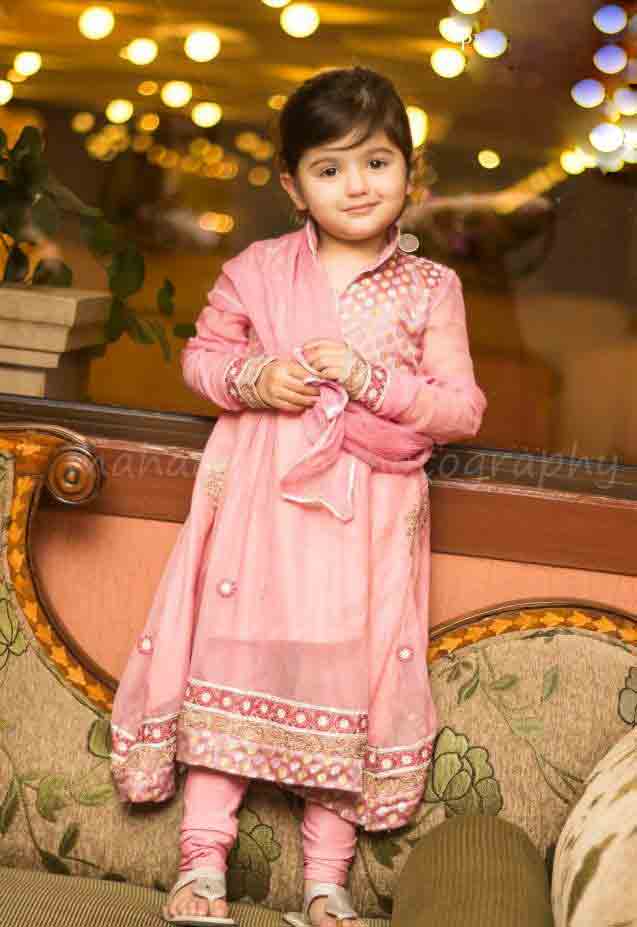 1. BABY WEDDING GOWNS:
Pakistani baby girls wedding frocks comes in gown style as well! These baby wedding gowns comes in attractive color and various designs such as front open gown frock.
This is not a compulsion that you only have to buy something from the brands and designers offering kids range. Also, not necessary to make a thing by yourself. You can do it however you like, You can fuse, and cross match the designer clothes with something self made or designed.
See which baby wedding gown design we have got for you out of the box!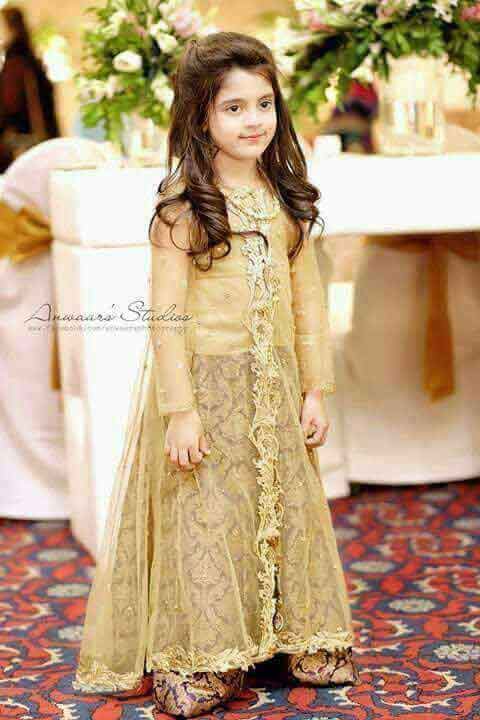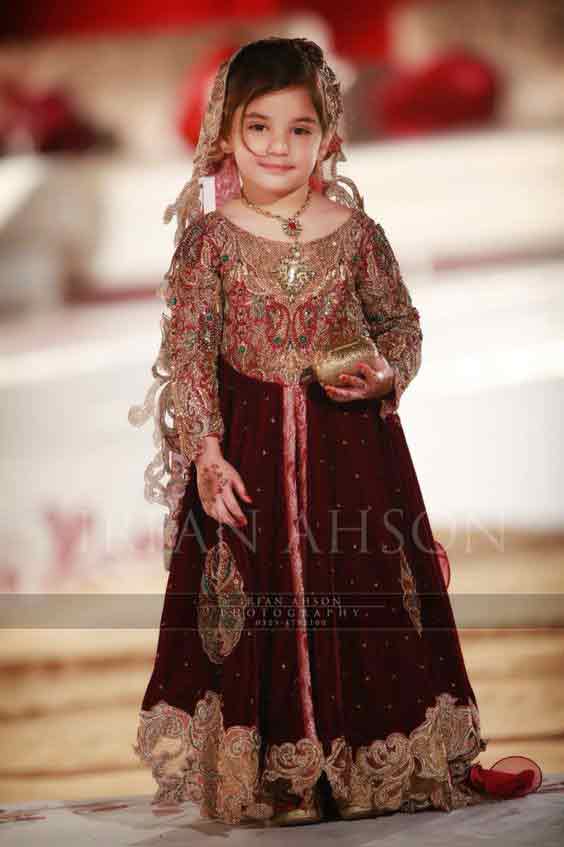 2. PLAIN PARACHUTE FROCKS:
These are simplest shaped frocks, like a parachute cut.  They are perfect for babies in lap or cots. Easy for baby and people babysitting them as well. Also, gorgeously perfect, or you may add up motifs and sequins if you want.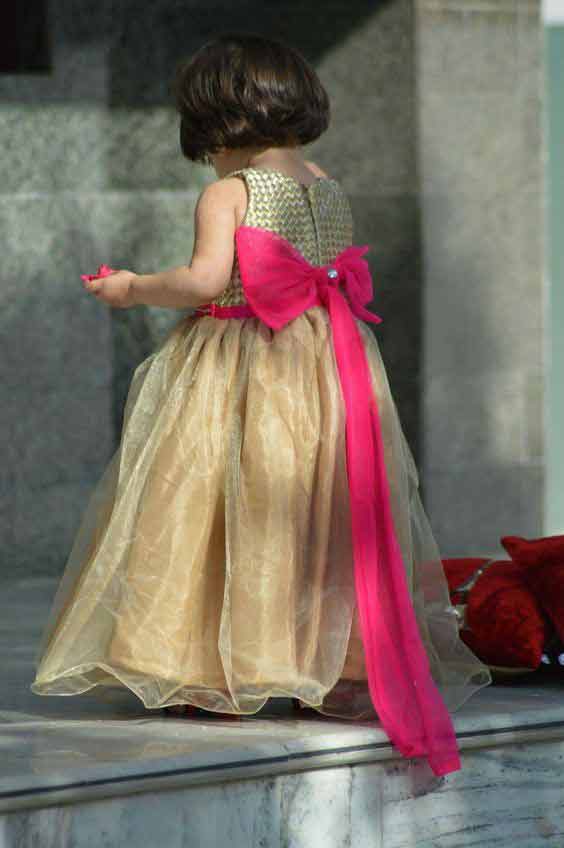 3. LAYERED OR FRILLED FROCKS:
Baby girl wedding frock in layered or frilled style is on point choice for toddlers, crawlers or under 5 year old girls. Layers and frills always looks glamorous and beautiful. They look cute and help covering the diapers of babies which look embarrassingly awful if they pop out.
Tight peeko the edges, to give it a nice fairy flare. Beads, flowers, motifs or self prints adds more beauty to these baby frocks.
Another advantage of this baby girl wedding frock style is that, you can keep the inner with a soft fabric and make anything of chiffon or net above that, and certainly it won't irritate your baby's skin.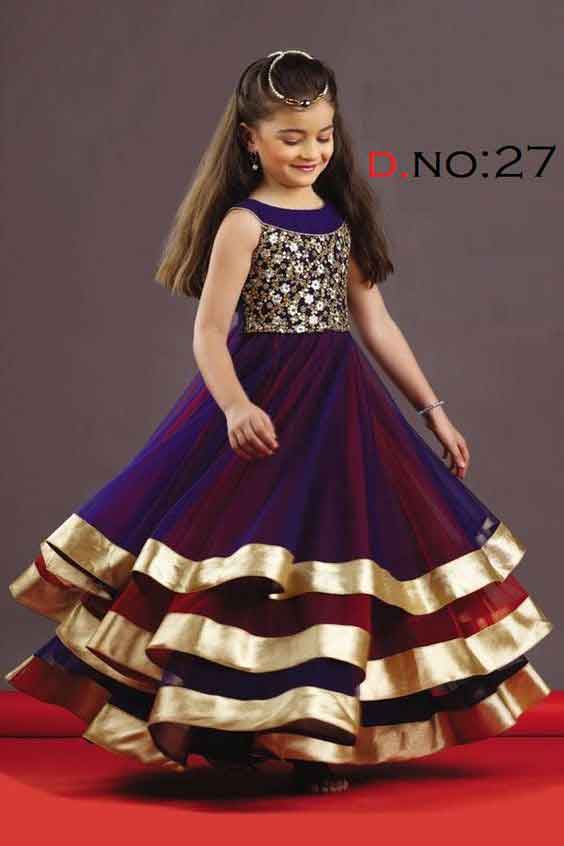 4. LONG LENGTH PRINCES FROCKS:
Here comes an all time favorite apparel of baby girls and mothers as well! Who doesn't want to dress their little girl look like a princess? And these naughty little thingies too love Disney princess avatars! So why not choose this one? Baby girls wedding frocks in princess style is a happy dress for them.
Pastels are best for this kind of wedding wears, pink, maroon, golden, red, blue and grey can also be a good match.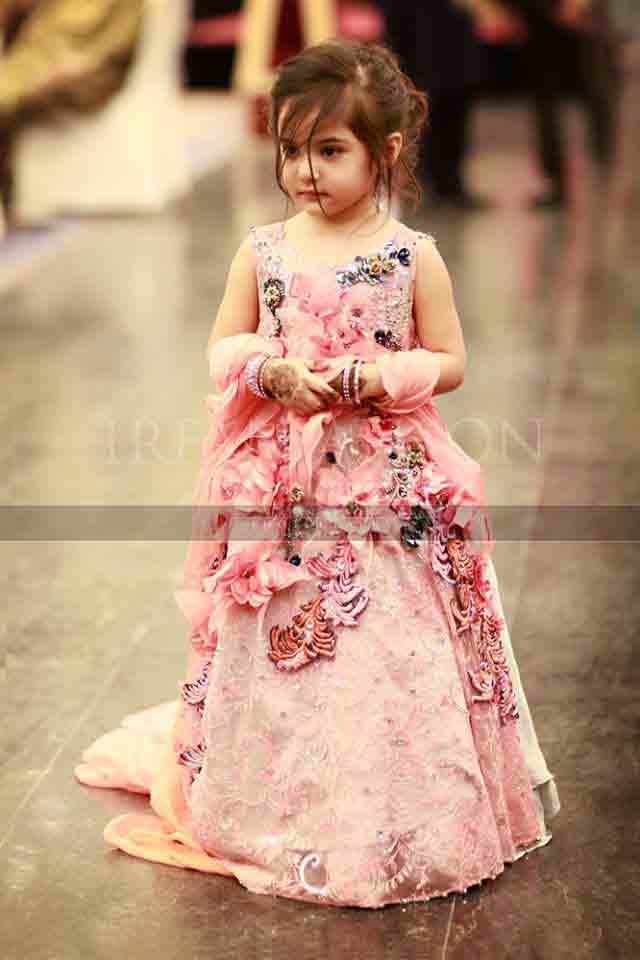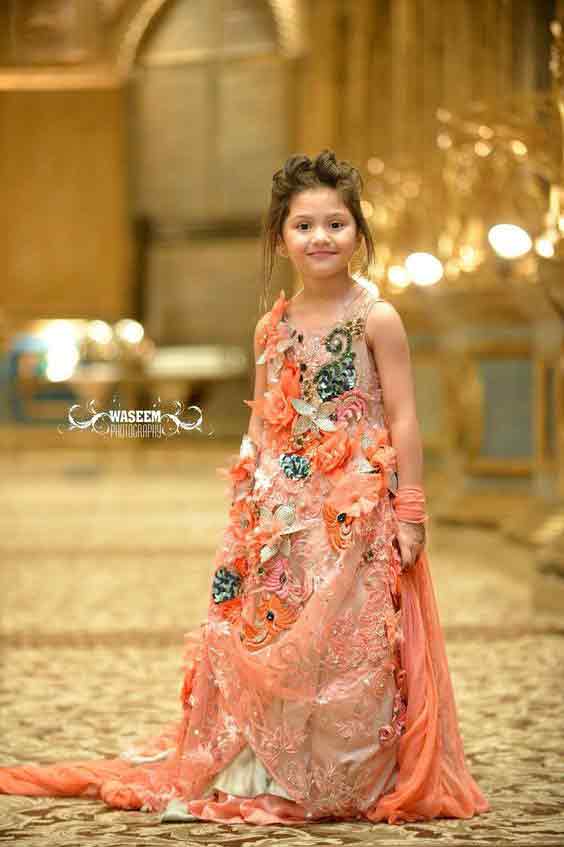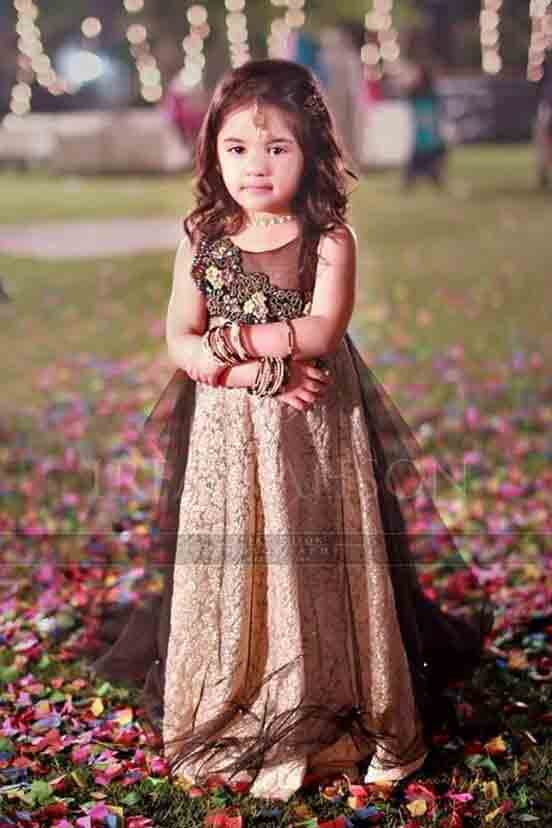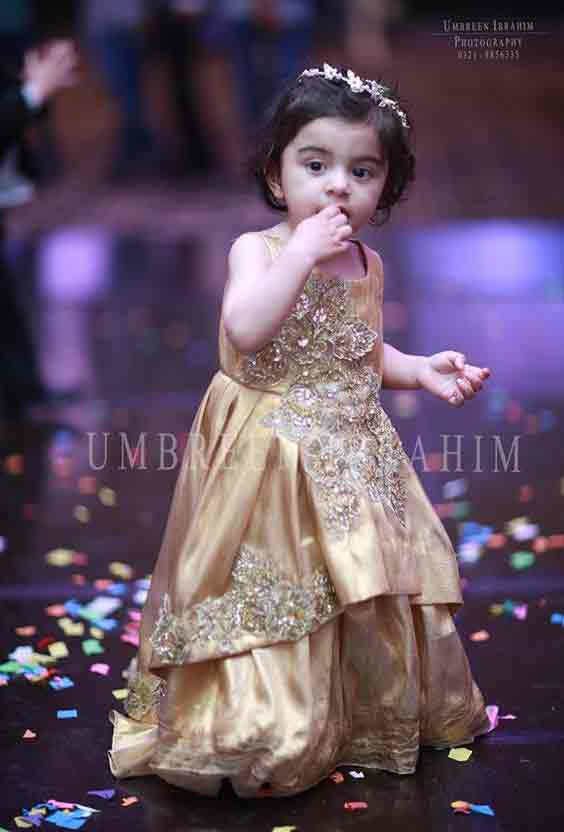 [su_box title="STYLE TIP"]Never try adding any slip or lining under a baby girl's wedding frock, this may annoy her to worse, but if some of you feel a dire need of it, attach the lining with the frock so that it doesn't bother your little princess.[/su_box]
5. ANARKALI FROCK SUITS:
In case you want your girl to look eastern in accordance of the culture and look traditional, which is not a choice of majority but if you want to make it stand out, go for an embroidered or lace anarkali frock with matching dupatta and pajama.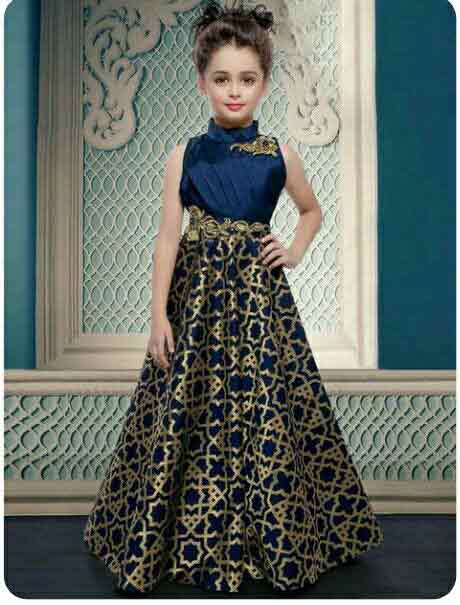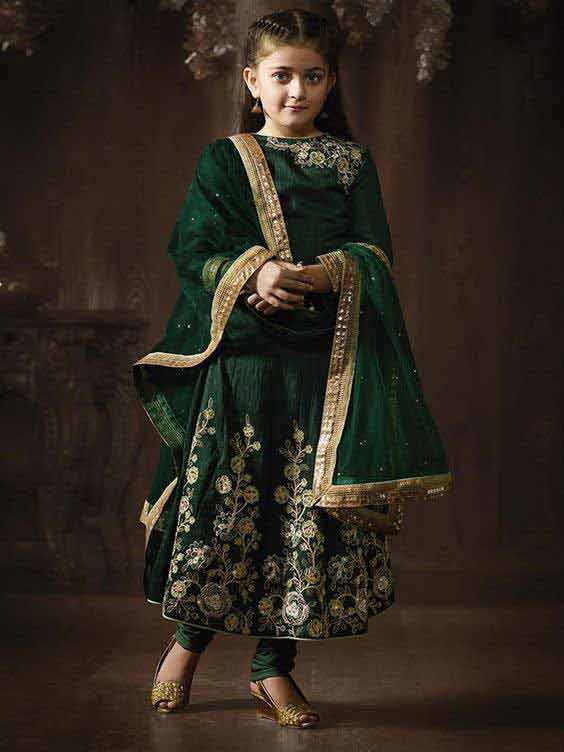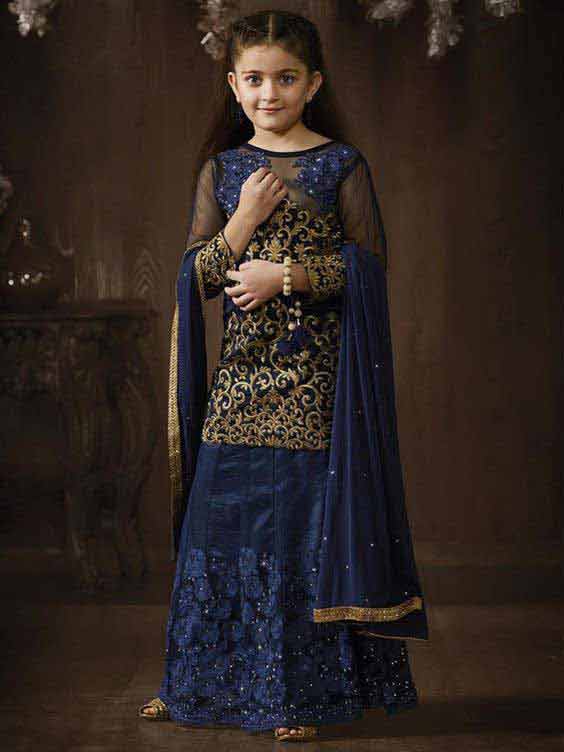 6. ANGRAKHA FROCKS:
These angrakha style baby girls wedding frocks are more eye-catching than anarkali, a sequined angrakha frock with dori, is a perfect slayer. Go for the baby pink color combination with blue and white to grab the attention of everyone around.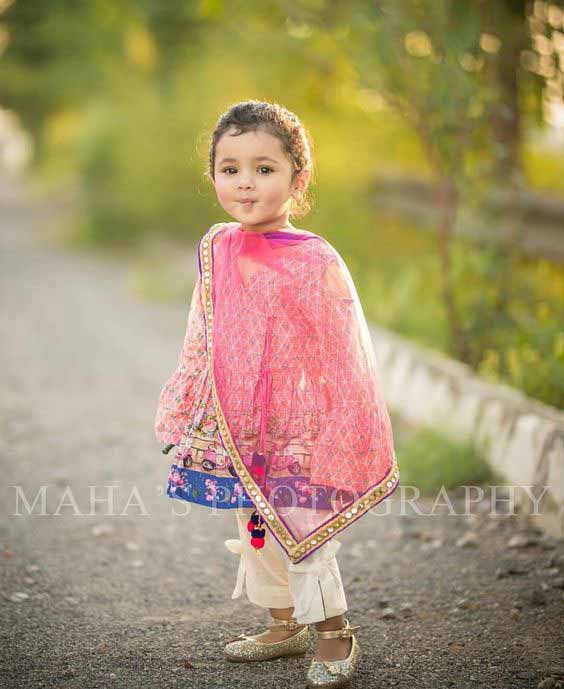 CAPE/PONCHO SHIRT CUM FROCK STYLE:
Last, but not the least for sure, cape or poncho style shirt cum frocks can also add beauty to the baby dress. This poncho style is turned like frocks by adding elastic or bands to the waist. This is not really a frock but is considered in the category of frocks, because it gives a look of bat sleeved flared frock for little girls.
Which colors are best to choose for baby girls wedding frocks?
Are you bewildered regarding the color combinations? You may go for red, pink, green, orange, yellow, blue or any pastels, whatever you like.
Color Combinations:
Purple with green or yellow
Blue and red
White and black
Pink and golden
Silver and red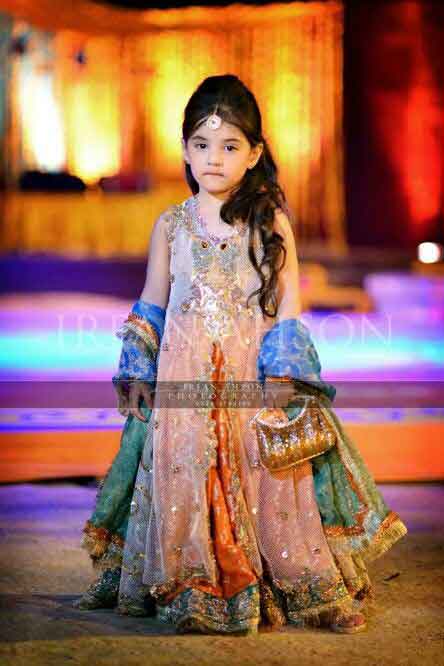 [su_box title="STYLE TIP"]Whatever you decide for baby girls wedding frocks, always keep one thing in mind that never think about keeping it a number larger than her size. You may fold and sew the extra inside and open it for onwards use. If you are scared of wastage of dress but don't put your kid in trouble by making them wear an over-sized dress. There are numerous more ways of making a dress reusable, you can change its style, add something else in it to give it an up-to-date look. You can always alter a dress up to the trend of that minute.[/su_box]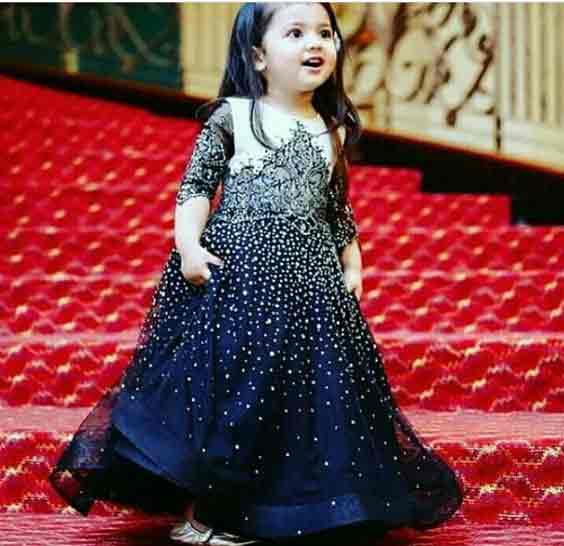 Hopefully, we have covered the whole article about baby girls wedding frocks in Pakistan for the year 2023-24 and it may have helped you to detangle the knots that pondered in your head. Get your hands on your choices and make your cute princesses glamorous to add magic to events.
Follow Us:
@fashioneven: Instagram, Facebook, Twitter, Pinterest.
Are you wondering to ask us anything regarding Pakistani baby girls wedding frocks? Drop us an Email at info@fashioneven.com.