Are you looking for the best wedding dresses for your little girl? Do you want to buy baby sharara dress online or just excited about the new designs that you can actually stitch by your own? This article surely will provide you something that you are looking for. Here are the new styles for baby girls sharara dress designs for wedding parties.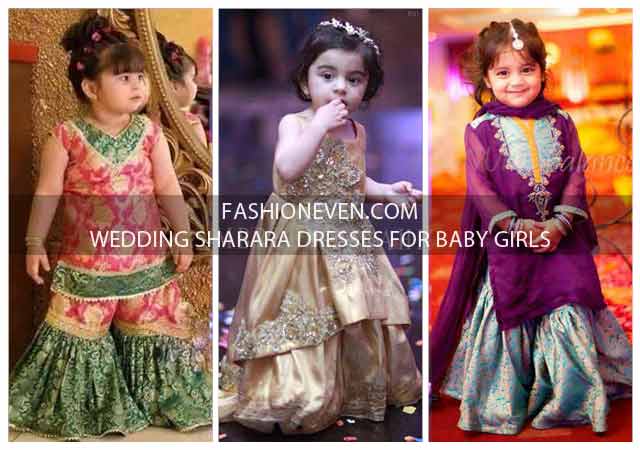 Check out the latest collection of Pakistani sharara designs for baby girls with different color combinations and styles as follows:
Baby sharara dress with short frock for wedding
Child sharara with long frock
Sharara with long or short quote and dupatta for little girls
Baby girls sharara or ghagra with jamawar shirt
Baby girls sharara with embroidered shirt and dupatta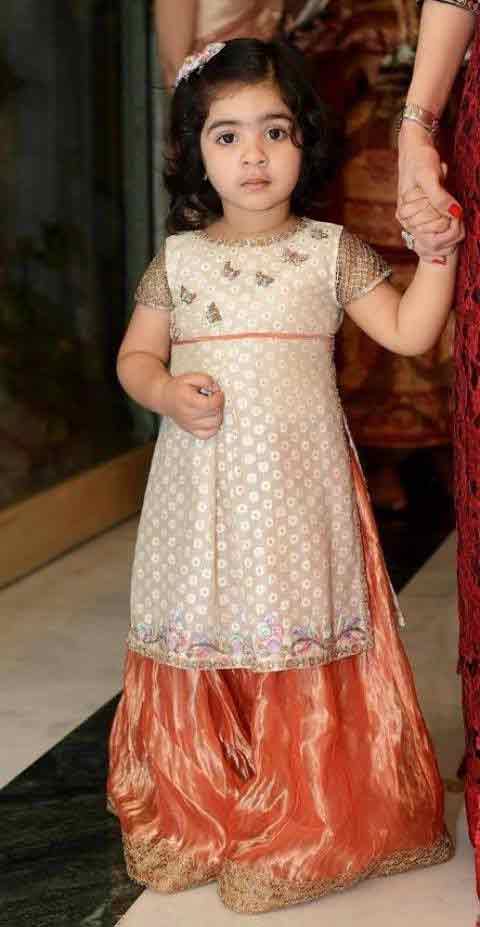 Baby Girls Sharara Dresses 2023-24 For Wedding
Beautiful baby girl sharara suits are full of attractive colors such as red, golden, purple, blue and shocking pink. All of these dress designs are most suitable for any parties or wedding events such as mehndi, Barat or walima. Give your baby girl an exquisite look throughout the events by wearing such an adorable sharara dress and grab the attention of everyone around.
READ MORE:
Are you wondering to get a baby lehnga choli instead? If yes, then do not forget to check out the new styles of kids lehenga choli designs for weddings.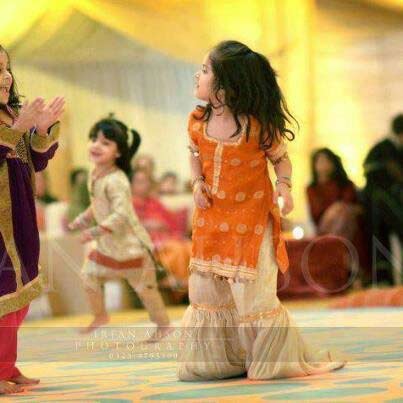 Here is a well saying about wedding dress:
[su_quote cite="Olivelli Cape Jown"]Selecting a wedding dress is more than just a fitting, it's a process – a memory in the making.[/su_quote]
Baby Sharara Dress Designs For Wedding In Pakistan
Baby girls sharara dress designs for wedding events are usually made with the use of high quality fabric such as jamawar, silk, net, and chiffon. Although, sharara dresses also comes in lawn or cambric fabric which totally depends on the seasonal demands and choices.
Heavily embroidered sharara dresses for little girls are preferred if nicely paired with short frock or kurti and contrasting dupatta in brighter shades. Look at the gharara or sharara dress design with an image below.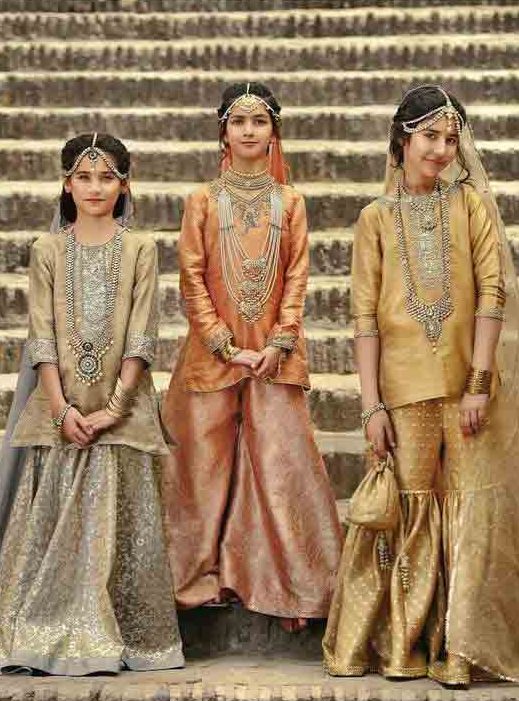 Let's deeply talk about the latest wedding sharara dress designs for little girls in Pakistan.
Shocking pink and blue sharara with short frock
Have a look on this cute baby girls sharara dress with short frock style and matching dupatta. The attractive color scheme of this baby dress is appealing enough to draw favorable attention of everyone. Blue and purple shades are displaying the ombre (gradient) effect and matha patti hairstyle of this kid is certainly making her stand out from the crowd.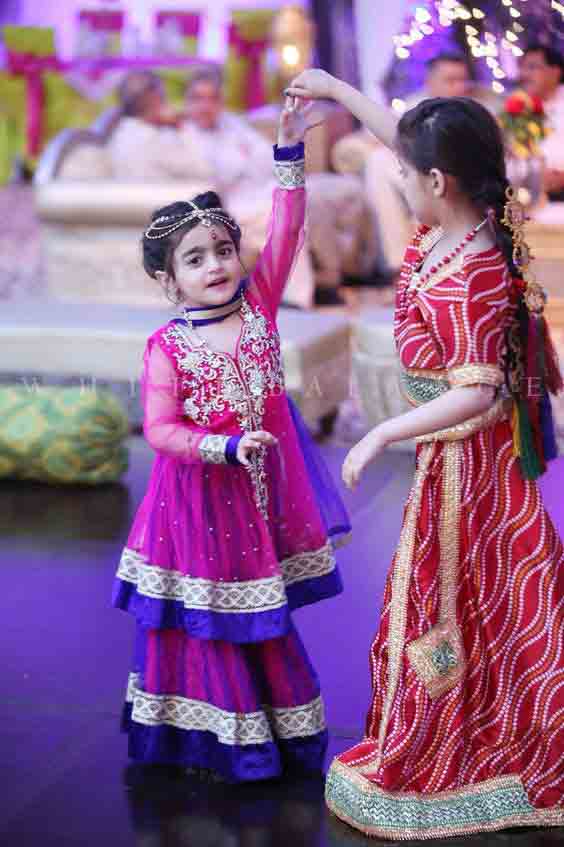 Did you get any idea from this wedding sharara design for little girl shown above with image? If not yet, then don't fret at all. Here we are to provide you party wear dressing ideas for little girls in Pakistan. You can check these dresses to get some more ideas about little girls wedding party wear dresses by Maria B.
Scroll down to get new themes about baby sharara dress designs for wedding.
Maroon and golden short frock sharara dress
Beautifully embellished golden and maroon baby sharara with heavy embroidery for wedding will surely be the center of attention. You can pair this beautiful baby sharara dress with maroon dupatta having slender embroidery on borders and small beads/pearls flecks all over the dupatta. This dress will look much more classy if your baby girl wear it on reception or barat wedding party.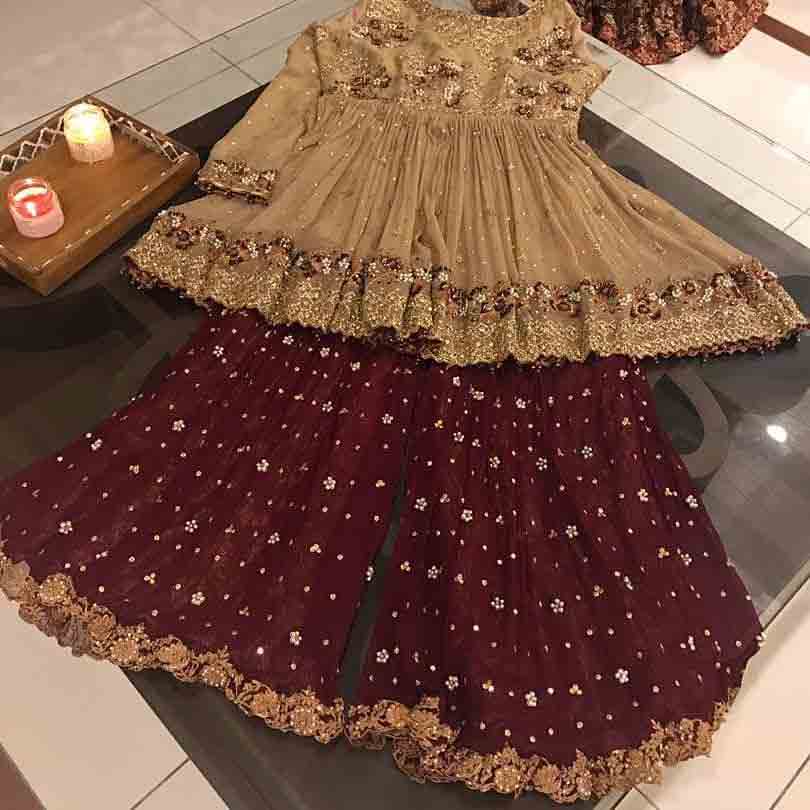 Hang on, if (as a mom or sister) you are going to attend any wedding event, then here is the best sharara designs for you. Or even you can get the sharara dress styles and color combination ideas from these baby sharara dresses too. Yeah, it will definitely work for every lady.
Shocking pink sharara with short kurti
Let's have a look on this style of kids sharara dress designs for wedding in shocking pink color combinations with yellow and blue. The bright and beautiful colors of this jamawar sharara is nicely paired with short kurti with front buttons and shimmery collar adorned with lace. This dress is perfect for mehendi function. Your little princess can wear it on mehendi or mayu function because yellow, blue and pink colors truly reveal the beauty of mehndi night.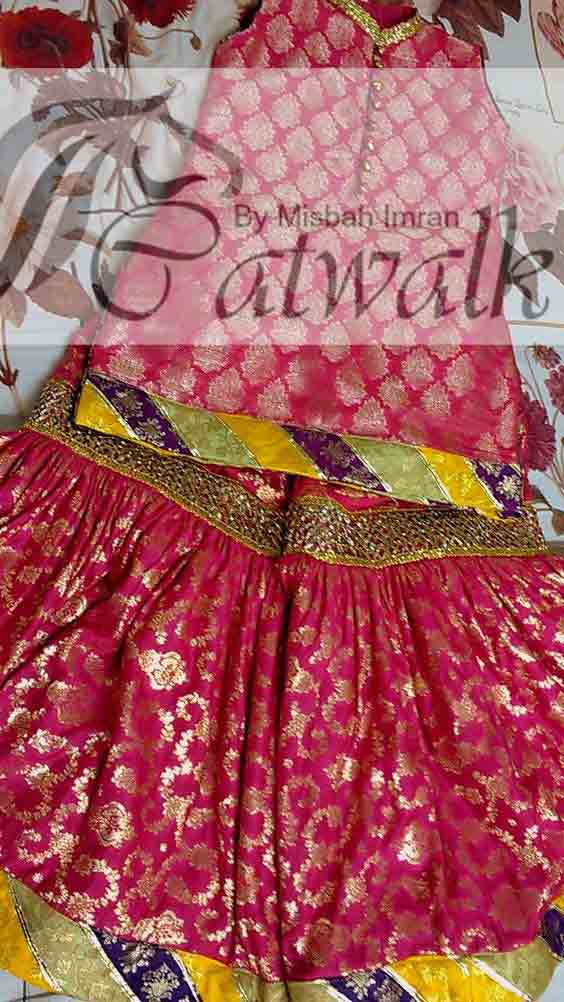 Evergreen red and black sharara dress designs for baby girls will remain in fashion for the year 2023-2024. Decently embroidered sharara with short kurti and matching dupatta makes this child dressing outstanding. Your baby girl can wear this dress at any wedding event. This sharara dress is perfect for mehndi, Barat or walima wedding ceremony.
Wait, there is much more to show you about baby girls sharara designs which are trendy not only in Pakistan but also in India, Bangladesh and other Asian countries. Choose the latest style of baby sharara from the following dress designs and grab it from your nearest designer outlet or stitch as it is for your girl.
White and pink sharara dress for baby girls
Little girls' white and pink sharara dress along with dupatta is ideal for traditional Pakistani party wear. Sophisticated color combinations are appealing to eyes.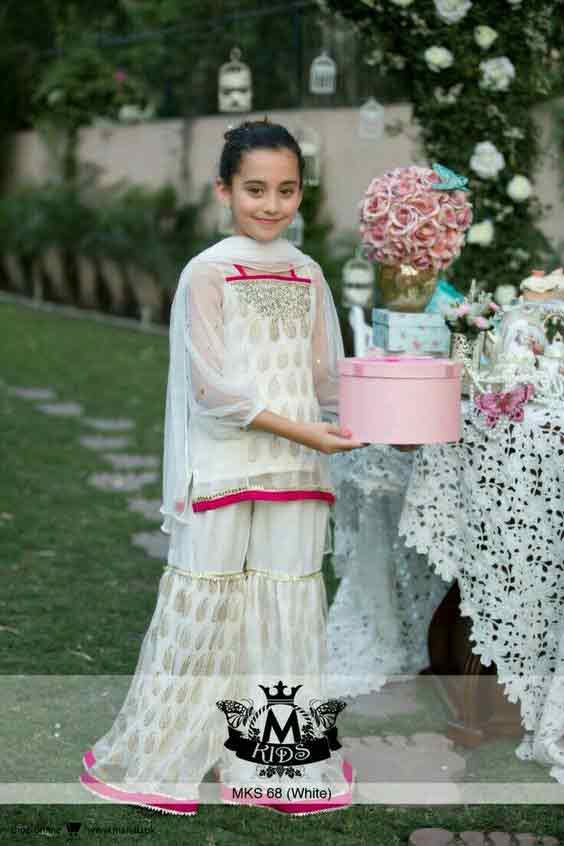 Don't you think that this white and pink baby sharara dress perhaps looks more beautiful with any other hairstyle? Check these hairstyle ideas for baby girls.
Let your baby girl look more tralatitious yet glamorous at the same time by wearing these cute sharara dresses.
Have look on the following latest styles of baby girls sharara dresses for wedding in Pakistan.
White sharara with red embroidered kurti
One of the cutest baby girl sharara dress design comes in white sharara with red embroidered kurti and dupatta. A perfect sharara dress for wedding day that will grab the attention of everyone around your little girl.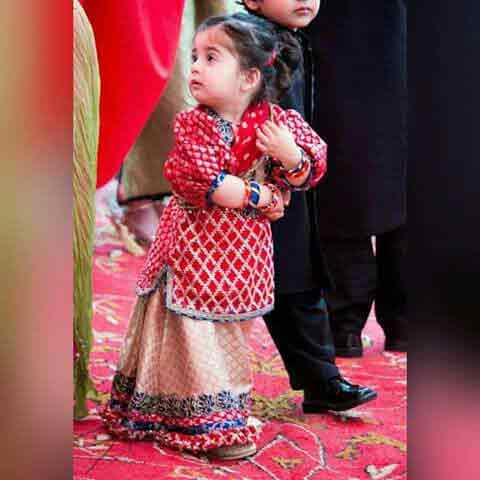 Green and pink jamawar sharara for baby girls
Most of the time sharara dresses comes in jamawar fabric, because it makes the dress more funky, heavy and add some shimmer. Green sharara and pink short shirt is a perfect mehndi day dress for your little princes.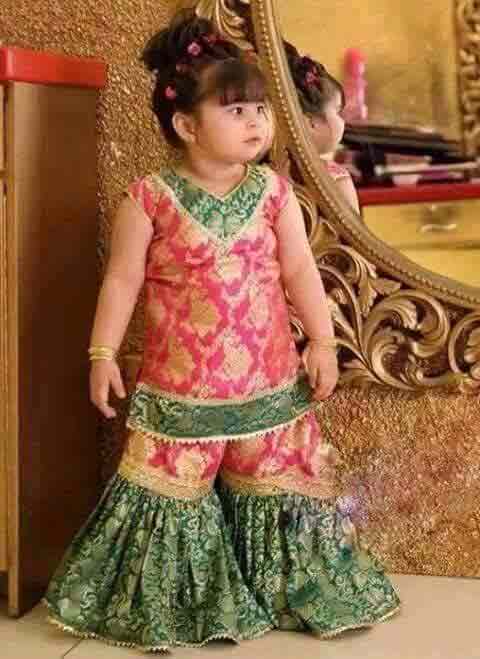 Purple sharara with green embroidered kurti and pink dupatta
As you can see here, purple sharara with green embroidered kurti and pink dupatta will your little girl queen of mehndi night.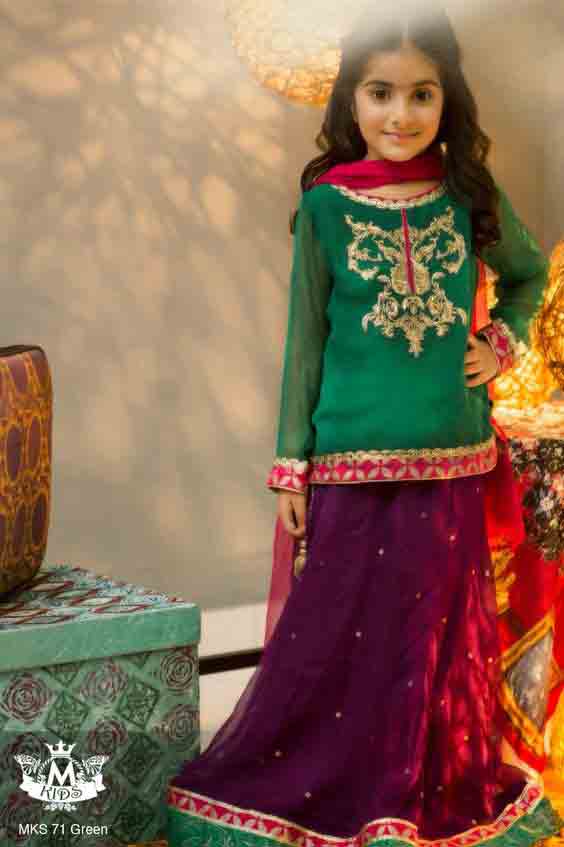 Sky blue sharara with purple embroidered shirt and dupatta
Another cute and attractive dress comes in sky blue sharara with purple embroidered shirt and dupatta. It will stand apart if nicely paired with maang tikka hairstyle.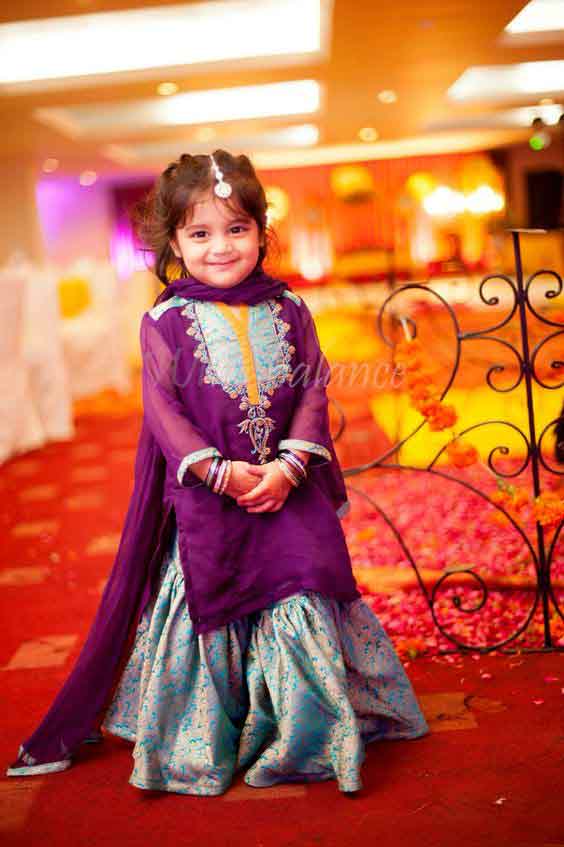 Mustard sharara with a blue embroidered short frock
Year 2023 is full of short frock fashion style in Pakistan. This wedding day sharara dress for your little girl is perfect for Barat function.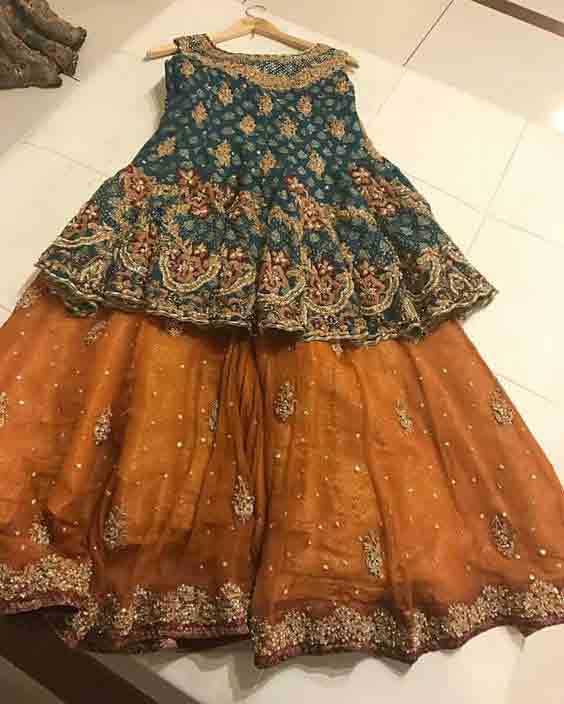 Beautiful golden sharara with embellished long frock
One of the beautiful golden sharara with embroidered and pearls adorned long frock for kids, is the best dress option for mehndi night function.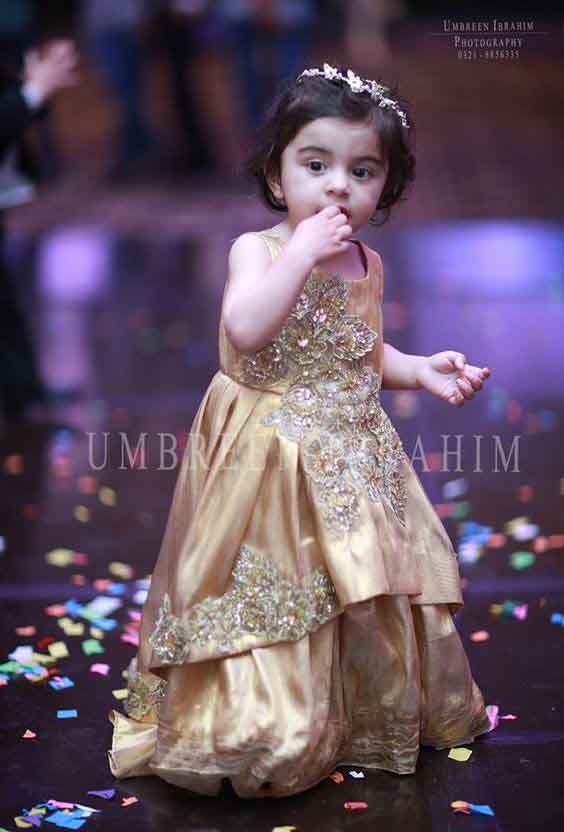 Purple sharara with white embroidered kurti
Follow the conventional color combination style of purple and white hues from the palette.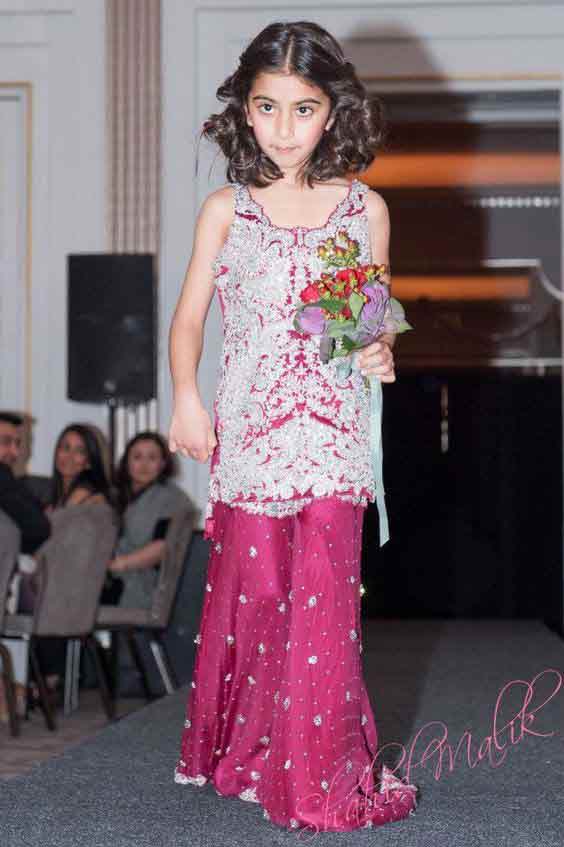 Peach sharara with short jamawar kurti and matching dupatta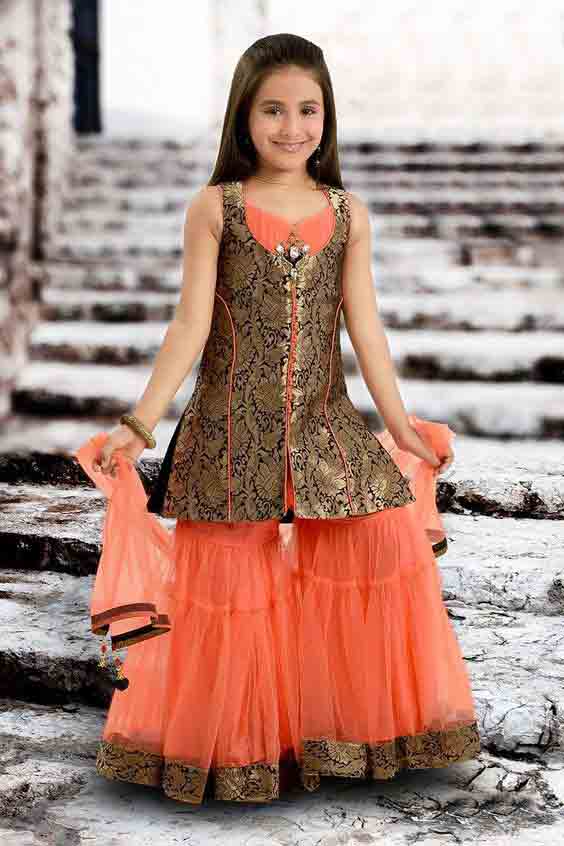 Grey sharara with orange short frock and pink sharara with white short frock
Best color combinations for wedding events are grey, orange, pink and white. Grab the latest sharara dress for your kid or get latest ideas about sharara dress designs and color combinations by looking at the following image.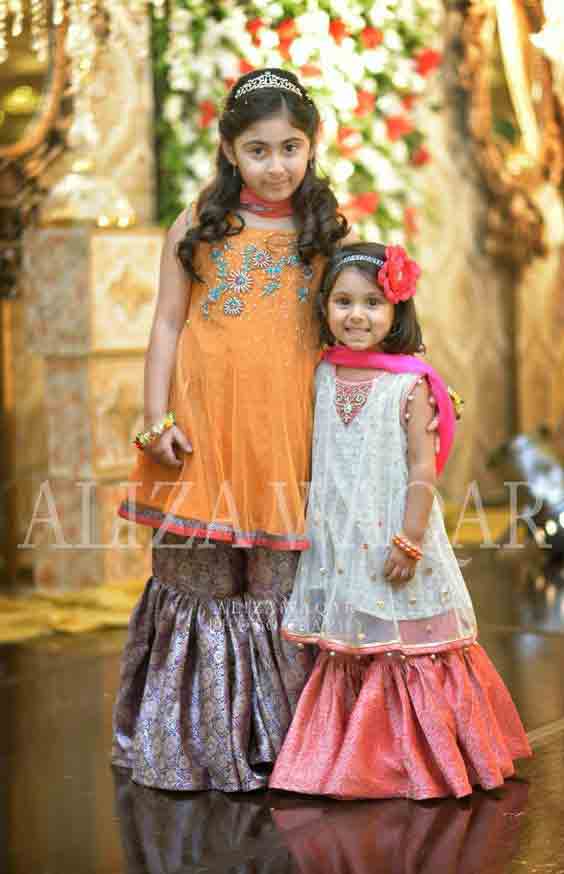 White sharara with short kurti
One of the decent and elegant white sharara with yellow and white kurti displays the sober color combinations.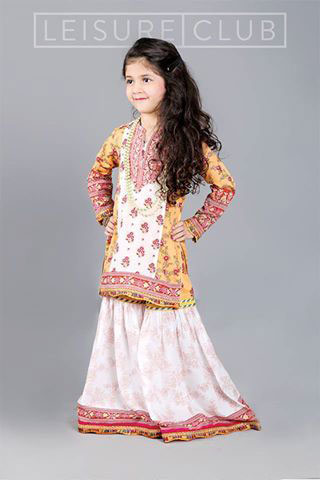 Golden, peach, black and off white sharara dresses with dupatta
Royal charm never comes to an end when there is plenty of options available. Look at the following royal kids dress theme. Beautiful sharara dresses nicely paired with embroidered kurti, matching dupatta and accessorized with heavy jewelry represents the royalty status at peak.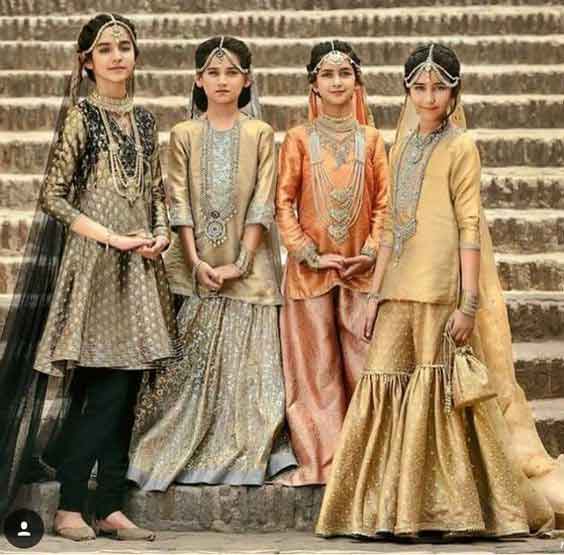 Golden sharara with heavily embroidered sleeveless blue peplum
This heavily embroidered dress will always be the best choice. Do not forget to pair this dress with slightly embroidered dupatta. This one is perfect for barat or wedding day.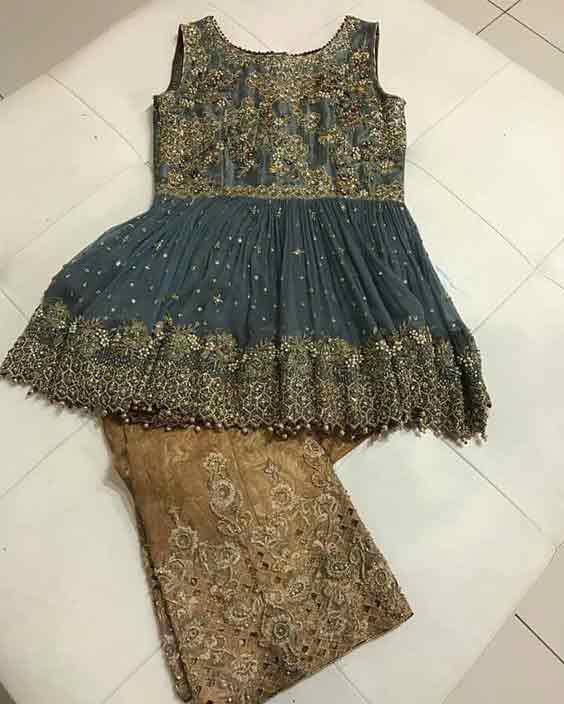 Green sharara with embroidered peach kurti and dupatta
One of the most trendy design is none other than the sharara with a short embroidered kurti. This wedding dress comes in green and peach color combination. Your little girl can wear it on either Barat or walima functions which will surely make her stand out from the crowd.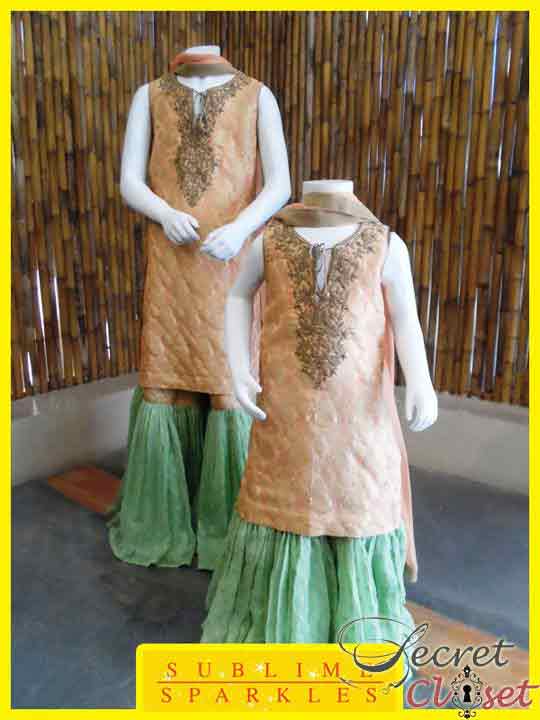 Yellow sharara with baby pink kurti and dupatta
If you want your little girl to look decent yet fashionista, then try the following sharara for baby girl online in Pakistan. Sophistication speaks itself with light yellow and baby pink dress with dupatta. Elegant embroidery makes this baby sharara design much more adorable.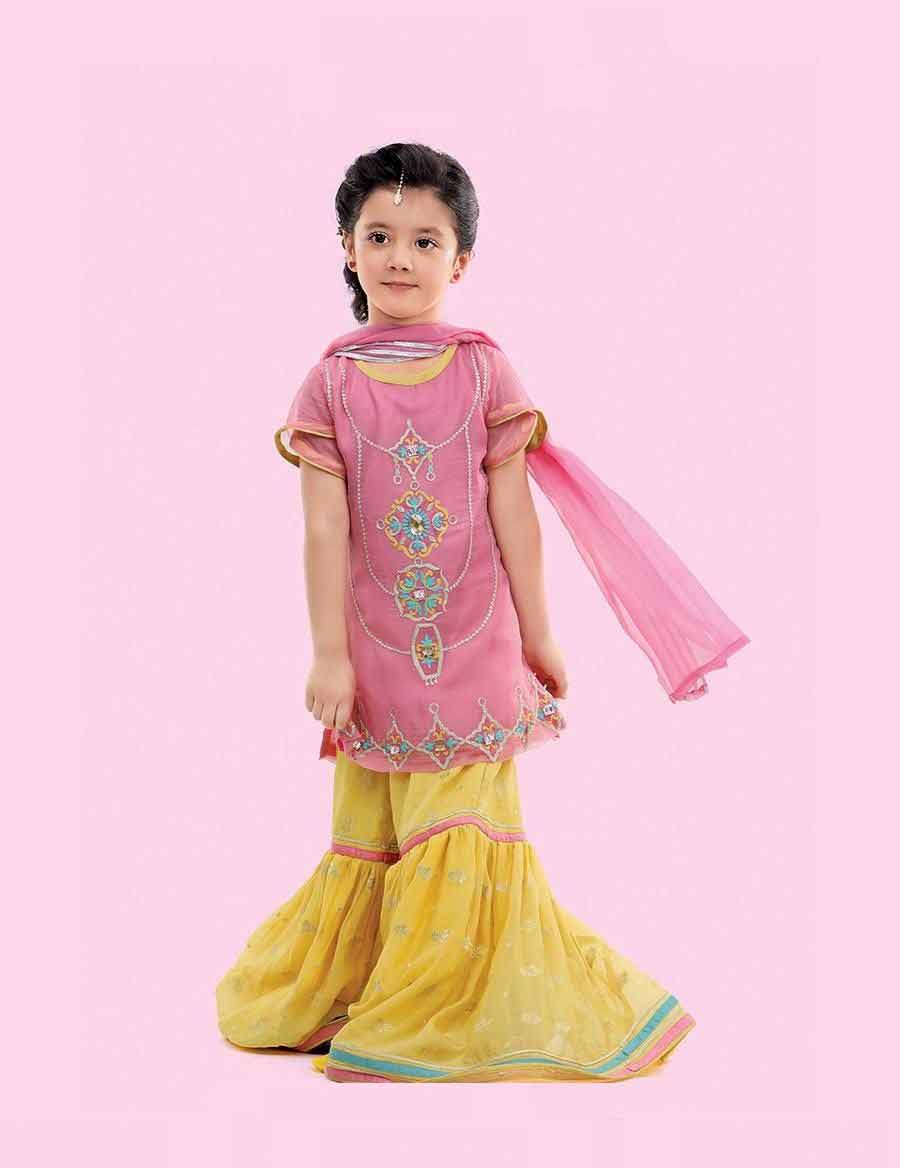 Above, you have seen the trendy fashion for baby girls sharara dress designs for wedding in Pakistan. We hope that you must have got some idea about the latest stitching styles and color combinations of ghagra choli.
If we missed anything, then feel free to contact us and give us your feedback. We read and reply every comment/feedback because your words are more important to us.