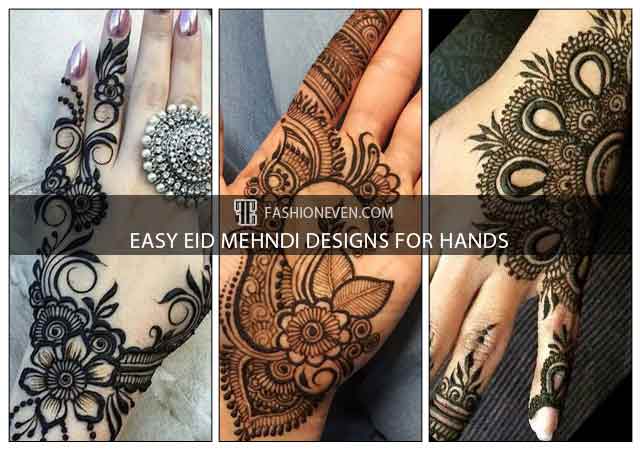 Do you love to apply beautiful mehndi designs on Eid? Yes, we all do! No doubt that different styles presents a wonderful way to enchant happiness all around. Especially at EId, we all go crazy to dress up nicely, wear attractive jewelry, shoes and of course the traditional fashion of henna application!
That's why we have gathered a variety of incredible patterns to decorate your hands. Choose your favorite one from the images (shown below) with step by step guide. Try any of these simple and easy Eid Mehndi Designs that will certainly leave everyone awe-inspiring.
Best Eid Mehndi Designs Step By Step
Eid festival brings a lot of joy, spread happiness all around and loaded with utmost emotions that can be seen in the eyes of Muslims. After the Holy month of Ramadan, Eid ul Fitr is the best time to enjoy with full excitement. If you really want to add glamour to your overall appearance, then do not forget to complete the look by applying beautiful mehndi designs on your hands.
Don't get the point with images? Watch a complete step by step video tutorial (at the end of the page).
Read More:
Have you ever tried Pakistani style? Must go for the Pakistani mehndi designs and get inspired!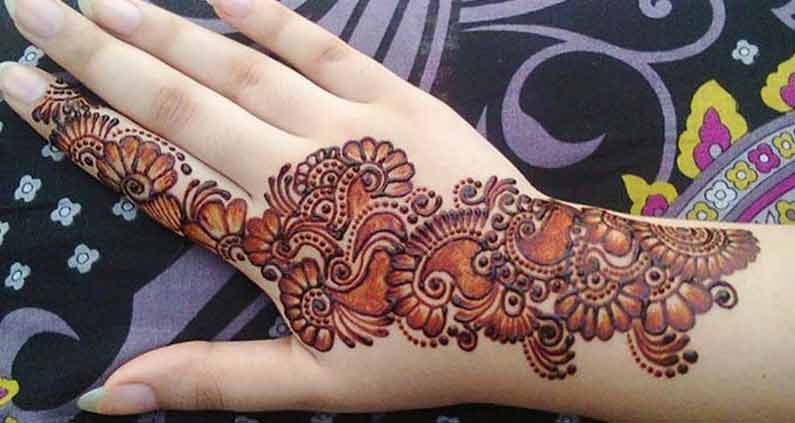 Show off your style on this upcoming Eid festival with unique and elegant designs. No one loves to apply the same old patterns every time. Now young girls see the world differently and try to excel by following the latest Eid fashion trends for girls.
PRO TIP: In order to achieve beautiful designs, first of all, you need to practice some of the basic mehndi patterns such as swirls, peacock designs, flower buds, hearts, stars, fish, netting, paisley, check, floral art, crossed lines and so forth.
If you want to apply it like a professional artist, practice the few designs on your hands, feet, arms, or try it even on a mirror several times!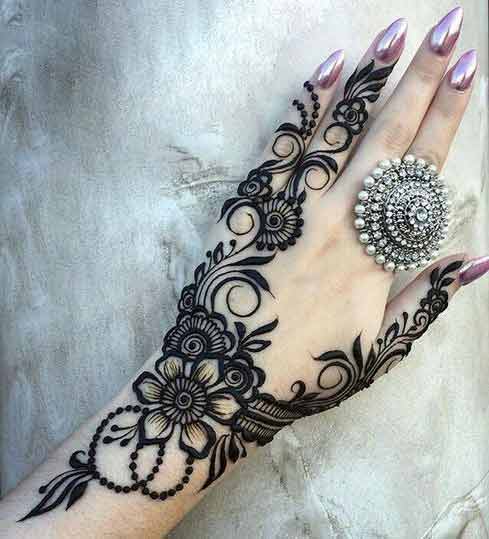 1. Selfsame Style
If you are looking for an overlap design to apply on your front hand side, then go for the selfsame pattern as shown below.
You need to apply the exact floral pattern until you cover your index finger.
Plus, you may add some swirls and lines to enhance attractiveness.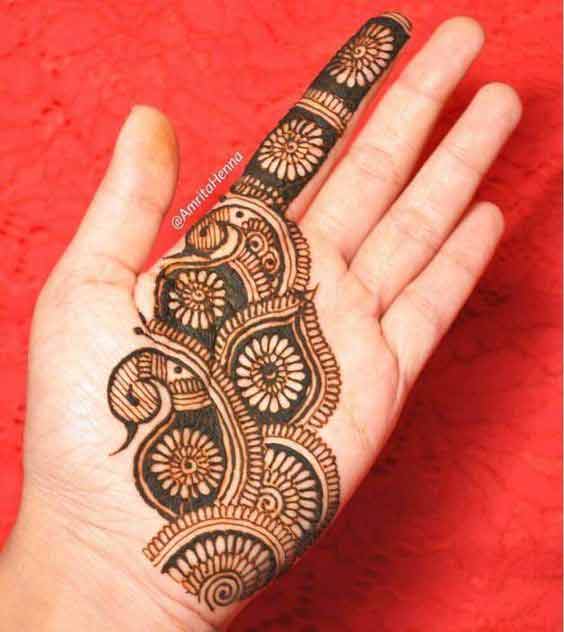 2. Floral Leaf Pattern
Here comes the most elegant design!
Draw a flower with some leaves and do not forget to sprinkle the cute little dots and swirls to reflect the twinkles.
Apply mehndi to the most of your palm area and keep drawing out until you reach your index finger.
Leave the rest of your hand as it is and voila, you are done!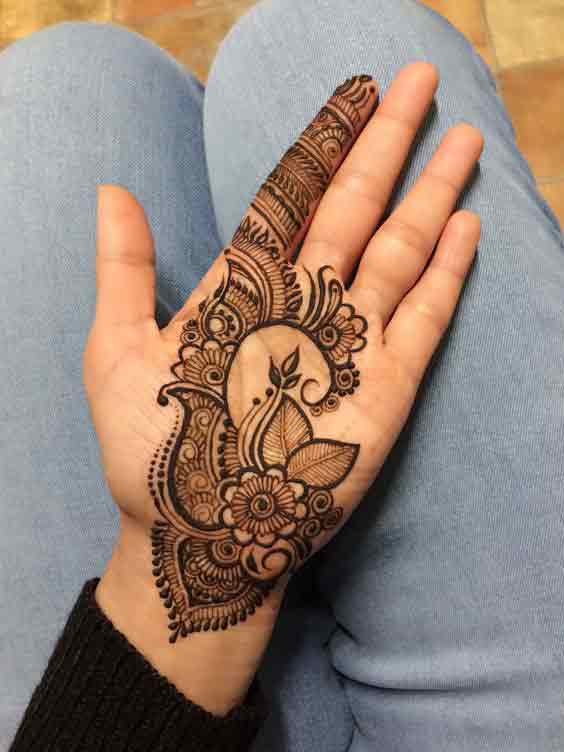 3. Vine Mehndi Design
Do you love the art that is close to nature? If yes, then the vine pattern is certainly for you! You may apply the same design on your front hand or backhand side.
Make sure to stick with the simple design for your index finger.
Do not fill in the petals and leaves but keep your focus on the thick outline.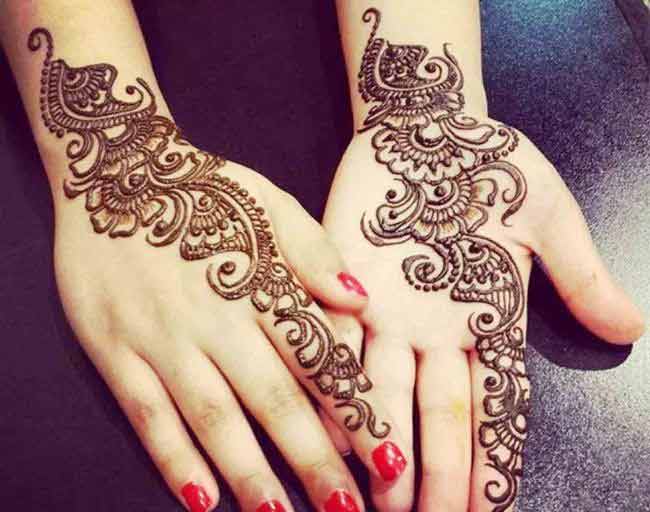 If you want to grab the attention of everyone around you, then endeavor your best-loved design for the backside of the hand. I have gathered the mesmerizing styles to inspire all.
If you are a beginner, then make sure to choose the easiest one!
Sometimes it really becomes awkward when you have no idea about henna application and everything just goes messy and chaotic. Go for the following step by step images and you always have the option to alter the design according to your choice and ease.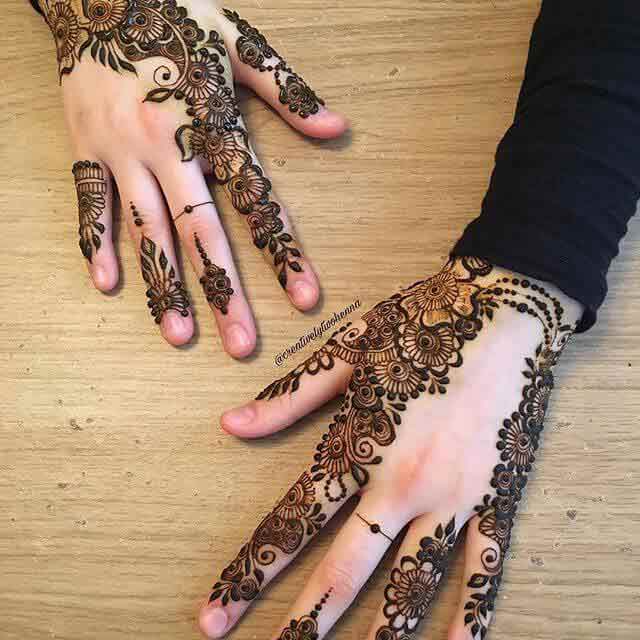 4. Perennial Floral Design
As its name shows, this floral design is enduring and continually recurring.
Draw a modest and beautiful pattern of flowers in-line and make sure to add some hollow leaves all around the flowers to enhance the overall beauty of the design.
You may add glitter gel that matches your new Eid dress design.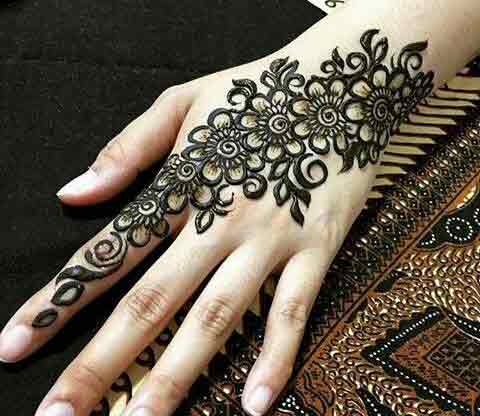 5. Flower With Twinkles
Have a look at the following design! It may appear complicated, but this one is just as easy as you desire.
Draw a significant flower along with filled leaves all around.
Apply almost the same henna pattern on all of your fingers, but go for a unique style for the index finger.
The key point is to draw the elegant thin lines while incorporating big thick dots.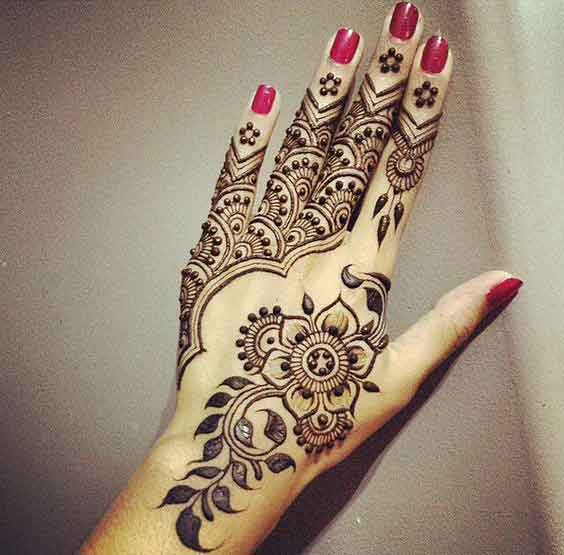 6. Bunch Of Flowers
Get ready to try this unique combination of beautiful flowers and crossed lines.
Start from your wrist by making a beautiful flower with hallow petals and leaves.
Draw a bunch of little identical flowers on the back of your hand.
Follow the pattern as shown below.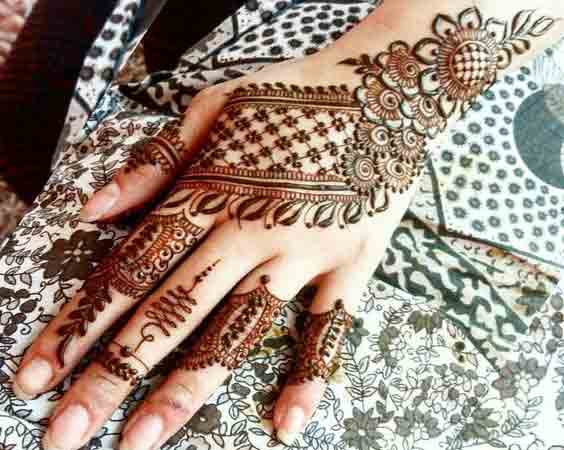 7. Thick Flower Pattern

If you want to look refreshing during this hot summer season, then opt for the following thick flower mehndi design. This crafty pattern may look complex, but it is really very easy to achieve and require just a little effort and practice. Must give it a try at least two to three times and you can do the wonders. Rest assured.
Draw a beautiful big flower on the backside of your hand.
Make sure you are applying mehandi relatively dense in consistency so that the color of henna will be more appealing and you can enjoy it for a longer time period.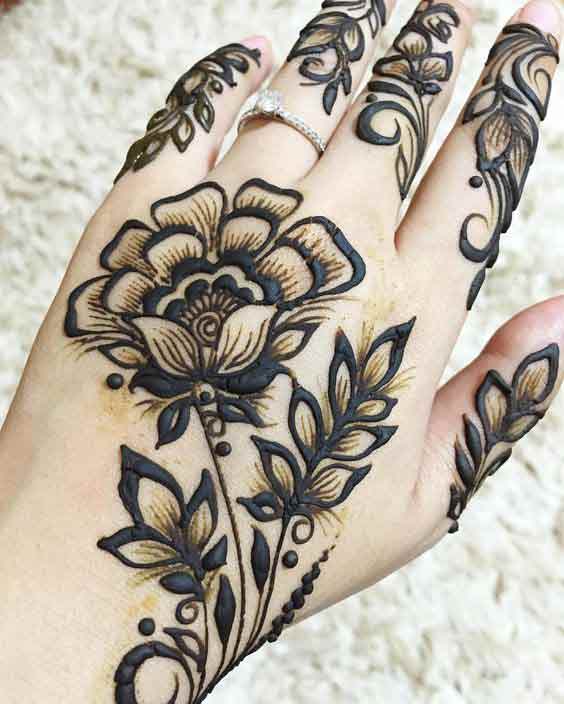 8. Thick Arabic Mehndi Design
Do you love Arabic mehndi designs? Try out the following design and make sure it is thick enough to get better results. Thick leaves and swirls will make this design more captivating and eye-catching.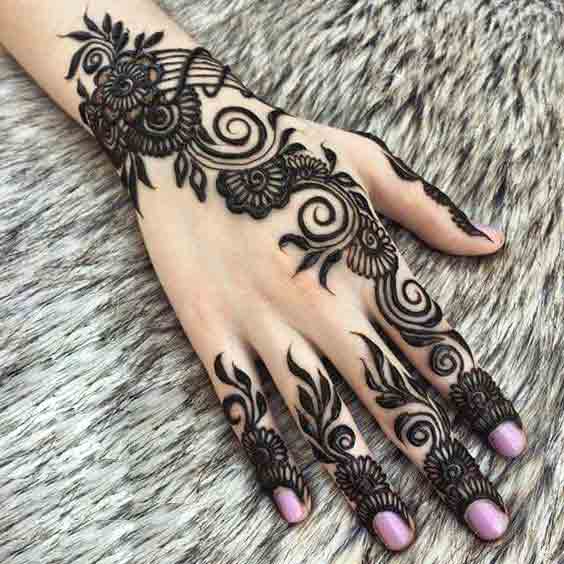 9. Bail Mehndi Design
Don't you want to go into details? Do not fret at all! Check out the following pattern, it is as easy as you can see.
Draw two immense floral patterns at the wrist.
Separate those flowers by drawing a thick line between them.
By making vortices and leaves, continue straight to your index finger.
To add an alluring beauty, you may create a design on your ring finger.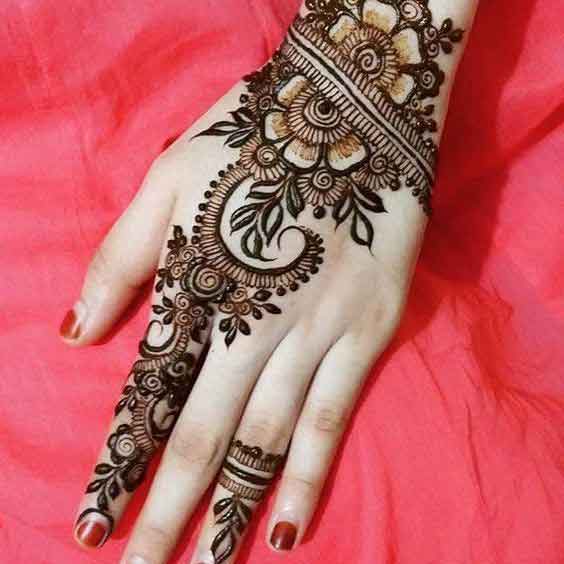 10. Rhythmic Twirls
This style is super easy to create. As its name shows, you have to make rhythmic twirls on the backside of your hand.
Keep it as simple as possible and follow the pattern as shown below.
Do not forget to make beautiful swirls and thick leaves on all of your fingers.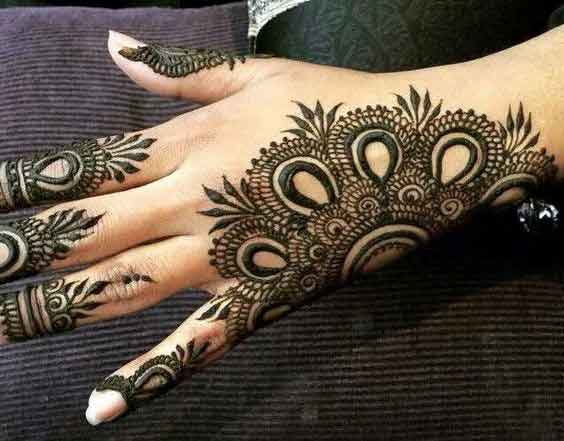 11. Thick Flower And Leaves
If you really want something unique, but do not have enough skills and time to sit down and draw complex patterns, this is certainly for you.
Draw a basic flower in the center.
Create a leaf-pattern on your wrist, index finger, and middle finger.
For embellishment, you can make small-sized whirls around the one side of the flower.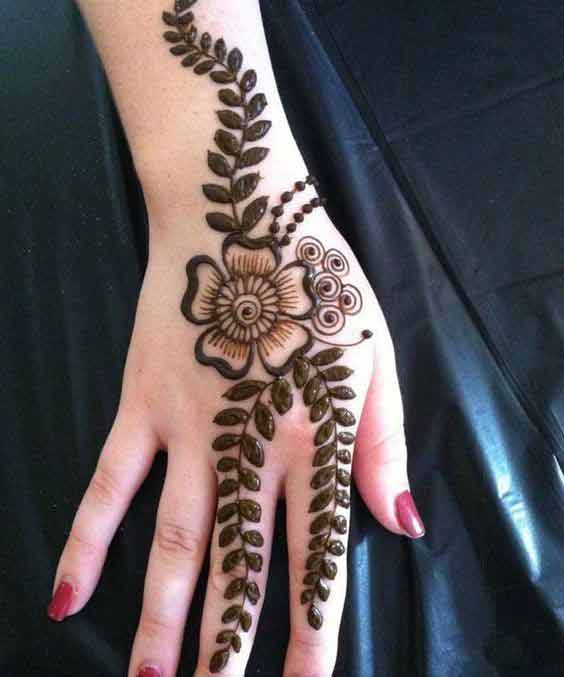 12. Shaded Mehndi Design
The easiest way to achieve this shaded pattern is to create the outline first and then fill in the hollow areas of flower petals and leaves.
Create design only on the index finger to finish the look with elegance.
13. Blossom Mehndi Design For Eid
If you love to have a simple design for this Eid, do consider the following one that is super attractive and pleasingly adorable.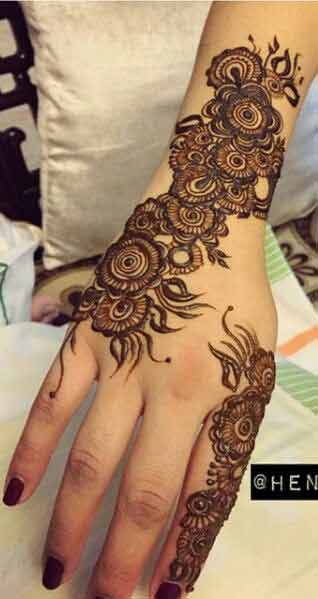 14. Elegant Vortices Style
The secret of this design is to draw an outline first, keep it neat and clean as it will enhance the overall charm.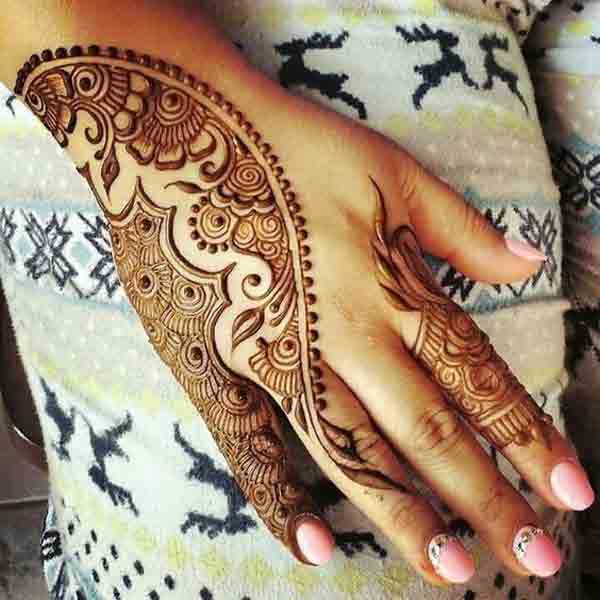 15. Floral Mehndi With Crossed Lines
Here comes the another unique style. Go simple yet voguish with the combination of this floral pattern and intersecting lines.
Draw a beautiful floral pattern starting from your wrist and continue by covering your little finger.
The thicker the flower petals, the more this design will be captivating.
Create intersecting lines in a rectangular pattern as shown below and soon afterwards embellish the whole design so it will look pleasantly beautiful.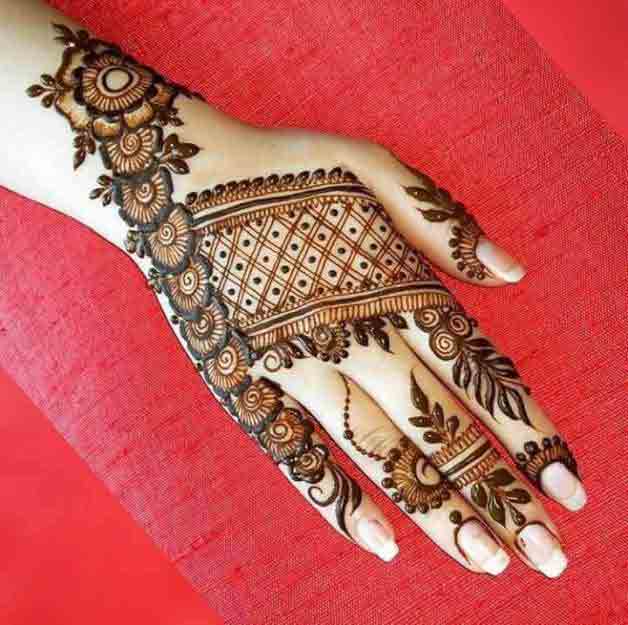 16. Fingers Mehndi Design

Do you want to keep your design simple yet artistic? Why not try out the finger mehndi designs? Let's be unique and creative this time.
Draw a mixed pattern of thick and shaded pattern on the backside of your hand (as shown below).
It will also look nice and decent if you won't add plenty of dots.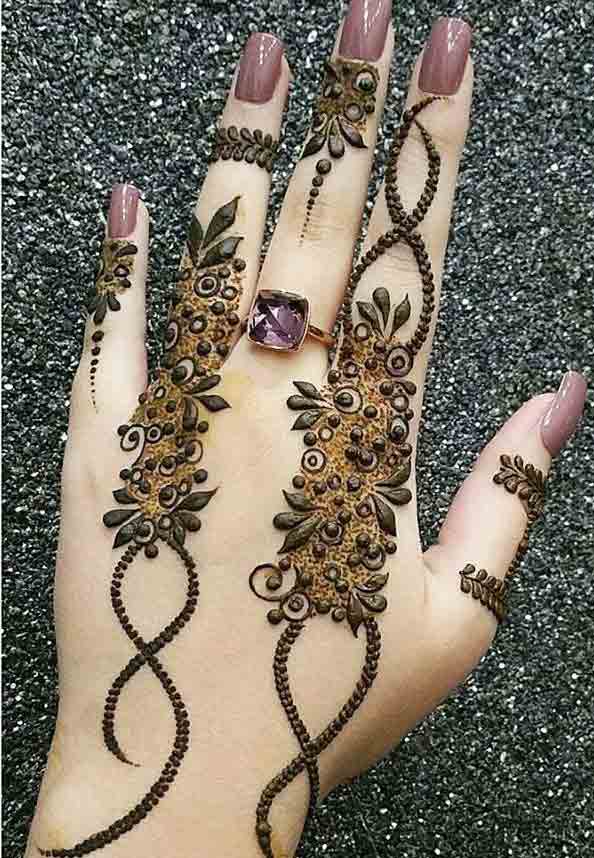 Video Tutorial "Ornament Unique Arabic Henna"
Are you still looking for the best design to try at home? I can understand the disarray!
Get set ready and apply mehandi as you watch. Practice makes a man perfect, you just need to choose the best Mehandi cone that is flowing with the desired color result after wash.
Try the latest mehndi designs, and practice the identical patterns, at least two to three times before the special Eid day.
I hope that you must have got some idea about Eid mehndi designs for hands (front and backside). Pick your favorite one, try it out, and share your experience with me. Keep visiting www.fashioneven.com for more designs and inspire everyone around you.