Recently, Pakistan's top fashion designers have unveiled the latest collection of kurta designs for men. All of these dresses include a variety of attractive color combinations with some elegant embroidery and artistic work on neckline and cuffs.
Today we will find here the best kurta designs by Junaid Jamshed and Amir Adnan. Nevertheless, in Pakistan, gents are more likely to wear traditional kurta shalwar on a regular basis and most often on Friday or Jummah.
Especially, they prefer to wear shalwar kameez if there is going to be an occasion like Eid Ul Fitr, Eid Ul Adha, Independence Day, and throughout the Holy month of Ramadan. You may like to see Amir Adnan kurta designs for Ramadan.

That's why we have decided to showcase the current fashion trends that rule the year 2023-24. These apparels are suitable for casual wear in the summer season. Be the sunshine of everyone's eyes by wearing any of these embroidered kurta designs for Eid Namaz or any other homecoming event.
According to the vogue fashion trends, there are a lot of Pakistani men fashion designer brands that have gained much popularity all around the world, by producing high-quality fabric material, using the prime quality thread and intricate embroidery styles.
This traditional dress code is super charismatic yet affordable and gives a nice overall apparel look for Muslims even who live abroad. Men love to wear casual kurta shalwar kameez designs not only in Pakistan but also in all other Asian countries including India, Bangladesh, Saudia Arabia, and Afghanistan.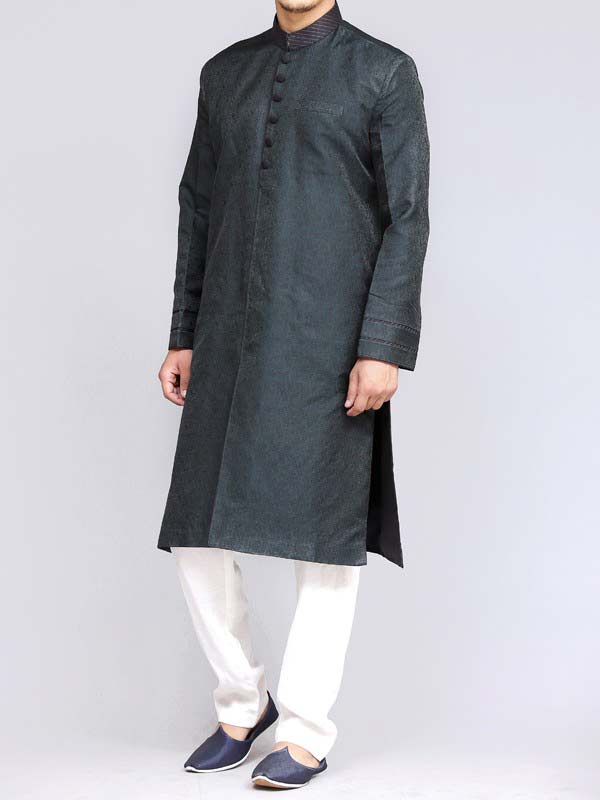 STYLE TIP
Tip: Pairing up any dark kurta color with white shalwar will ultimately make you awe-inspiring.
If you find your favorite dress design, then you can buy it online from the official websites of the above-said brands. See also the latest Pakistani sherwani designs.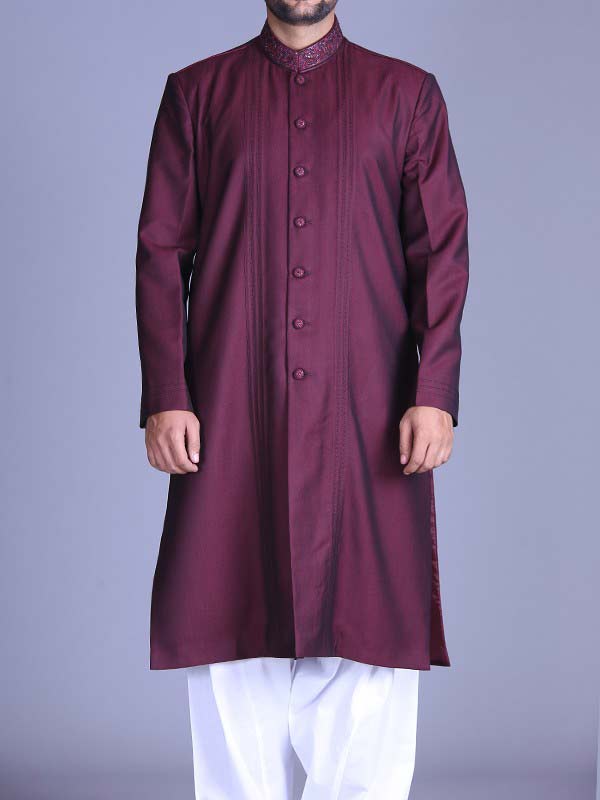 New Kurta Designs for Men
When it comes to the gents' kurta shalwar style, European countries are also adapting these traditional Muslim wear. Why? Just because of their relaxing and super sophisticated conventional stitching style that give the classic appearance.
Without any discrimination of color, casts, heights, or race, fashion is something that can be adapted by anyone – if it suits better.
You can wear casual kurta with pajama, shalwar, or even jeans that will make it more trendy and will help you to influence everyone around you.
Although, when it comes to the formal dressing, then you may go for the fancy kurta having intricate embroidery on collar, cuffs, and all over the front area. And you can pair it up with plain white trousers (as shown in the image below) or of course, you may choose silk or raw silk stuff for a more formal look.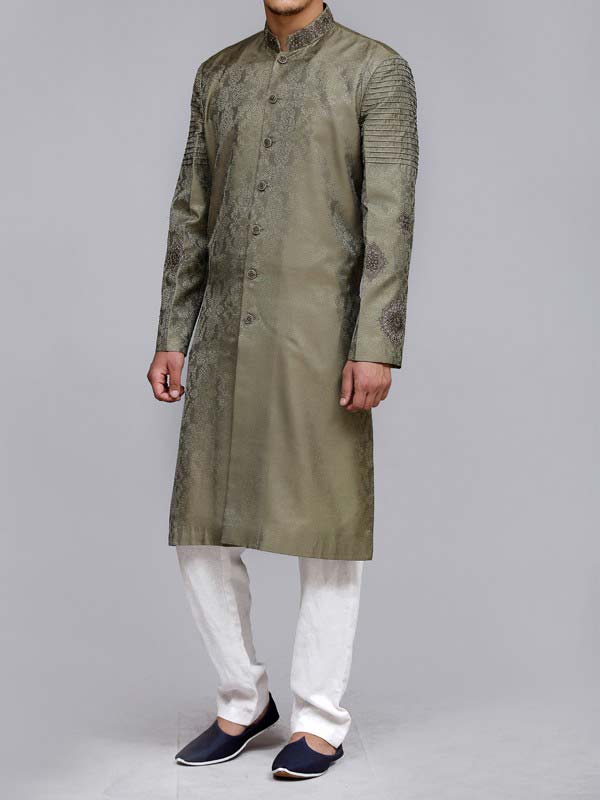 This collection includes a variety of kameez shalwar designs and full of attractive colors like white, navy blue, light pink, brown and black.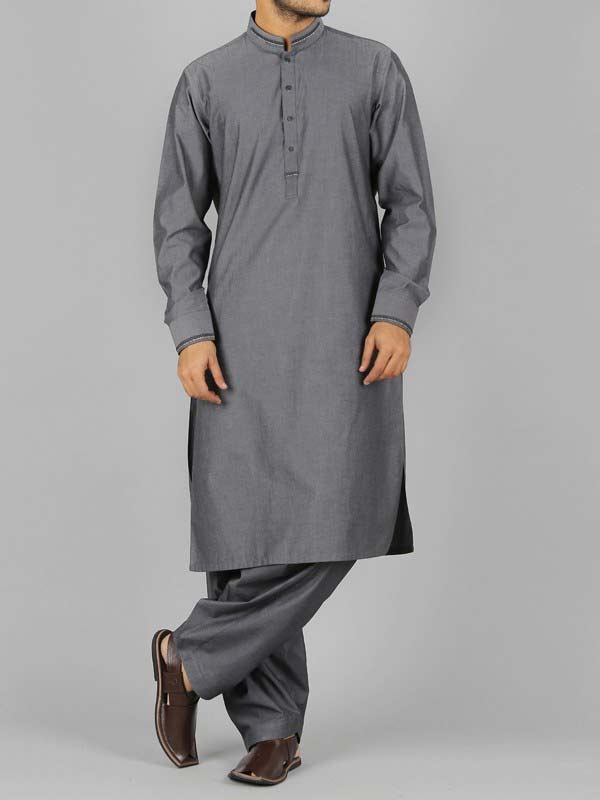 Gents Kurta Shalwar Designs In Pakistan
Here we have brought not only the casual but also formal kurta styles that will look super trendy and classy for any upcoming event like Eid party or wedding ceremony.
Today we have gathered the latest collection by:
J. Junaid Jamshed, and
Amir Adnan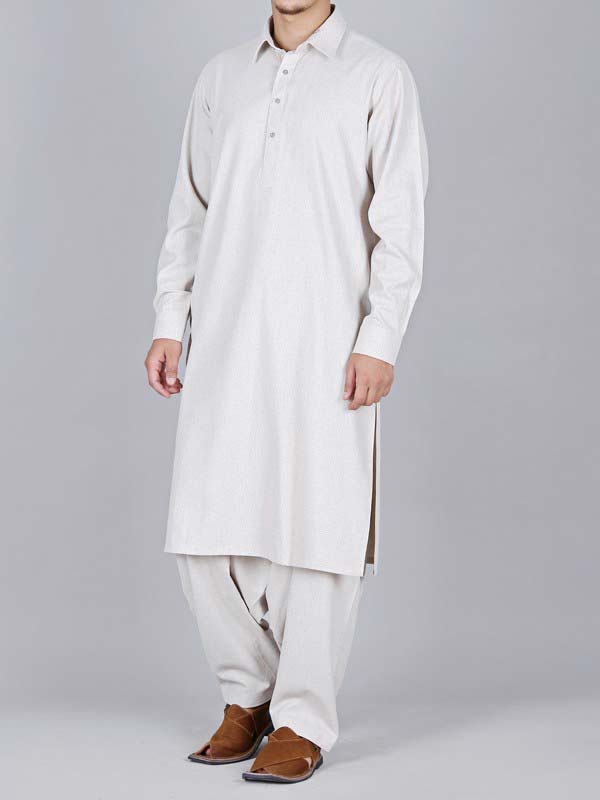 Junaid Jamshed Shalwar Kameez
Here are the most sophisticated and decent collection introduced by J. Junaid Jamshed. It also covers the J. embroidered kameez shalwar designs that are not only eye-catching but also affordable in prices.
This collection is full of vibrant colors and the designers' showed their artistic and remarkable skills for these new styles that are sought after by almost everyone in the fashion industry.
Amir Adnan Kurta Shalwar Kameez Designs
Amir Adnan is one of the well-known fashion industries in Pakistan, in fact, now it has become one of the leading fashion houses all around the world. This clothing fashion brand (for men), has got much popularity just because it uses the quality fabric and never compromises on customer satisfaction.
It has presented the different color schemes for men kurta such as yellow, orange, sky blue, brown, black, and so on. Let's have a look at these dresses that are suitable for almost every event.
Do you want to see more collections from this brand? Must check out Amir Adnan kurta designs for Eid and make your Eid even more special.
Above you have seen the all-new designs of kurta shalwar. Choose your favorite one and be the new fashion trendsetter.
If you find any difficulty in placing the order online, or if you are wondering to know more details about a particular dress then feel free to contact us via comments or use the contact form.