Let's bring your search for the latest Pakistani wedding sherwani designs to an end with the most stunning collection presented by the top Pakistani designers for this summer and winter season. Where the bride's dresses on all wedding ceremonies is considered as of the supreme importance, we cannot deny the best groom sherwani designs for wedding barat day.
Whether you are going to be the groom, or a groom's brother or just a friend, today we have decided to help you to choose from the new styles of Pakistani sherwani designs from latest collection for men. Be the center of everyone's attention in wedding party and make it memorable throughout your life with the best wedding sherwani designs.

Pakistani wedding sherwani trend have got much popularity not only in Pakistan but also in other Asian countries like, India, Bangladesh and so on. The most talented Pakistani designers who have their product outlets all around the fashion world, they also have launched their official websites where the details and prices of products are mentioned in a proper manner.
So interested persons can buy the specific product from the designers' official website where the dulha sherwani designs with price is available in a convenient way. See here new short sherwani styles.
Groom Sherwani Designs For Barat
Turban (Pagri in Urdu) is considered to be the most important clothing accessory for groom especially on the wedding or barat day whether in India or Pakistan. As we have told you in our precious article that groom wears sherwani on the mehndi wedding function as a tradition but the turban is not necessary accessory on Mehndi night. Check out here groom mehndi sherwani designs. The other clothing accessory is scarf or patka (a man's head covering consisting of a small piece of cloth wrapped around the head) which adds beauty to the overall heavily embroidered wedding sherwani for men.
In this article, all the wedding barat dresses are suitable for dulha dresses in winter and dulha dresses in summer. Some of these Pakistani designer sherwanis are designed with hand embroidery applied collar and sleeves with screen printing applied on front, others are designed with the use of decent colors and light weight embroidery all around  which is mostly coveted by men in Pakistan.
Most importantly, all of these men wedding sherwani designs collection includes the new styles of sherwani barat dresses that are also affordable. Some wedding sherwanis are stitched with front open style and designed with flock print details on front back and sleeves. This luxury mens wedding sherwani with turban styles are full of attractive and sober colors such as white, off white, black, maroon, brown and so on.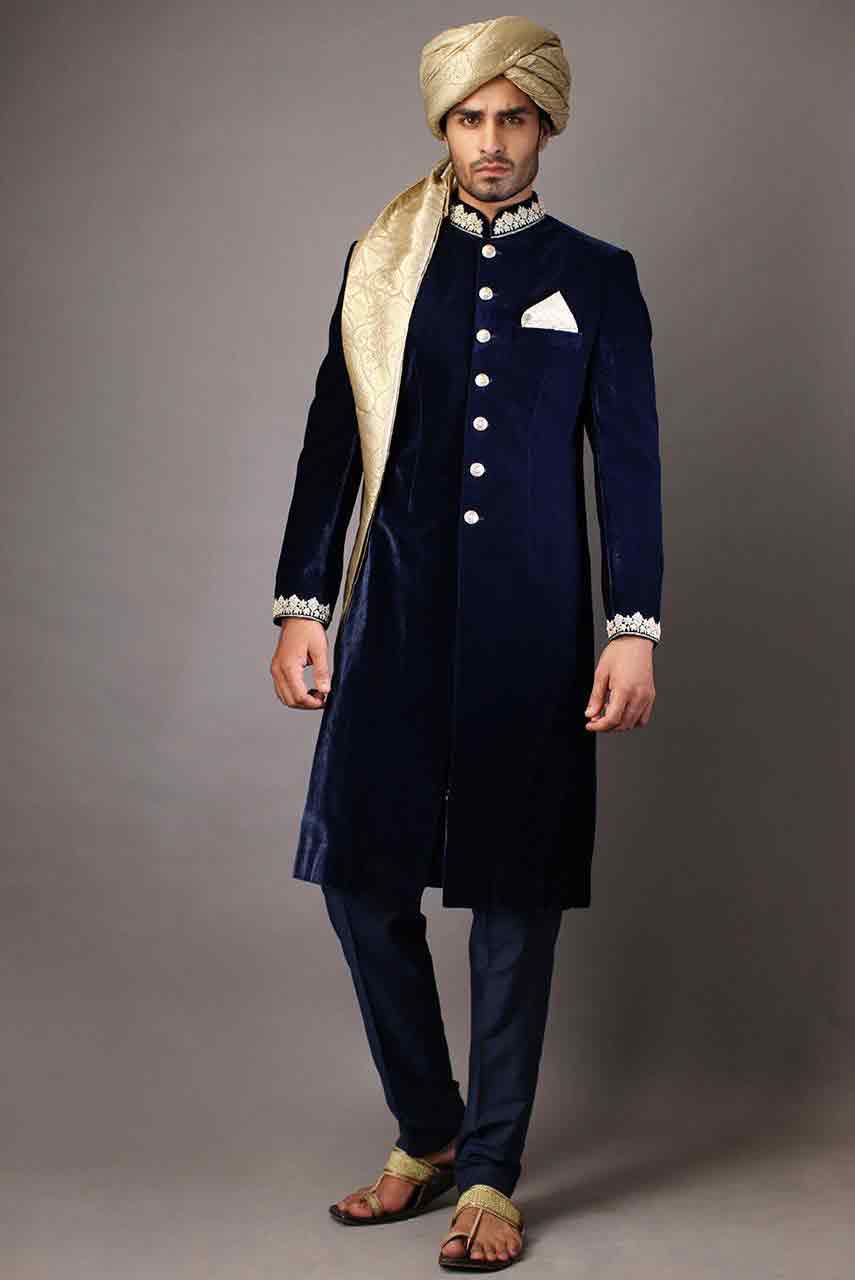 The latest barat dresses collection includes the following top Pakistani designers:
Wedding sherwani designs by aamir adnan
Best dulha sherwani styles by Junaid Jumshaid (J. Sherwani)
New sherwani designs by Deepak Perwani
It is quite difficult to find the new styles of groom wedding sherwani in Pakistan because nowadays there are vast options available all around the fashion world. But this tough nut has been cracked by the exclusively launched latest barat day embroidered sherwani styles by most artistic and skilled Pakistani designers. This collection will help to choose the best barat dresses not only for groom but there is also a huge sophisticated wedding sherwani designs for groom brother and for groom's friends.
Today you guys must have chose your most favorite men's wedding sherwani from the latest collection of Pakistani wedding sherwani designs in 2023-24. If you find any difficulty while purchasing the specific product or if you want any detail about a particular wedding sherwani then feel free to contact us.