Are you ready to try the most beautiful nail art designs for Eid? Do you know how to do nail art at home by following the simple steps? Are you looking for the refreshing designs for beginners to perfectly match with your Eid dress?
Today, I have gathered the most gorgeous and easy nail design pictures that will certainly leave you awe-inspiring plus, you will be able to know that how to achieve the exact nail art at home.
10 Nail Art Designs To Try This Eid:
Eunry nail paint with silver glitter
Floral nail art and dust storm nail color combo
Vanilla Ice nail color with pointed tip
Easy manicure with glitter
Nude nail paint with glitter
Beauty bush nail art
Gems and glitters
Cameo sparkle
Nude twinkles
Petite orchid nail paint with floral embellishment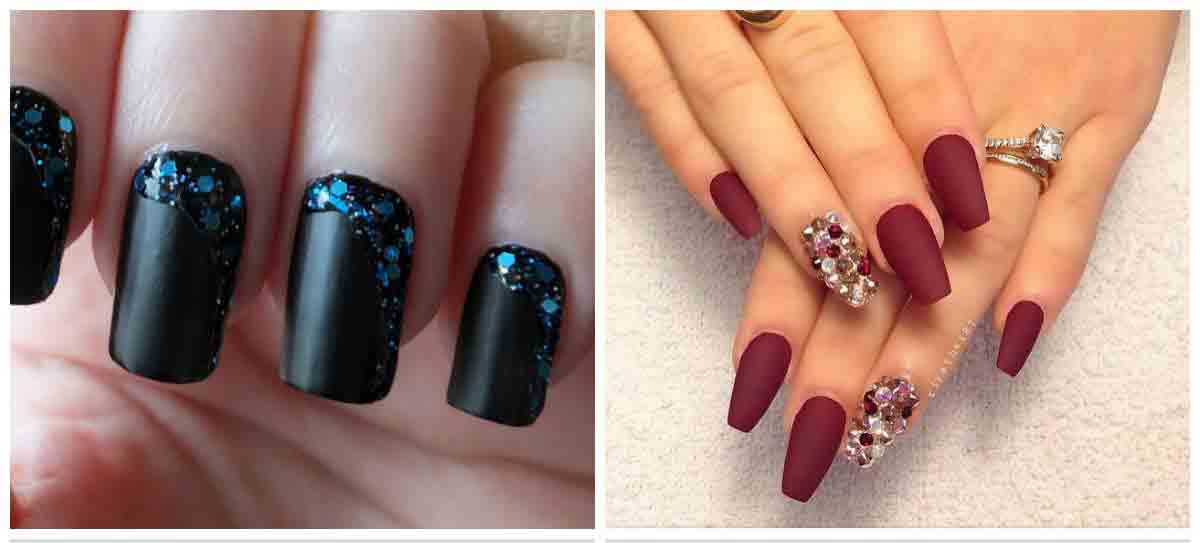 Latest Nail Art Designs For Eid
Are you a beginner and looking for easy nail art designs for Eid to do at home?
If you have no idea about nail art kit or nail art tools, then you may opt for the most simple and delicate design that you can apply without the use of brushes or dotting tools. Along with images, don't forget to read out the easy step by step nail designs, even the least nail artist can handle it well and easily.
Today, I have got plenty of inspirations from recent fashion trends regarding "how to do nail art at home" as well as from the recent fashion week runways which were mostly packed with the attractive nail art designs for Eid. Most of these designs are based on refreshing color combinations for Summer season.
Scroll down to check out the easy nail polish designs and choose the one that you love the most.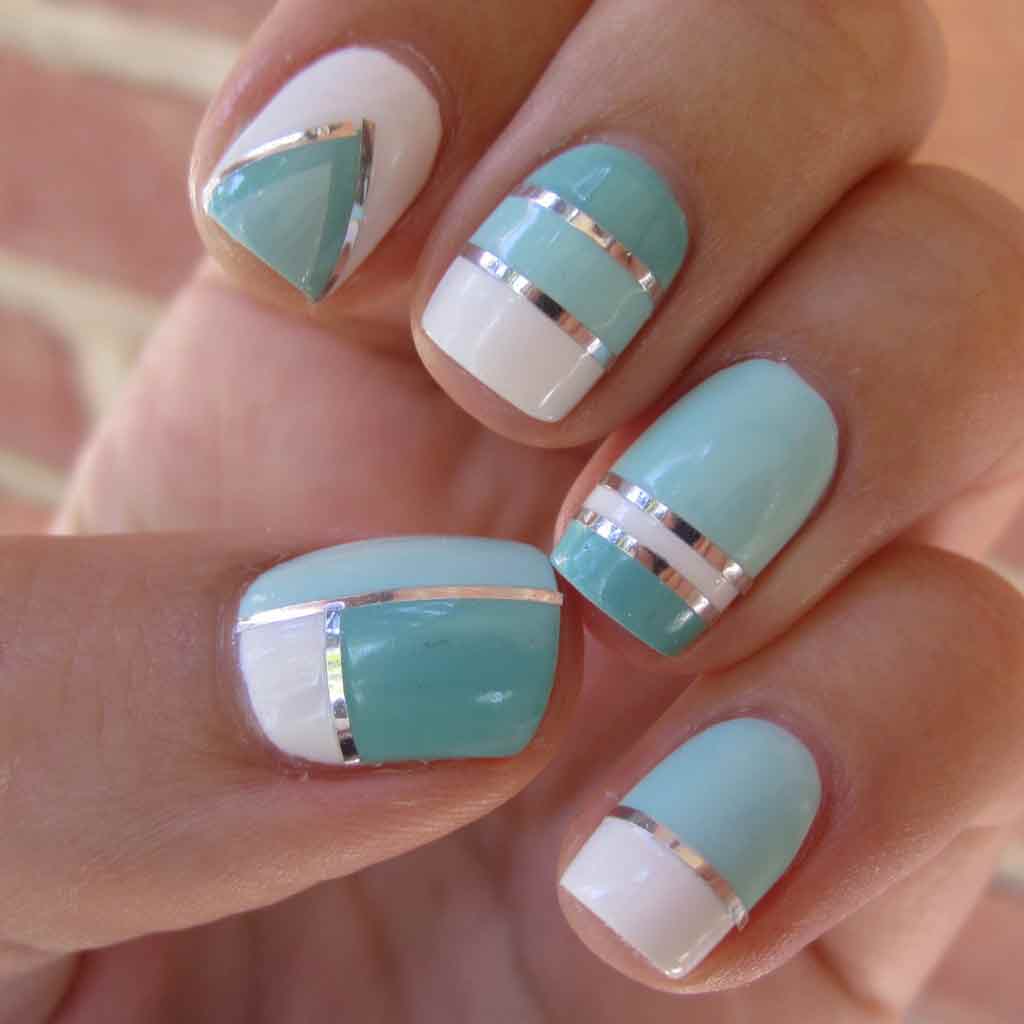 What will you need?
Here are some most important nail art tools that are necessary for some kind of artistic nail art. Some of these accessories are optional that are used for decorating the nails, such as a dotting tool, brushes, rhinestones, pearls etc.
Most significant accessories are listed below:
Nail polish (different color combinations)
Nail dotters (instead of it, you can use a 

bobby

-pin or toothpick)

Nail

 strippers (optional)
Stationary tape
Nail art brushes (optional)
Sponge (to create gradient effect)
Floral stickers
Nail art tweezers (optional)
Rhinestones and pearls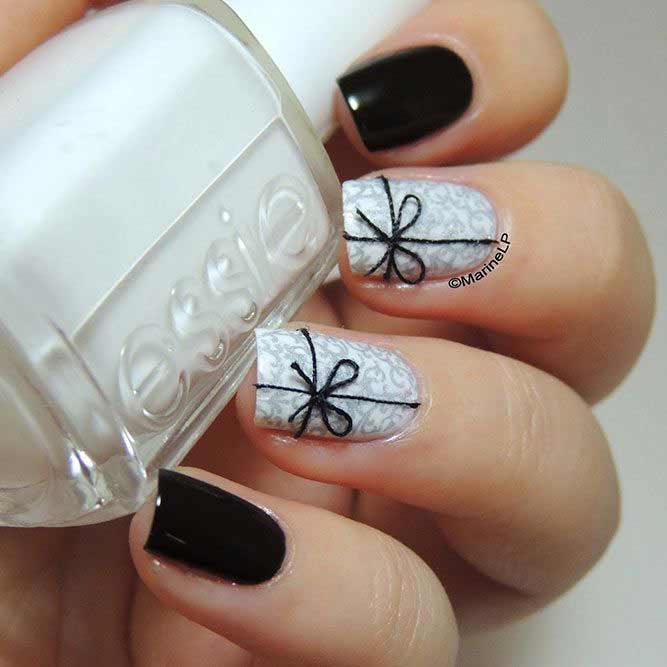 Simple Nail Art Designs For Eid With Images
All of these designs for Eid can be achieved on every sort of nails length whether short, medium or long nails. Most of the designs have been created with the use of different nail paint combinations and refreshing shades that will certainly add beauty to your apparel on this Eid.
Let's have a look on some of the most dazzling and stupefying nail art manicure that will grab the attention of everyone around you.
1. EUNRY NAIL PAINT WITH SILVER GLITTER
Do you have short nails? Here are the new ail art designs for short nails to do at home, for beginners. The fun part of this nail design is that you can achieve this look without the use of any nail art kit.
Paint all of your nails with "Eunry or any light shade of purple nail polish" except your pinky and ring fingernails.
Spread some amount of glitter on a sponge and dab nicely on the base of your ring fingernail (as shown in the following image).
Now apply a thick layer of silver glitter on your pinky nail (little fingernail).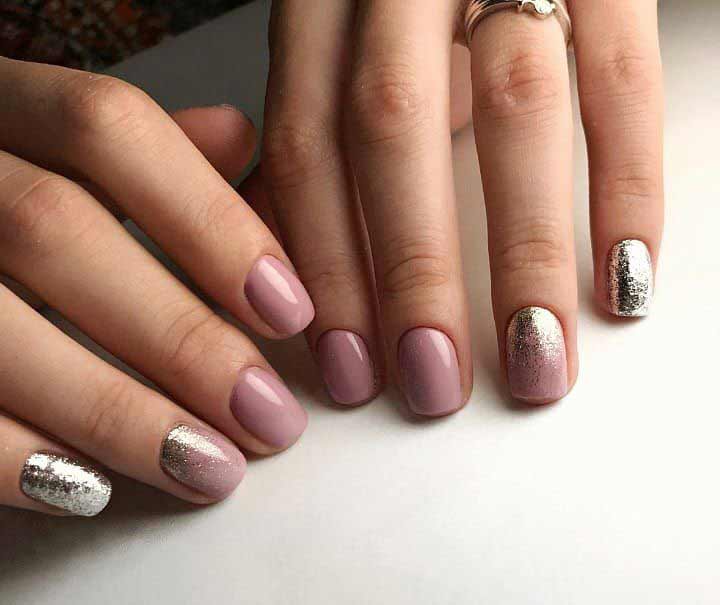 2. FLORAL NAIL ART AND DUST STORM COLOR COMBO
Dust storm nail paint color is all time in vogue and the following design is also sassy for Eid! Super refreshing and delicate nail paint will certainly make you stand out from the crowd.
Apply only one layer of dust storm nail paint (or pink nail polish) on all of your fingernails except middle finger and thumbnail.
For a floral art, you may use a nail art sticker that you love the most.
Carefully stick it to the middle finger and thumbnail.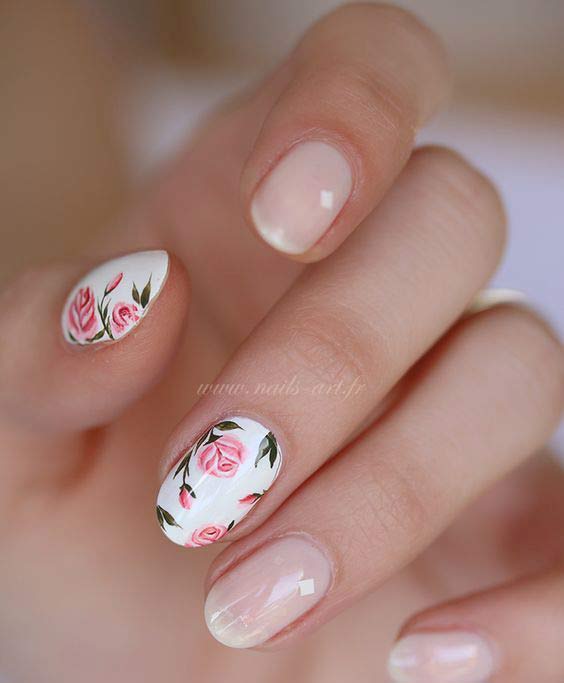 Read More:
If you are a teen then you will surely love entrancing nail art ideas! Do you want to stand out in your school? Must check out the best teen nail art designs that are attractive enough to gain the attention of others and super easy to achieve, so you can try out at home.
3. VANILLA ICE NAIL COLOR WITH POINTED TIP
If you have long nails, you can absolutely choose to have this simple and classy manicure as shown below. Check out the following nail art for upcoming Eid 2024-2025!
File your nails in a pointed shape.
Make sure to soften or round the corners to create an oval shape by gently filing edges at a slight angle.
Apply two coats of vanilla ice nail color (or a light shade of pink nail polish) and secure it with a top coat.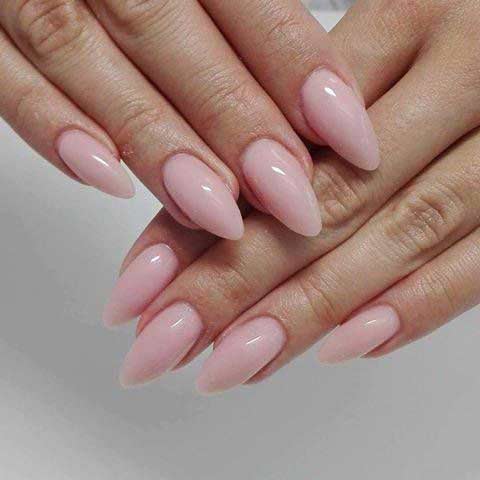 4. EASY MANICURE WITH GLITTER FOR EID 2024-2025
If you love French manicure, then definitely you cannot resist the super attractive combination of simple manicure and glitter.
Get a French manicure.
Apply a thick coat of silver glitter on ring fingernail.
You may add some gemstones on your middle fingernail (as shown below), but if you don't want to, it will still look nice and decent.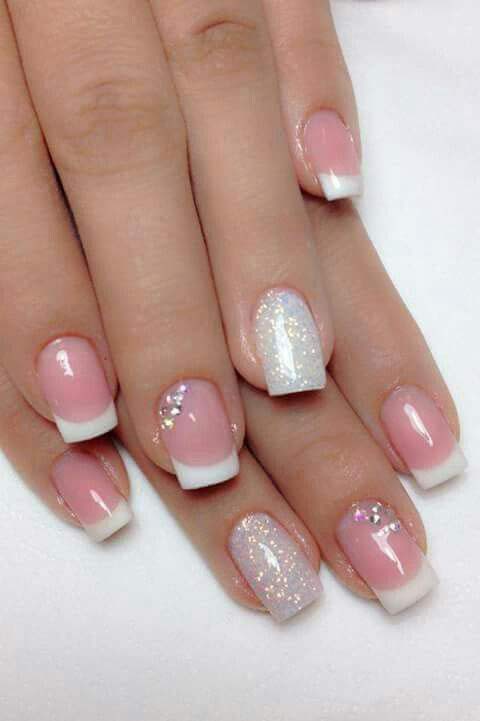 5. NUDE NAIL PAINT WITH GLITTER
Don't you think that nude paint with glitter along with some artwork looks groovy? Enhance the charm of your overall appearance by having this adorable yet easy nail art for Eid.
Paint your pinky and index fingernails with nude nail color.
Apply a thick layer of glitter on your thumbnail and middle fingernail.
Go for a white nail polish on ring fingernail and follow the pattern using a striping tape (as shown below).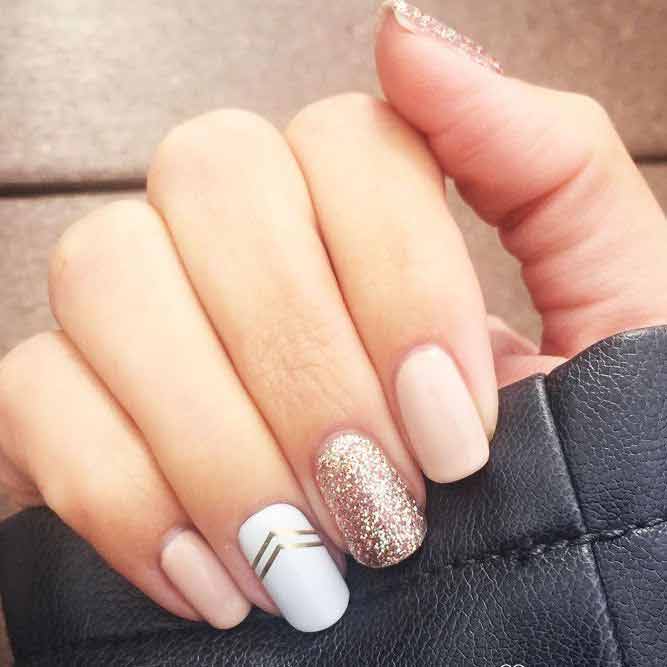 6. BEAUTY BUSH NAIL ART FOR EID 2024-2025
Beauty bush nail art is one of the super charismatic and easy design to try at home.
Apply two coats of beauty bush nail paint (or baby pink nail polish) on all of your fingernails except ring and pinky fingernails.
Apply another lighter shade of blue or white nail paint on a pinky fingernail.
Cling a nail art striping tape in a triangle shape and apply both nail paints, one by one (as shown below), then carefully remove the tape to get the neutral texture.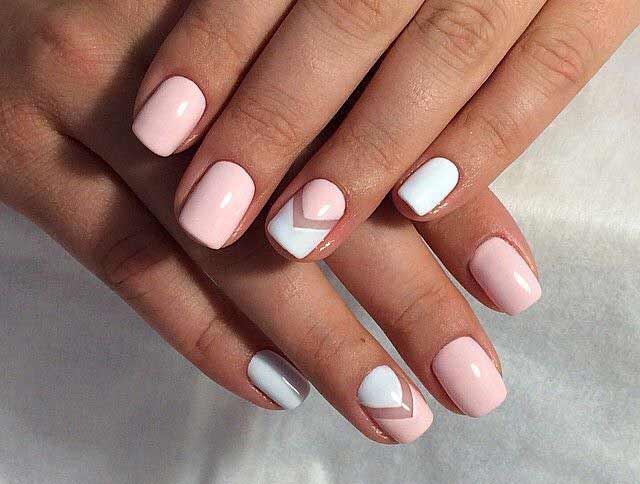 7. GEMSTONES AND GLITTERS
Do you like gemstones and glitter combination? Plus, if you have long nails then this nail art tutorial is for you.
Apply nude nail paint on all of your nails.
Stick three golden gemstones in line on your index and pinky fingernails.
Apply one lighter shade than nude color and soon afterwards go for glitter nail paint in a triangle by using tape.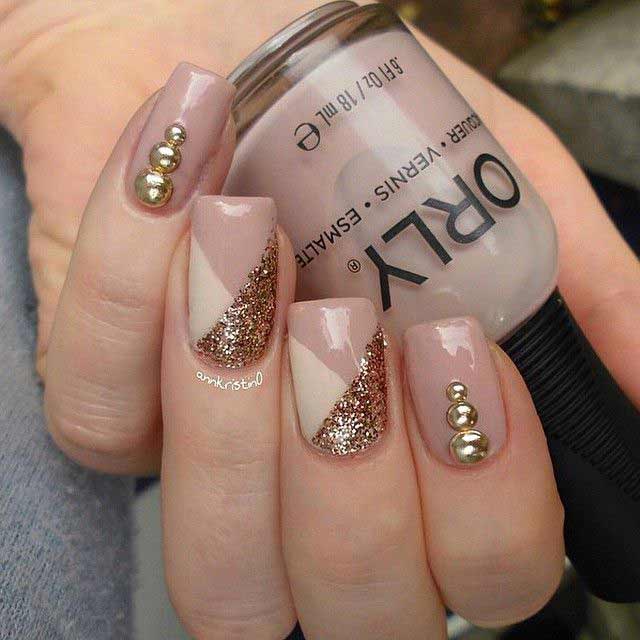 8. CAMEO SPARKLE
Does your Eid outfit shine like a star? Why not try the easiest cameo sparkle nail art design when you can have it within few minutes?
Apply cameo nail paint or pink nail polish on all of your fingernails.
Add some sparkle to the base of your nails.
Secure the design with top coat.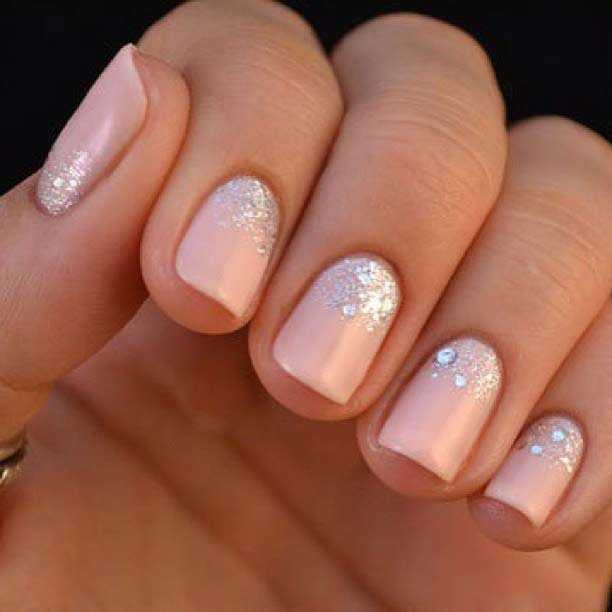 9. NUDE TWINKLES
Here comes the most elegant yet super stylish and easy nail art design for Eid. Either you have short nails or long nails, this design has the quality of being able to meet your desired nail art satisfactorily.
Apply nude nail paint on all of your fingernails.
Add some glitter on the base of your index fingernail.
Leave pinky and thumbnail as it is.
Apply glitter and white nail paint using striping tape.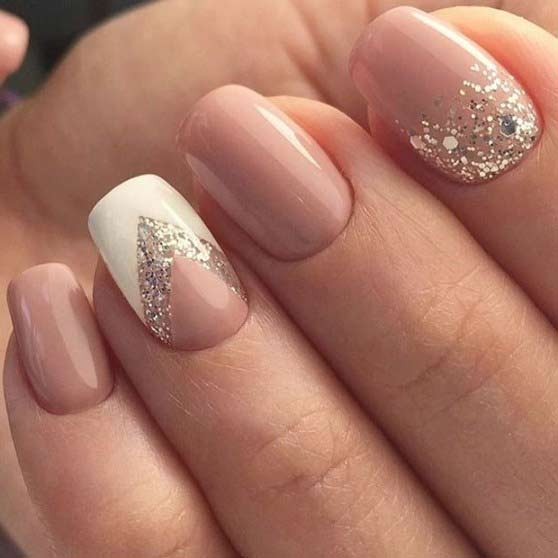 10. PETITE ORCHID NAIL PAINT WITH FLORAL EMBELLISHMENT
Go for simple and beautiful floral nail art that will make you stand out from the crowd. Add glamour to your Eid dress with some floral embellishments and ornamentations.
You may use petite orchid or any other similar nail paint.
Stick floral embellishment on your ring fingernails. Voila! You are done.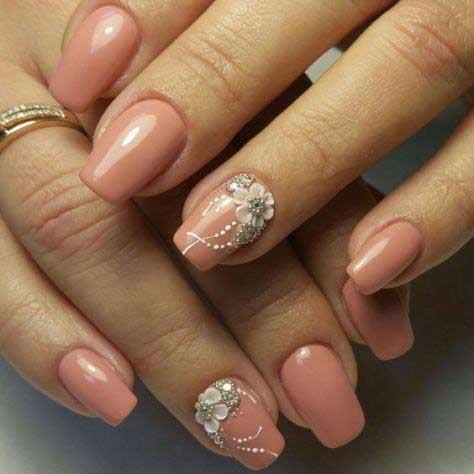 The basic purpose of these easy and beautiful designs was to cut off the extra expenses that you pay at beauty salons and parlours. If you really want to have a salon-like nail art manicure at home, then you just need to have some practice and patience, that's all.
Here you have seen the latest nail art designs for Eid 2024-2025 that you can actually try at home. Make sure to practice your favourite design at least two to three times before the Eid day. I hope you must have got some ideas and inspirations from simple nail art images that have been shown above.