Are you ready for the formal shirt stitching designs? In this article, we will let you know about the trendy stitching styles of Pakistani party dresses for girls. The beauty of Pakistani culture is that it features the most sober variety and the combinations of traditions and customs that make it even more appealing. As Pakistan consists of various provinces, every province carries it's own traditional, dress up styles, festivals and languages.
So when it comes to the formal dress design ideas, here you will see from long and short shirts to elegant party wear short frock designs, most traditional tulip shalwar to the modern gharara stitching styles and of course you will come to know about the statement styles including buttons, tassels and dupatta styles to stand apart from the crowd.
Go for the following attractive party dress stitching designs for Pakistani girls.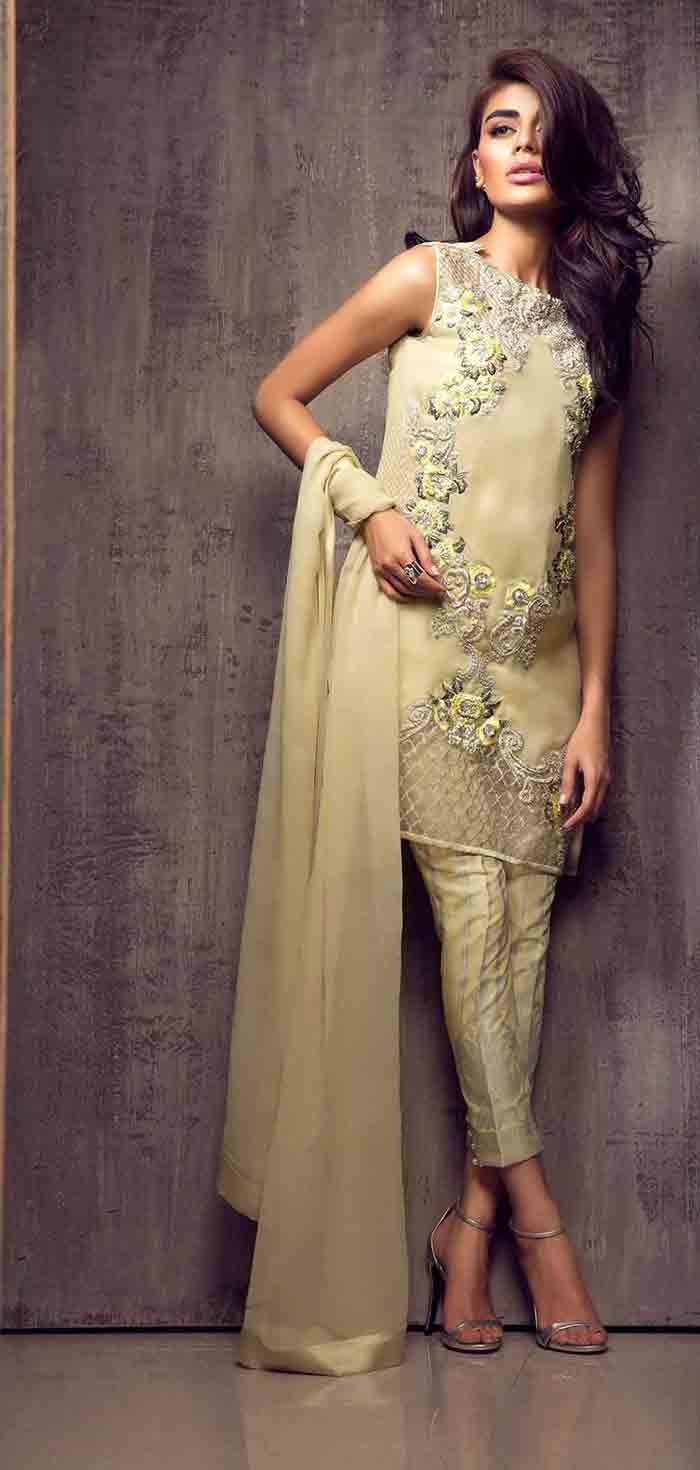 Latest Stitching Styles of Pakistani Party Dresses
Did we just said a lot of parties and festivals? Wait a second! When we speak of the celebrations how can we forget that this is all about young ladies and kids out there. They are the most excited ones and obviously they are the heart of these events. Right? So when there are girls, they never come alone. They bring all of their tantrums and wardrobes along.
This is what makes them the prettiest creation of the Almighty in the whole universe. Whenever there is a party or an event, they stress out about their looks their hairstyle, their dress and all. So let's just lighten the burden and here we have some fashion tips and ideas regarding stitching styles of Pakistani party dresses for you ladies.
Check out the latest stitching designs in Pakistan!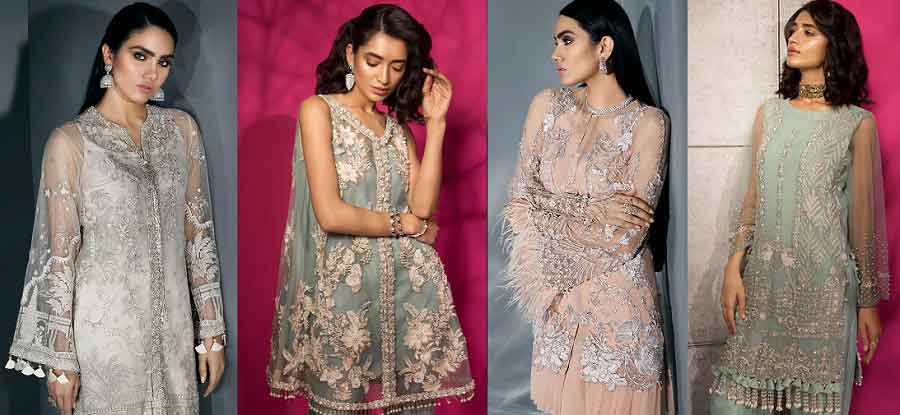 Party Dresses Stitching Styles In Pakistan
Have you ever faced that you go out for shopping, roam in the whole market and nothing clicks your heart? And your eyes just did not catch anything so much that you buy it?. We all have faced it, right? No need to stress on! We have an escape from this. Get to the market and buy yourself an unstitched cloth for a dress. Stich it or drop it at your tailor's shop to get it sewed for you. There are some nice designs and styles you can make and customize everything exactly like how you want it on point.
Following are the new stitching styles of Pakistani party dresses including shirts, Pakistani net frocks, and different bottom style. Pick your favorite one (or more) and alternate it according to your taste and  choice and voila! There you have you new customized dress exactly as you want.
Let's check what stitching styles of shirts can it be first!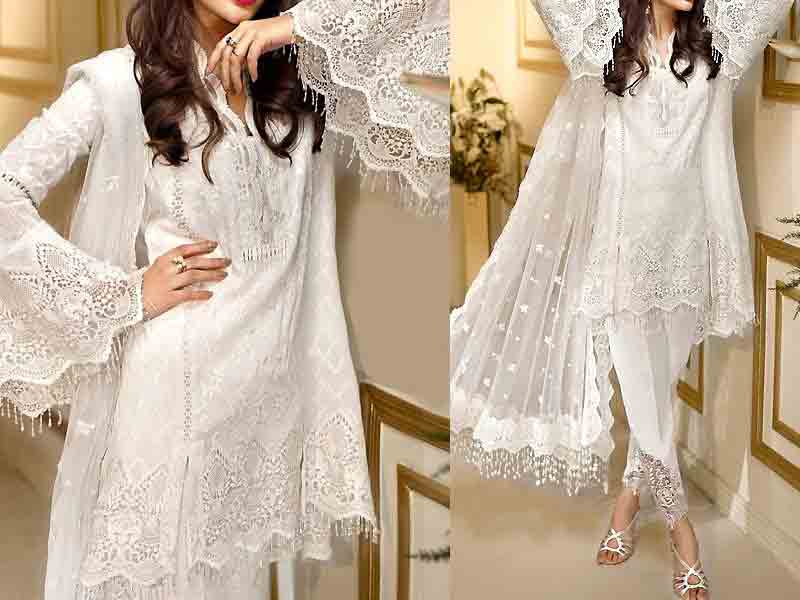 Shirts and Frocks Stitching Styles – Peplum, A-line, Long Shirts and Frocks
As we all know that A-line and long shirts or frocks are back in trend and are making their place strong in fashion races. So yes, you can make an A-line long shirt or frock or go for a straight one. Choose your favorite color combinations and shirt or bottom style from the following party dresses stitching designs.
Recently, we have provided you with the best Pakistani lawn dress design ideas as well. Make sure to choose the decent style so that is acceptable for our society. Party dress stitching styles are bit tough than the lawn dresses because certainly there will be going on a special occasion and no one can compromise. Get the latest ideas regarding stitching styles of Pakistani party dresses and get it stitched from the experienced tailor.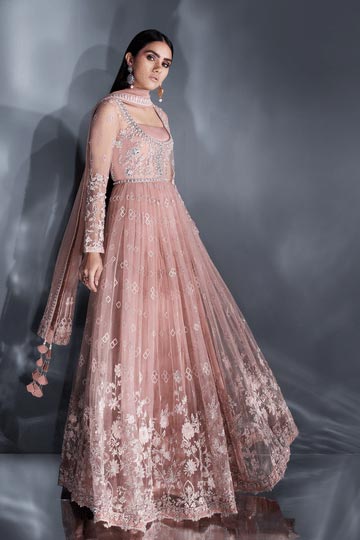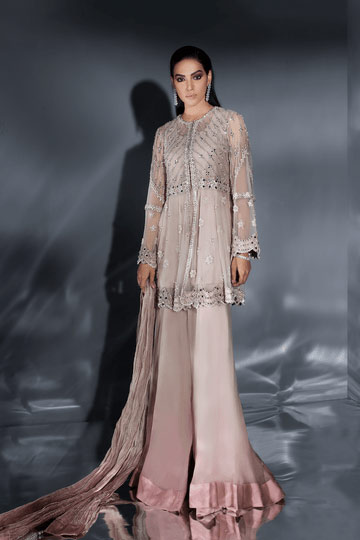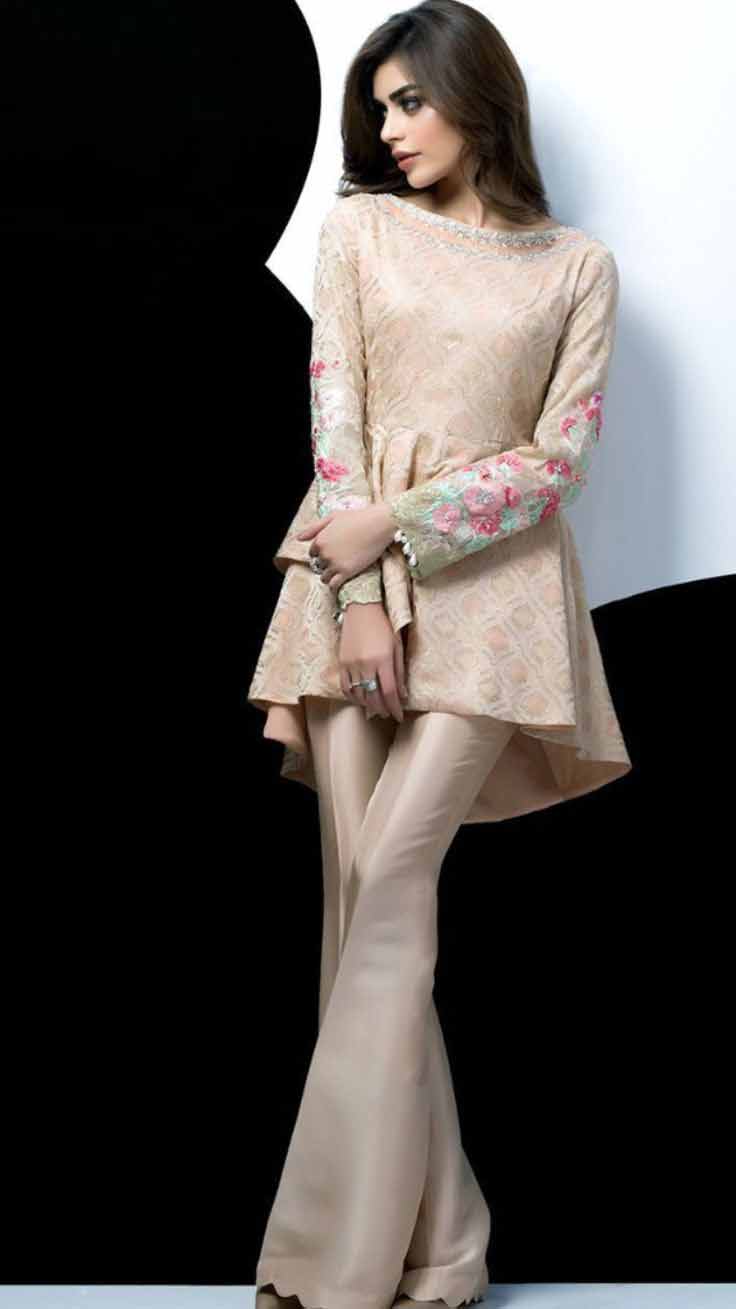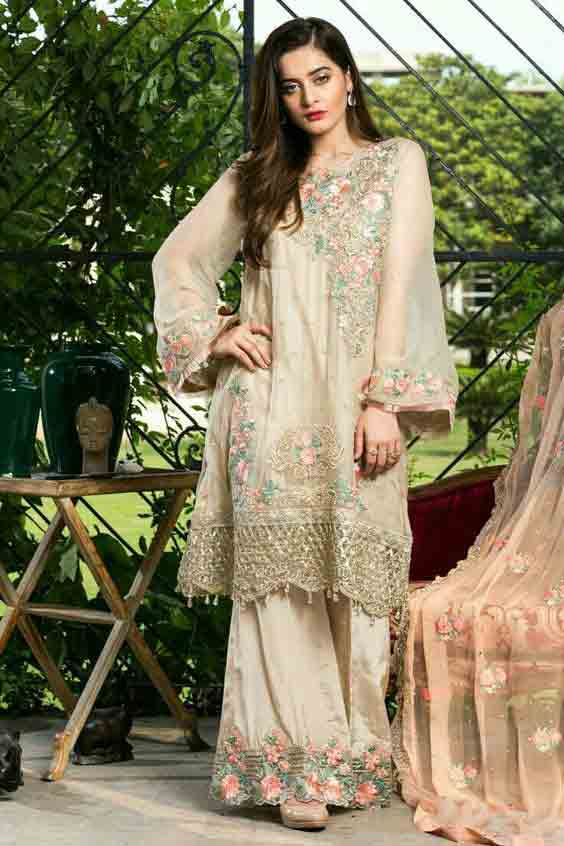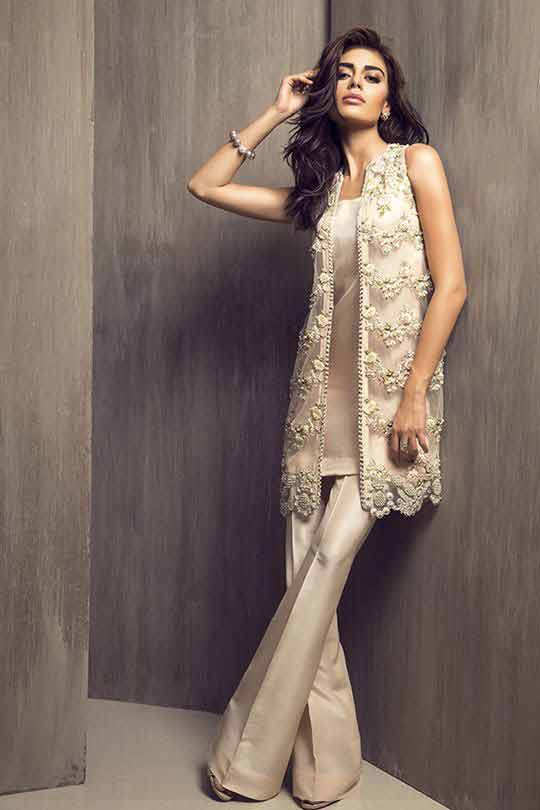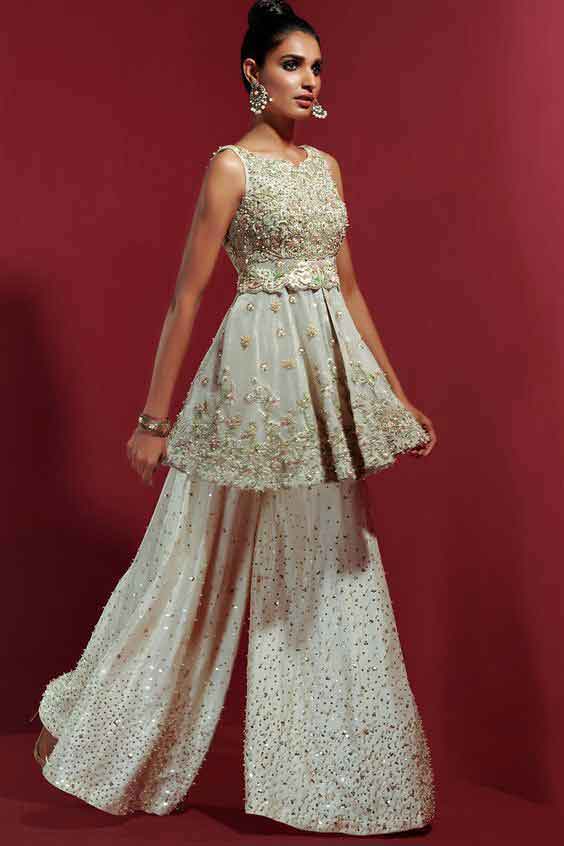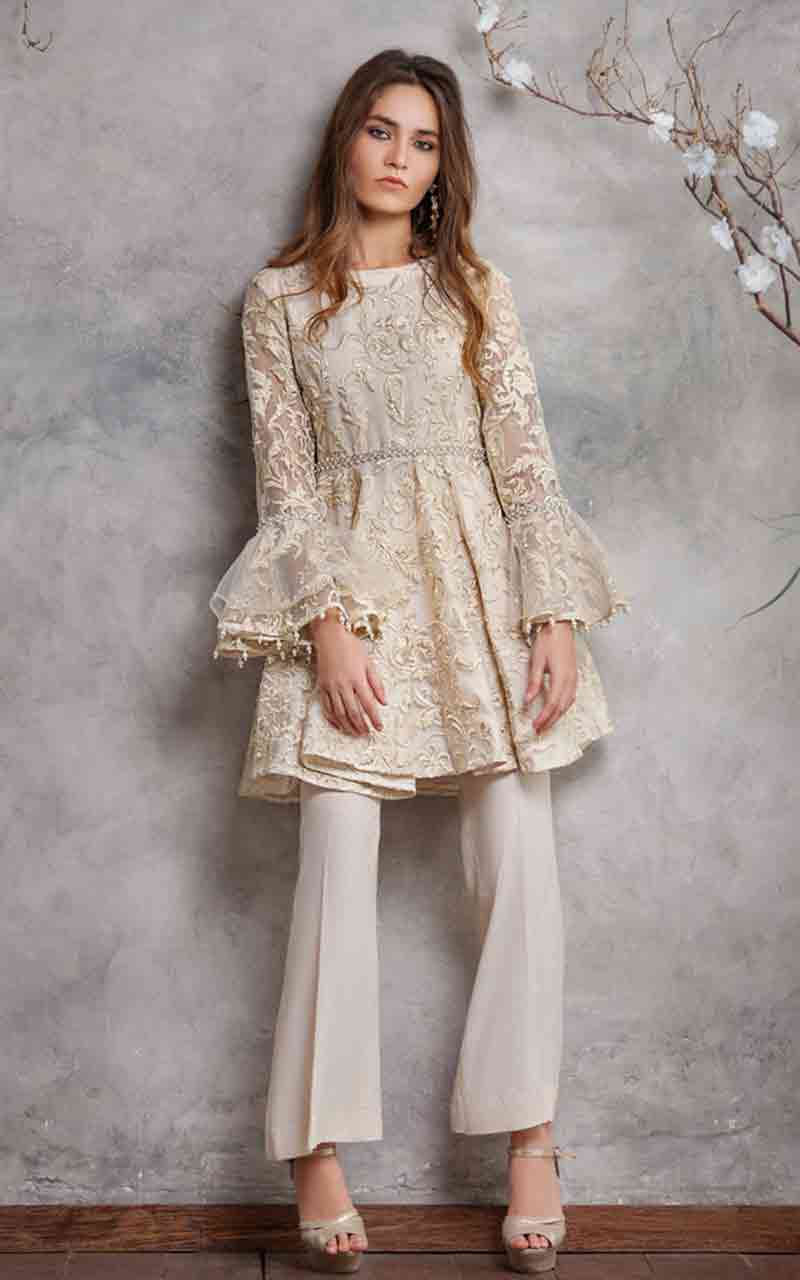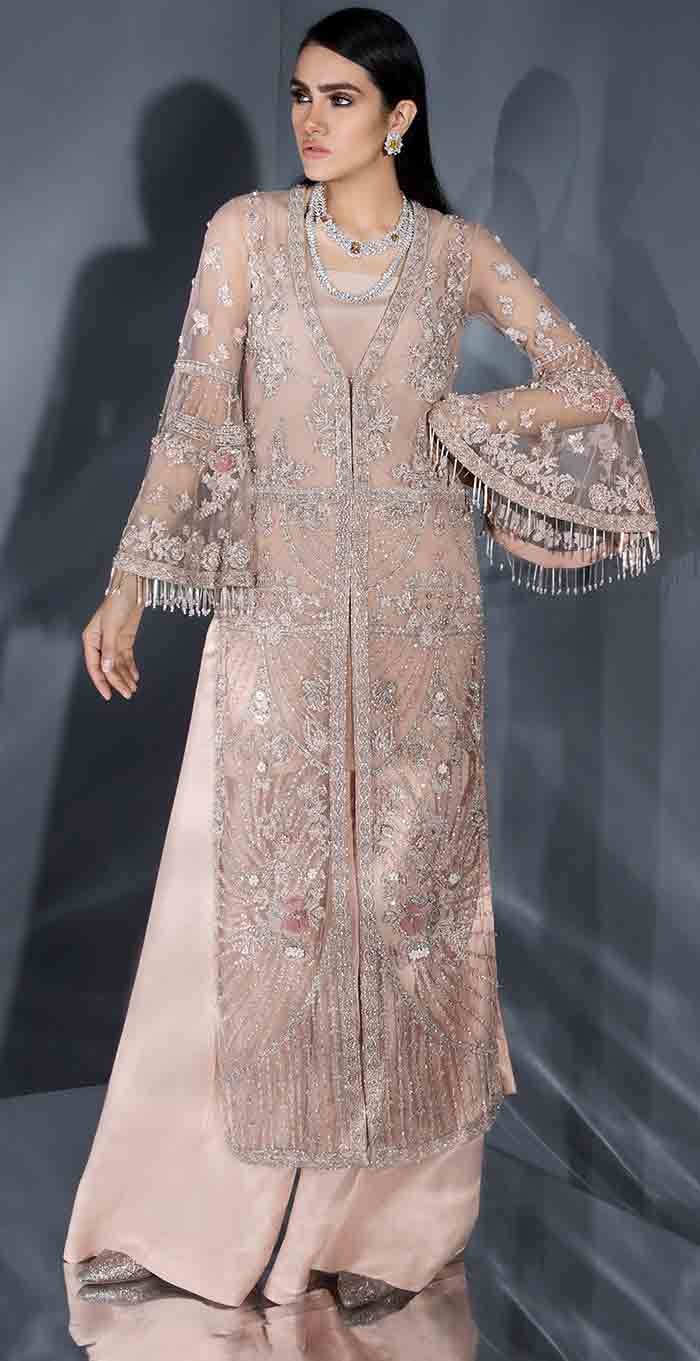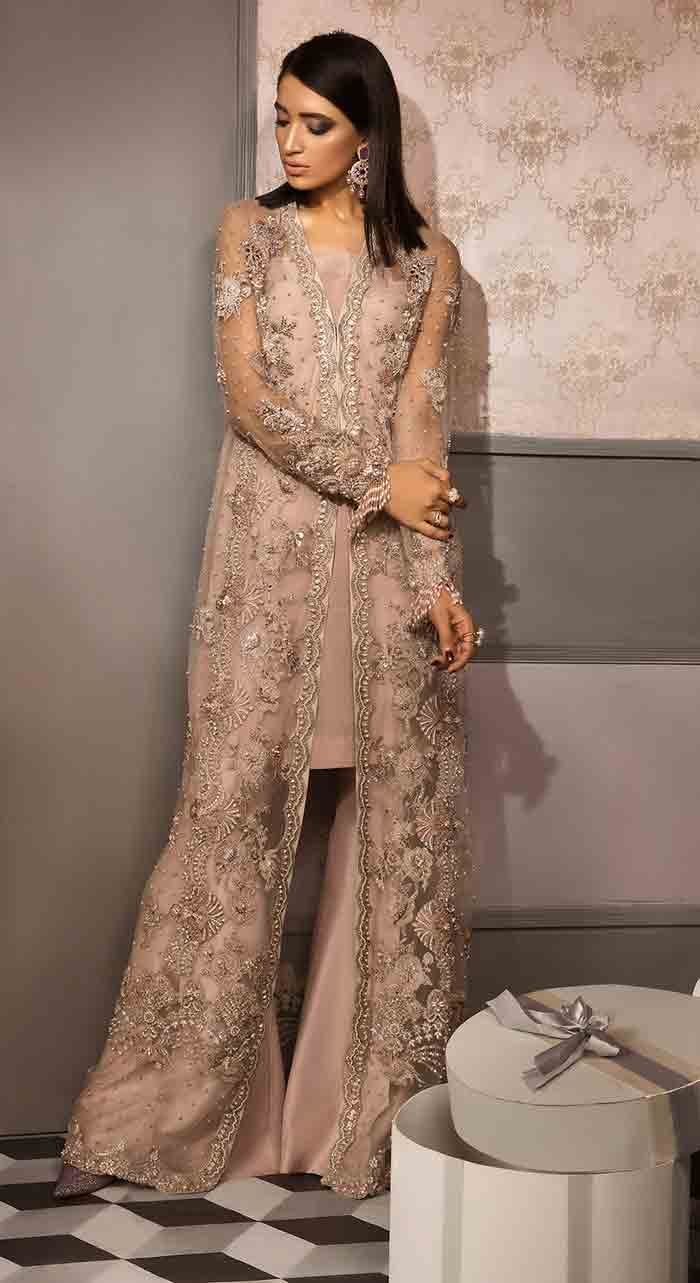 Trousers Stitching Style – Q-lots, Cigarette pants, Tulip Pants
Party wear bottom stitching style is always up to your choice! Q-lots are back, straight wide width culottes are also back in games. Capri, cigarette pants, tulip pants or straight pants can also be given a thought. Because long length shirts and tops give a wide option of bottoms to pair up along. Also if you want to get a little traditional touch of latest trousers designs then a shalwar (plain, belt or tulip) or churidaar pajama would do the best.
On the next line, length of shirt can be shortened a bit, like knee-length or butt high. Bottoms are still open, anything you like can be combined to make the pair. In our personal opinions and notes, a knee-length shirt goes best with wide cullottes and sharara / gharara or ciggarette pants. And the butt high one looks best with a flared pleated shakwar or a Q-lot.
Check out the new stitching styles of Pakistani party dresses shown below with images.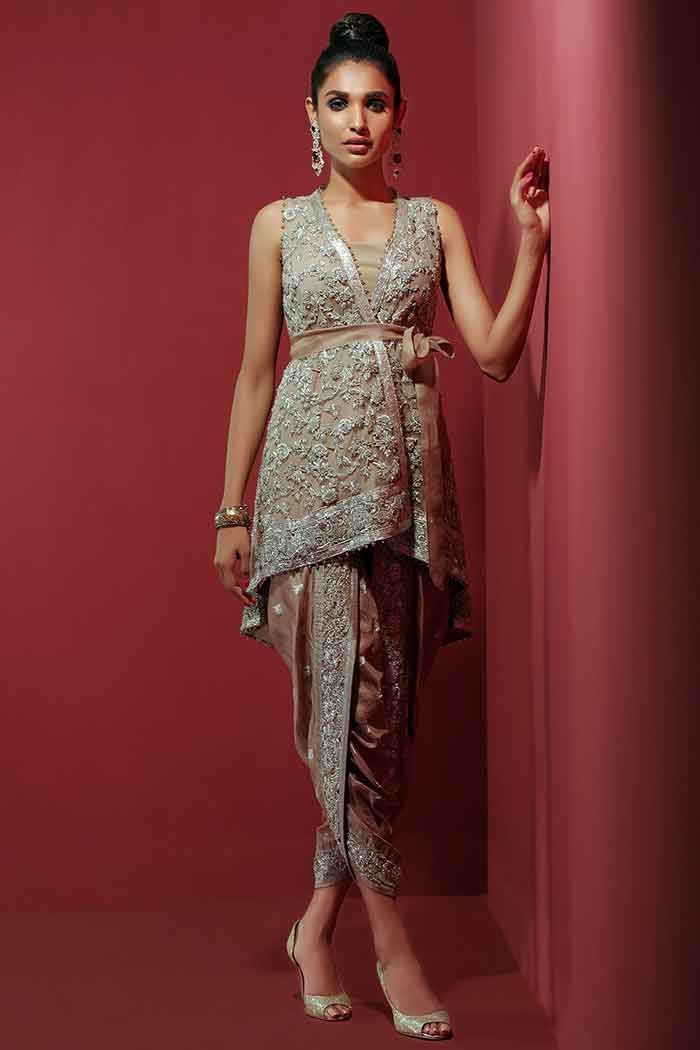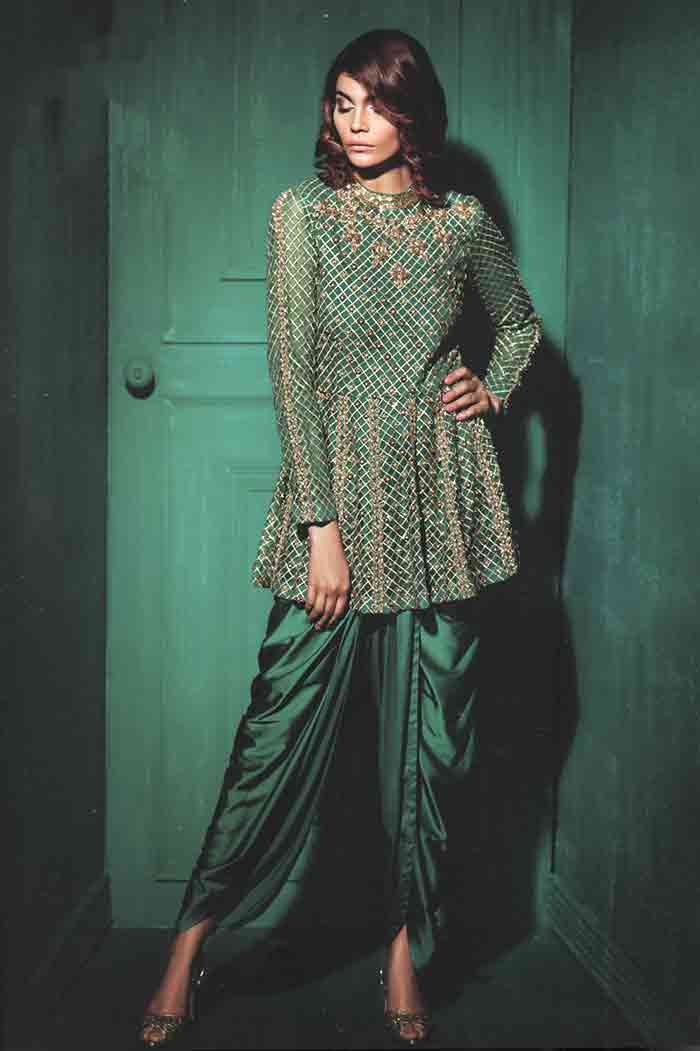 Frocks with Angrakha or Anarkali Style
This was all about shirts and bottoms. Let's talk about the next option, and what can it be other than frocks and peplums? We all love them! Long frocks with angrakha or anarkali style, or a short peplum straight peplum or may be this too with an anarkali or angrakha themed one. This goes splendid with a bell bottom or tulip pants according to our personal notes. But you can pair up according to your taste as with straight pants, cigarette/pencil pants or a capri trousers. And of course how can we not mention sharara/ gharara here.
Go for the following stitching styles of Pakistani party dresses!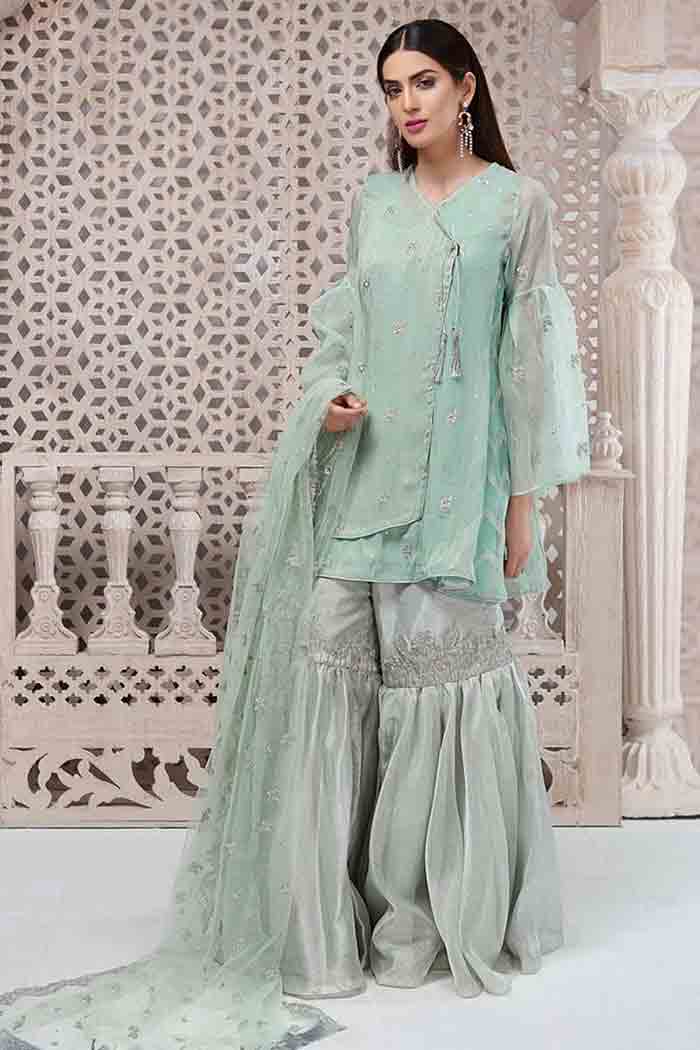 Pakistani Party Wear Jumpsuits
Now this one is a bit beyond from the traditional and conventional stitching styles of Pakistani party dresses but this is a very stylish thing to go for. We are talking about jumpsuits! You can make a jumpsuit with a nice stylish over all or upper to make it look more glamorous yet decent. The most elegant ones of this are striped jumpsuits or plain one paired up with a printed or embroidered upper. Upper length can be kept as you want, but we think that a feet length or jacket length are perfect for this. Well, some styling and designing add-ons will look voguish too.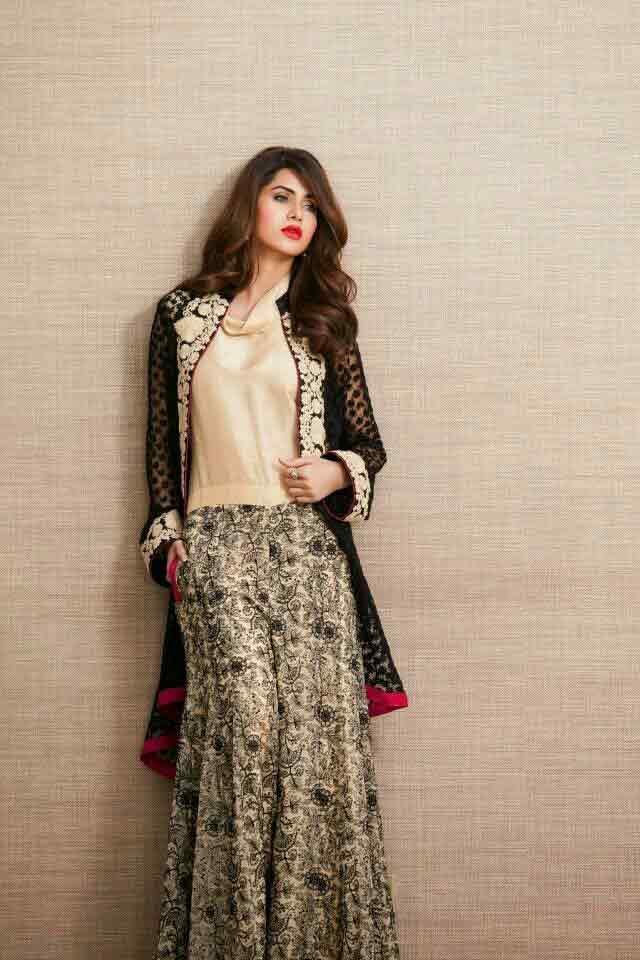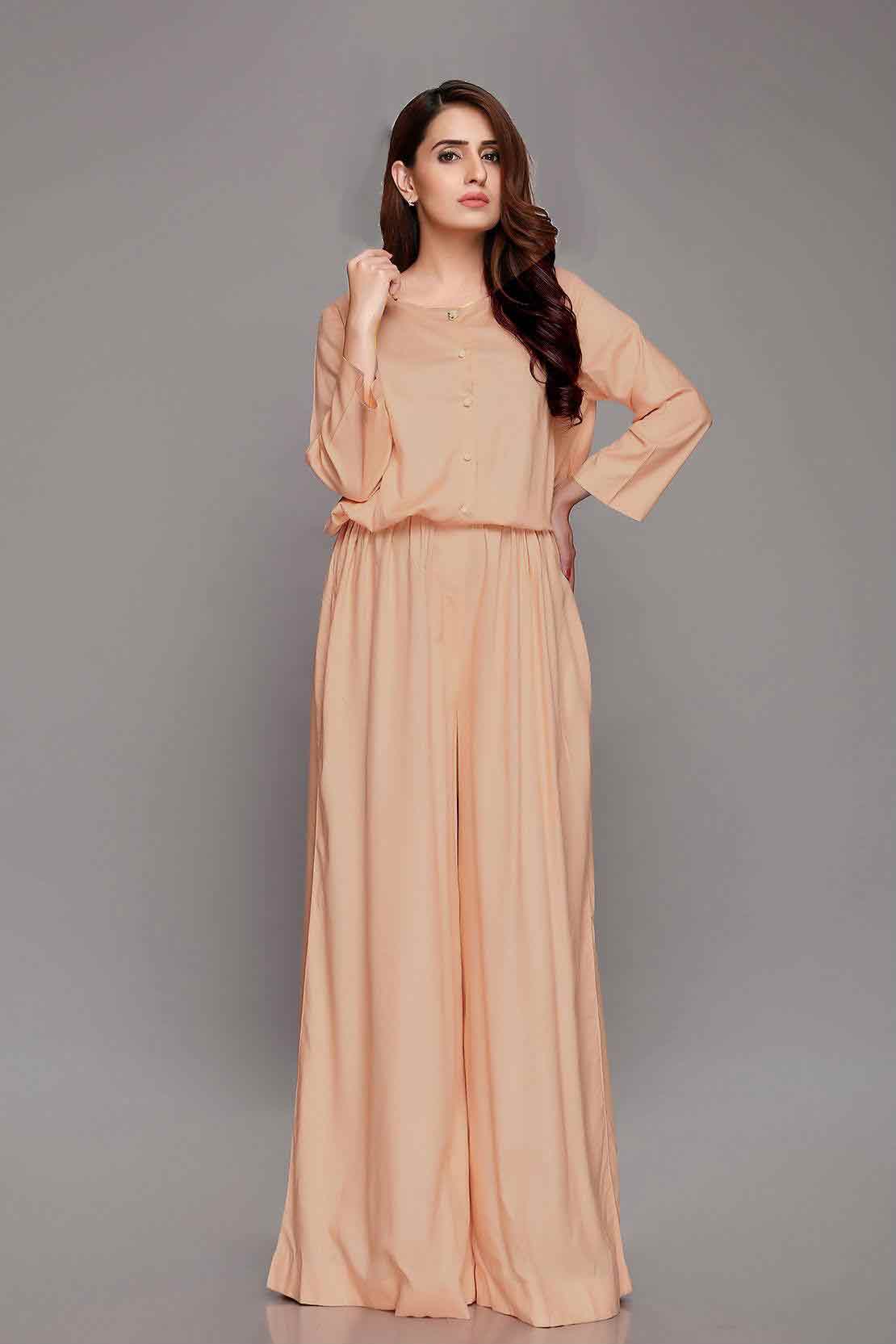 Statement Style – Buttons, Tassels, Laces
When it comes to the stitching styles of Pakistani party dresses, you can add buttons in front or sides, keep them open from front, or slant cut one, you can add layers and frills to sleeves and daaman. Tassels never let go anything wrong. Cutworks and applics are also always in the game. Also you can add customised motifs and sequins to the dress.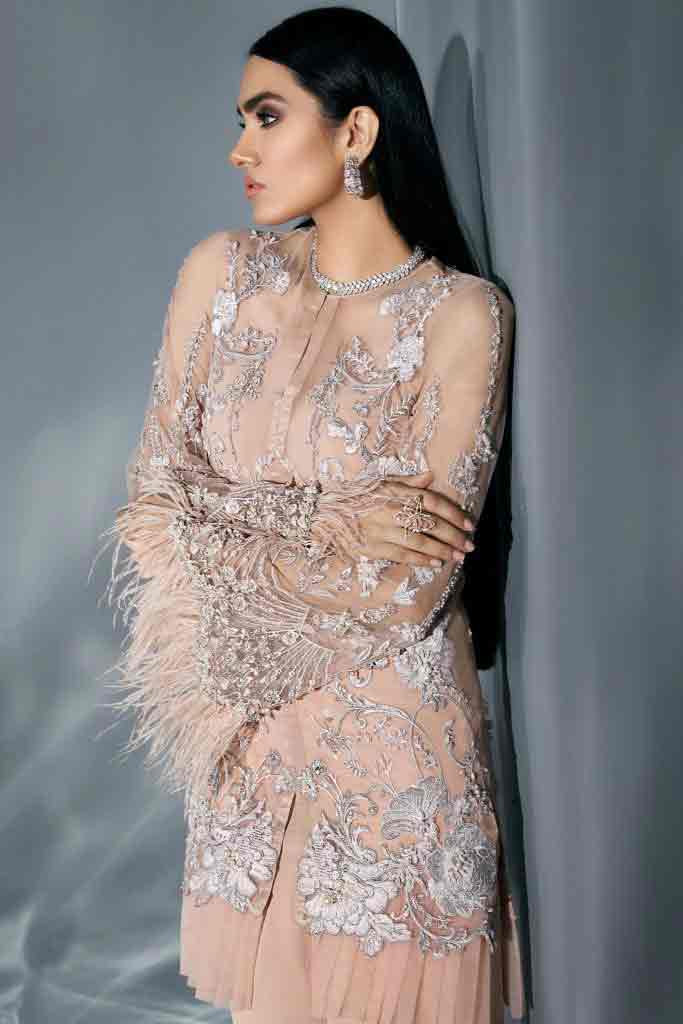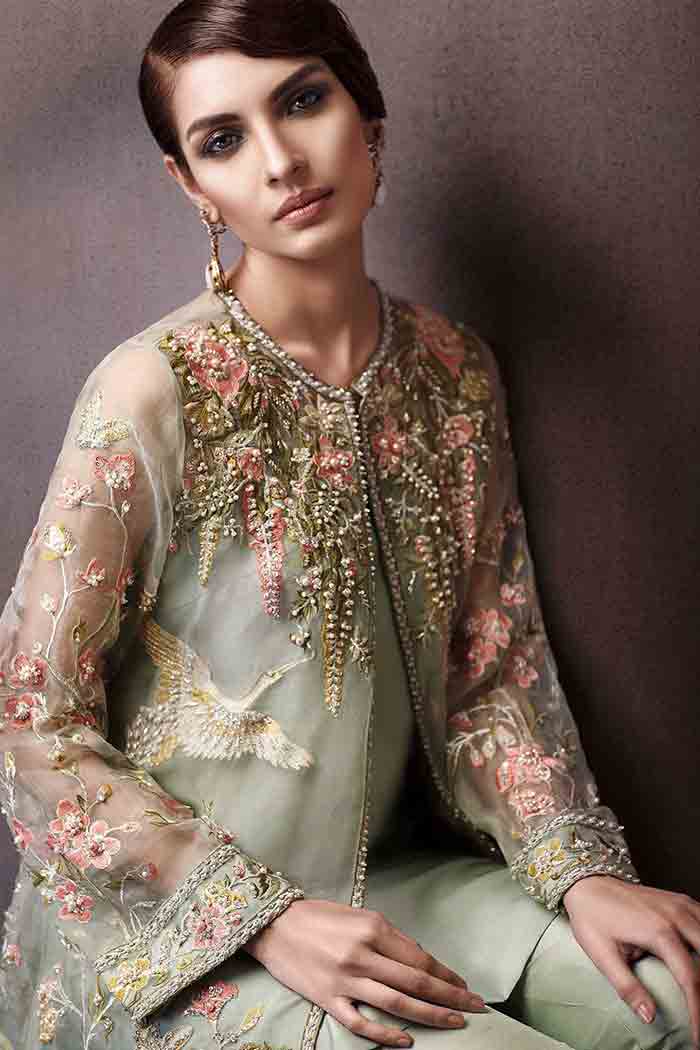 Dupatta Setting Style
As we are talking about stitching styles of Pakistani party dresses, how can we forget the dopatta! Keep it minimal when your outfit is heavy or much printed one. On the other hand, if your dress is simple then try keeping it plain and ought some lace on the edges to give it a formal look. And when your dress is lighter you can make the dupatta heavy to galmourize the outfit.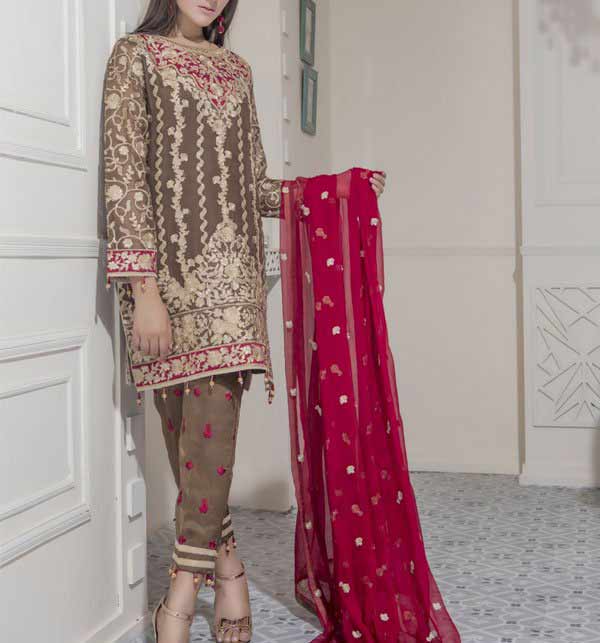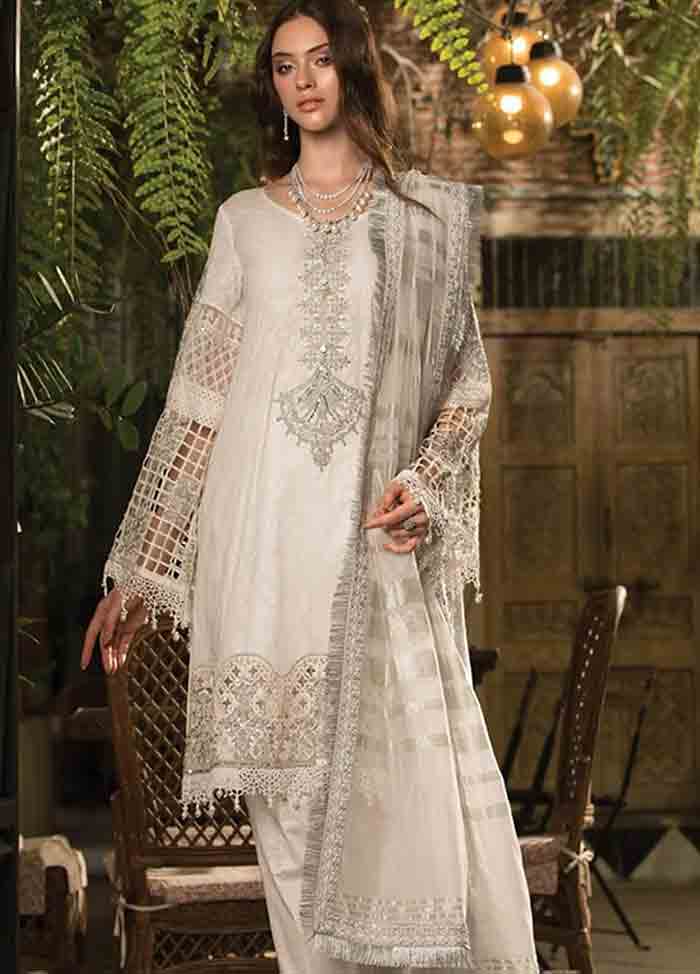 Accessories
Be the sunshine by adding some nice and quirky accessories like earrings, bangles and bracelets. Or may be a nice funky necklace. Whatever you like and however you desire, you will certainly make you stand out.
Stitching Tips:
One thing you should always consider about stitching styles of Pakistani party dresses, is to keep the dress according to your body type such as pear body or hourglass body. If you have no ideas about your body type, then here is a complete Pakistani dress fashion guide for pear body type. So that nothing ever goes wrong or make you feel  uncomfortable. This do not have any mathematics or science in it, it has a simple check. Whenever you feel uncomfortable in a dress, be sure that is not of your type. Give it up and go for something else. The more comfortable you are more confident you will be!
Well, there is another little sewing tip. Always keep your dress a bit loose or at least keep some cloth inside, so that in case of moderation you don't run out of cloth. Plus, keep your shoulder exact! Droopy one will ruin the look of a dress. So girls don't like anything in shops? We have told you the solution! Go for how you exactly like your dress to be.
When we talk about festivals, we have so many of them in our country the whole year. Eid festivals, independence day celebrations, traditional and cultural, local celebrations and events, weddings festivities and specially small parties and get togethers that are thrown for the sake of meeting and collecting all friends and family together. Because we are such warm and relationship oriented nation. This was the glimpse of our nation, it's norms and culture.
On each festival, people use to dress up accordingly and style formal shirts stitching designs in their own way. The point is here to focus on the stitching styles of Pakistani party dresses according to the particular event or occasion.