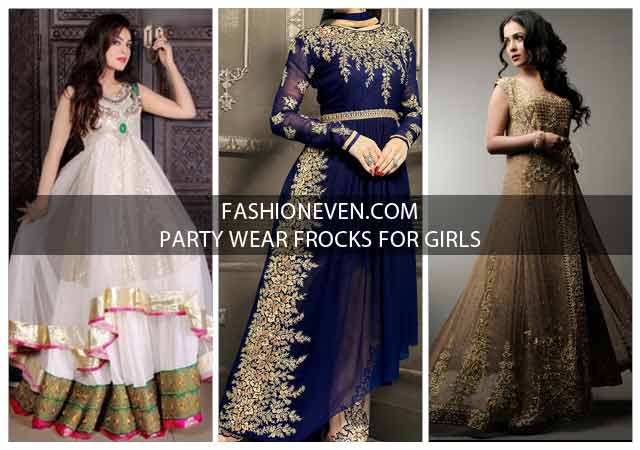 Are you looking for the new styles of party wear frock designs in Pakistan? No worries at all, this post features the best ever Pakistani party wear dresses. When I was writing this article, the first thought that flashed into my mind was; there are plenty of ideas available about party wear dresses for women. Which includes different colors combinations, short and long party wear frock designs, net or lace fabric and the list goes on. So I have gathered for you everything at one place.
Do not forget to check out the net frocks and gowns.
That's the reason that I have divided this article into five major categories of fancy frocks for women, according to the color schemes and combinations of frocks.
Fancy frock designs in the following colors:
Black
Red
White
Blue
Golden
The reason behind choosing these five colors of party wear frock designs, is simply because all of these colors are trendy and attractive enough to stand out from the crowd. The year 2023 is all about the latest fancy frock designs, either long or short frocks for girls.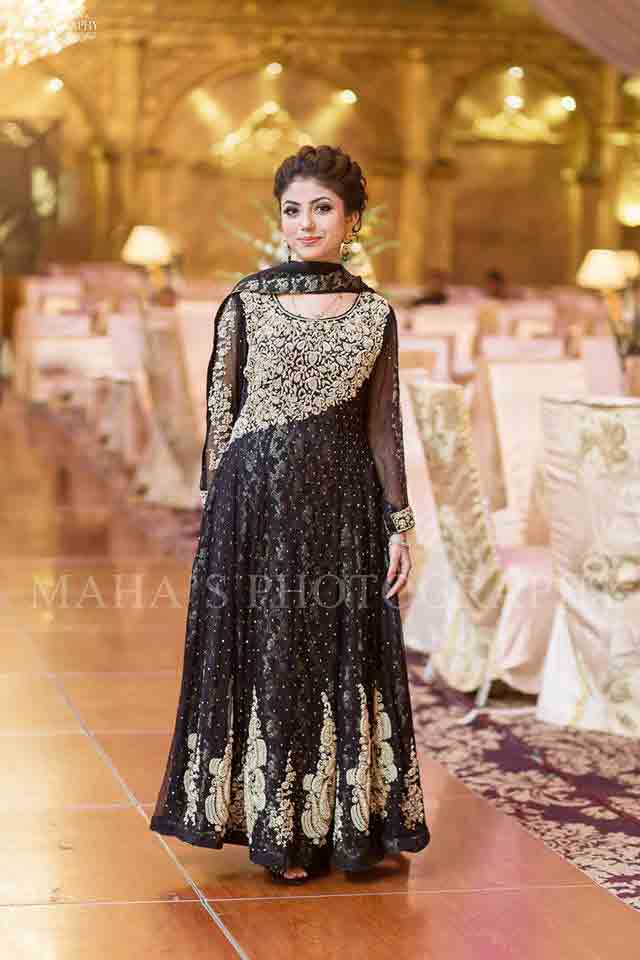 Pakistani Party Wear Frock Designs For Girls
In this article you will be able to learn about the different party wear frock designs that are voguish in Pakistan. You can purchase them directly either from the fashion designer brand outlets or can place an order for customized stitching.
It's not about the dress you wear, but the life you lead in that dress! That's why how beautifully "Paris Hilton" has to say about dress (party wear frocks) as following.
[su_quote cite="Paris Hilton"]"The only rule is don't be boring and dress cute wherever you go. Life is too short to blend in."[/su_quote]
In this article you will learn:
Latest party wear frock designs and styles
Frock color combinations
Matching jewelry and dupatta
Hairstyles that goes perfect with frocks
Different types of frocks designs
Designer brands for party wear frocks in Pakistan
Fabric used, online shopping and much more.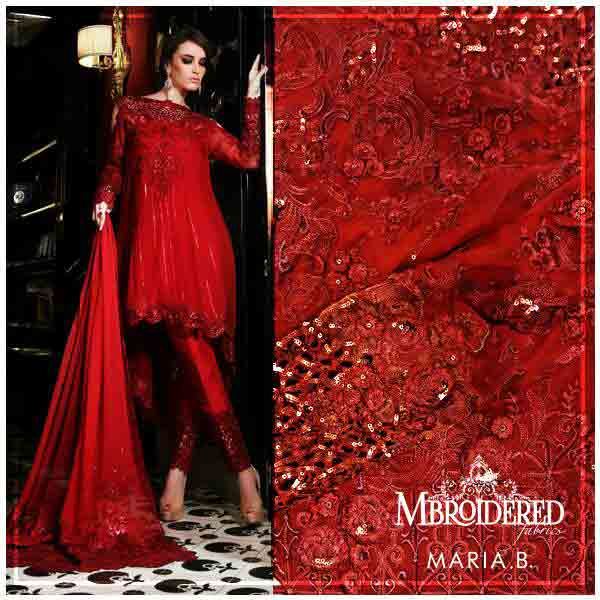 Latest Frock Designs For Party Events
Following, I have classified the mix of short and long frocks according to the different color schemes. You must already have some kind of idea that which party wear frock design and color are you going to wear (black, red, white, blue or golden)! So now, this is the perfect time to showcase the images about party frocks for each color mentioned earlier.
Scroll down all the images shown below and choose your most favorite frock style this time.
All of these images includes fancy frock designs that are most beautiful and full of intricate embroidery over all.
1) Black frock designs for party events
Most of the Pakistani girls prefer black net frock designs either long or short frocks. If I talk about the best color combination with black, then golden hues from the pallette flashed into my mind.
Black and golden frock is a perfection combination for any party event that will assuredly make you the beauty queen.
A black frock with golden embroidery will make the dress super tremendous.
2) Red frock designs for party events
[su_quote cite="Matthew Rhys"]"When in doubt, wear red."[/su_quote]
Red frocks has always been the attention of people. Those teenage or young ladies who wants to become the centre of attention, can choose to wear red frocks. Different fusion cuts, embellishments and adornments are used to make these party wear frock designs perfect for any homecoming formal or semi-formal occasions.
3) White frock designs for party event
Off white or white frocks are one of the most trendy party wear in 2023-24. Those girls who wants to look decent and sophisticated, may opt for white or golden frocks. Soft and light hues are blended in net, chiffon and silk. Front and back motifs of these frocks add extra charm and make these dresses more appealing to win the hearts of everyone around.
4) Blue frock designs for party events
Ravishing blue attires are the ideal party wear frock designs to be carried on the occasions of wedding ceremonies and party events. Golden thread, banarsi patti, stones, pearls, lace and tilla work has been used to give the dresses an extra glamor. All of these blue fancy frock designs comes in attractive color combinations, embroidered necklines and fully embellished front.
5) Golden frock designs for party events
A must-have wardrobe essential is none other than the shimmery and golden Pakistani frock style, whether maxi, angrakha frocks or anarkali frocks! If you are confused about what to wear on upcoming party event or formal wedding event, then without any further ambiguities go for the golden party wear frock designs!
It will not only make you look decent and sophisticated but also helps to gain the attention of crowd. Check out the following golden frock styles for girls in Pakistan.
Fancy frock designer brands in Pakistan:
There are plenty of renowned fashion designer brands all over the fashion world. In fact most of these brands are now working internationally as well.
Following, I have provided the list of Pakistani fashion brands that are engaged in the production of fancy party wear frock designs.
Maria B
Exclusive Inn
Tena Durrani
Zainab Chottani
Ayesha Ibrahim, and the list goes on.
Fabric used for fancy frocks:
Most of the time fancy frocks comes in the following types of quality fabric and stuff:
Net
Lace
Velvet
Chiffon
Jamawar
Silk and so forth.
Online shopping for party wear frock designs:
Anyone can also get benefit from online shopping of fancy frocks. There are numerous shopping websites available that offers incredible range of frocks at an affordable prices.
Pakistani fashion brands also own official websites. So, how can you purchase online party frocks from designer websites?
You just need to visit official website of a specific brand, search for your favorite party wear frock designs, select cash on delivery option while checking out, and place an order. There you go. Within 4-7 working days you will receive your order and pay the amount at that time of order receiving.
Are you afraid of purchasing online? Are you thinking about the stuff and quality of the frocks? Then just relax.
Based on my personal experience, always try to purchase from trustworthy designer brands in Pakistan. Color scheme and quality of fabric stuff will certainly speak louder than your fear. It is because, designer brands never compromise on their quality products, goodwill and customer satisfaction.
So you will always end up with the Happy Online Shopping!
Different types of frocks designs:
Following I have mentioned the most common types of frock designs in Pakistan. All of these different frock styles are equally popular not only in Pakistan but also in other Asian countries.
Check out the list of the following different types of frock designs that are much popular in Asian countries, such as Pakistan, India, Bangladesh, Turkey, Malaysia and so forth.
Angrakha style frocks
Anarkali style
A-line frocks
Short frock style
Long Frock style
Front open frocks
Umbrella frock style
Floor-length maxi frocks
Gown frock style
Frocks with cropped jacket
Long tail frocks and so no.
Angrakha style frocks, anarkali frocks, umbrella frocks, floor length maxi and front open gown frocks are much regarded with great favour in India. Whereas, A-line frocks, short frocks, long frocks, and long tail frocks are extremely appealing to the Pakistani women of all ages.
Fascinating colors of these party wear frock designs attracts everyone. Most of these net lace fancy frocks are expensive for ordinary people. But no worries at all! You can still have the same!
Get a similar fabric stuff and copy the same style! That's it. I know this is not as easy as I am telling you. But putting that aside, this is as easy and simple.
Try to purchase fabric that is somehow same in stuff and color (shown in your favorite image). Show the exact frock style image to your tailor and let him/her know the details as well. You always have the option to style party frock in your own way. But what you see in images, that is the true reflection of color combinations and styles and will let you know that "how it will look like".
Above, you have seen the latest party wear frock designs in different color schemes and styles. I firmly believe that you must have got some idea about which frock you need to have. I want, above all, to instill a sense of new ideas that can work for you.
If you want more details about a specific party wear frock design or if you are interested to purchase, then let me know via contact form.
If you liked this designer collection and a piece of information then show me your love via comments and subscribe to my blog. Never hesitate to make further recommendations, suggestions or feedbacks about party wear frock designs that can help in anyway.