Are you looking for the new styles of kids sherwani designs? If yes, then you have come to the right place. Here you will find the latest designs of wedding outfits for your kids. Baby boy sherwani suits comes not only for mature men, but this most conventional yet voguish sherwani kurta pajama or kameez shalwar trend is also mostly sought after by teenagers.
This article features the most sophisticated and elegant sherwani styles. All of these kids sherwani designs are mesmerizing and attractive enough to grab the attention of everyone around. Color contrast (or combinations) have been picked up in a way that truly sings.
I do not want to hold back from sharing where my heart is and where I have really learned the remarkable ideas of kids wedding wear trends. You will sense this, when you read and visualize the marvelous ideas in this post with images.
Quick Navigation
Latest kids sherwani designs
Have a look on the most conventional yet stylish little boy sherwani suit for weddings in 2024-2025.
Best kids Sherwani Designs For Wedding Events
Parents love to choose most trendy and stylish wedding wear for their kids. Why not opt for most traditional yet voguish dress style this time? There are multiple options available for baby boy sherwani suits and you may get overwhelmed choosing one of your favorites.
Do not fret at all!
Here we have cracked the tough nut for you and brought you a superb range of ideas about kids sherwani designs. Sherwani with patiala or dhoti shalwar for kids, will assuredly make your little boy look more adorable and cute enough to attract the attention of everyone around.
Beautifully done threadwork and ornamented short sherwanis comes in royal and fancy taste. All of this collection is tremendous enough that you might not be able to shake it off your mind. I hope these kids sherwani designs images will trigger new ideas that work in your situation!
Kids sherwani designs For Baby Boys
In the latest collection of kids sherwani designs, hues and styles are blended so well together that you would not be able to get your eyes off them!
Read More:
Are you wondering to know about simple yet elegant shalwar kameez for your baby boy? Why not try latest kameez shalwar designs for little boys.
FashionEven is rich with plenty of kids wedding wear ideas such as jeans shirt, shalwar kameez and so forth. Choose your most favorite kids sherwani design and make your baby boy king of wedding party event.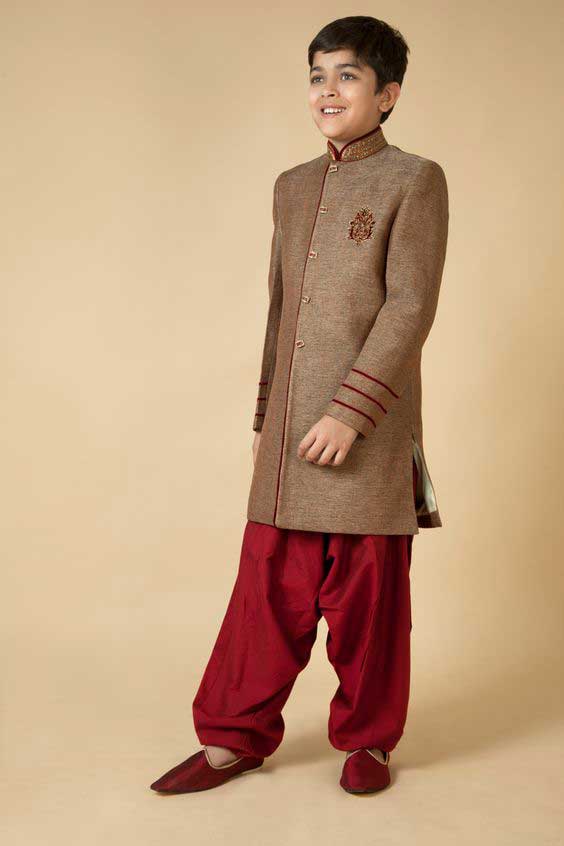 Kids sherwani fabric:
When it comes to the fabric used for kids sherwani designs for weddings, then most of the time, following fabric types are considered as traditional sherwani:
Jamawar
Silk
Cotton
Tissue
Sometimes fabric used for lowerings (such as shalwar, pajama, dhoti shalwar, patiala salwar, pants, and trousers) is the same as the kurta or kameez.
1. Kids sherwani color combinations:
When it comes to the color combinations for kids wedding sherwani, most fascinating shades of this collection are; red, blue, orange, brown, off white, maroon, white, and black sherwani color combinations are the main focus of fashion designers and parents as well.
2. Kids sherwani stitching styles:
Stitching style for kids sherwani designs is adorable and super classy. Some of these styles comes as plain kurta pajama while others are embellished with lots of adornments and sparkly designs of sherwani with dhoti salwar. From plain to intricately embroidered and simple trousers to dhoti or patiala shalwar, all are here to leave you awe inspiring and amazed.
This collection includes the following kids sherwani styles:
Kurta pajama
Kurta and dhoti salwar
Kameez shalwar
Front open shirt with buttons
Sherwani with pagri
Sherwani with patka or stole
Long sherwani styles
Kids sherwani designers
There are numerous wedding wear fashion designers in Pakistan and India, who are engaged in the production business of sherwani designs for kids. This collection is truly the synergistic product of a team of designers. Without their tireless, wholehearted, and unique contributions, it never would have come about.
I express my deep appreciation to all of the designers who have shown remarkable skills and devotion toward artistic designs of kids wedding outfits.
Important Tips
It is important to match the sherwani color with shoes. Or if your baby boy is going to carry a pagri or patka with him then make sure to match the color combinations of pagri and shoes. Kids sherwani designs looks perfect when nicely paired with khussa shoes, it is because the sherwani with khussa gives your kid a complete traditional look. So try to choose the baby boy khussa that is ornamented with beads, pearls, and tilla work.
Quote
Kids wedding wear fashion is as important as for the others. See how beautifully "Lake Bell" has to say about this in the following quotations:
[su_quote cite="Lake Bell"]"I love fashion. I always have. When I was a kid, I was in almost full-on costumes when I went to school, and I've retained a bit of that in my adulthood."[/su_quote]
Important note for child sherwani dress:
[su_note note_color="#e1f5f6″ text_color="#000000″]Do not forget to feel out the kids shoes and hairstyles with the respective sherwani design and color combinations. It will help you to match the perfect pair of shoes for your little prince.[/su_note]
Above you have seen the beautiful collection of traditional kids sherwani designs for weddings in 2024-2025. I firmly believe that all of these sherwani styles are quite adorable and leave everyone else awe inspiring. Wedding events are the most powerful way of expressing your love toward rising fashion trends and showing that you are open and welcoming to change!
Thus, allowing your kids to look more adorable and buying them traditional wedding sherwani is the most important investment you will ever make. If you are wondering to know about the price range of these sherwani designs, then feel free to contact or leave me a comment below.