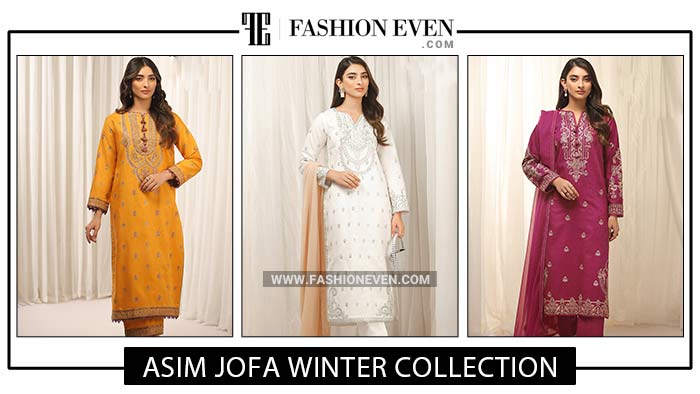 Winter has arrived and with it the thrill of shopping for Asim Jofa winter collection 2023. Every lady enjoys the excitement of new clothing with each season. Without further ado, let's get into the subject at hand: we've brought you the just-released fall/winter collection of none other than Asim Jofa, a truly exceptional brand.
Asim Jofa is renowned for its extravagant and exotic designs, which perfectly combine plains and prints with the best needlework and embellishments. Their distinctive style of design can be seen in the Royal sense of their attire.
Fresh Arrival of Asim Jofa "The Winter Edit" Collection With Price
Before diving in, let's know a bit about prices. The overall Asim Jofa dresses start from 4500 and escalate to 35 thousand. Which clearly shows the vast ground of variety available to choose from. But here, The Winter Edit range is Rs. 4650/- to 7450/- so choose your favorite one!
Scroll down to see what they have got in their most recent fall-winter collection 2023-24.
So Asim Jofa is here for us with another exotic range of attractive hues and compositions which are unique in their way. Some of Asim Jofa's unstitched winter collection designs are attached below. The beautiful hues of purple, black, red, and rust are surely going to steal everyone's heart at first sight.
See also winter dresses in Pakistan
So basically we have two categories here.
Asim Jofa ready to wear The Winter Edit.
Unstitched winter collection.
Check out the latest Qalamkar winter collection for women.
1. Ready to wear The Winter Edit:
Talking about the Winter Edit collection itself is more about solid shades, like copper, teal, purple, yellow, blue, and rust tinges. Many people believe that people are extremely creative and they design the best out of a dress piece.
But what Asim himself does, no one can do that. It's his design, and he has a certain image in his mind about a particular print and design. This is why they have a ready-to-wear range, which is designed and styled by the mastermind himself.
Must follow the latest winter fashion trends in Pakistan
2. Unstitched winter collection:
The specialty of Asim Jofa, is an unstitched winter collection for women. All the fashion chics have surely bought or seen the red and a green contrast dress with golden and black aplic work along with embroidery, which was a hit code, some might still have that in their wardrobes. That was the robe that gave Asim more motivation to make some of those semi-formal and casual dresses which look regal and women can feel extravagant in their daily life as well.
See below the eye-catching designs from Asim Jofa's Ready-to-wear and Unstitched winter collection 2023-24.
Do tell us if you need more information regarding "Asim Jofa winter collection with prices".
About Asim Jofa Pakistani Fashion Designer Brand:
Talking a bit about the Pakistani fashion designer – Asim Jofa, they initiated the venture with jewelry designing. But the maestro found himself drifting toward dress designing. For a while, he kept on continuing with the ornamental section, but soon he gave it up and devoted himself to one track only. Which we are completely glad about because he is one of a gem for fashionistas.
See more about ladies Pashmina shawls for winter
One thing we adore the most is, that Asim is one of the few designers who put their own hands in their work. And whoever the designer does this, their collections always have some extraordinary spark. Because the magic of the designer itself is something else for sure, and that is a remarkable pleasure. There are several Asim Jofa outlets are running successfully in UAE, the US, Canada, and other European countries.
Stay updated to know about the Asim Jofa winter collection sale 2023. Also, do not forget to check out our website for more winter collections and fashion tips.