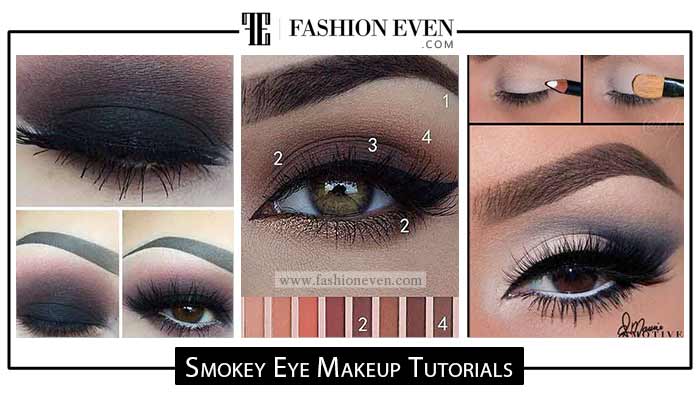 Smokey eyes are one of the most trendy makeup look for the year 2023-24. The interesting and easiest part of smokey eye makeup tutorials is that it particularly includes three different tones of eyeshadows: dark, medium and light one. All of these three shades blend so well together to create a super dramatic look that you can carry it for parties or dinners.
Are you wondering how to achieve smokey makeup look? Here I have come up with the best smokey eye makeup for blue, black, green and brown eyes.
There are so many different variations of smokey eyes, but today I am going to elaborate the 15 best smokey eye tutorials that are perfect for every skin tone including fair, dark or normal complexions.
BLACK SMOKEY EYE TUTORIAL
The gorgeous of all! Here comes the most trendy and absolutely stunning black smokey eye tutorial. To achieve the look, apply darker shade on all over your eyelid. Blend it so well so it perfectly immingle the maroon shade together. Apply some mascara and spark the inner corner of your eye using a highlighter.
TIP: You may achieve smokey eyes with colossal kajal.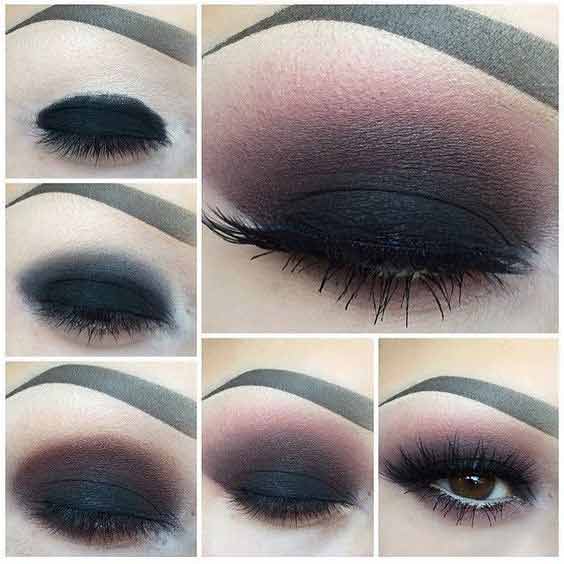 DARK SMOKEY EYE MAKEUP STEP BY STEP
If you are about to go for the party-night, this look is so perfect for you. Follow the steps as shown below and finish the look with false eyelashes if you want to stand out from the crowd.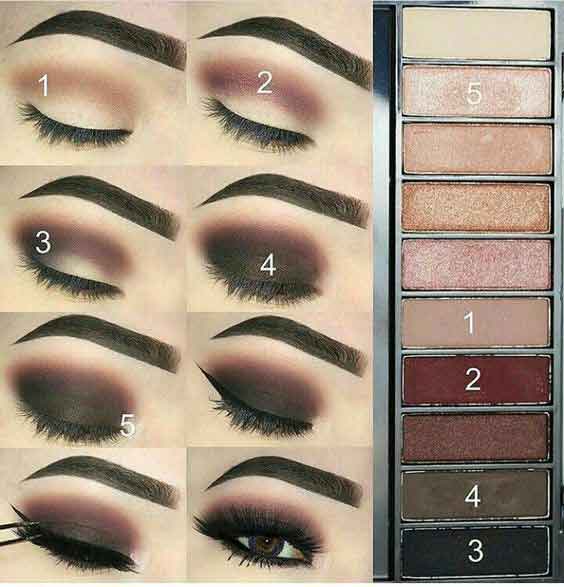 BLACK SMOKEY EYE FOR BROWN EYES
Here is the hottest black smokey eye tutorial for brown eyes. Grab your palette and start with the lighter shade of brown. Add a bit of black and spread it all over the lid evenly. Finish the look by adding black pencil or kajal pencil along the lower lash line.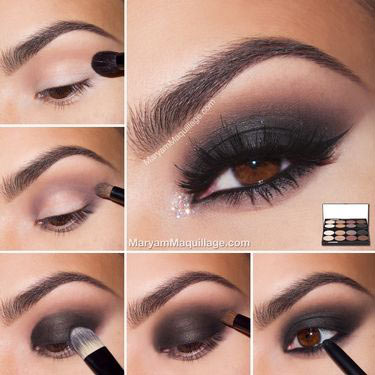 BLACK SMOKEY EYE FOR BLUE EYES
Do you wonder how to do a smokey eye for blue eyes step by step with pictures? Check out the tutorial below. You can have this smokey eye makeup with kajal and eyeliner only. But of course adding some brown shades will make this look even more attractive.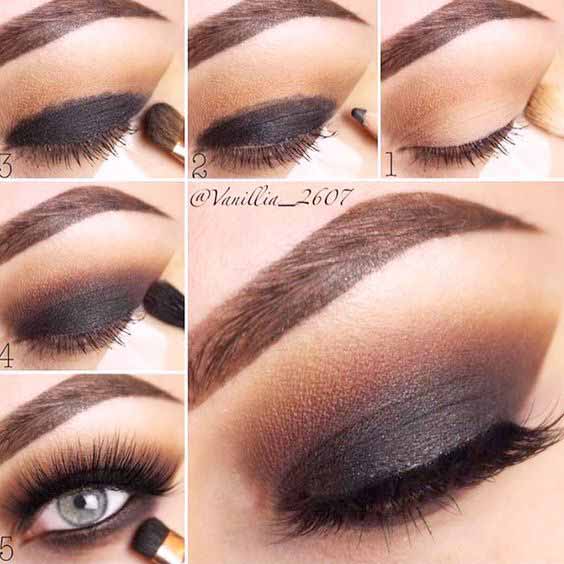 GREY SMOKEY EYE TUTORIAL
Follow the following steps for grey smokey eyes. Point is here to "blend well". Blending will enhance the beauty of smokey eyes.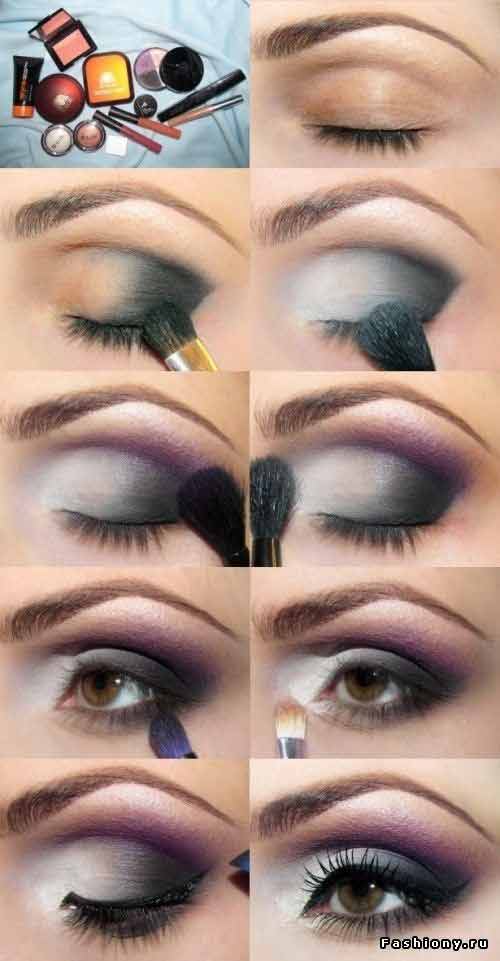 NATURAL SMOKEY EYE FOR GREEN EYES
Before you apply makeup, you must know how to properly use makeup brushes. Here is a complete guide on top makeup brushes in Pakistan.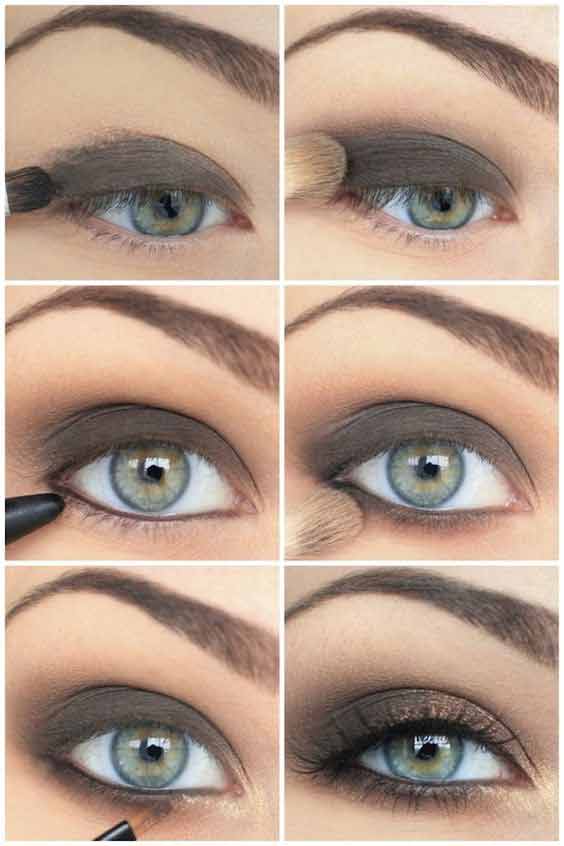 BROWN SMOKEY EYE MAKEUP TUTORIAL
The only trick you need to know is just to blend well either it's eyeshadow or kajal. Check out makeup tips and tricks.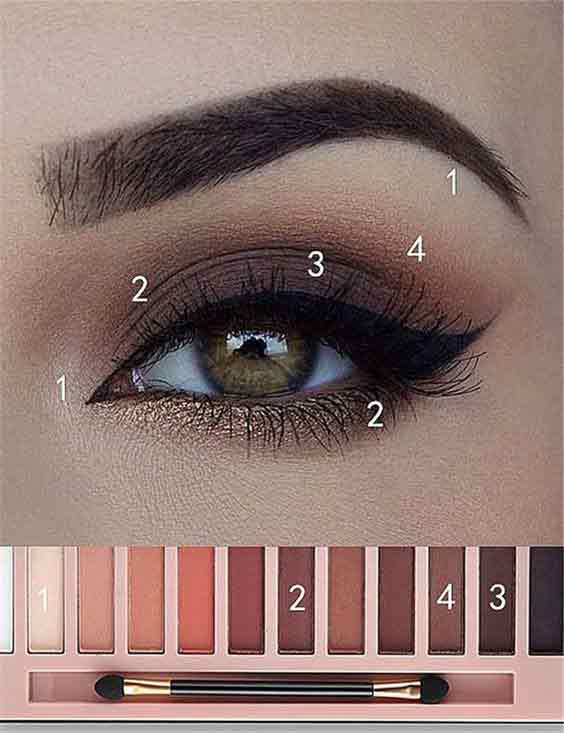 SMOKEY EYE TUTORIAL FOR BROWN EYES
This style is so adorable when you have a perfect blend of brown and black. Don't have a super black eyeshadow and want to use a kajal instead? Alright! You just need to apply the thin line of a kajal along your upper lash line and start blending it nicely from the outer corner of your eyes. And boom, you're done!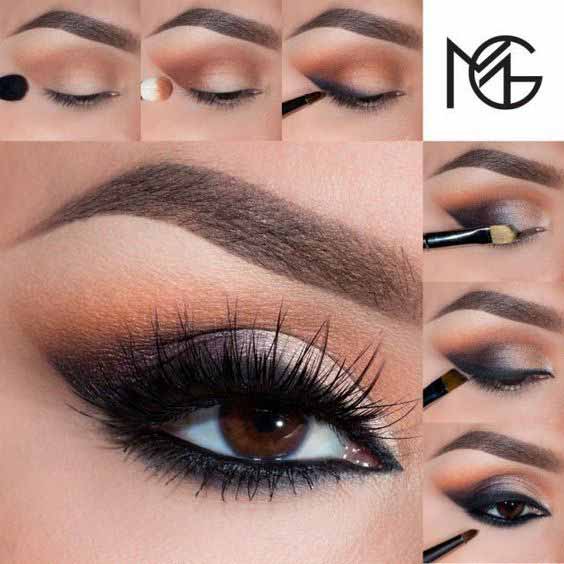 BLUE SMOKEY EYE MAKEUP TUTORIAL FOR BROWN EYES
Is it three in the afternoon and you are thinking that you can't rock the smokey eyes? You shouldn't be afraid! All you need to do is add a bit of creativity to make it fit for anytime. Blue smokey eyes are the best choice for brown eyes. As you can see how glamorous it looks when it's combined with a perfect eyeliner and a touch of white pencil along the lower lash line.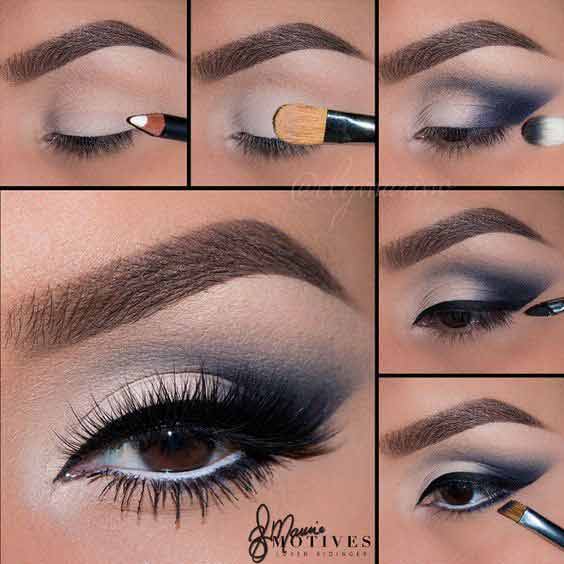 SMOKEY EYE MAKEUP USING BROWN AND BLACK SHADES
Are you are thinking about how to make smokey eyes at home? Here is how!
There you go with the sexiest smokey eyes using only brown and black hues from the color palette. You just need to apply brown shade on the crease of your eyelid and blend smoothly. Then apply second color of black all over the lid, blend evenly and BOOM! You are done with the easiest eye makeup.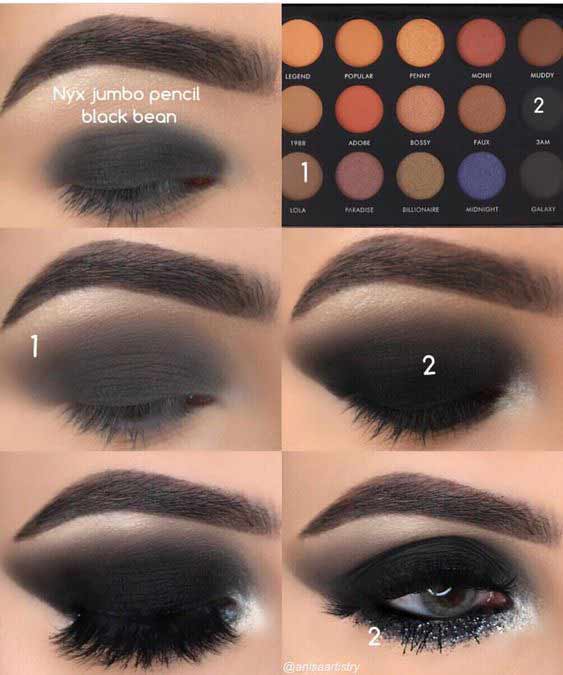 CLASSIC SMOKEY EYE TUTORIAL
Classic smokey eyes are enormously dark which include attractive hues like gray, black, and dark brown from the eyeshadow palette. Creativity and remarkable skills of the professional makeup artist can be seen when it comes to classic smokey eyes.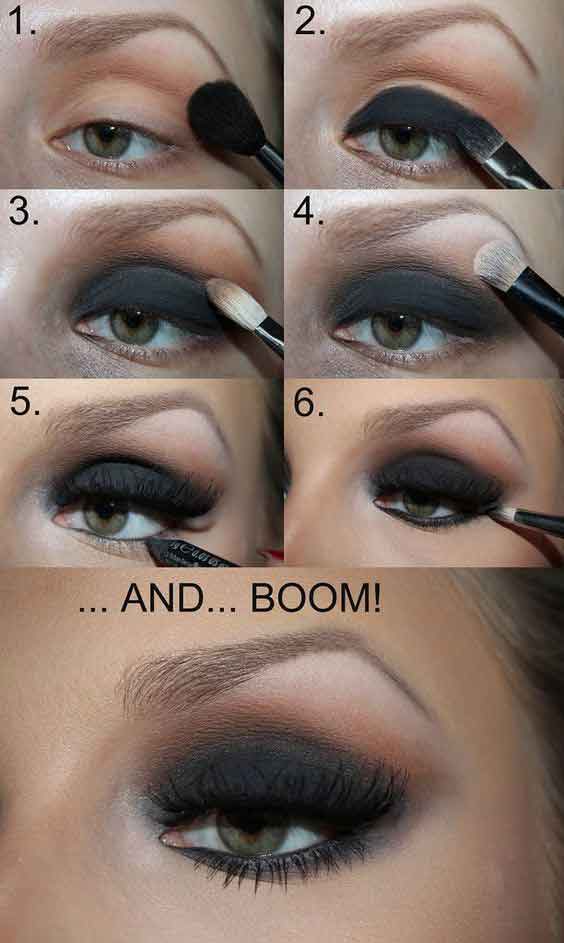 LIGHT SMOKEY EYE MAKEUP TUTORIAL
If you are wondering to wear not too-heavy or bold smokey eyes, go for this fresh light makeup. Little bit touch of grey hues make this style perfect for a wide variety of events beyond the classic fancy night out.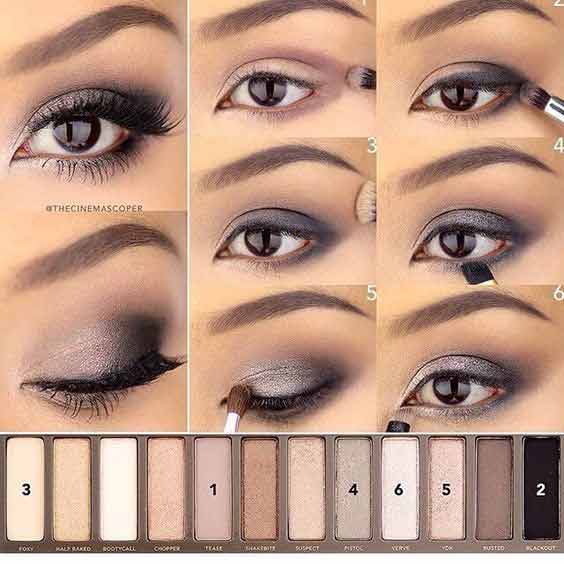 DARK GREY SMOKEY EYES
If you have decides to wear this gorgeous night time makeup look, it will certainly grab the attention of everyone around you. Give a try to this smokey eye style that is not only dazzlingly beautiful and hot but also very easy to do.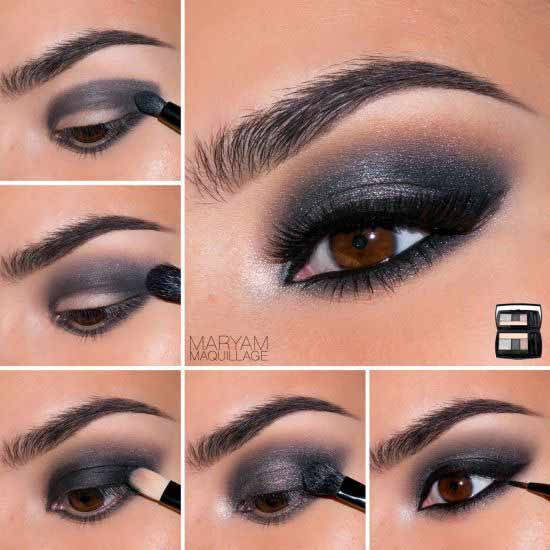 I hope you enjoyed all of these best smokey eye makeup tutorials for the year 2023-24. Get your hands on your favorite smokey eye tutorial step by step and remember, blending is the key to achieve the look as though a professional artist.