Are you looking for the latest styles of 14th August dress designs for girls in Pakistan? Here you go! The graceful combination of green and white shalwar kameez, kurta pajama, short or long shirt designs for girls are available online and in stores now. Here we have shown the stylish dress stitching styles with images.
You can visit several Pakistani brand outlets which are in the production of Pakistan independence day clothing for girls and choose your favorite one for the upcoming special day and enhance your green and white wardrobe this year at Jashn-e-azadi.

Pakistan Independence day dresses always comes with the combination of green and white hues in order to represent the Pakistan flag. As both of these colors are the signs of happiness and prosperity, this collection is rich with chromatic designs and use of quality fabric that will certainly make you buy your favorite ones.
Jashn-e-azadi dresses either for girls or young women, represents the festivity which is meant to be celebrated on 14th August every year. FashionEven keeps you updated about the latest 14 August dresses for girls and young women not only in Pakistan in fact all around the fashion world.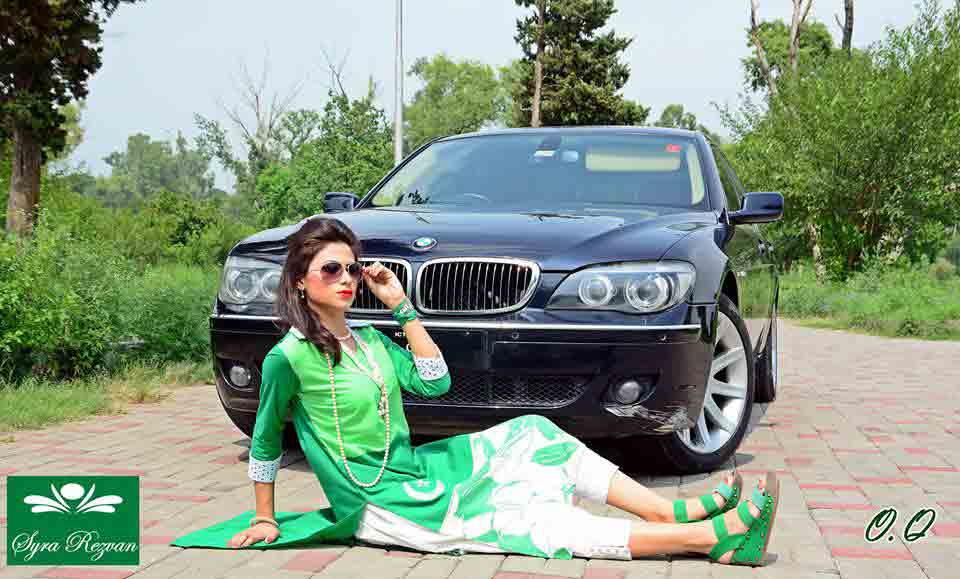 New dress designs has been revealed by the top Pakistani fashion clothing brands such as Ideas by Gul Ahmed, Zainab Chottani, Sana Safinaz, Nishat Linen and others. This collection includes mostly green and white color palette. The have worked day and night to reveal the latest Jashn-e-azadi dresses for girls in Pakistan. All of these independence day dresses are full of elegant styles yet modern enough to attract people.
Check out what is trendy for 14th August dresses for baby girls.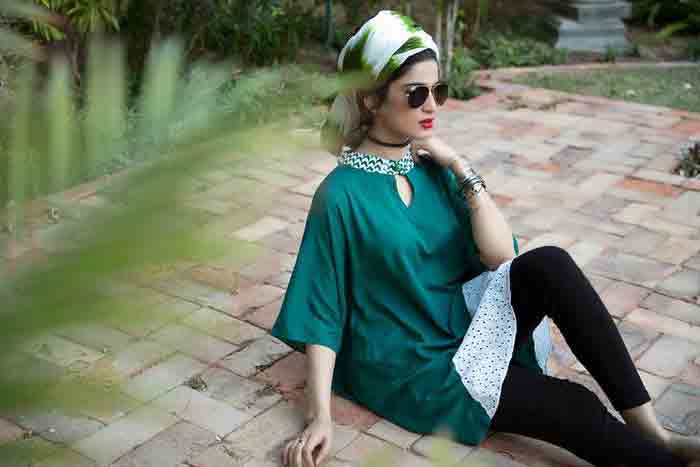 The collection title suggested by the fashion designers are mostly named as "Azaadi Collection", "Jashn-e-azadi" or "Mera Pakistan Collection".
Usually these dresses comes under a ready-to-wear shirts collection in order to save your time and extra tailoring budget. Plus of course you won't need to be worry about "how it will look like after stitching" and all that stuff.
You can either copy the exact dress style or get anyone of them that will surely make you look dapper and patriotic on Pakistan Independence day. You may pair up your green shirt with plain white trousers or cigarette pants to attract everyone around you.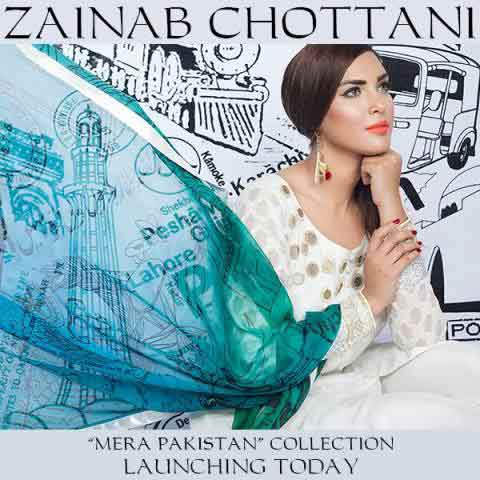 Beautiful Girls Dresses For 14th August In Pakistan
All of these Jashn-e-azadi dresses for girls are full of new dress designs such as short shirts with capri pants, knee-length shirt with plain shalwar or long shirt with pajama. Some of these dresses are enriched with intricate embroidery while others comes in beautiful shirt prints such as digital print, block print, polka dot styles or national flag print including moon and star dress designs for girls.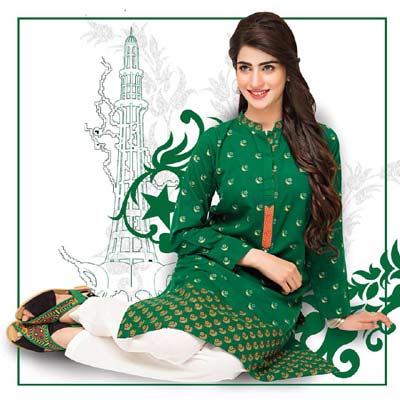 Must check 14 August Dresses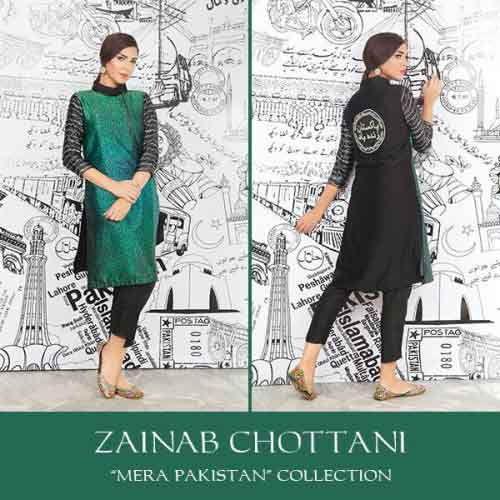 Must check out:
Pakistan Independence Day Dresses For Girls
Choose your favorite dress from the collection of Pakistani independence day dresses shown below with images and be the patriotic queen of Jashn-e-azadi this year. Latest fashion trends demands something unique yet modern, so give a try to the following dress styles and stand out from the crowd.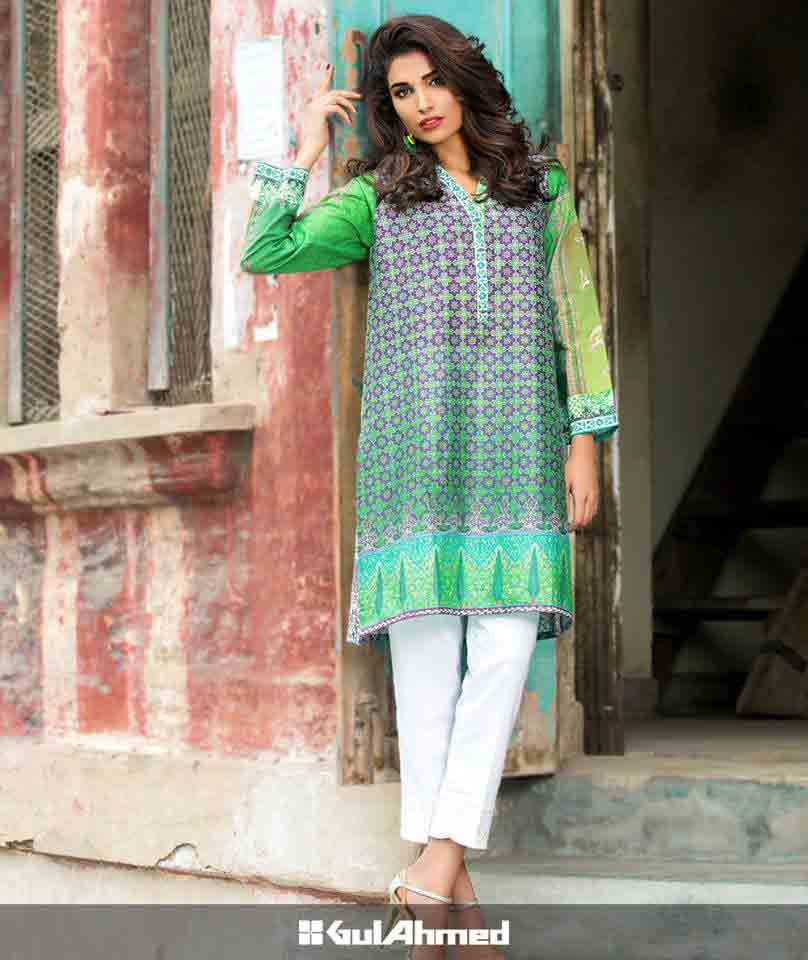 Pakistan Independence day is being celebrated since 1947 and the people in Pakistan show their love and affection by wearing green and white independence day dresses for 2023-2024. Pakistani young girls love to have Pakistan flag badge on their clothes and green and white paint on their faces because the fashion of painting their cheeks look cute and adorable.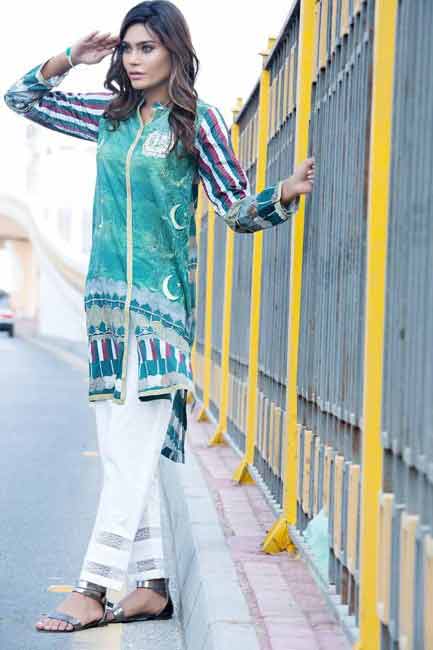 This latest collection includes the following top Pakistani designers:
Zainab Chottani "Mera Pakistan Collection"
Ideas By Gul Ahmed Ready to wear
Nishat Linen Jashn-e-azaadi collection
Sana Safinaz independence day dresses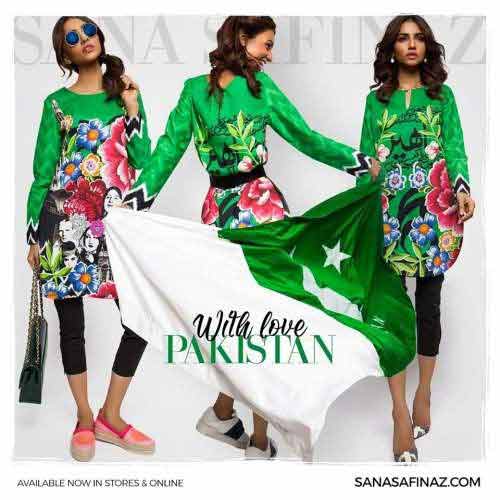 Jashn-e-Azadi Dresses For Girls 2023-2024
Pakistan Independence day dresses are now in stores and available online. Place order to get your beautiful green and white dress. Green long shirts with dupatta and short shirts paired with white capri pants, trousers or shalwar will assuredly make your look more classic for this national event countrywide. Have a look at these splendid 14th August dresses for girls in Pakistan.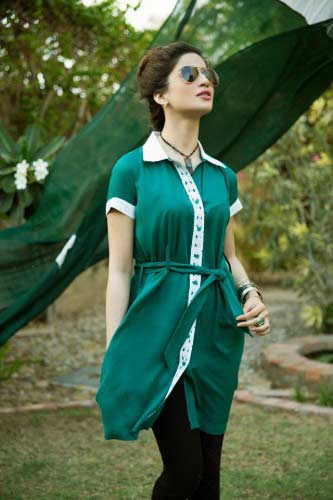 Fabric prints of 14th August dresses for girls
Here are the several types of fabric prints which are mostly sought after by almost every Pakistani girl. Mostly the fabric prints includes the following:
Pakistan flag on front or back of the shirt
Moon and stars as a front of back motif
Minar-e-Pakistan pictures on girls dresses
Quaid-e-Azam pictures on dresses
Pakistan Map to represent Pakistan jashn-e-azaadi day
"Go Green And White" with the following new dress designs for independence day in Pakistan.
Not only the young Pakistani girls, in fact everyone fully celebrates the independence day by wearing new dresses, shoes, green and white face painting, bangles or wearing small Pakistan flag badges. In Short, every fashion accessory on Pakistan Independence day is the combination of only two colors, that are green and white. Thus, we all love to wear special 14 August dresses to enjoy the day of freedom.
Grab your favorite dresses from the collection of 14th August dress designs for girls and be a sunshine for the day. You may grab it from your nearest outlet and celebrate Pakistan independence day with great charm and happiness. If you want to purchase any of these dresses, then let us know via Contact form or comment below.
Enjoy the freedom with our latest collection with new styles and attractive color scheme.