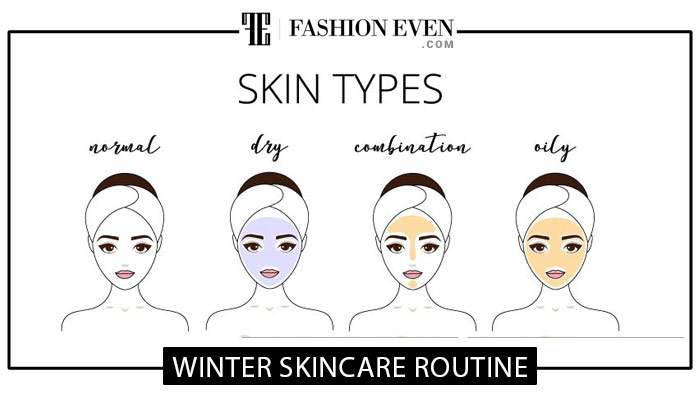 Now that winter 2023 is ahead, the idea of dry skin is kind of scary, so we have got to use some of the best winter skincare essentials. Thus, we all need to think about our regular skincare routines (morning and evening) if we want to have moisturized, healthy and glowing skin throughout the cold season. No matter what complexion or skin type you have, the only thing you need to focus on is whether you have clean healthy skin or not.
First of all, figure out which skin type you have (normal, oily, dry, or combination skin), and then follow a proper winter skincare routine to avoid damaged, dry, and rough skin. Search for the best winter skin care products and work on fighting skin issues like acne, pimples, discoloration, spots, scars and dark circles, etc.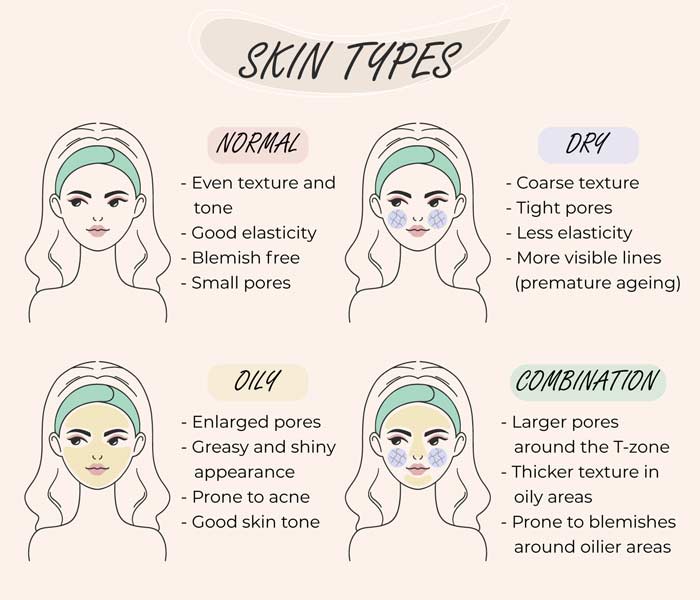 Winter Skin Care Routine For Every Skin Type
The main causes of dry skin can be moisture-sucking heaters, low-humidity climates, too much bathing or scrubbing and harsh soaps or detergents may lead to rough skin during the cold winter season. If you don't know where to start, below we are going to share some basic skin types and winter skincare routines to follow.
Let's dig into the basic skin types and the winter skincare routine to follow this season. There are four types of skins:
 Normal skin
Dry skin
Oily skin
Combination skin
THE ULTIMATE WINTER SKIN CARE ROUTINE STEP-BY-STEP
We all have different skin types, some of us have dry skin, some might have oily, some of us own a combination skin and some just get lucky enough to have normal skin.
Don't bother the complexion, whether you are fair, or dark, dusky or wheatish complexion. This is what suits you the best. The Almighty has created you with the best of shape and qualities. You are just beautiful, the way you are!
How to take care of your skin in winter, naturally?
For your winter body skin care routine, never forget to apply hydrating moisturizer right after the shower while your skin is damp. Make sure you use enough to leave your skin feeling hydrated.
Go for the best hair care tips for smooth and healthy hair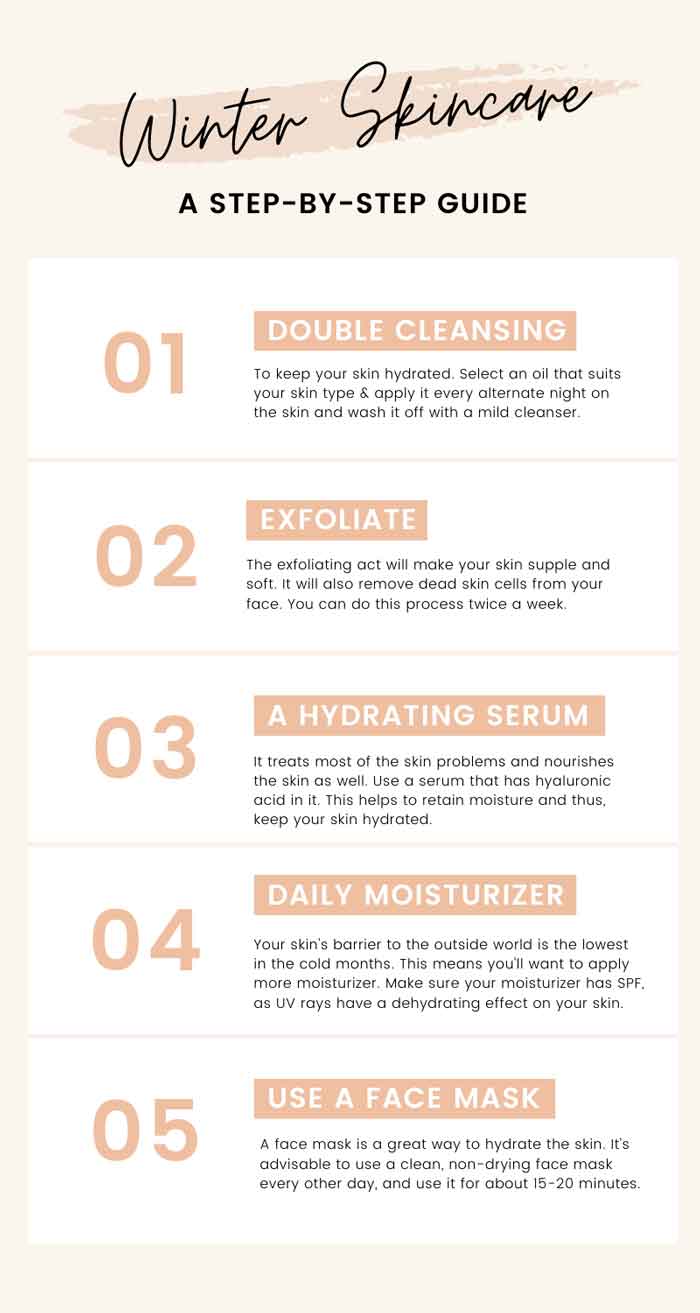 Winter Skin Care Routine For Normal Skin
This type of skin is such a blessing for people who own it.
It never ever causes any pimples, acne, or any kind of black or whiteheads. So it doesn't cause any skin-related issues. But sometimes, there are some exceptional conditions, like Periods, stomach irregularities, pollution, or carelessness. The only issues people normally face are discoloration or maybe dark circles, otherwise, they are the luckiest people on the planet.
Follow the skincare routine during winter and stay happy and comfortable in your skin.
Step 1: Look for a cleanser designed for all skin types and gently clean your face.
Step 2: After you are done with your cleansing step, now you can apply a nice amount of moisturizer that is specifically designed for normal skin.
Winter Skin Care Routine For Dry Skin
The hardest of all types!
People with dry skin are troubled the most, because they have issues finding their makeup, and cosmetics. Dry skin is very sensitive and breaks out the most as dry patches (which may cause severe discoloration), pigmentation, and irritating skin.
However, they are lucky to not have pimples, but, pollution or internal irregularities may tend to give them some. Winter months are so far not a piece of good news for them. But moisturizing daily can make things work out.
Step 1: Grab a nourishing cream cleanser or milk cleanser instead of a foam cleanser. A cream cleanser is one that hydrates and soothes your dry skin type.
Step 2: To clean your dead skin cells, exfoliate well. Use wet fingers to scrub a little, rinse with lukewarm water, and pat dry.
Step 3: Use the moisturizer designed for dry skin and you will be good to go.
Step 4: Apply a hydrating face mask weekly
Winter Skin Care Routine For Oily Skin
A skin that is the best type to have in winter, and a nightmare in summer especially during monsoon. It gets so sticky and breaks out the worst acne and pimples, sweating and all put the person in trouble. But still, everything has a solution, people with this type should cleanse daily, wash their face abundantly, and use aloe vera gel as a life savor of skin.
Step 1: Use the best cleanser specially made for oily skin types because you will need to stay away from all kinds of dirt, oil, and pollution.
Step 2: Exfoliation is an essential step to bring it on when you have an oily skin type. Take a generous amount of the best face scrub and gently massage the product using circular motions.
Step 3: Choose a deep conditioning cream, gel, or moisturizer every time you wash your face. And make sure your skin is well hydrated.
Check out the home remedies to remove suntan
Winter Skincare Routine For Combination Skin
This one isn't that hard to deal with, people with this kind of skin have the rest of their skin normal but T-zone is observed oily. T-zone means, forehead, nose, and chin area. They might get breakouts in these areas.
Step 1: Use cleanser for all skin types.
Step 2 (optional): Exfoliation is an optional step for combination skin types. You may go for it when you feel your skin is dull and dry due to the cold season and if you desire to get a soft and healthy glow.
Step 3: To keep your skin hydrated, use a moisturizer designed for normal-oily/dry skin types.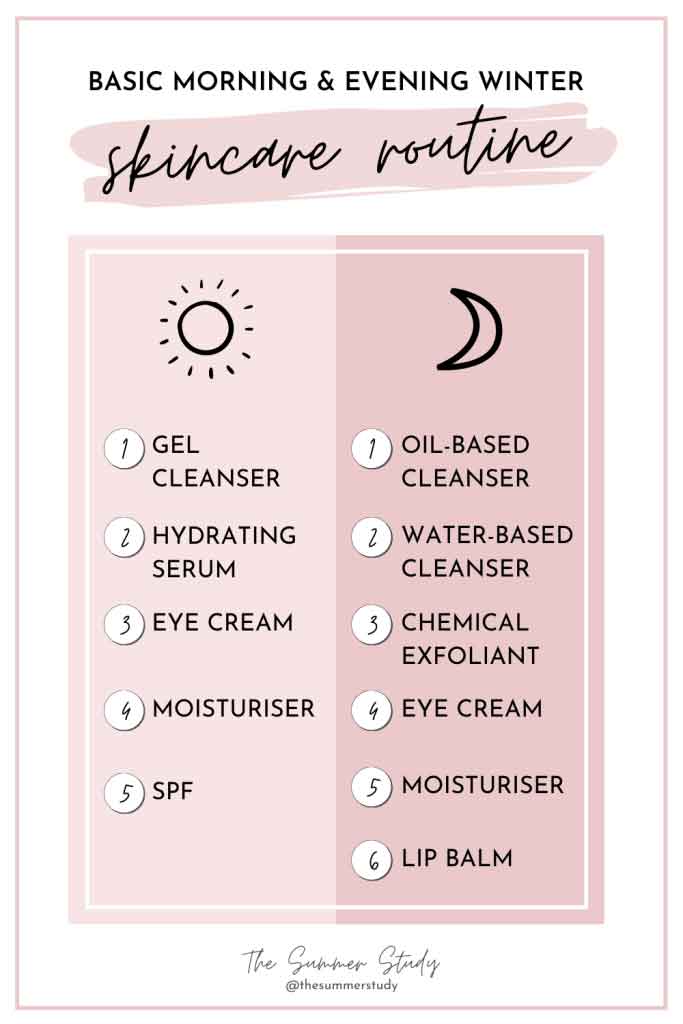 In a nutshell, the above-mentioned steps are best suitable for either morning or night skin care routines in winter. Incorporate the moisturizer after most of the time you wash your hands or face and right after taking bath.