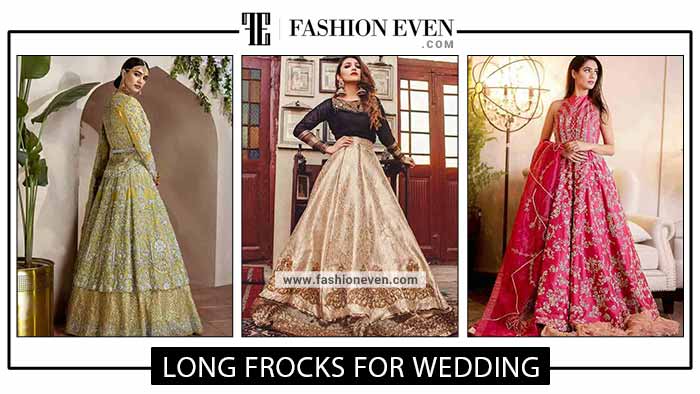 Imagine yourself wearing a beautiful long frock with high heels and matching jewelry! Tempting to try in 2024-2025, isn't it?
If you are a bride, or a bridesmaid, sister of the bride or just going to attend a wedding event, a heavily embellished floor length long frock will grab the attention of everyone around you.
Below are the Pakistani fashion celebrities and models displaying the wedding long frock designs. These fashionistas include Maya Ali, Hira Mani, Hania Malik, Ayza Khan and others.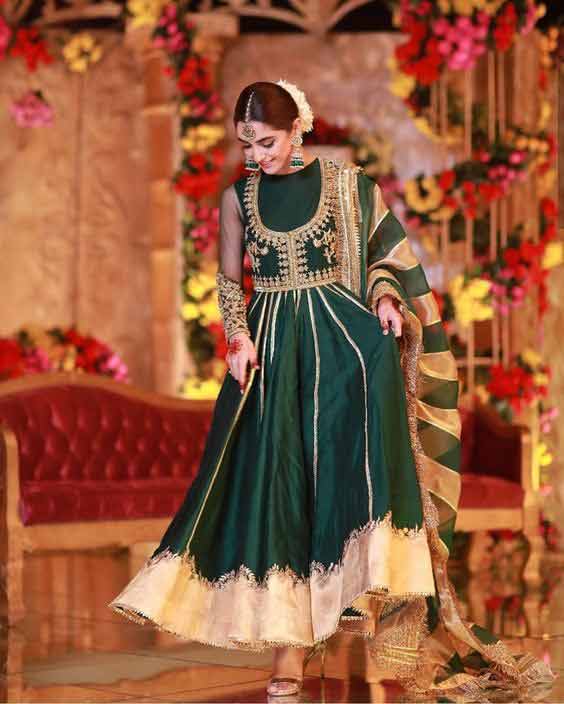 Pakistani Fancy Long Frock Designs For Wedding 2024-2025
"Clothes make a man", well this is an old saying, which means you are what you wear. Because dressing sense says so much about a person's personality. Right now, we are breathing in the eternity of the most arduous voguish style, that is none other than the wedding long frock designs. Let's say we have become much open-minded about the fact that one thing is not for all.
Fancy long frock dresses always enhances the beauty of a wedding ceremony. This is one of those dynamic trends that in anyways suits almost everyone. No matter what size or shape. These frocks have different names and people call them pishwas, or maxi, some might call them net frocks and gowns.
The most interesting thing is they have a considerable experimenting grounds some of them we are listing down:
Pishwas style
Anarkali frocks
Flared frocks
Front open style
Floral prints are holding up the whole market literally, you can see women of all ages going crazy about these. And they use them in salwar kameez or kurta also.
On the other hand, pastels can never go wrong,  pick a color, and there you go.
Some people like it simple, but one thing that is going pretty trendy is that mirrors work on the neck, sleeves, and borders. The round Anarkali-inspired embroidery, prints, and mirror work. Is appealing to everyone.
1. Pishwas frock style for wedding parties:
This one is the most popular of all time. That round neck design we have just discussed above, is mostly made on a pishwas. Another reason for the popularity is that this makes you look slimmer and taller. Also, this is the simplest cut, which is equally comfortable as well.
Just look how glorious these designs are!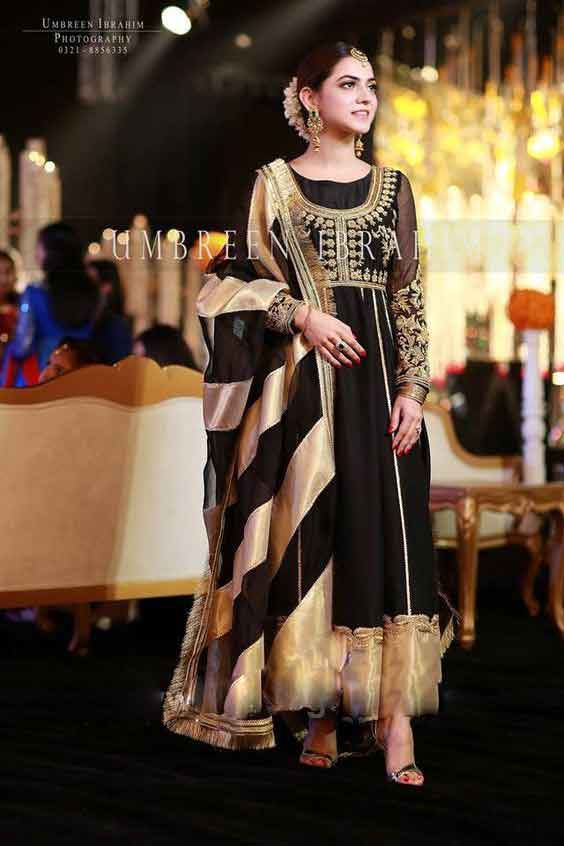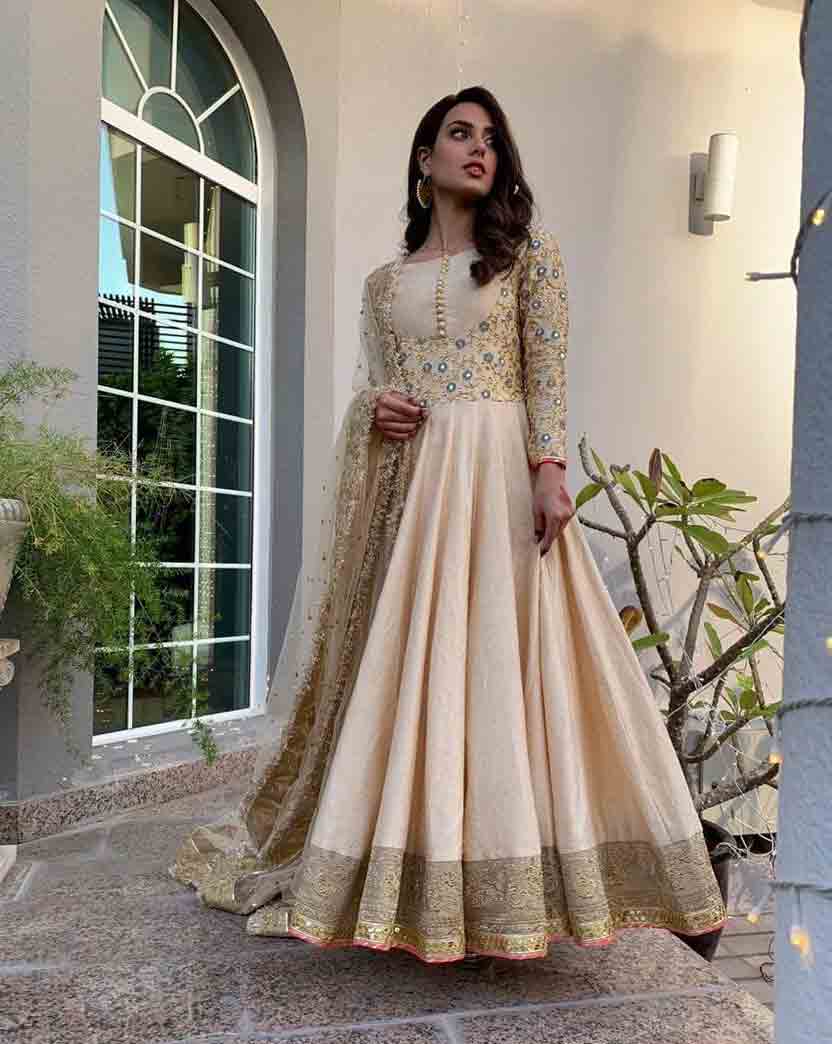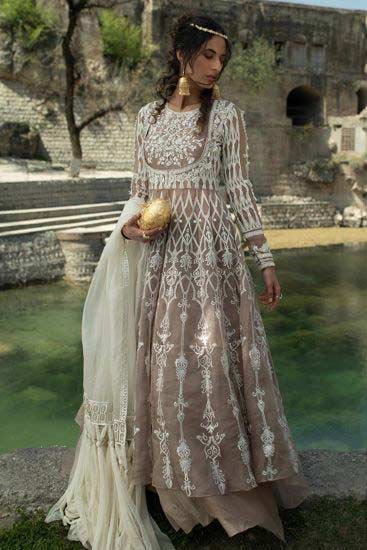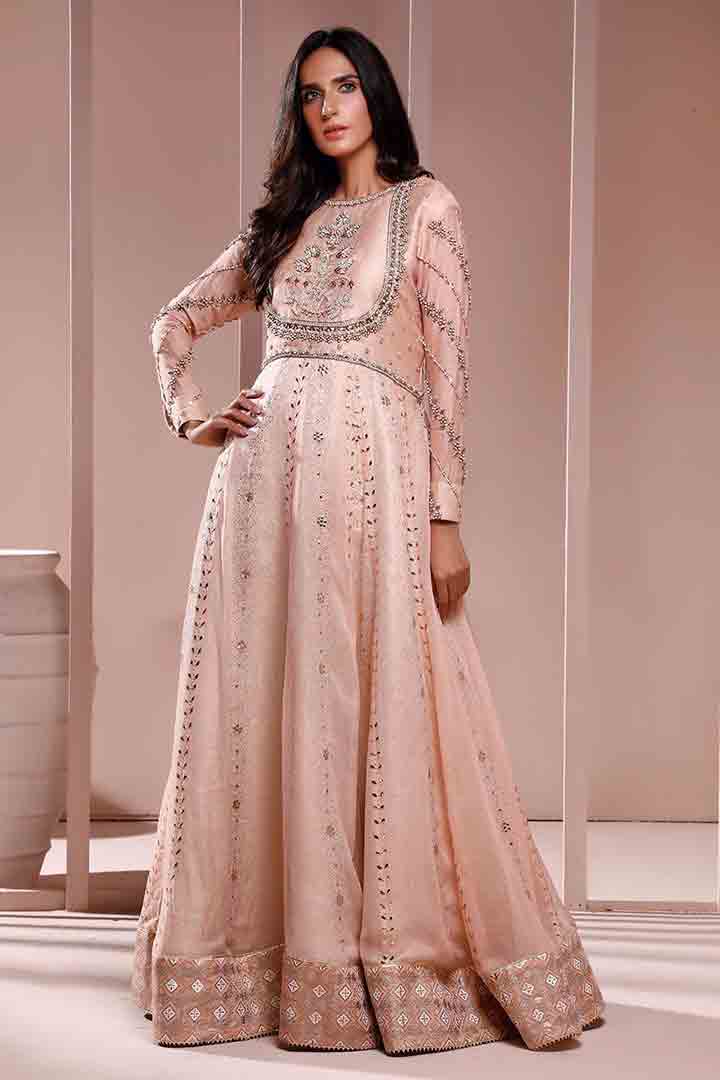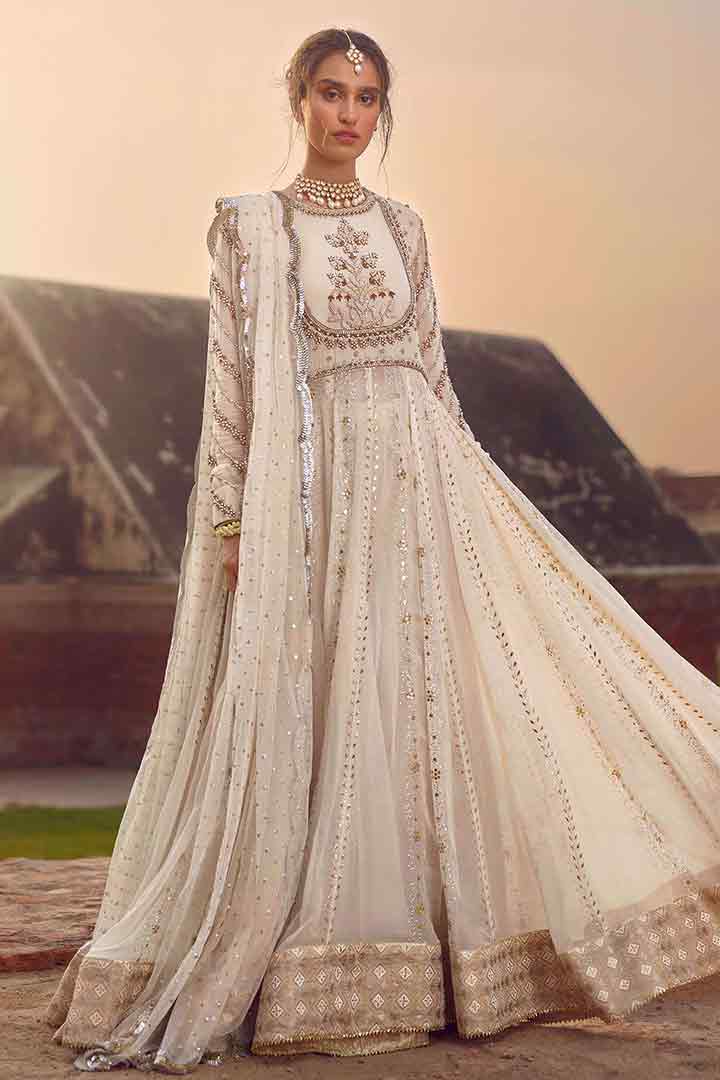 2.Fancy Anarkali frocks with heavy embroidery:
Remember those gorgeous heroines performing in Anarkali frocks, all twirling and dancing around? How fascinating is it! That Dori or slit on a side is so glamorous of all. The fit it gives, and the vibe, doesn't this sound so dramatic?
Women of almost every age, love to wear trendy long anarkali suits either fancy or casual. And Anarkali style is something, most of the beauties out there are comfortable with. We have sought a few images for you if you are looking forward to get one.
Check out these beautiful wedding anarkali frocks designs shown here: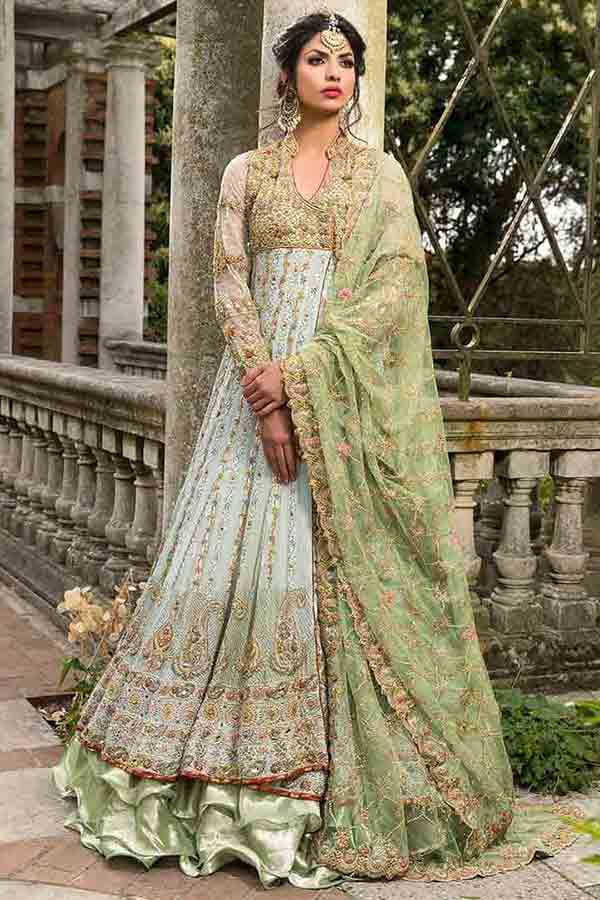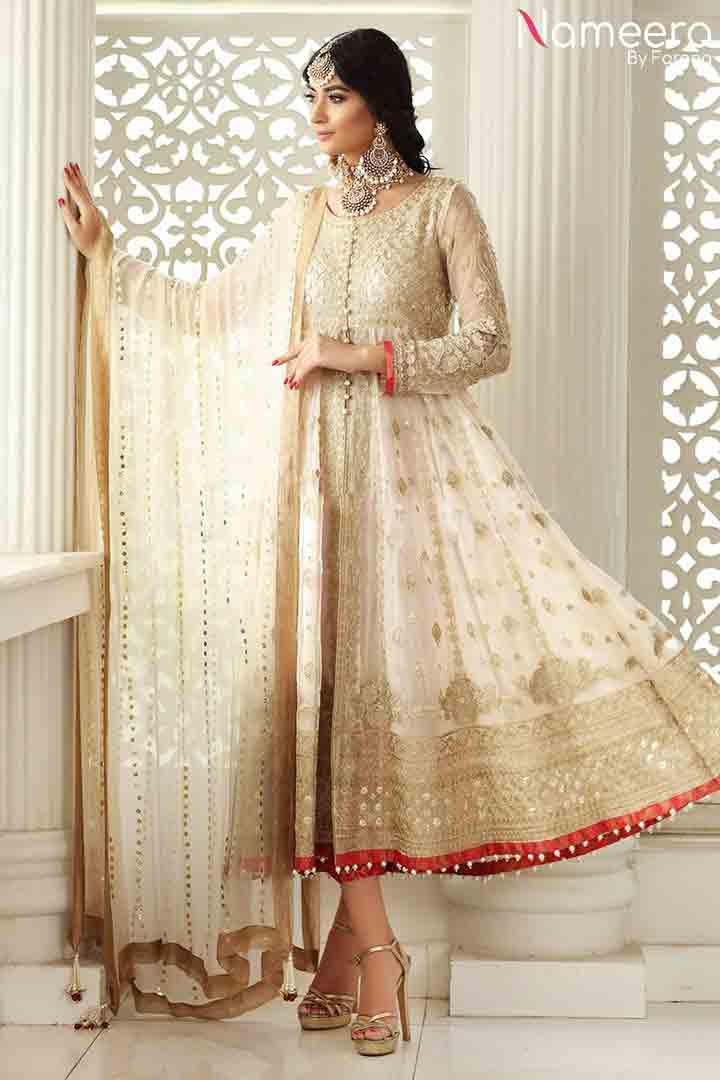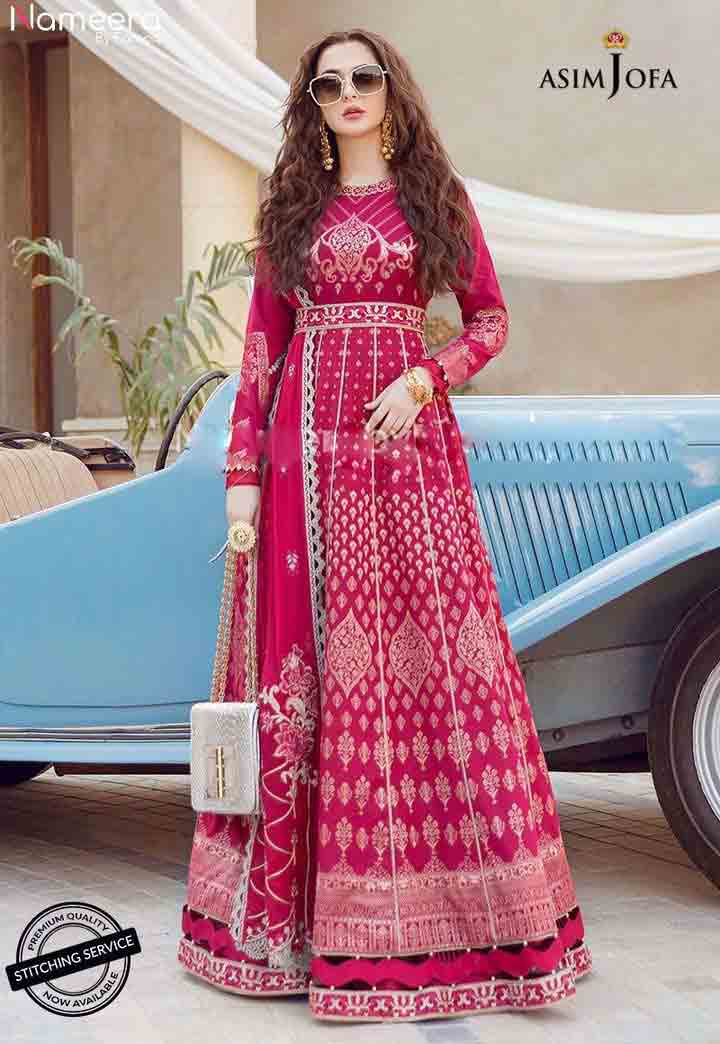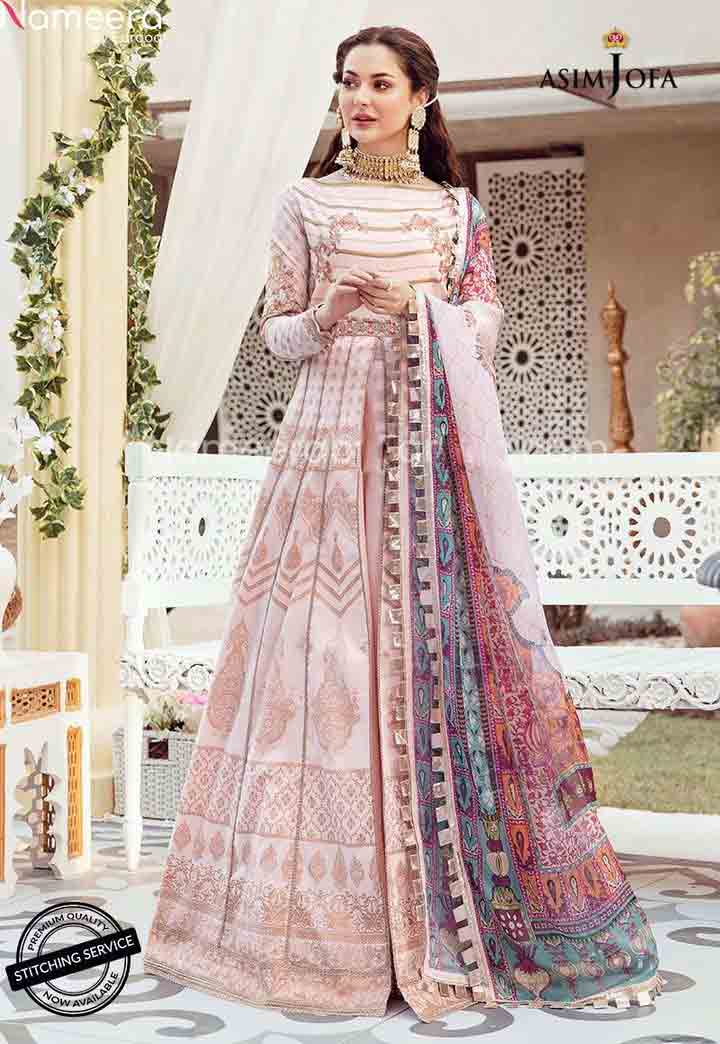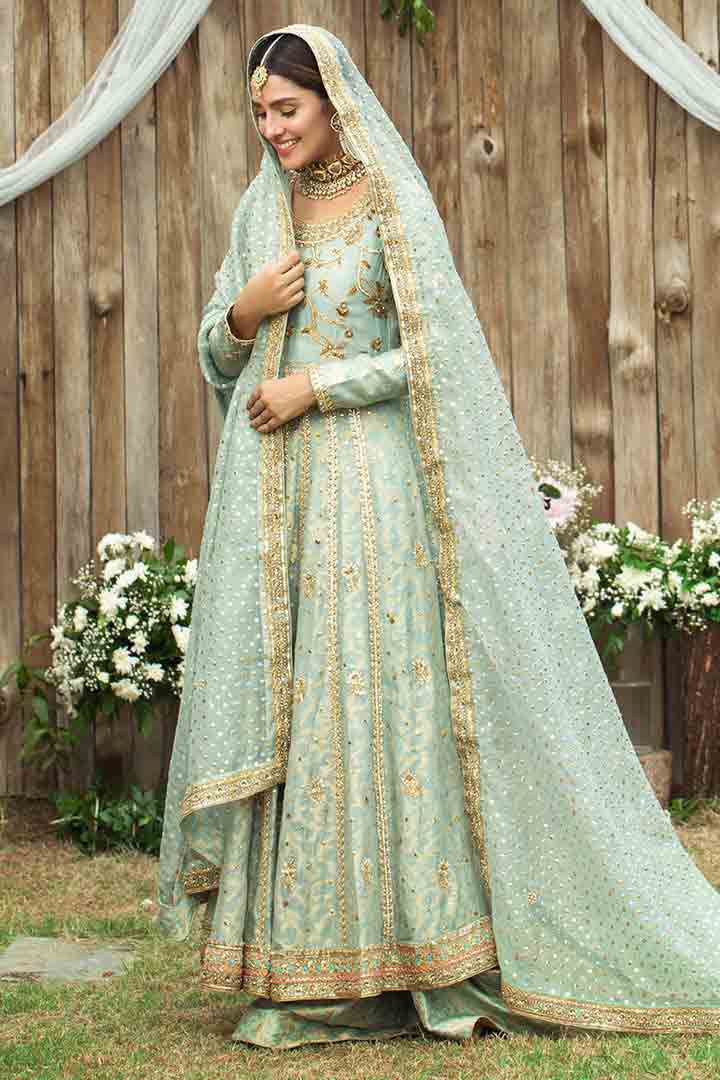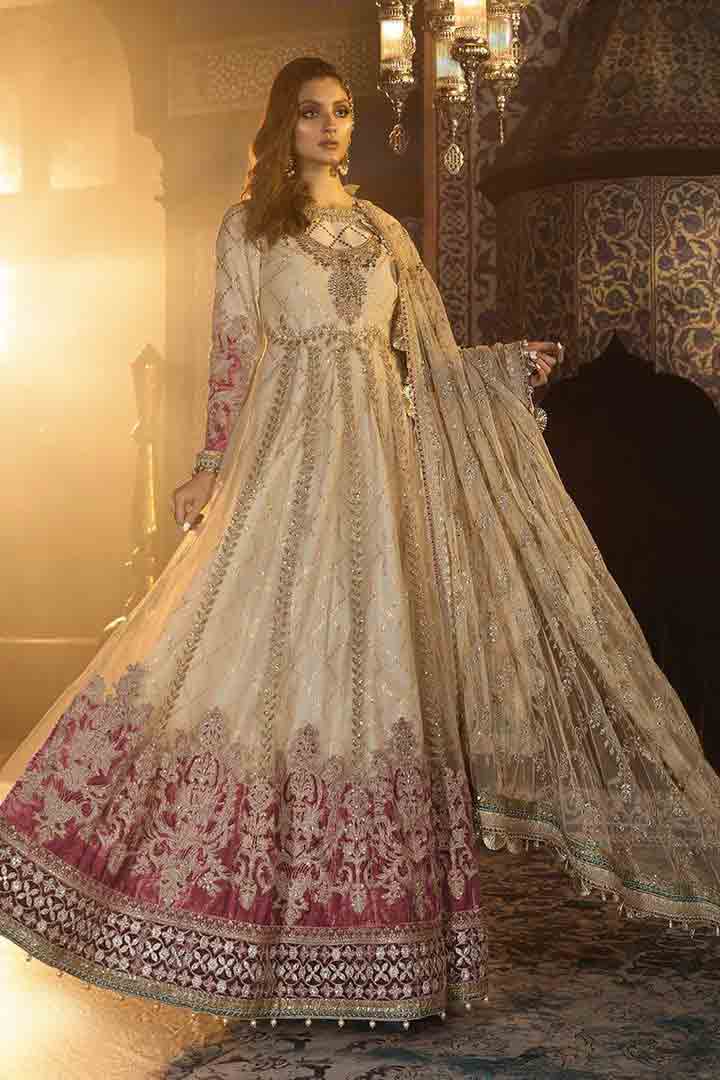 3. Flared frocks for wedding ceremonies:
When you hear the word flares, it already gives you all princess vibes. This is something women of all sizes are comfortable with. The skinny ones just feel themselves fuller with all that flared outfit. And the plus-size ones just find it a good thing that complements their curves faultlessly. No saggy looks at all!
These are the kind of fashion, we want during the whole wedding season! Which just leaps in easily everywhere and keeps our lovelies out of the complex of " I can not pull it off with this size body".
You can get an idea about the wedding frock designs from the sights below, that how you can play the design with.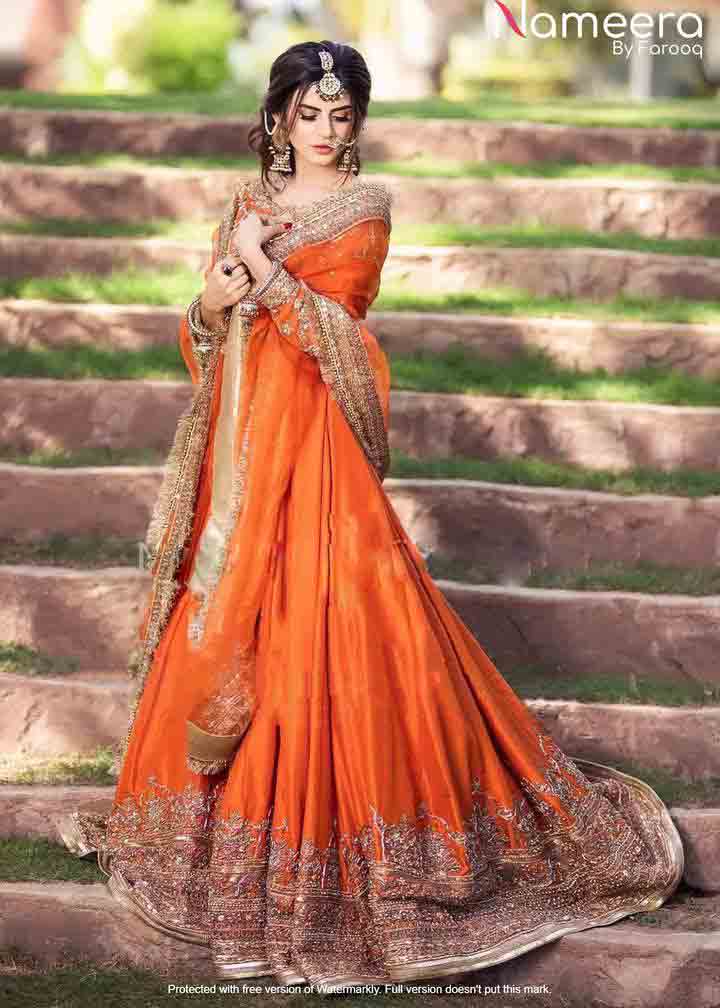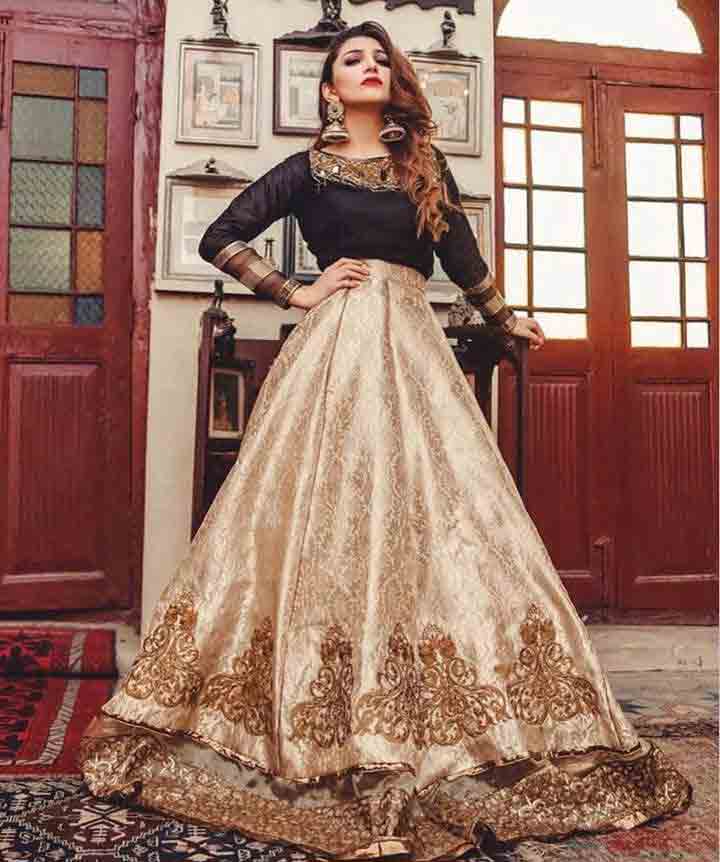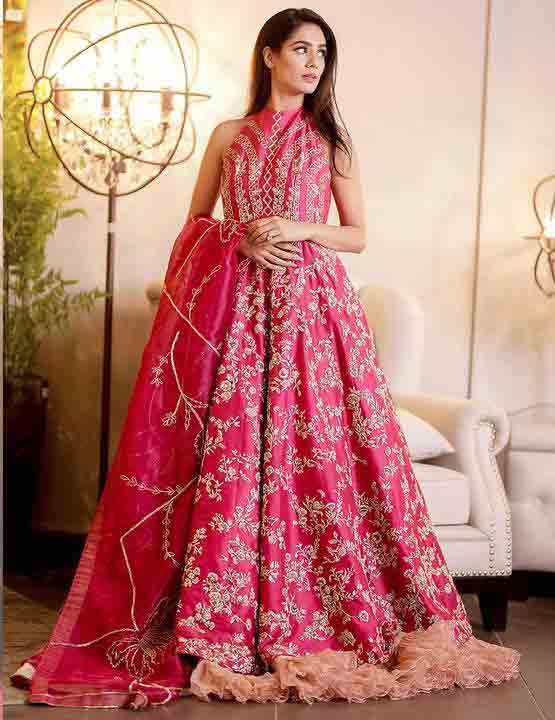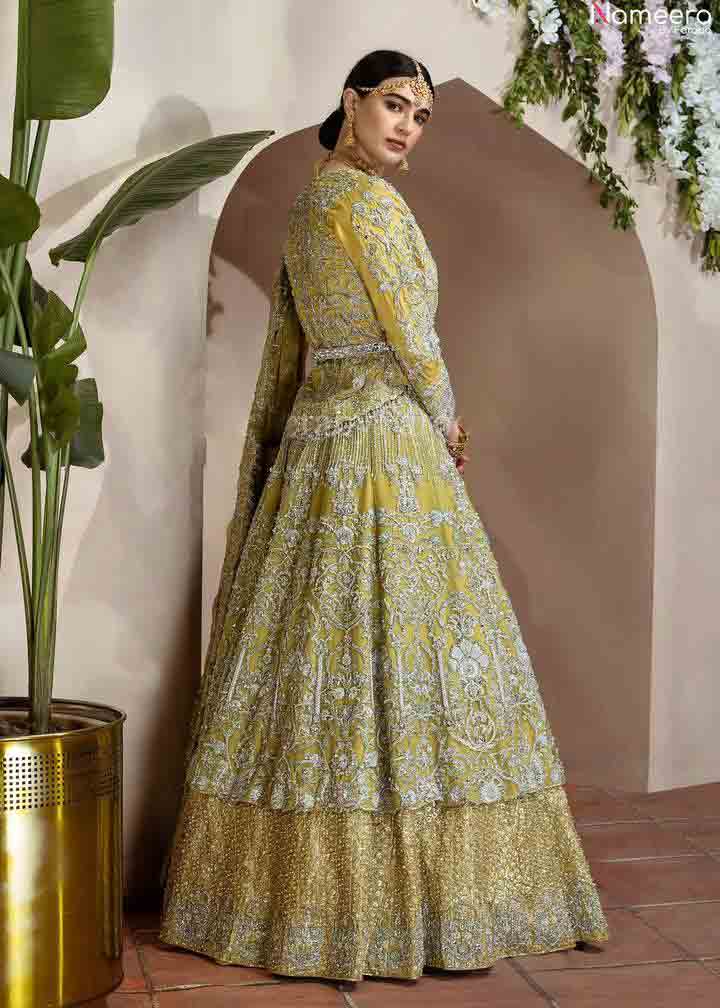 4. Front open style:
Most of the girls, prefer this one when it comes to wedding long frock dresses. This is a simple pishwas or let's say maxi which has the front side open with buttons and loops designing. These frocks have a simple cut, like A-line. But looks are expectedly gorgeous.
No matter what the print or fabric is, this is the easiest and trendy style rob. Saves you from tucking in your dress and making blunders. Also, it enhances the beauty of fancy shoes and accessories as well.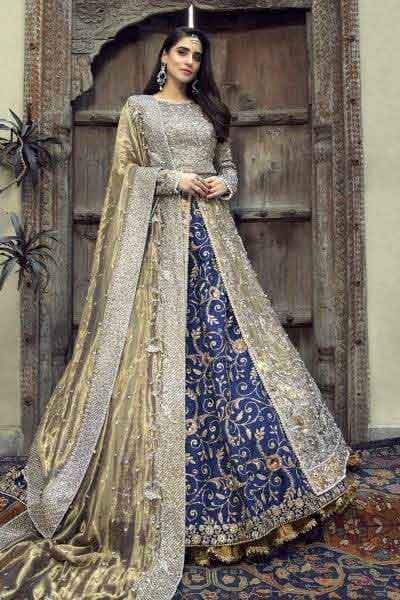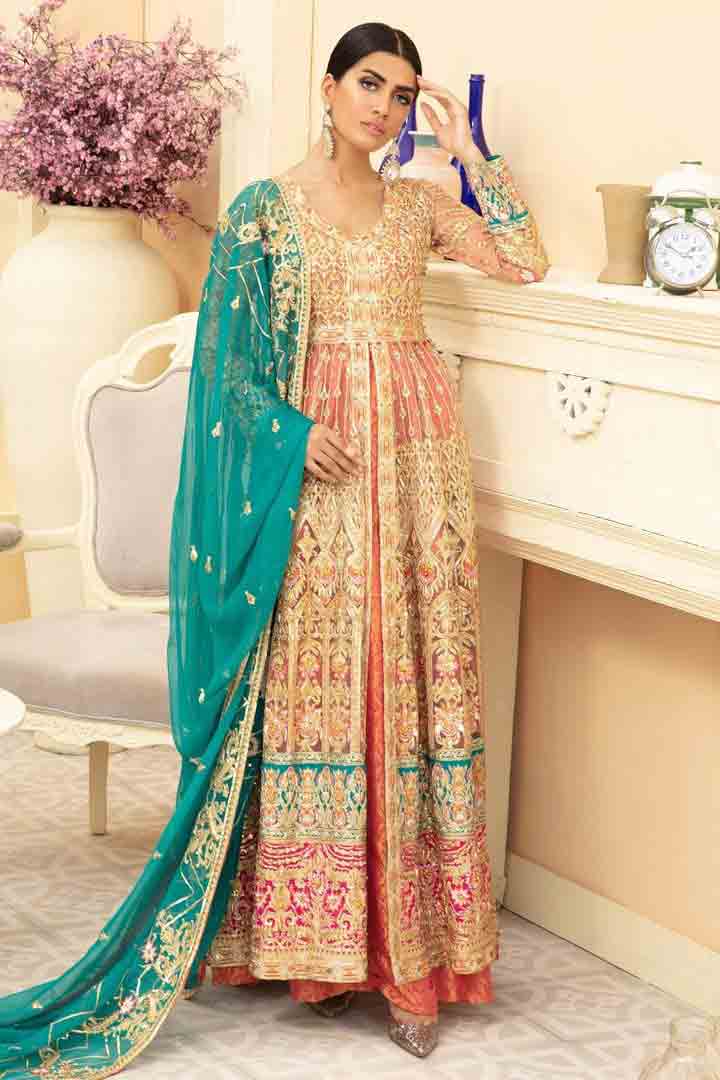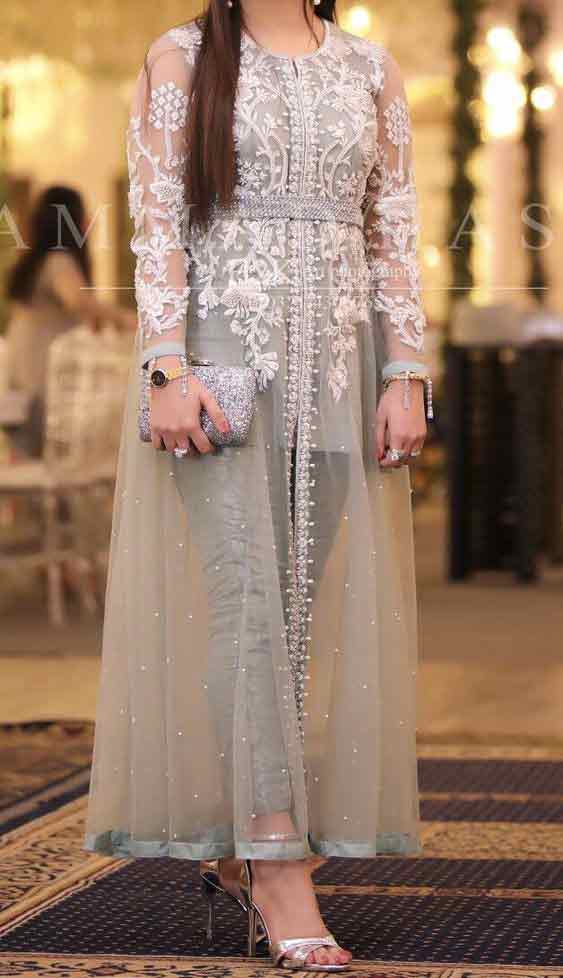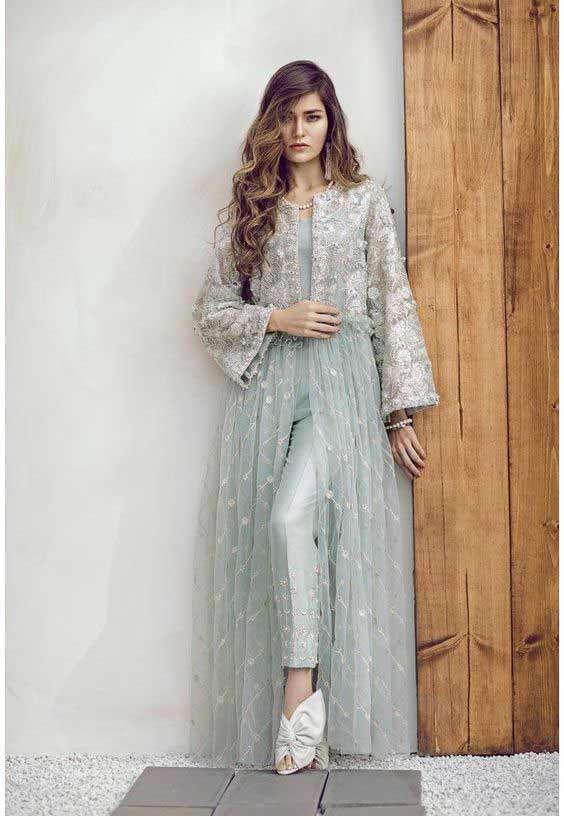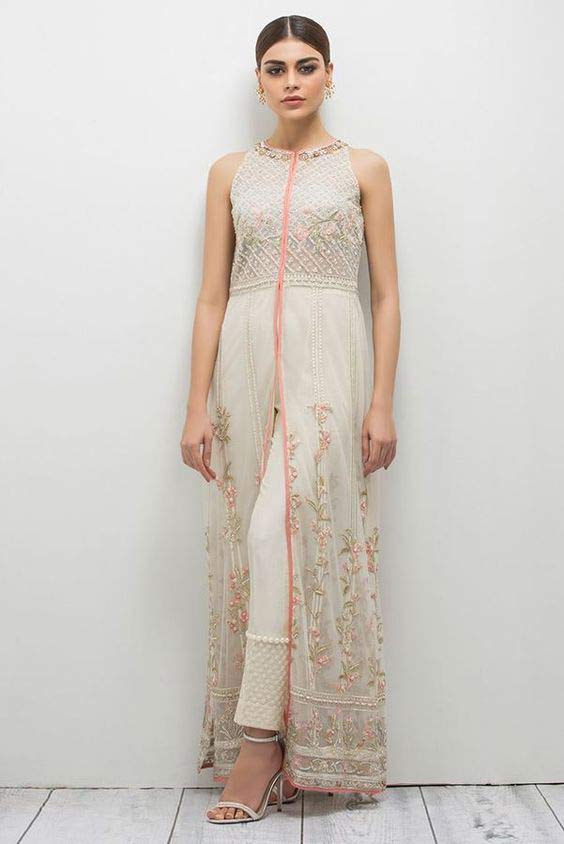 You might festoon it with those embroidery works or just add a stylish vest jacket to it. A printed one on a simple wedding frock is so assassinating.  So does vice versa.
We are all different people not only mentally, but physically as well. We think differently, we look different we feel different. Right? So how can we imply just one fashion trend to every person?
That would be so unfair.
That's what we had been doing when we did not have that much fashion sense developed. But now we have embraced the fact, and we cherish every person's individuality and style. This is why we have so many wedding  fashion trends strolling right now.
We have grabbed one of them here, and that is everyone's apple of the eye – the latest long frock designs for wedding parties and ceremonies.
These were some of the most common wedding long frock styles, but you can always look for a unique way of making your thing standing forward than everyone else's.
Another famous saying says " dress the way you want to be addressed because you can get anything if you just dress right for it".
Let's jam the comment section with your thoughts on long frock designs for wedding, or you can share your stuff with us via Email.