Did you know that Arabic beard styles now have become one of the most sought after facial hair trends in all over the world?
It's a fact that if you were to put down the razor and stop shaving forever, how long would your beard be? 27.5 feet!
Young men or boys always try to follow the latest fashion trends from all around the world. Arabic beard is one of the most appealing and popular mustache and beard styles because it has unique and classy stud look.
A beard is an identity of a man that gives him masculine appearance. A well groomed facial hair definitely makes you stand out from the crowd.
Through this article, I will come up with the new Arab beard styles that are most coveted by young boys living in Saudi Arabia, Dubai, Oman, Emirates, Pakistan, India, Bangladesh and even in Europe countries.
Later on, I will throw some light on the most important tips to grow beard faster and naturally. Then watch a video tutorial to further clear your points about beard growth tips.
Latest Arabic Beard Styles With Images
What comes to your mind when you see a man with an Arabic beard style? Do you think is it well groomed or messy? Is it soft, smooth or oily?
Have you ever inspired by anyone and instantly you are thinking about to have the same beard style either french or Arabic style beard? Well, to me it is far more important to understand that which beard design is best suitable for you according to your face shape.
Beard styles are usually adapted for lots of reasons, one of them is to get the sexiest look that signifies the courageous. A beard distinguishes the grown men, the earnest, the active and the vigorous.
Arabic Khat And Shave Styles For Boys
However in Arab countries, beard is known as the religious connote as it is necessary to have beard. All the beard styles either Dubai, Emirati, Omani, French and Saudi Arabian beard styles have their own characteristics. No one can resist from the sexiest beard khat or shave style that significantly enhance overall appearance of a man.
Some of the hottest bearded men in Arab includes; Hassan El Shafei, Omar Borkan, Udi Karni and the list goes on for the sexiest bearded men in Arab.
Important points to consider before you see bearded men images:
Those who have thin facial hair, may opt for broad jawline beard style.
Short hair with full grown facial hair is a perfect blend of elegance and hotness.
In order to achieve the best results, you have to choose the right beard style and maintain it properly.
You have to try several beard styles to be able to decide the most appropriate one for you.
The full beard, tight beard and shadow or stubble are the hottest beard styles.
Choosing the right beard style and pairing it with a catchy haircut and hairstyle can definitely change your look to be completely seizing the attention of others.
You have to wear that style which is according to your face shape and reflect your personality as well.
Selecting a trendy beard style that does not suit you at all, may affect your overall look in a bad way, so be careful when you choose a beard style.
Below are the Arabic beard styles that every young boy must try at least once in the year 2021-2022. These facial hair styles include:
Defined jawline with joint mustache
French beard style with extended facial hair
Broad jaw line with mustache
Chin strap
Arabic shave and simple khat style
Short length Omani beard
Classic beard
Medium stubble
Thick facial hair
Short stubble
Goatee style with extended beard
Thin slope jawline
So, which Arabic shave style are you going to have this year?
Choose your favorite one and inspire everyone around you with your freshly transformed look. Some of these styles are being adopted by the Kings', Scholars and Ulema of Arab. While the rest are setting the stage on fire with their splendid characteristics for young boys.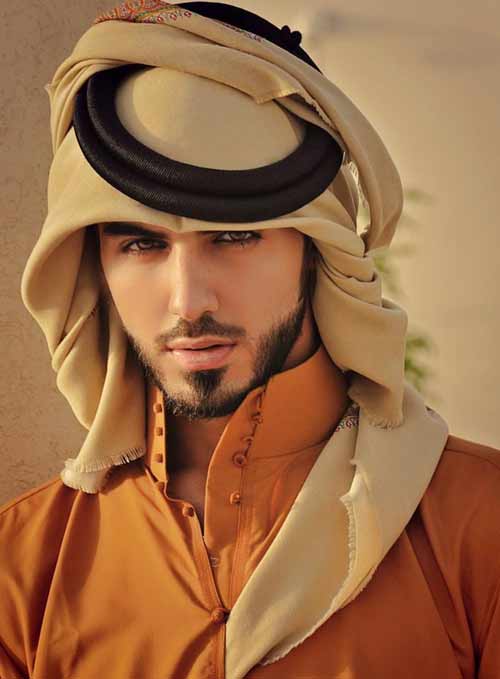 Note for Arabic khat style: Look in the mirror at your face: What shape is it? If you've got a square or circular face (as wide as it is long), then grow a beard, khat that adds a little length, keeping the sides trim. If you've got an oblong or rectangular face (longer than it is wide), then you must not add much length to the Arabic khat style beard. Instead, grow the sides fuller to detract from the length; this will make your face more entire.
Every time you go to the salon and come back again with the casual and outdated beard style. Is it true? That really makes any difference to your personality? Have you ever tried any other style?
We all know that Arabic beard looks even sexier and gives you a classy look. Did you ever think about having Arabic beard this time instead of an old fashioned facial hair as usual? If yes, then which Islamic beard style would you choose if you have been provided with multiple options?
Today, you will find all the answers to these above asked questions!
First of all try to define your face shape (round, oblong, heart, square, rectangular and so on). Secondly, scroll down all the images shown below (do not forget to match your face shape with the respective beard style). Best beard styles for men includes a thorough face shape guide for facial hair.
How To Grow A Beard Faster?
Do you face any problem in the growth of your facial hair? For example patches, rough beard, uneven or hard beard growth? Are you wondering about how to grow a beard faster, naturally and evenly? If yes, then do not miss to check out the important tips about beard (mentioned below) and check out this video tutorial that will give you a complete guide about "how to grow a beard faster".
Beard plays vital role in the grooming of a young boy or a matured man. If you want to leave an impression as a readily apparent idea in which some confidence is placed on others, then try to choose beard style wisely. That is why, how wonderfully Matisyahu has to say about beard in the following quotation.
"Growing up, the way that I looked was very important to me. I was always trying to impress people, and when I grew my beard there was a certain freedom, a separation, getting past this the way I looked, identify myself as a spiritual seeker."
Matisyahu
Important Tip For Arabic Beard Styles:
How to grow a great beard?
Know what you are working with:

Consider the beard style that matches your face shape.

Avoid the neckbeard:

Fend off any neckbeard and keep a defined neckline.

Maintain it, even as it grows:
Keep it clean and soft:

Try to maintain whiskers as soft as possible.

Condition it with beard oil:

Use a beard comb to evenly spread oil to the entire beard.
In order to better understand your facial hair growth and which is the best suitable beard style for your face shape, all you need to do is to grow your beard out a couple of weeks (Do not shave at all). It will let you know about how your facial hair actually grows and how you must have to treat them.
After you have achieved your desired beard style, do not forget to keep on trimming and maintaining it so that it does not look out of shape.
To summarize, another argument in favor is that Arabic beard styles are best suitable for oblong or rectangular face shape. If you have noticed, it is clear from all the above images that Arabs prefer jaw-line and french beard styles to make their face look broader and wider.
On the whole, I think every young boy or man, must try any of these Arabic beard styles in 2021-2022. These facial hair trends will surely give you a model appearance and helps to entirely transform your outdated and no longer fashionable beard look.
I hope that after reading this article, you must have decided which style you are going to have. It will be grateful if you let me know that which style has become your favorite. If you want more details, then feel free to contact us anytime or leave a comment below.
Synonyms for "beard"